Do you have a trifle bowl?
Do you even know what a trifle bowl is?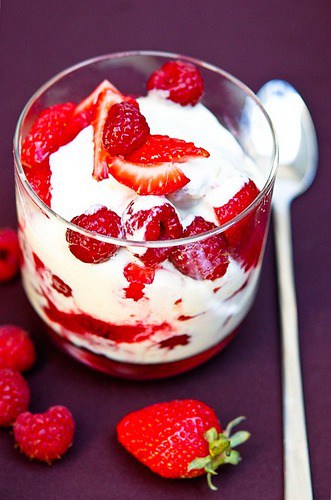 Pin
A trifle is a layered dessert with sponge cake, pudding or gelatin, fruit, and whipped cream. A trifle bowl is glass and usually has straight sides and a straight bottom so that the layers are displayed.
My favorite quick trifle-like recipe goes like this -
Ho Ho and Fruit Trifle
20 Hostess Ho Ho's (or Swiss Cake Rolls)
¼ cup freshly squeezed lemon juice
1 14-ounce can sweetened condensed milk
8 ounces Cool Whip
1 pint fresh strawberries, cut into thick slices (or your favorite fresh fruit)
Cut the Ho Ho's in half to make 2 long, thin pieces. Layer half of Ho Ho's in bottom of your trifle bowl.
Whisk lemon juice into sweetened condensed milk until well blended. Gently fold whipped topping into milk mixture. Pour half of milk mixture over Ho Ho's.
Top with half of fruit.
Repeat the layers.
And here's a second trifle recipe just because I love trifles -
Peanut Butter Trifle
1 brownie mix, prepared according to package instructions and crumbled
1 large package of instant vanilla pudding
1 cup smooth peanut butter
12 ounces Cool Whip
12 regular size Reese's peanut butter cups (8 chopped and 4 cut into wedges)
Prepare the pudding according to package instructions, and put it in the refrigerator to set up a bit.
After 5 to 10 minutes, combine pudding with peanut butter and 8 ounces of Cool Whip.
Layer crumbled brownies, then chopped peanut butter cups, then some of the pudding mixture. Repeat until all ingredients have been used.
Use the rest of the Cool Whip to make small dollops on top of the trifle. Garnish with the wedged peanut butter cups.
So there you have it. A trifle.
Most of the time, trifles taste better after they've been sitting overnight. Most likely, you'll need to refrigerate it for that time.
You can use cubes of any kind of firm cake for the first layer - pound cake, sponge cake, angel food cake, brownies, cookies, almost anything. Use pudding or jello in the middle layer. Then top with whatever fruit or candy you like.
If you're really in a hurry, you could buy pre-made cake, pre-made pudding or jello, and pre-cut fruit and have this put together in under five minutes.
I got a trifle bowl from The Pampered Chef several years ago, and I love it. It's heavy glass, and it makes an impressive display no matter what I put in it. Here are a few of my favorite ways to fill it:
10 Uses for a Trifle Bowl
Layered fruit salad. This is my all-time favorite way to use my trifle bowl. We usually start with chopped apples in the bottom, then grapes, sliced bananas, pitted cherries, and chopped peaches. Or some combination of whatever fruit is in season and most beautiful. Sometimes I throw some mandarin oranges in. Next, top the fruit with 16 ounces of vanilla yogurt. Serve with almond or pecan granola for a healthy crunch mixed into the fruit. We're making this for a party this Saturday, as a matter of fact.
Layered salad. Mix 3-4 cups of chopped romaine lettuce with ½ cup of chopped fresh cilantro. Put it in the bottom of the bowl. Top with 2 diced avocados, then with a pound of cooked chicken that's been chopped, then 2 diced tomatoes, then 1-2 cups of corn kernels, then 4 scallions that have been sliced, then 2 cups shredded cheddar cheese. Finish with a layer of chopped black olives. Serve with salad dressing.
You can do this with any salad combination, just layer the ingredients instead of mixing them up.
Layered pasta salad. Prepare a box of shells according to package directions, drain. Place in the bottom of a trifle bowl, then top with cubed ham, cubed hard boiled eggs, diced tomatoes, diced green or red peppers, and diced red onion. Top with your favorite pasta salad dressing.
Layered Mexican dip. Spread 16 ounces of refried beans in the bottom of your trifle bowl. Top with 2 cups of shredded cheddar cheese, 1.5 pounds of ground beef that has been cooked, drained, and cooled, a cup of sour cream, a cup of guacamole, a cup of salsa, 3 ounces of chopped black olives, a small tomato that has been chopped, and a few scallions that have been sliced. Serve with tortilla chips.
Dirt pudding. Who doesn't love dirt pudding? This is a fun dessert whether you're making it for kids or adults. Combine 2 small packages of instant chocolate pudding mix with 3 cups of milk. Whisk together until it begins to thicken, then fold in 8 ounces of Cool Whip. In a second bowl, blend together a block of cream cheese with ¼ cup of powdered sugar. Combine the two mixtures and blend well.
In the trifle bowl, alternate layers of pudding mixture with crushed Oreo cookies. Add some gummi worms or M&Ms for color and texture.
Layered jello salad. This is very impressive but also very time consuming. Start with 7 3-ounce packages of Jello. You could do any combination of colors and flavors (like alternating 2 or 3 different colors or using 7 totally different ones). Dissolve the first package of jello in ¾ cup of boiling water, then stir in ¾ of cold water. Pour that into the bottom of the trifle bowl and refrigerate until nearly set, about 45 minutes. When the first layer has set, dissolve the second package of jello in ½ cup of boiling water, then stir in ½ cup of cold water and ½ cup of evaporated milk, then pour over the first layer.
The layers will alternate between clear and opaque. Finish remaining layers by alternating between all water and water with evaporated milk.
Be sure that each layer has set before adding the next (or else the layers will combine and get muddy). All together, it will need to chill for about 7 hours.
Top with a layer of Cool Whip, if your bowl is big enough.
I think this would be even cooler if you added fruit or mini marshmallows to some of the layers.
Store and display muffins. If your trifle bowl has a lid (mine does), you can use it to keep muffins or other baked goods moist and fresh. In particular, if you choose a recipe that's healthy (like these delicious whole wheat, high fiber double chocolate muffins) and keep them in sight, they'll be devoured before you know it.
Store and display fruit. Turn a bowl of fruit into a striking centerpiece. Fill the trifle bowl with the most beautiful fruit you can find. Citrus works really well if you're going for looks. If you're just trying to get your family to eat more fruit, use anything!
Make a centerpiece. Skip the food all together for this one. Fill the trifle bowl about half full with glass stones (the ones you'd get at the craft store) and add a pretty pillar candle. Or, fill it to the top with glass stones and stick some pretty sticks inside. Or put a flower arrangement in it.
Store and display cloth napkins. Are you trying to go paperless in the kitchen? If you have pretty cloth napkins, you could store them right on the table in your trifle bowl.
I didn't want to stop at 10 items today! You could use your trifle bowl to serve punch or soup, to serve fresh fruit (topped with custard, perhaps?), or even to serve chips.
What could you use a trifle bowl for?
Have you seen the rest of the series?
Are you still enjoying this series? I'm feeling a little ambivalent about it, but if you're still into it, I'll keep posting it every Tuesday.
If you're not still into it (or if it feels like a stretch to you, too), I'm going to throw in the towel.
Leave a comment or send me an email and let me know, okay?