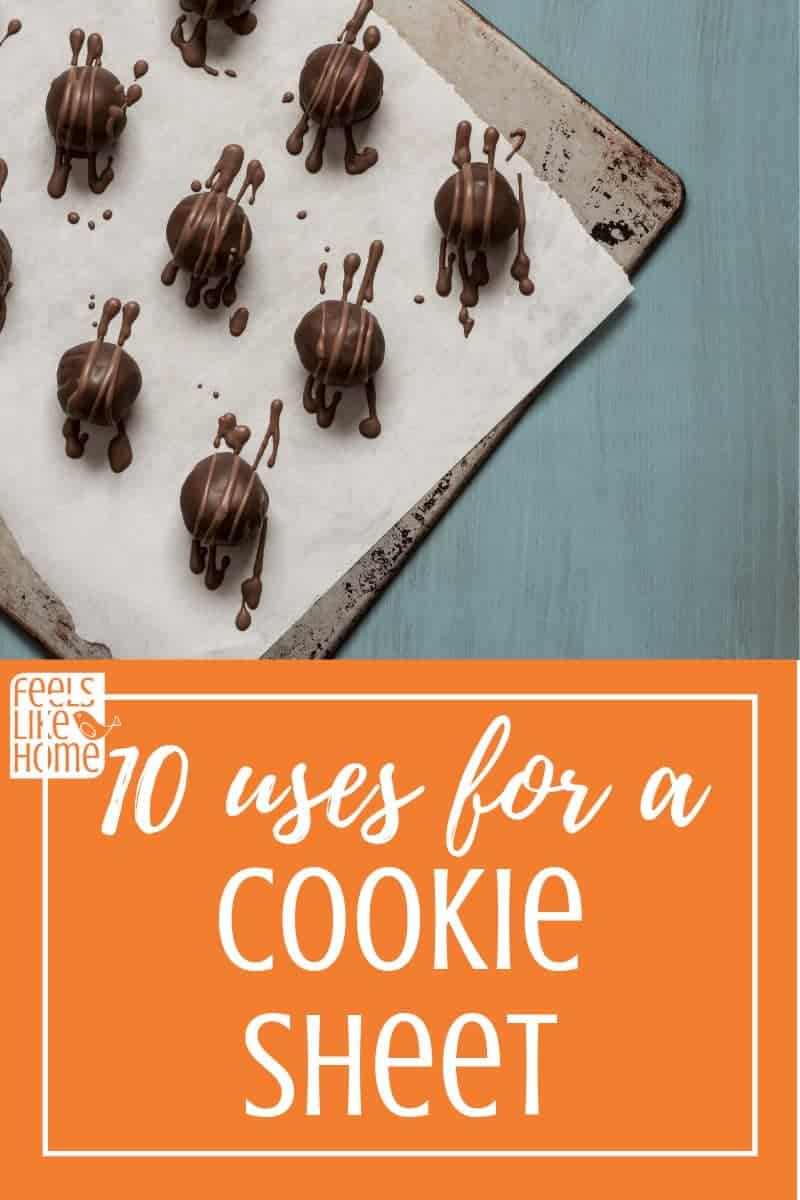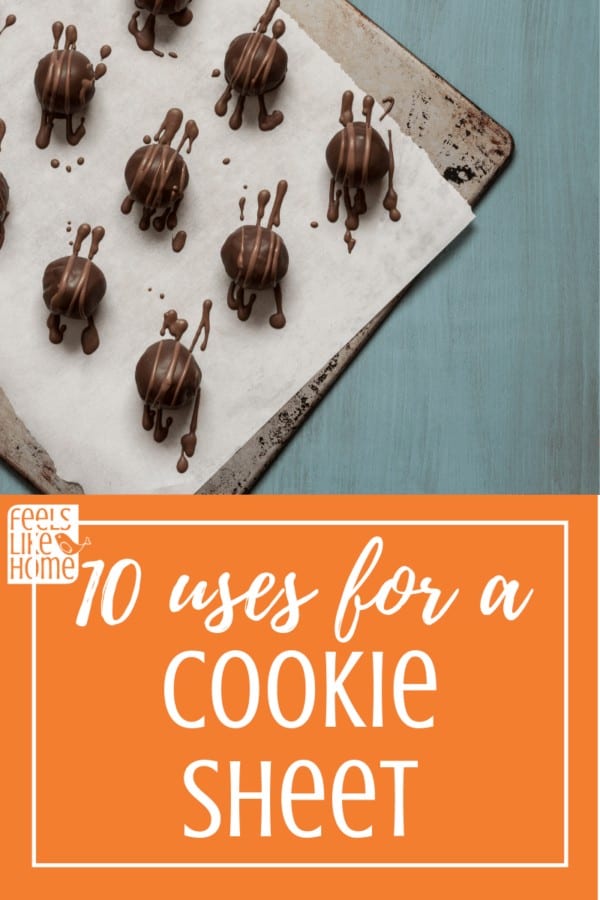 Pin
My Grandma has five or six cookie sheets. Sure, she uses them to bake cookies, but what else can you do with one?
10 Uses for a Cookie Sheet
Freeze individual foods. When we have a glut of fresh fruit, we freeze it to use later. Unfortunately, if you put a pint of raspberries into a zip-top bag and freeze the bag, you'll end up with a mass of frozen berries. Instead, we spread the fruit (cherries, berries, orange slices, or whatever) out in a single layer on a cookie sheet. A few hours later, after it's is completely frozen, we transfer it to the zip-top bag. That way, we have individually frozen fruits, and we can use a few at a time. We especially like to use those berries as ice cubes in a glass of water or added to a smoothie.
Heat convenience foods. Whether you're heating chicken nuggets, frozen pies, or hot pepper poppers, a cookie sheet will allow air to circulate around the food, cooking it evenly.
Homemade pizza. Normal pizza is great, but you can roll out a package of pre-made crescent rolls for a quicker crust. Top it with pizza sauce and cheese, ranch dressing, spiced cream cheese and veggies, or even sweetened cream cheese and fruit. Delicious!
Quesadillas. Start with 2 flour or corn tortillas. Place the tortillas side by side on a cookie sheet, and cook for 4 to 6 minutes at 350. When both are crispy and toasted, top one of them with a couple of handfuls of shredded cheese, your favorite toppings, and the second toasted tortilla. Bake for another minute or two, until the cheese is melted.
Baked tofu. I know that many people dislike tofu on principle, but I adore it. I think it's best when cooked so that the outside is crispy and the inside is a little soft. You can deep fry it to get that consistency, but baking is just as good. Start with extra firm tofu. Drain it and squeeze it lightly between two paper towels. Dice the tofu, roll it around in your favorite spice (mine is taco seasoning), and bake it at 350 for 45 minutes to an hour.
Bagel chips. Cut a bagel into long strips. Sprinkle with seasonings (cinnamon and sugar for a sweet bagel or onion and garlic powder, BBQ seasoning, or ranch dressing powder for a savory one) and bake at 350 for 7 to 10 minutes. Flip over and bake another 5 to 7 minutes.
Roast pumpkin seeds. After you've carved your jack-o-lantern or prepared your pumpkin puree, don't toss the seeds. Roast them on a cookie sheet for a wonderful evening snack.
Shrinky dinks. I wonder if everyone's Shrinky Dinks stick to the cookie sheet like mine do. I have the easiest time unsticking them from a metal cookie sheet.
Make an advent calendar. I think this is genius. To make it, you'll paint an old cookie sheet and use magnets to make the calendar.
Bake clay ornaments. You can use cookie cutters to make homemade dough shapes, then bake the shapes on a cookie sheet to preserve them.
What do you use cookie sheets for?
Have you seen the rest of the series?