I really wanted to call this an egg roll, but that has a whole different connotation, doesn't it?
But it is a rolled up egg, so egg roll fits.
Allie napped especially soundly in her bouncy seat this past Wednesday (a rare event), leaving Grace and I time to do one of our favorite activities together – cooking!
Somehow, I'd amassed 3 dozen eggs in my refrigerator, and I wanted to use the older ones up.
I knew this recipe required a whole dozen eggs, so it was perfect.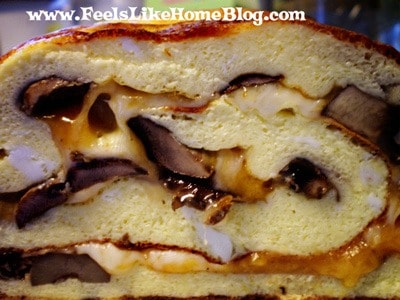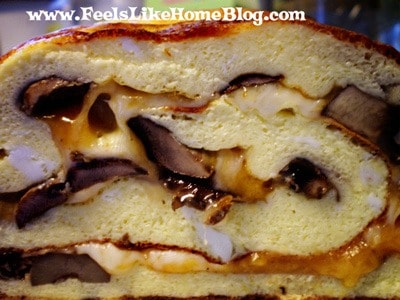 | | |
| --- | --- |
| | |
Preheat your oven to 375.

To soften the cream cheese, microwave it for 30 seconds in a glass bowl. When it's done, whisk it to give it a smoother consistency.

Add the milk a little at a time, whisking it into the cream cheese.

When it's combined well, add in the flour and salt. (Grace did the whisking as I added the dry ingredients.)

Add the 12 eggs to a large bowl (I learned the hard way that this is not a good time for Grace to help.) and whisk them together.

Add the cream cheese mixture and whisk until well blended.

Sprinkle some water on a jelly roll pan, and line it with a piece of parchment paper. (The water will make the parchment paper stick to the pan instead of sliding around.)

Pour the egg mixture into the parchment paper.

Add the toppings you've chosen on top of the egg mixture. At this point, you could put on veggies or crumbled or diced meats. Don't add the cheese yet! I added an 8 ounce container of mushrooms, sautéd ahead of time, in a single layer across the eggs.

Bake the eggs for about 30 minutes.

As soon as they come out of the oven, spread the mustard over the top and sprinkle it with shredded cheese. Grace was excited to help with this part, but I did warn her that the pan would be very, very hot, and she had to be careful not to touch the pan or the egg at all.

Next, roll up the omelet. It will still be very, very hot, so you have to be careful not to burn yourself. Use the parchment paper to begin rolling it at one end of the pan, and keep turning it over (peeling back the paper, of course), til you've rolled up the whole thing.

Be so careful not to touch the pan or the egg. Both are really hot and will burn you rudely.

Let the whole thing stand for 10 to 15 minutes, til the cheese melts and the cools slightly.

Use a sharp knife to slice the egg roll and serve.
This was fun for Grace and I to make, and she ate every bite of her slice (a rarity in our world these days). The omelet roll is also delicious for leftovers.

© 2011 – 2018, Tara Ziegmont. All rights reserved.