How to make the best chocolate mousse cheesecake pie - This simple and easy no bake torte recipe uses instant pudding mix and whipped cream to make a creamy mousse layer and cream cheese to make a rich cheesecake layer, all with a vanilla wafer crust.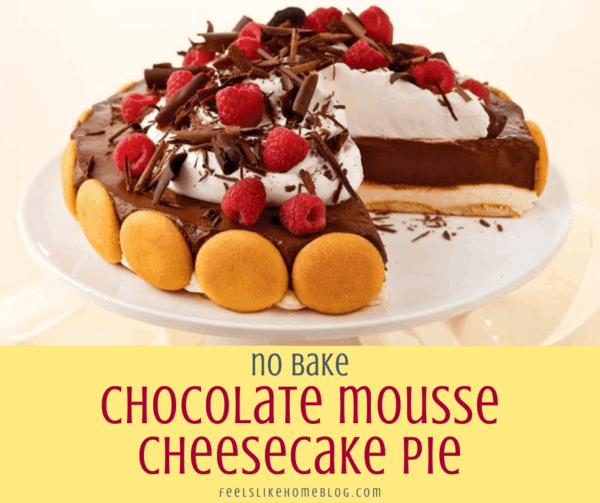 Since I've been restricted to laying down most of the day, I've had plenty of time to read. I've caught up on all of my favorite magazines: O, Real Simple, Martha Stewart Living, and Cooking Light, and all the books I'd been wanting to read.
As I was paging through the Christmas issue of Martha Stewart, I saw the following recipe in an advertisement for Kraft Foods. I don't think it was pregnancy that made it appear absolutely amazing to me.
I asked Joe to make it, and he did, and it was as amazing as I'd hoped. We've made it many times since then.
How to make the best no bake chocolate mousse cheesecake pie
Line a 9-inch springform pan with plastic wrap.
Stand 16 vanilla wafers around the inside edge of the prepared pan.
Melt 3 ounces of chocolate according to the package directions.
Whisk pudding mixes and 2 cups of milk in a medium bowl for 2 minutes. Add melted chocolate and mix well. Fold in 1 cup of whipped topping. Pour mixture into prepared pan.
Beat cream cheese, sugar, and remaining milk with an electric mixer until well blended. Stir in 1 cup of whipped topping and spread mixture over pudding in the springform pan. Top with remaining vanilla wafers.
Refrigerate 3 hours.
Meanwhile, shave remaining chocolate square into curls using a vegetable peeler.
To serve, invert the pie onto a serving platter so that the wafers are on the bottom. Remove plastic wrap. Top with remaining whipped topping, berries, and chocolate curls.
Keep refrigerated.
This recipe reminds me of one of my favorite pies, Peanut Butter and Jelly Pie. That pie uses whisked jelly to garnish the top instead of berries. I think the jelly would make this recipe a lot less expensive (because, really? Fresh berries are super expensive and not all that nice this time of year, if you can even find them.). I use homemade cherry or strawberry jelly when I make this. I spread it on top of the chocolate layer after inverting the pie, then spread whipped topping on top of that.
Check out these other delicious no bake desserts while you're here:
Recipe