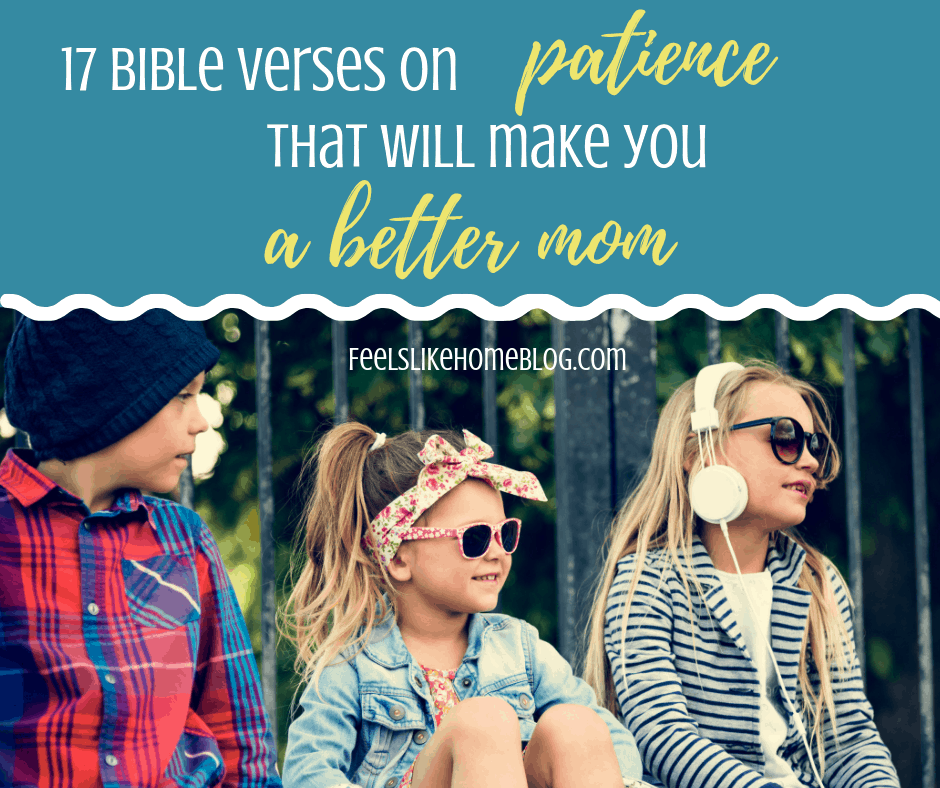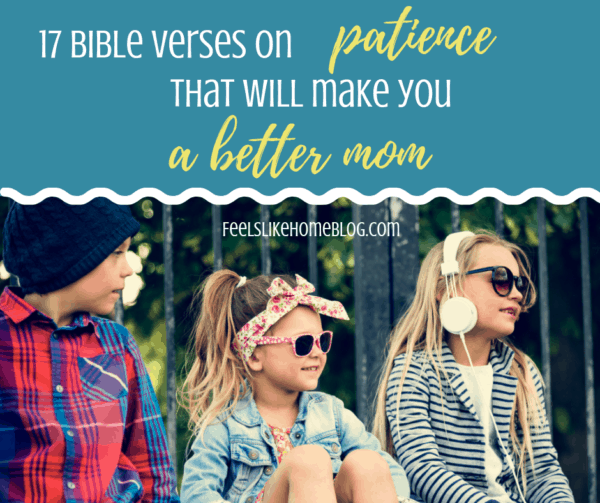 Pin
Jesus, give me patience not to kill these kids!
I remember, when my little people were about 2 and 5 years old, they took a giant bag of potato chips that they were not allowed to have into my bedroom to snack in secret. I guess they got down to the crumbs of the bag, and somebody thought it would be a good idea to dump them out on the bed. And then somebody thought it would be a good idea to jump up and down and watch the chips bounce.
This continued amidst cries of raucous laughter until I discovered them. I don't know how long they were jumping and bouncing chip shards, but it was long enough to spread the chips out over my entire 300-thread-count queen-sized sheets, now a crummy, greasy mess. (I recounted the whole story – with photos! – over here.)
I was so angry that I thought about beating my children, something I had never ever even considered and had previously decided firmly against.
I put children into the car, both half-naked, and I drove them the ½ mile to my mother's house. It was the only thing I could think of to do.
"I brought them here so I wouldn't beat them." I told her, holding back tears, and she laughed because
the whole thing was pretty funny from the outside and
it was not nearly the major drama I was making it out to be and
she beat my sisters and me all the time and didn't think there was anything wrong with it and
the kids didn't know they were doing something wrong because they were little and
half-naked kids are pretty cute.
How many times have you prayed that same silent prayer or something like it, in a moment of weakness, trying and trying and trying (maybe in vain) not to lose your mind? It happens to the best of us, sweet friend.
You see, being a patient parent doesn't mean you're able to wait it out better than other people. It means that you're able to control your attitude and correct your focus through the melee. Patient mothers don't have less drama; they have a more positive, optimistic outlook.
Because I work from home and my kids don't attend school, we are together pretty much 24/7/365. They're 8 and 11 now, so not needing nearly so much hands-on care. They largely leave me alone during the workday, when I'm shut up in my office, but that means that they make gigantic, epic messes all over the house that someone has to clean up. Which means either:
Joe or I has to clean it up.
Joe or I has to argue with the children to get them to clean it up.
Neither of these situations lends itself to harmony and contentment, as you might imagine.
Our kids are human beings, albeit immature little ones who don't know much about tact and personal responsibility.
Human beings mess up. All human beings. A lot.
Hopefully we learn from our mistakes, but then, not really so much sometimes.
This is more me I'm talking about now and less my kids, but anyway. Kids are messy and loud and annoying and adorable and wonderful and beloved.
And sometimes they make us lose our minds.
(Side note: My 8-year-old who lost screens for physically abusing her older sister more than once last week just pronounced that I'm a mean butthead because I would not give her my phone. Be near, sweet Jesus.)
Dear friend, I challenge you to commit these 10 Bible verses to your memory. Write them on your heart and know them inside and out. (Check over here for a scripture memory system that you can use with or without your kids and family.)
If you know these verses like you know your name, they will bring you peace and comfort – and patience – when you really need all the above. You can trust Jesus to sustain you and bring you through whatever trial your beloveds put in front of you, because this too shall pass.
You can do this, mama.
17 Bible Verses About Patience That Will Make You a Better Mom
So let's not get tired of doing what is good. At just the right time we will reap a harvest of blessing if we don't give up. -Galatians 6:9 (NLT)
Be brave, mama. Be strong. Be courageous, because I know as well as you do that courage to face the problem is all that you have some days.
These children need you. They need a strong, healthy you - even when you lose it and yell. If you have a moment, stop as soon as you possibly can and ask for their forgiveness just like you would expect them to do, and then move on. To err is human, and to love is divine.
Yet I am confident I will see the Lord's goodness
while I am here in the land of the living.
Wait patiently for the Lord.
Be brave and courageous.
Yes, wait patiently for the Lord. -Psalm 27:13-14 (NLT)
You, too, must be patient. Take courage, for the coming of the Lord is near. -James 5:8 (NLT)
I know you love these little people. You probably love them fiercely, with all your heart and soul. But sometimes, they test your limits. They're supposed to. They push your boundaries to find out what you'll allow and what you won't. It's how God made them.
We are called to love as Jesus loved, and how He loves is right here:
Above all, love each other deeply, because love covers over a multitude of sins. -1 Peter 4:8 (NIV)
Love is patient and kind; love does not envy or boast; it is not arrogant or rude. It does not insist on its own way; it is not irritable or resentful; it does not rejoice at wrongdoing, but rejoices with the truth. Love bears all things, believes all things, hopes all things, endures all things. -1 Corinthians 13:4-7 (ESV)
Therefore I, a prisoner for serving the Lord, beg you to lead a life worthy of your calling, for you have been called by God. Always be humble and gentle. Be patient with each other, making allowance for each other's faults because of your love. -Ephesians 4:1-2 (NLT)
You are powerful. You alone have the power to raise these little (or big) people. (I realized while writing this that you may well be the parent of tweens or teens who have their own challenges but need our patience, compassion, and understanding all the same.)
Better to be patient than powerful;
better to have self-control than to conquer a city. -Proverbs 16:32 (NLT)
What I love about these next two verses is the concept of stillness. You don't have to do anything at first. Yes, the mess will need to be cleaned up whether it's a literal mess or a figurative one. But take a moment to just be still.
Say a prayer, a real prayer to the God of the Heavens. Take five slow, deep breaths. Acknowledge that you're in a difficult situation but that you can persevere.
"Be still, and know that I am God!" -Psalm 46:10a (NIV, NLT, ESV)
Be still before the Lord
and wait patiently for him;
do not fret when people succeed in their ways,
when they carry out their wicked schemes. -Psalm 37:7-8 (NIV)
Trust in the Lord with all your heart;
do not depend on your own understanding.
Seek his will in all you do,
and he will show you which path to take. -Proverbs 3:5-6 (NLT)
I've written before about God's thoughts on anger and resentment, so go ahead and read those if you struggle with that. I have at some times of my life, and I understand how it becomes a habit, a go to response, but I can tell you from personal experience that you are the only one harmed by your anger (well, hopefully), and that you can overcome it with diligent practice and mindfulness. There are lots of resources available to you to help.
Stop being angry!
Turn from your rage!
Do not lose your temper—
it only leads to harm. -Psalm 37:8 (NLT)
Understand this, my dear brothers and sisters: You must all be quick to listen, slow to speak, and slow to get angry. Human anger does not produce the righteousness God desires. -James 1:19 (NLT)
To this day, six years later, I do not understand the purpose of that potato chip trampoline event. It seems senseless, but God put it in my life for a reason.
The thing about God is that we don't have to know His reasons. All we have to know is that He has one, and maybe someday it will be revealed to us and maybe it won't. But it is there. We can depend on that.
Jesus replied, "You don't understand now what I am doing, but someday you will." -John 13:7 (NLT)
Abraham waited for a son for decades. Literally, decades. I think you and I can outlast our children's tantrums and trials and phases.
We may not feel as strong or faithful as Abraham, but he too had doubts. (Hello, Ishmael!) If we can just be patient and optimistic, we will also receive God's blessings.
But hopefully, His blessings will not include children as numerous as the stars. That would make any mama crazy. If you have a lot of children, bless you because my two tax me to my limits sometimes.
Then Abraham waited patiently, and he received what God had promised. -Hebrews 6:15 (NLT)
I think this next verse is rich, rich, rich. First of all, warn those who are lazy. This is why I nag my kids to clean up. They, like me, can be lazy and weak and "forget" to help out.
But there is also a bit about encouraging, which I think is one of the most loving things we can do for our kids. Encourage them, cheer them on, take their side.
And take tender care. They are weak, my friend. They are fragile snowflakes who need our kindness and tenderness. They need our guidance and direction, absolutely, but they need to be cared for with gentle hands and hearts.
Brothers and sisters, we urge you to warn those who are lazy. Encourage those who are timid. Take tender care of those who are weak. Be patient with everyone. -1 Thessalonians 5:14 (NLT)
If you are in a pit of despair, God hears your cries and sees your tears, dear friend. He knows you inside and out. He knows your struggles and challenges, and He knows you're at your max. You can trust Him to carry you through this. He will never let you down.
I waited patiently for the Lord to help me,
and he turned to me and heard my cry.
He lifted me out of the pit of despair,
out of the mud and the mire.
He set my feet on solid ground
and steadied me as I walked along. -Psalms 40:1-2 (NLT)
This last one... is a stretch. I can tell you that I was not rejoicing when those children were grinding greasy potato chip garbage into my expensive sheets. I wasn't. But the point of the passage is that trials (and that was definitely a trial) helped me to understand that I needed someone outside of myself for support, that I needed to develop a sense of humor and not be quite so serious, and that I could outlast whatever came my way.
We can rejoice, too, when we run into problems and trials, for we know that they help us develop endurance. And endurance develops strength of character, and character strengthens our confident hope of salvation. And this hope will not lead to disappointment. For we know how dearly God loves us, because he has given us the Holy Spirit to fill our hearts with his love. -Romans 5:3-5
I hope these verses encourage you today, sweet friend. I hope you can memorize a few - start with Be still and know that I am God because it's the shortest one and you can certainly remember it, even with everything else in your brain right now.
Patient moms are good moms. That's not to say you're not a good mom if you're not as patient as you want to be; there's room for improvement in all of us. But if you can be a little more patient today than yesterday, you are winning this mom gig.
All you have to do is outlast their shenanigans, and do it with gentleness and positivity. It's not easy (sometimes nearly impossible), but do the best you can.
You are already a great mom, and you are only going to get better. You can do this.
See these other Bible study posts while you're here: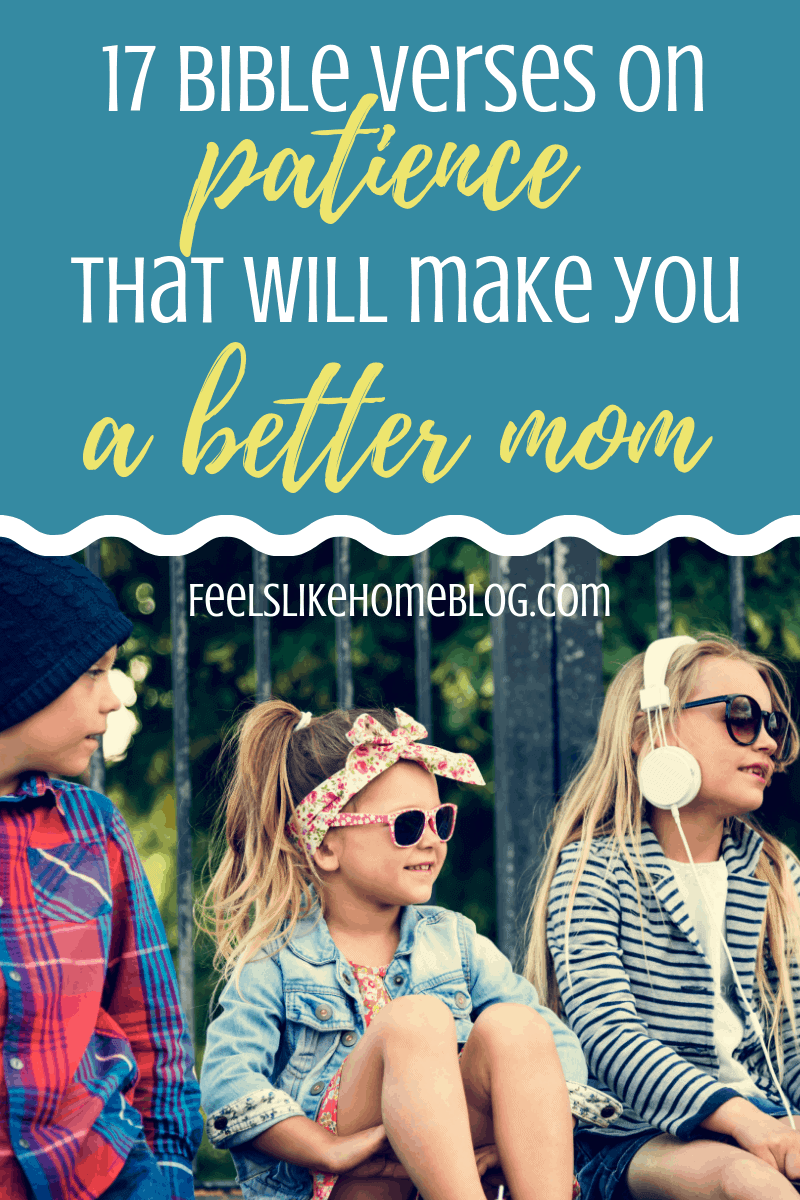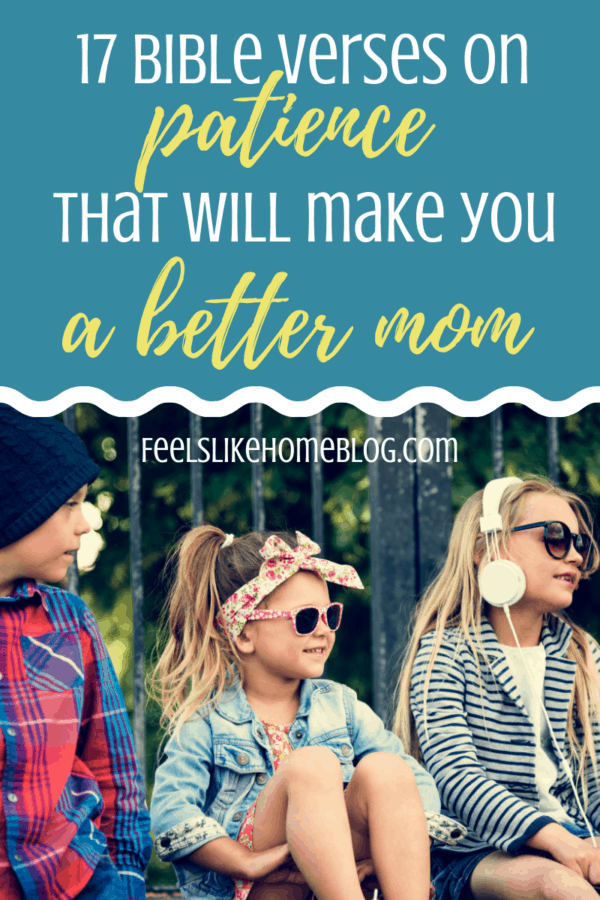 Pin