These Bible verses on loneliness and being alone will help you to feel God's presence in your life, so that you can know that you are never truly alone and without Him.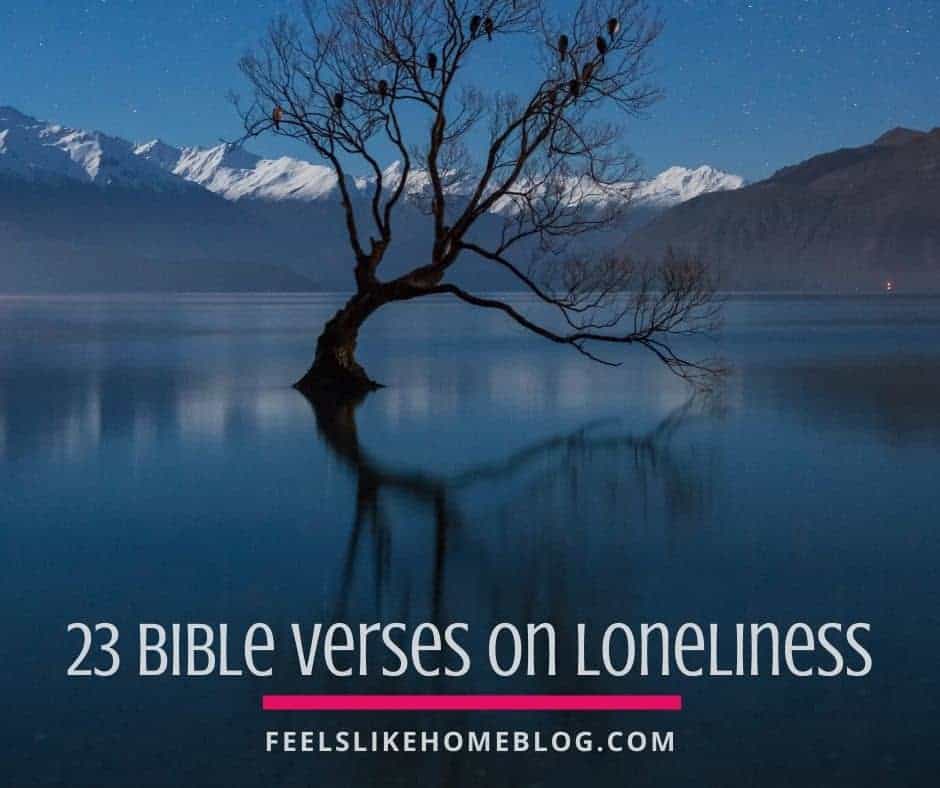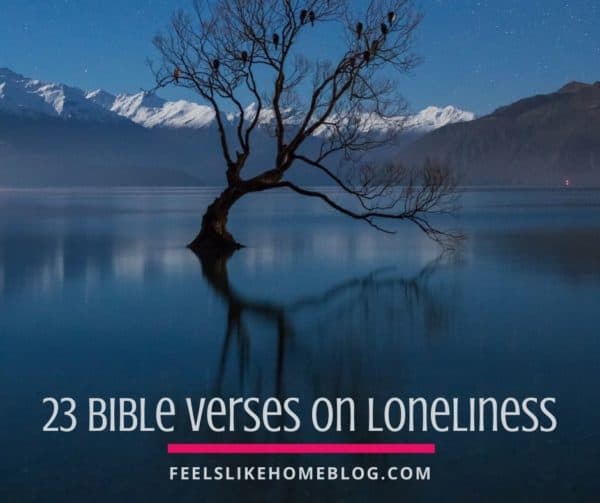 Pin
I don't know about you, friend, but I am lonely. I don't feel lonely every minute or even every day, but I often find myself wishing I had a friend to turn to to share my feelings or celebrate a victory or even just text nonsense back and forth.
I've had friends like that in different seasons of my life, but they all have fallen away for one reason or another, and I've been left all by myself.
Do you feel that way? I am willing to bet that you do now or have in the past.
I see women, especially popular women like Jen Hatmaker (whom I love and mean no disrespect) talking about all the virtues of their amazing friendships, and I am green with jealousy because I don't have that. Not at all.
I am married to a kind and loving man. I have two children, one of whom still needs me pretty much every minute of every day. I have hundreds of Facebook friends and followers on social media.
But none of those people fulfill the deep need in my soul for companionship. They aren't the girlfriends I so desperately need.
I am reminded just now of the song, "You've Got a Friend in Me" which probably was around long before being made popular in the movie Toy Story, but that is the only version of it that I know and the one that plays in my head.
You've got a friend in me.
You've got a friend in me.
You've got troubles, and I've got 'em, too
There isn't anything I wouldn't do for you
We stick together and we see it through
'Cause you've got a friend in me
You've got a friend in me
Some other folks might be a little bit smarter than I am
Bigger and stronger too, maybe
But none of them will ever love you the way I do
It's me and you.
Those lyrics remind me of my relationship with Jesus. He knows my troubles because He walked on this earth and had troubles of His own. There isn't anything He wouldn't do to help me. He loves me more than anyone ever could. (The only thing that doesn't ring true is that He really is smarter, bigger, and stronger than everyone everywhere, but I left that part in because it's part of the song.)
So what does Jesus have to do with me being lonely?
Well, some. I can pray and talk to Jesus because He is my friend. I can't text Him (wouldn't that be amazing if we could?!), and I still do need real friends, but He IS a friend who promises to never leave my side.
When I'm lonely, there is Jesus.
When I'm feeling unloved and unlovable, there is Jesus.
When I'm feeling like there is no hope of ever making and keeping a friend, there is Jesus.
There is always Jesus, and He promises to help.
There is also the Bible. When I feel most alone, I always turn to the pages of The Word for comfort and peace. People come and go in this life, but the Word of the Lord stands forever (1 Peter 1:25).
Reading the Bible can't make you less alone. It can't, and I get it.
But reading the Bible can make you FEEL less alone because it reminds you of the One who created you and who stands by you no matter what you do or have done, no matter who else comes or goes. He loves you, and He's smarter and bigger and stronger, and He will never fail you nor abandon you (Deuteronomy 31:6). You can always turn to Him.
And, lest you start to believe that the words are empty and not enough, remember this verse:
God is not a man, so he does not lie. He is not human, so he does not change his mind. Has he ever spoken and failed to act? Has he ever promised and not carried it through? -Numbers 23:19 NLT
Sweet friend, you can trust and rely on every word in the following scriptures. They are the truth, and they will never fail.
23 Bible Verses on Loneliness
All scriptures are from the New Living Translation except where noted otherwise.
So be strong and courageous! Do not be afraid and do not panic before them. For the Lord your God will personally go ahead of you. He will neither fail you nor abandon you. -Deuteronomy 31:6
Do not be afraid or discouraged, for the Lord will personally go ahead of you. He will be with you; he will neither fail you nor abandon you. -Deuteronomy 31:8
For the Lord your God is a merciful God; he will not abandon you or destroy you or forget the solemn covenant he made with your ancestors. -Deuteronomy 4:31
Even if my father and mother abandon me, the Lord will hold me close. -Psalm 27:10
He heals the brokenhearted and bandages their wounds. -Psalm 147:3
I can never escape from your Spirit! I can never get away from your presence! -Psalm 139:7
Don't be afraid, for I am with you.
Don't be discouraged, for I am your God.
I will strengthen you and help you.
I will hold you up with my victorious right hand. -Isaiah 41:10
And I am convinced that nothing can ever separate us from God's love. Neither death nor life, neither angels nor demons, neither our fears for today nor our worries about tomorrow—not even the powers of hell can separate us from God's love. No power in the sky above or in the earth below—indeed, nothing in all creation will ever be able to separate us from the love of God that is revealed in Christ Jesus our Lord. -Romans 8:38-39
The Lord will not abandon his people, because that would dishonor his great name. For it has pleased the Lord to make you his very own people. -1 Samuel 12:22
What shall we say about such wonderful things as these? If God is for us, who can ever be against us? -Romans 8:31
No one will be able to stand against you as long as you live. For I will be with you as I was with Moses. I will not fail you or abandon you. -Joshua 1:5
Have I not commanded you? Be strong and courageous. Do not be frightened, and do not be dismayed, for the Lord your God is with you wherever you go. -Joshua 1:9 ESV
No, I will not abandon you as orphans — I will come to you. -John 14:18
The Lord is my shepherd; I have all that I need. -Psalm 23:1
Even when I walk through the darkest valley, I will not be afraid, for you are close beside me. Your rod and your staff protect and comfort me. -Psalm 23:4
Therefore, go and make disciples of all the nations, baptizing them in the name of the Father and the Son and the Holy Spirit. Teach these new disciples to obey all the commands I have given you. And be sure of this: I am with you always, even to the end of the age. -Matthew 28:19-20
Then David said to Solomon his son, "Be strong and courageous and do it. Do not be afraid and do not be dismayed, for the Lord God, even my God, is with you. He will not leave you or forsake you, until all the work for the service of the house of the Lord is finished. -1 Chronicles 28:20 ESV
The Lord will not reject his people; he will not abandon his special possession. -Psalm 94:14
Turn to me and have mercy, for I am alone and in deep distress. My problems go from bad to worse. Oh, save me from them all! Feel my pain and see my trouble. Forgive all my sins. -Psalm 25:16-18
And God has given us his Spirit as proof that we live in him and he in us. -1 John 4:13
But the Lord stood with me and gave me strength so that I might preach the Good News in its entirety for all the Gentiles to hear. And he rescued me from certain death. -2 Timothy 4:17
And these last two to remind you that God hears your cries of loneliness, and He offers peace and comfort in these difficult times.
The righteous cry out, and the Lord hears them; he delivers them from all their troubles. -Psalm 34:17
Peace I leave with you; my peace I give you. I do not give to you as the world gives. Do not let your hearts be troubled and do not be afraid. -John 14:27 NIV
I'm going to be really honest here. Sometimes these verses help me, and sometimes they don't. So if that is how you are feeling, know that you are not alone.
I am saying a prayer for you right now, that God will be near to you in your feelings of loneliness, and that you will feel His presence and comfort. I am also praying that He will send you the earthly friend that your heart desires, and that person will walk alongside you and be the hands and feet of God in your life. Amen.
What Bible verses bring you comfort when you feel lonely?
See these other Bible study posts while you're here: