These scriptures on love and marriage can be read by husband or wife or together as a couple. The words of the Lord God and Jesus Christ can give truth and life to your relationship. Beautiful encouragement for marriage problems.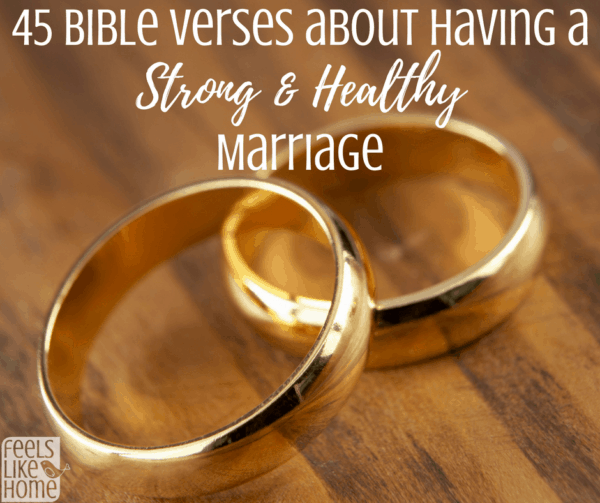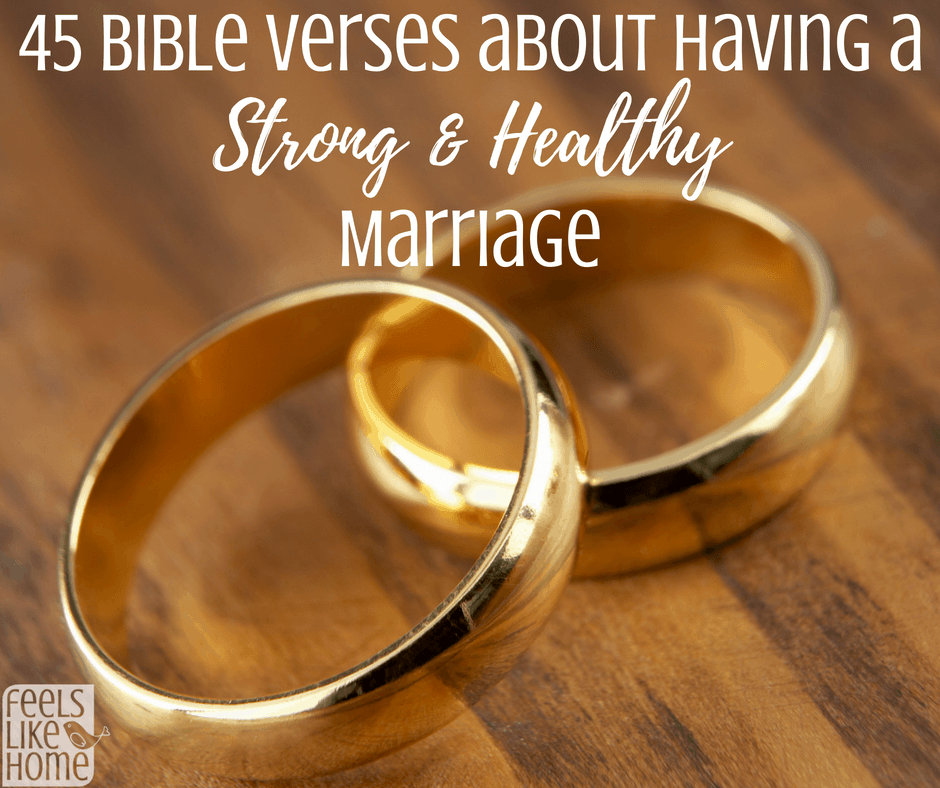 Marriage is hard. Can I get an amen?
Joe and I had a huge fight earlier this week. It all started because Joe told Grace not to do something because it was bedtime. He told her she could do it in the morning. She did it anyway.
I had no intention of intervening because I knew I was not going to take the girls to bed for another half hour or so, and I knew she had plenty of time to complete the project.
Joe was mad that I didn't step in. He felt like his instructions were ignored (which they were), and that made him feel unimportant and disregarded. This, combined with my lack of intervention on his behalf, led him to blow up and yell and scream.
My normal pattern when Joe yells is to completely block him out. It's just what I do, but it makes him feel even more unimportant. So I have been making an effort to stay engaged.
This time, I did. He yelled, and I yelled back. He started throwing things around, and I called him a terrible name. I eventually did shut him out, having had more than enough of engaging with his fit, and he continued to seethe until we all went to bed a half hour later.
In the morning, I felt very remorseful about the name I called him, but I didn't reach out. I wanted to text him several times throughout the day, but I didn't. I was ashamed but didn't want to admit it.
When he got home from work, he had a bouquet of flowers for me and baked treats for the girls, all to say he was sorry he got so angry with us and beg for our forgiveness.
Marriage is like that, isn't it? You get hurt. A lot. And you repent and seek forgiveness. And you accept the other's flaws and forgive. Repeat, repeat, repeat.
God designed relationships for our betterment. I believe he knew it would be hard, but he also knew it would be worth the trouble. Marriage, at its best, blesses the husband and the wife and gives them a strong foundation for raising their children and facing the fallen, sinful world.
There is much written in the Bible about love and respect, so I try to turn to those words whenever I'm feeling lost or defeated, when being married is especially hard, and when I need some marital encouragement.
Another place you can go to look for encouragement in your marriage is The Healthy Marriage Toolkit, a resource I put together to help you build the thriving, happy relationship you've always dreamed of. Check it out today!
45 Bible Verses About Having a Strong & Healthy Marriage
Here are some of my favorites:
Song of Solomon (or Song of Songs) is a book of the Bible that is 100% about marriage. Written by a young King Solomon when he married a young maiden, it's a celebration of the love and desire between a young man and a young woman. If you've never read it, I would encourage you to take a look. It's beautiful.
Kiss me and kiss me again, for your love is sweeter than wine. –Song of Songs 1:2
My lover is mine, and I am his. He browses among the lilies. –Song of Songs 2:16
There are a lot of verses in the Bible about love, both about marital love and brotherly love. I think both are appropriate to talk about here because we are called to show both kinds of love to our spouses. If we want to be friends with Jesus, we have to love others the way He loves us.
This is my commandment: Love each other in the same way I have loved you. There is no greater love than to lay down one's life for one's friends. You are my friends if you do what I command. –John 15:12-14
There is an entire book series and Bible study written on this next verse. Joe and I have done it with a small group, and we found it really helpful and useful. It's called Love and Respect, and it's about how God commands men to love their wives because women need deeply to be loved, and He commands women to respect their husbands because that's what men deeply need. This is contrary to our instincts, because we tend to give out what we want to receive, and that can lead to misunderstandings and unmet needs. Check it out.
So again I say, each man must love his wife as he loves himself, and the wife must respect her husband. –Ephesians 5:33
This next passage is probably straight from your wedding ceremony. I think it's vital because it defines the relationship, and it also calls for a lifelong commitment. No matter how much you may disagree with one another, Jesus called us to be lifelong partners, acting as one body.
And Jesus said, "'This explains why a man leaves his father and mother and is joined to his wife, and the two are united into one.' Since they are no longer two but one, let no one split apart what God has joined together." –Matthew 19:5-6
Love covers a multitude of sins. We are sinners living in a fallen world, and we screw up all the time. Paul said (I'm paraphrasing), "I do what I do not want to do, and I do not do what I do want to do." in Romans 7:15. It happens every day to every single person on earth. But when a man and a woman love each other deeply, their love will right those wrongs and allow us to forgive. (Please note, I am NOT talking about abuse situations. Those are wrong and, while they should be forgiven for the sake of the victim's mental health, they must not be allowed to continue. If you are in an abusive relationship, please seek help right away.)
Above all, love each other deeply, because love covers over a multitude of sins. –1 Peter 4:8

Love is patient, love is kind. It does not envy, it does not boast, it is not proud. It does not dishonor others, it is not self-seeking, it is not easily angered, it keeps no record of wrongs. Love does not delight in evil but rejoices with the truth. It always protects, always trusts, always hopes, always perseveres. -1 Corinthians 13:4-8

8Love never fails.
God made us in his own image. In the garden of Eden, we were perfect and blameless. He didn't make men or women more important, He made all of us just like Him. This is very important in later verses when women are called to submit to their husbands. Biblical submission does not mean that women are less important or less than in any way.
So God created human beings in his own image. In the image of God he created them; male and female he created them. And God blessed them. And God said to them, "Be fruitful and multiply and fill the earth and subdue it, and have dominion over the fish of the sea and over the birds of the heavens and over every living thing that moves on the earth." –Genesis 1:27-28

Then the man said, "This at last is bone of my bones and flesh of my flesh; she shall be called Woman, because she was taken out of Man." -Genesis 2:23
At the time that the Bible was written, only men could seek divorce. God hates divorce because He intended marriage to be symbolic of the relationship we have with Him. There are some exceptions to this rule, such as situations of abuse, but for the most part, divorce is 100% outside of the will of God. That's a big deal to me, even when times are tough.
You cry out, "Why doesn't the Lord accept my worship?" I'll tell you why! Because the Lord witnessed the vows you and your wife made when you were young. But you have been unfaithful to her, though she remained your faithful partner, the wife of your marriage vows. Didn't the Lord make you one with your wife? In body and spirit you are his. And what does he want? Godly children from your union. So guard your heart; remain loyal to the wife of your youth. "For I hate divorce! To divorce your wife is to overwhelm her with cruelty," says the Lord of Heaven's Armies. "So guard your heart; do not be unfaithful to your wife." –Malachi 2:14-16

Let marriage be held in honor among all, and let the marriage bed be undefiled, for God will judge sexual immorality and adultery. -Hebrews 13:4

Likewise, husbands, live with your wives in an understanding way, showing honor to the woman as the weaker vessel, since they are heirs with you of the grace of life, so that your prayers may not be hindered. -1 Peter 3:7
More from Solomon in his love letter to his beloved. You can't buy love; it is something that only happens by the will of God. I find it interesting that this particular passage mentions jealousy. We're allowed to be jealous, maybe even supposed to be jealous. I don't think this means the kind of insane jealousy that leads to control, but maybe it's more like not wanting your spouse to ogle other women or to have women friends who are too close. We should want them to be all ours.
Place me like a seal over your heart, like a seal on your arm. For love is as strong as death, its jealousy as enduring as the grave. Love flashes like fire, the brightest kind of flame. Many waters cannot quench love, nor can rivers drown it. If a man tried to buy love with all his wealth, his offer would be utterly scorned. –Song of Songs 8:6-7
This next passage is directed toward all people in their interactions with each other, but it is especially important to married couples. Humility, gentleness, patience - these are traits that keep harmony. They are traits that will produce feelings of great love and contentment in your companion. I would daresay most of the fights in my own relationship stem from one of us not showing humility, gentleness, and patience with the other.
Always be humble and gentle. Be patient with each other, making allowance for each other's faults because of your love. Make every effort to keep yourselves united in the Spirit, binding yourselves together with peace. –Ephesians 4:2-3

A man who is kind benefits himself, but a cruel man hurts himself. The wicked earns deceptive wages, but one who sows righteousness gets a good reward. -Proverbs 11:17-18
Again, a mandate to all believers, not just husbands and wives. Colossians is a letter written by the apostle Paul to the believers in the Asian city of Colosse. Paul had never visited this church, but he knew that it was being plagued by elements of secular "wisdom" that were being enmeshed with Christian teachings. The lines between the world and the church were being blurred, and he wanted to bring the believers back to what was good and true and right. In his letter, he talks about virtues that all believers need to demonstrate, and the glue that holds them all together is love.
Since God chose you to be the holy people he loves, you must clothe yourselves with tenderhearted mercy, kindness, humility, gentleness, and patience. Make allowance for each other's faults, and forgive anyone who offends you. Remember, the Lord forgave you, so you must forgive others. And above all these put on love, which binds everything together in perfect harmony. –Colossians 3:12-14
We are designed for companionship - friends, spouses, and communities. God did not intend for us to be lonely or isolated; He intended for us to be close and intimate with other people. There is power in a pair or in a team, and we are far better in pairs or groups than we are all by ourselves.
To be honest, the reference here to three strands was a little confusing to me, but then, I realized that the third strand was intended to be GOD.
Two people are better off than one, for they can help each other succeed. If one person falls, the other can reach out and help. But someone who falls alone is in real trouble. Likewise, two people lying close together can keep each other warm. But how can one be warm alone? A person standing alone can be attacked and defeated, but two can stand back-to-back and conquer. Three are even better, for a triple-braided cord is not easily broken. Ecclesiastes 4:9-12
Moses wrote that God unites a man and a woman together when they are married. This relationship was a gift to Adam and Eve, a perfect union between them where they could take loving responsibility for one another and put each other first in all things. He created intimacy and sex to be enjoyed only between the husband and wife. It was all this that he meant when he said we would be "united into one."
This explains why a man leaves his father and mother and is joined to his wife, and the two are united into one. –Genesis 2:24
In Mark 10:7-9, Jesus was speaking to the people against divorce, using Genesis 2:24 as his evidence. In those days, the Pharisees allowed divorces pretty regularly, and Jesus was saying here that this is a serious affair without the option of divorce (except in extreme circumstances, which are chronicled elsewhere in scripture). Incidentally, married people who view their marriage as permanent and divorce not an option tend to report themselves as happier and more fulfilled than people for whom divorce is always "on the table."
"'This explains why a man leaves his father and mother and is joined to his wife, and the two are united into one.' Since they are no longer two but one, let no one split apart what God has joined together." –Mark 10:7-9

I therefore, a prisoner for the Lord, urge you to walk in a manner worthy of the calling to which you have been called, with all humility and gentleness, with patience, bearing with one another in love, eager to maintain the unity of the Spirit in the bond of peace. There is one body and one Spirit—just as you were called to the one hope that belongs to your call. -Ephesians 4:1-4

I wish that all of you were as I am. But each of you has your own gift from God; one has this gift, another has that. -1 Corinthians 7:7
These next passages are a little complicated. Women like me bristle at the command to submit to our husbands. We don't like the idea of being completely under the control of another person. But what Paul is saying here is that men should be servant leaders, just as Jesus was a servant leader to the disciples and the early church. Men should lead and women should follow, true, but men should do so with the best of intentions. Like I said, it's tricky. You could spend many weeks and months studying this passage and reading different interpretations of it.
And further, submit to one another out of reverence for Christ. For wives, this means submit to your husbands as to the Lord. For a husband is the head of the wife as Christ is the head of the church. He is the Savior of his body, the church. As the church submits to Christ, so you wives should submit to your husbands in everything. For husbands, this means love your wives, just as Christ loved the church. He gave up his life for her to make her holy and clean, washed by the cleansing of God's word. Now as the church submits to Christ, so also wives should submit to their husbands in everything and to present her to himself as a radiant church, without stain or wrinkle or any other blemish, but holy and blameless. In this same way, husbands ought to love their wives as their own bodies. –Ephesians 5:21-27

In the same way, husbands ought to love their wives as they love their own bodies. For a man who loves his wife actually shows love for himself. No one hates his own body but feeds and cares for it, just as Christ cares for the church. –Ephesians 5:28-29

Wives, submit to your husbands, as is fitting for those who belong to the Lord. Husbands, love your wives and never treat them harshly. –Colossians 3:18-19
Is there any woman who doesn't admire the Proverbs 31 woman? Sure, she is busy and accomplishes more than any mortal human could accomplish, but she is an ideal to cling to. We can aspire to be like her: possessing strong character, great wisdom, many valuable skills, and great compassion. We can aspire to have her strength and dignity, to be an excellent wife and mother, to revere God, and to bring our families praise.
Incidentally, many biblical scholars believe that the Proverbs 31 woman is a composite portrait of ideal womanhood, so don't be intimidated by her achievements and prowess. Instead, be inspired and encouraged to do what you can do to benefit your husband and family.
Who can find a virtuous and capable wife? She is more precious than rubies. Her husband can trust her, and she will greatly enrich his life. She brings him good, not harm, all the days of her life. –Proverbs 31:10
King Solomon was a lover of women. He had many wives (which was appropriate at the time), which eventually led to his downfall, but the sentiment in this verse is that marriage is a favor from God. It can be seen from both directions - a husband is a treasure and gift from God as much as a wife is.
The man who finds a wife finds a treasure, and he receives favor from the Lord. –Proverbs 18:22

Let your wife be a fountain of blessing for you. Rejoice in the wife of your youth. She is a loving deer, a graceful doe. Let her breasts satisfy you always. May you always be captivated by her love. -Proverbs 5:18-19
You knew we had to address sexual intimacy eventually, right? The Bible says we should not deny our spouses when they come to us in desire, and it goes equally for men and women. God gave each of us a normal and natural desire for physical intimacy. He intended the married bed to fulfill these needs in mutual consent and strengthen us against temptation in the world.
The husband should fulfill his wife's sexual needs, and the wife should fulfill her husband's needs. The wife gives authority over her body to her husband, and the husband gives authority over his body to his wife. –1 Corinthians 7:3
Our culture generally regards love as a feeling, but what if it's not? What if love is an action, a daily - even moment to moment - choice made to act like Jesus in every relationship? Embrace, encourage, partner, rejoice, comfort, feel, validate. It's all part of love from God. I find it super easy to love my children in this way, but I find it a lot more difficult to love my husband this way. I talk to our therapist about it sometimes.
Beloved, let us love one another, for love is from God, and whoever loves has been born of God and knows God. –1 John 4:7

We love because He first loved us. –1 John 4:19

Love one another with brotherly affection. Outdo one another in showing honor. –Romans 12:10
The golden rule applies doubly to our relationships, right? Treat your spouse the way that you want him to treat you. (Although the author of Love & Respect, above, would disagree here.) Be kind and gentle. Show goodness and love and patience and mercy.
"Do to others whatever you would like them to do to you. This is the essence of all that is taught in the law and the prophets."  –Matthew 7:12
Do not say, "I will do to him as he has done to me; I will pay the man back for what he has done." –Proverbs 24:29
Paul warned the early church in Philippi that selfishness could ruin what they'd built. If being humble and thinking of the needs of others before yourself is good for the church, it is surely good for a marriage.
Do nothing from rivalry or conceit, but in humility count others more significant than yourselves. –Philippians 2:3
I think King Solomon, the wisest man to ever live, had a flair for the dramatic. It's well-known that he loved women and had as many as 700 wives, so I have to think that he liked big and wild and interesting things. That's just my suspicion, though, I've never read it anywhere. Anyway, he wrote the book of Proverbs as a guidebook of sorts, a way to tell his people how to live godly lives, and I find it interesting that he compares a disgraceful woman to a cancer in her husband's bones. See what I mean about being dramatic?
A worthy wife is a crown for her husband, but a disgraceful woman is like cancer in his bones. –Proverbs 12:4
Way back in the beginning, I mentioned that marriage is about forgiving and being forgiven, over and over and over again. These next verses are not specifically about this relationship, but rather how we should treat all people.
For if you forgive men when they sin against you, your heavenly Father will also forgive you. But if you do not forgive men their sins, your Father will not forgive your sins. –Matthew 6:14-15
Bear with each other and forgive one another if any of you has a grievance against someone. Forgive as the Lord forgave you. –Colossians 3:13
Get rid of all bitterness, rage and anger, brawling and slander, along with every form of malice. Be kind and compassionate to one another, forgiving each other, just as in Christ God forgave you. –Ephesians 4:31-32
Put on then, as God's chosen ones, holy and beloved, compassionate hearts, kindness, humility, meekness, and patience, bearing with one another and, if one has a complaint against another, forgiving each other; as the Lord has forgiven you, so you also must forgive. And above all these put on love, which binds everything together in perfect harmony. –Colossians 3:12-14
Oh, the tongue. Our tongues get us into a lot of trouble, don't they? Does your tongue bring life or death to your husband? Does it affirm him or cut him down to nothing? If I'm honest, mine does both often, so I have to be super careful about the message I'm sending.
The tongue can bring death or life; those who love to talk will reap the consequences. –Proverbs 18:21
Death and life are in the power of the tongue, and those who love it will eat its fruits. –Proverbs 18:21
A soft answer turns away wrath, but a harsh word stirs up anger. –Proverbs 15:1
It is better to live in a desert land than with a quarrelsome and fretful woman. –Proverbs 21:19
Let no corrupting talk come out of your mouths, but only such as is good for building up, as fits the occasion, that it may give grace to those who hear. –Ephesians 4:29
Paul, in his letter to the church in Philippi, stressed that he wanted them to be united as one body, all working together to spread the Good News in love. When you and your husband are united with one mind and one love, you work together to accomplish your goals. You work as a team at the most basic level. I think this is super important, especially in raising children.
Complete my joy by being of the same mind, having the same love, being in full accord and of one mind. –Philippians 2:2
I debated about including this next verse as it mostly applies to people outside your family, people who can't advance your social status: the poor, the homeless, the elderly and the very young. But it also calls for believers to live in harmony with each other. Harmony and the absence of pride are so very important as we live and work and raise our children with our husbands.
Live in harmony with each other. Don't be too proud to enjoy the company of ordinary people. And don't think you know it all! –Romans 12:16
I've written an entire post on Bible verses about anger and resentment, so definitely check those out if you struggle with anger on a regular basis. In that post, I talk about how anger is natural and healthy, unless you dwell on it and allow it to control you. That same sentiment applies to your marriage. Anger is okay - it is a sign that something isn't working for one or both of you. But you must deal with the source of the anger and get rid of it before it wreaks havoc in your relationship.
Be angry and do not sin; do not let the sun go down on your anger. –Ephesians 4:26
All adults have to be careful to act in a mature and thoughtful way. It can be very tempting to throw tantrums, to yell and scream and stomp our feet when we don't get our way. It can be tempting to be selfish and sullen and pouty. The Bible warns us against these childish behaviors and tells us to put them away.
When I was a child, I spoke and thought and reasoned as a child. But when I grew up, I put away childish things. –1 Corinthians 3:11
Now for some general, encouraging, uplifting scriptures that show that God wants the very best for you and for your marriage:
And we know that for those who love God all things work together for good, for those who are called according to his purpose. –Romans 8:28
The Lord is my strength and my shield; in him my heart trusts, and I am helped; my heart exults, and with my song I give thanks to him. –Psalm 28:7
For I know the plans I have for you," says the Lord. "They are plans for good and not for disaster, to give you a future and a hope. –Jeremiah 29:11
Therefore I tell you, whatever you ask in prayer, believe that you have received it, and it will be yours. –Mark 11:24
Fear not, for I am with you; be not dismayed, for I am your God; I will strengthen you, I will help you, I will uphold you with my righteous right hand. –Isaiah 41:10
Phew! This 4,000 word post has taken me about two weeks to write, but I kept going because the scriptures felt important for me, and that made me think that they're probably just as important for you.
The Lord designed marriage to be a blessing for both man and woman. I guess He must have known it was going to be hard - he knows everything after all - but he still created it to give each of us a partner, a helper, a protector, and an encourager. He knew it would be worth the work.
See these other Bible study posts while you're here: