These 17 Bible verses and 16 additional stories from scripture are encouraging for all believers but especially for those looking for or waiting for a miracle.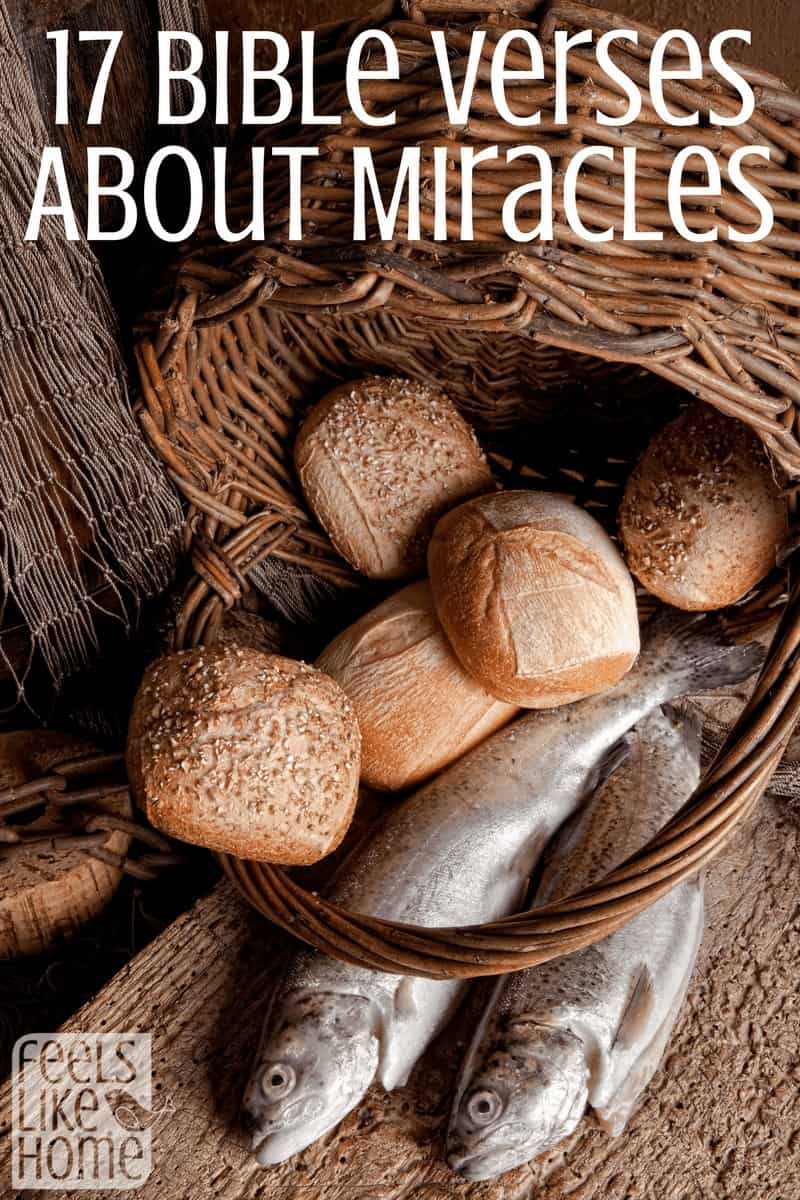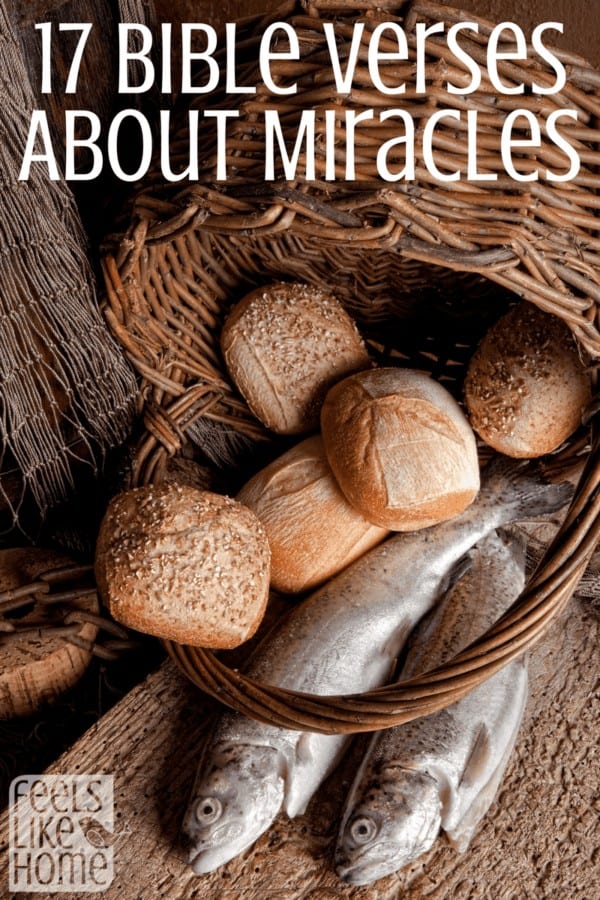 Pin
Over the last two weeks or so, I have had three very challenging situations in my life. The first was that my dad was in the intensive care unit on a ventilator. The doctors were telling my sister and I that there was a high likelihood that he would never be able to come off the ventilator, and we were looking at options like a tracheotomy and long-term care.
The second was an issue at work that I can't really discuss, but suffice it to say that it was very distressing and left me anxious and stressed out and angry.
The third very challenging situation has been my blog. I have been having blog troubles for most of the month of October. When I use my trusty laptop, I can't use my blog's editor, and that, as you might imagine, makes creating new blog posts pretty difficult. I'm working with my host to resolve this issue, so hopefully will be able to blog consistently again soon!
Obviously, I listed my challenging situations in order of importance from top to bottom (and I mostly included the bit about the blog so you'd know that I had been thinking of you all this time!). But anyway, the deal with my dad and with my job were points of serious stress in my life.
So much stress that I asked my church's prayer chain to pray for them, and I prayed fervently about them myself. I begged God to intervene, and I asked my friends and family on Facebook to pray for my dad (not about the job thing because I couldn't talk about it publicly).
I find that I am always closest to God during my struggles. Is that the case for you?
Anyway, I prayed for miracles in both situations.
I am beyond ecstatic to tell you that He delivered in both situations. This has happened over and over in my life. I have prayed for God to do something big, and He has done it.
Sure, there have been lots of times when I have asked God for something big, and He hasn't done it. (Lest you think I've got some kind of inside line here. I don't mean to imply that I get everything I ask for because I don't.)
About my dad. After being told that he may not ever be able to breathe on his own again, and the longer he was on the ventilator, the lower the chances he would ever get off, I was beginning to lose hope. I still prayed and still asked others to pray for a complete recovery, but I was doubting that it would happen. (He has an advanced case of COPD, so "complete recovery" is not really what it sounds like, but still, I wanted to see him back to his normal.)
And then my sister called me before church on a Sunday morning to say that he had pulled his ventilator tube out on his own (this is a very bad thing) and had refused to allow the doctor to re-insert it.
And he had been breathing on his own for the last three hours!
Talk about a miracle! Is there anything else that can explain it? I don't believe there is.
And then the job situation. I worked my tail off to find a new job, sending out applications and resumes, following up, and talking to recruiters. I secured interviews and talked to more recruiters. None of the jobs was exactly what I was praying for, but they seemed better than my current situation, so I plowed ahead.
And then an old friend messaged me about a job with her company that was exactly everything I had been hoping and praying for.
Another miracle, right out of the blue.
The best part about these two miracles is that I didn't do anything to earn or even to deserve them. I prayed, and I asked others to pray, but they sprang right up out of God's infinite love and grace.
I think actually, I didn't deserve either one. In both cases, I was selfish. I prayed for resolutions to the situations that would please me. I didn't pray for God's plan to work out for His glory. I prayed for what I desperately wanted for my own plans.
And yet, for some reason, God choose to answer my prayers in big ways.
I don't share all this to discourage you. Sometimes God answers us in small ways or in not at all the ways we want Him to. I can't explain that. But sometimes He really does answers us in big, unexplainable ways called miracles.
17 Bible verses about miracles
"I am the Lord, the God of all mankind. Is anything too hard for me?" -Jeremiah 32:27
He is the one you praise; he is your God, who performed for you those great and awesome wonders you saw with your own eyes. -Deuteronomy 10:21
Jesus replied, "What is impossible with man is possible with God." -Luke 18:27
"If you can't?" said Jesus. "Everything is possible for one who believes." -Mark 9:23
Jesus looked at them and said, "With man this is impossible, but not with God; all things are possible with God." -Mark 10:27
He replied, "Because you have so little faith. Truly I tell you, if you have faith as small as a mustard seed, you can say to this mountain, "˜Move from here to there,' and it will move. Nothing will be impossible for you." -Matthew 17:20
And He did not do many miracles there because of their unbelief. -Matthew 13:28
They were utterly astonished, saying, "He has done all things well; He makes even the deaf to hear and the mute to speak." -Mark 7:37
But though He had performed so many signs before them, yet they were not believing in Him. -John 12:37
He performs wonders that cannot be fathomed, miracles that cannot be counted. -Job 5:9 & 9:10
While you stretch out your hand to heal, and signs and wonders are performed through the name of your holy servant Jesus. -Acts 4:30
You are the God who works wonders; you have made known your might among the peoples. -Psalm 77:14
Now Jesus did many other signs in the presence of the disciples, which are not written in this book; but these are written so that you may believe that Jesus is the Christ, the Son of God, and that by believing you may have life in his name. -John 20:30-31
Israel saw the great power that the Lord used against the Egyptians, so the people feared the Lord, and they believed in the Lord and in his servant Moses. -Exodus 14:31
For nothing will be impossible with God. -Luke 1:37
While God also bore witness by signs and wonders and various miracles and by gifts of the Holy Spirit distributed according to his will. -Hebrews 2:4
But earnestly desire the higher gifts. And I will show you a still more excellent way. -1 Corinthians 12:31
I included sound bite verses above because I like them for Bible journaling and memorizing, but if you want to read more in-depth accounts of real miracles as told in the Bible, check out the following. This is by no means an exhaustive list; there are hundreds of accounts of miracles big and small in the Bible.
Abraham and Sarah have a baby in Genesis 12-21. They were both over 90 at the time of his birth. Also Zachariah and Elizabeth have a baby when elderly, Luke 1.
The plagues fell upon Egypt. Exodus 7-12.
God parted the Red Sea to allow the Israelites to pass through on dry land surrounded by two enormous walls of water. Exodus 12-14.
God sent manna to feed the Israelites. It fell from heaven like the dew. They could only collect what they needed for one day or it would spoil. But on Saturday, they could collect enough for two days, and it did not spoil. Exodus 16.
A poor widow prepares her last meal for the prophet Elijah and it lasts for many days. 1 Kings 17.
A man was healed of leprosy after washing in the river seven times. 2 Kings 5.
Three men are rescued out of a super heated furnace without even being singed. Daniel 3.
Daniel spends the night in a pit of hungry lions and walks out the next day. Daniel 6.
A virgin gave birth to a baby. Matthew 1, Luke 1-2,
Jesus and Peter walk on water (and on a stormy sea at that!). Matthew 14, Mark 6.
A paralyzed man got up and when told to. Matthew 9, Mark 2, Luke 5. Acts 9 (different man that the first three).
Five thousand people were fed with only five loaves of bread and two fish. Matthew 14, Mark 6, Luke 9, and John 6.
Jesus drives the demon out of a possessed boy. Matthew 17.
Lazarus was raised from the dead three days after he died. John 11.
Peter is delivered out of prison by an angel. Acts 12.
Paul & Silas prison doors are opened by an earthquake. Acts 16.
See these other Bible study posts while you're here: