Grating your own cheese is infinitely more tasty than using the pre-grated cheese that you buy in the store.
Try it some day, and you'll see what I'm talking about. Freshly grated cheese melts more quickly and has a completely different texture than the cheese that you buy pre-grated in a bag.
Have you ever looked at the grated cheese you buy in the store? On the ingredient list is likely a substance called cellulose. Cellulose comes from plants, and it's totally undigestable. Its only purpose in the package of cheese is to prevent it from caking after it's been grated.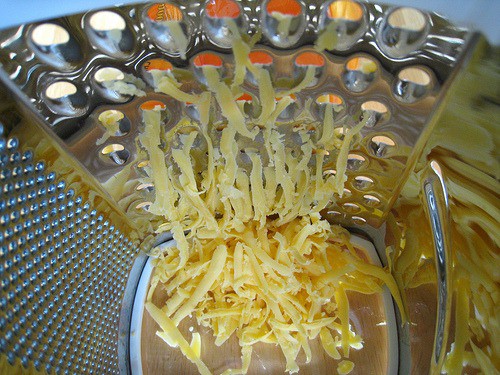 Pin
Not all that appetizing if you ask me.
Do I grate my own cheese? Most of the time, I don't. I eat the cellulose-powdered cheese from the grocery store.
I won't judge if you don't want to grate your own cheese, either.
If you ever do get fancy and grate your own cheese, stick the block in the freezer for 5 to 10 minutes before grating. It'll firm up the cheese (especially important if it's a semi-soft cheese to start with, like mozzarella) and make it gum up the grater less.
Instead of tossing your cheese grater, try some of these ideas:
10 Uses for a Cheese Grater
Chocolate. How would you like grated chocolate over top of a dish of ice cream? Or over top of a banana cream pie?
Wait a minute. Is there any dessert that wouldn't be improved by grated chocolate?
I doubt it.
Carrots for carrot cake, carrot pancakes, or to top a salad or pasta.
Zucchini for zucchini bread, zucchini cake, or even stuffed zucchini.
Cucumber for tzatiki sauce. This is one of my favorite dips of all time. It's also the sauce served on gyros.
Radishes. I dislike radishes, but I'll eat them if they're grated into tiny pieces. Your kids probably will, too.
Nuts. Chopping them is probably easier, but if you can't chop your walnuts or pecans (or almonds or whatever) for some reason, grate them. The pieces will come out about the same.
Potatoes. Grated potatoes make wonderful potato pancakes, and they are a relatively healthy way to thicken soup.
Onions. Grated onions cook down a lot, and they're easier to hide than chopped onion (especially if you're hiding them from a picky of toddler). Trust me on that.
Citrus zest. If you don't have a tool especially for removing the zest from citrus fruits, you can use a cheese grater to do it. Be careful that you get just the brightly colored part of the fruit and not the bitter pith underneath.
Garlic. If you want to use fresh garlic (it's really, really inexpensive and tastes worlds better than the stuff in the jar), but you don't have a traditional garlic press, you can grate it. Try not to get it on your fingers, though, because the smell will last forever.
Oh, and what about coconut? Ginger? Horseradish? I've never tried it, but I bet they'd all work.
What do you use your cheese grater for?