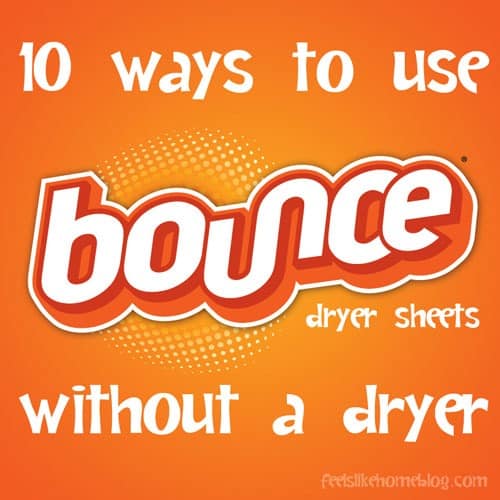 Pin
It has been a long time since I've posted a new contribution to my 10 ways to use... series, but I've been working on a campaign with Bounce, and I thought this would be a perfect opportunity to add to the series.
Make sure you keep Bounce dryer sheets out of the reach of children and pets. Hang the sheet freely or place in an open envelope to avoid direct contact with fabrics.
10 Ways to Use Bounce Dryer Sheets (Outside the Dryer)
Freshen your closets and drawers. Put a bunch of Bounce sheets into pretty envelopes, one sheet per envelope. Tuck an envelope into each of your drawers and closets to help keep your clothes smelling fresh.
Keep out-of-season clothing from getting stale. When you pack away winter coats, scarves, and mittens, or swimsuits and shorts, put a Bounce sheet in an envelope in the box.
Avoid a stinky gym bag. Who enjoys opening their gym bag after it's been sitting around for a day or two? Not me. Remember that you don't really want the Bounce sheet to come in contact with your clothes for an extended period of time, so tuck a Bounce sheet into an inside pocket of your gym bag to keep the bag and its contents smelling fresh.
Deodorize your car without one of those weird trees. Stick a Bounce sheet under your car seat for a burst of freshness every time you open the door. And also to mask the odor from the diaper explosion that happened while you were in the middle of running errands.
Mitigate bathroom odors. Roll up a Bounce sheet and place it in the middle of your toilet paper roll to help keep things smelling fresh around the toilet. 'nuff said.
Make silk flowers smell fresh. Place a Bounce sheet in the vase with your silk flowers to give them a nice, fresh fragrance.
Keep your linens smelling freshly washed. Keep a Bounce sheet in your linen closet so that your sheets and towels will smell fresh no matter when you washed them.
Prevent that trash smell from permeating your kitchen. Stick a Bounce sheet at the bottom of your trash can, between the bag and can. That way, when someone forgets to double bag the stinky diaper, the smell won't take over your kitchen.
Keep suitcases smelling fresh while they're in storage. Help make musty suitcases smell fresh again by placing an individual sheet of Bounce inside after you unpack, before storing them away.
Improve your hamper. Help keep dirty laundry smelling fresh by placing a Bounce sheet (in an envelope) in the bottom of your laundry bag or hamper.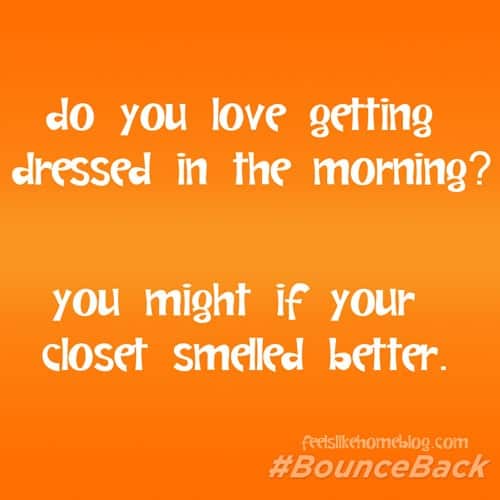 Pin
How else do you use Bounce dryer sheets?
Bounce comes in six fresh scents - Outdoor Fresh, Fresh Linen, Spring Fresh, Meadows & Rain, Spring & Renewal, and Fresh Lavender - to suit any nose. You have lots of choices when it comes to freshening up your home, car, and laundry.
In addition to making your home and car smell better, every little sheet offers four big benefits to your laundry - softening, freshening, controlling static, and repelling lint and hair.
And, just one Bounce sheet is more effective than two sheets of the leading value brand, making them more economical.
Make sure to follow BounceBack on Twitter, Facebook, or Vine @BounceFresh for more videos and tips and be sure to follow the hashtag #BounceBack.
This post is sponsored by Bounce and Mom It Forward. Please see my disclosure policy for more information.