Easy Slow Cooker Jambalaya with sausage, chicken, and shrimp and bold spices takes just 5 minutes of prep. It's healthy comfort food for the whole family!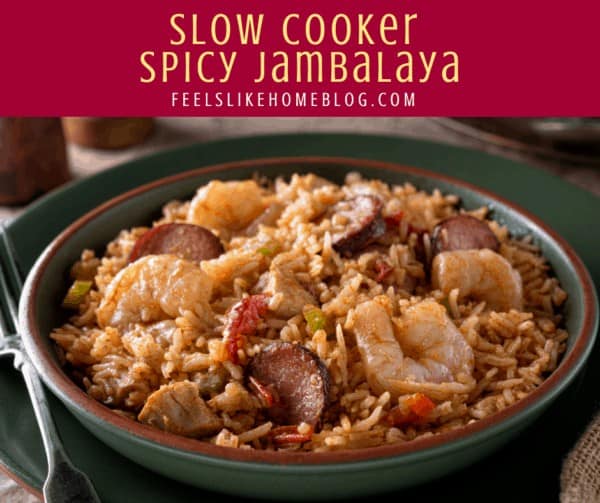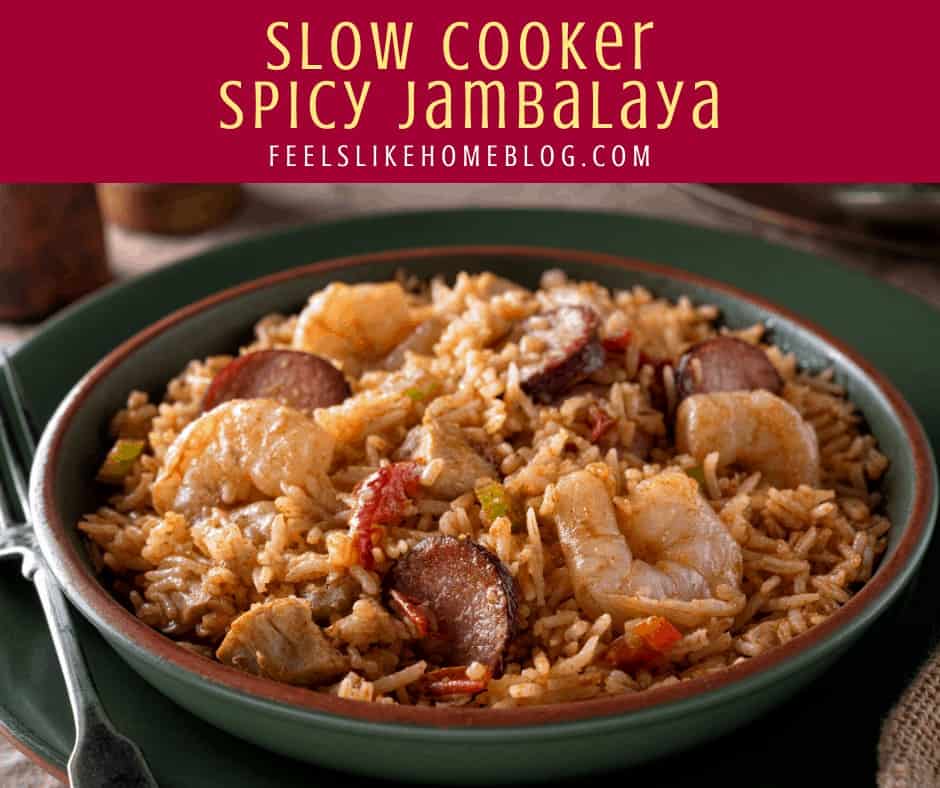 Father's Day is coming up, and I wanted to make my husband food fit for a king.
In my house, food fit for a king means one thing: seafood.
Joe loves seafood. Crabs, scallops, clams, shrimp, fish. He loves it all.
In preparing to write this post, I asked him what I could make him for a special Father's Day feast.
"Uh, I dunno," he answered.
Every single time I asked.
I thought about making him a seafood stew, but I wasn't sure I could handle it. Seafood isn't really my thing, and all that aroma would make me gag.
Then I remembered that Joe likes jambalaya.
There is a restaurant here that serves a spicy jambalaya over rice, and it is the only thing Joe ever eats when we go there. He savors every bite, and he always saves half of it for later.
Jambalaya!
It sounded easy enough, and it wouldn't have a super fishy smell. Another of the reasons that I picked jambalaya is that I could use a can of pre-cooked chicken, smoked kielbasa, and frozen shrimp for super quick, tasty comfort food.
It turned out perfectly. Joe loved it, and the rest of us picked out what we liked and left the smelly parts for him to eat later, which he did.
How to Make Easy Slow Cooker Jambalaya
There is virtually no prep in this easy recipe.
Slice the sausage into coins and shred the chicken.
Add the sausage, chicken, tomatoes, onion, pepper, broth, wine, and spices to the crock of the slow cooker. Set to low for 8 hours or high for 4 hours.
Add the shrimp and cook for an additional 30 minutes on high, until the shrimp is heated through.
While the shrimp is heating, prepare rice according to the package directions. We like basmati rice, but there are also Cajun rice blends (is the brand name Zataran's or something like that?) at the grocery store that would work well with the flavors of the jambalaya.
Recipe