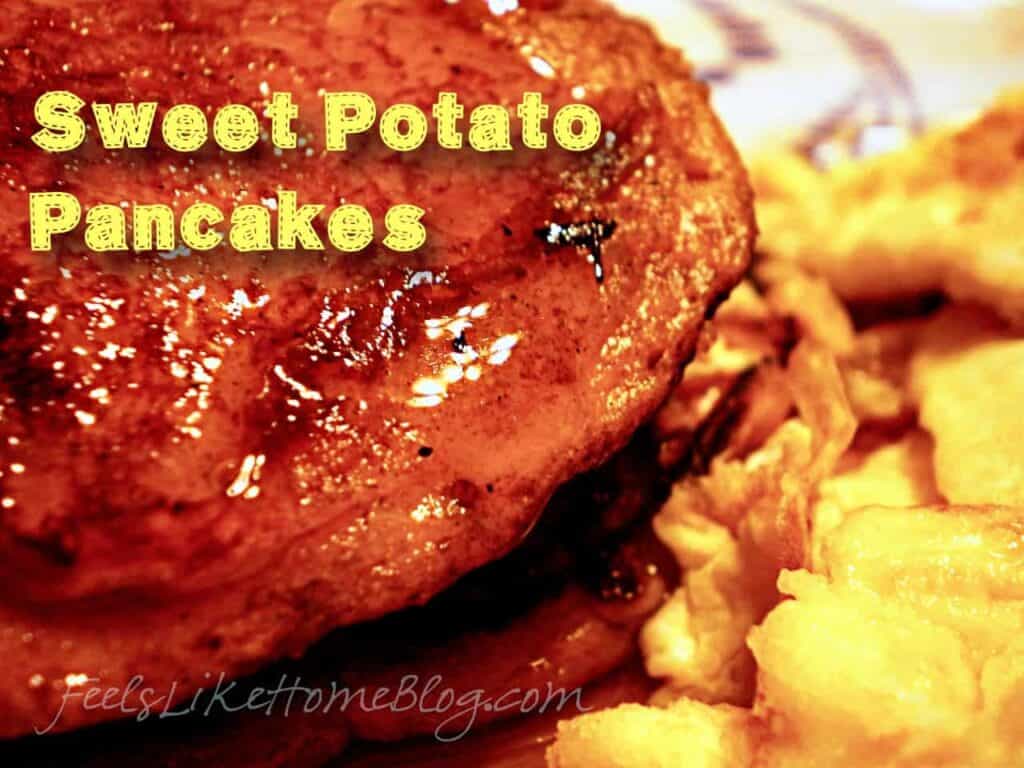 I love breakfast for dinner, and I especially love omelets and pancakes.
We make all kinds of pancakes – chocolate chip pancakes, pumpkin pie pancakes, carrot cake pancakes, apple ring pancakes, bananas foster pancakes, and baked pancakes.
They are a perfect breakfast or dinner (or lunch, I suppose) because they're quick and easy, and paired with eggs or ham and some fruit, they make for a satisfying and filling meal.
At home, we make pancakes and eggs for dinner often.
When we're eating out though, we really like to have them for breakfast.
We aren't fortunate enough to have an IHOP close to home, but we really look forward to eating at IHOP when we go to the beach at Rehoboth, Delaware. I love that their omelets come with pancakes, and their syrup is buttery and sweet. Oh, the indulgence!
I was happy to hear that I could get IHOP at Home® Syrup at my grocery store. I'll be able to enjoy that rich flavor in between our annual trips to the shore!
You can visit the IHOP at Home website to find out where to get them in your area.
We put this recipe together because we had a few sweet potatoes that needed to be used up.
You know that sweet potatoes are a super food, right? They're packed with beta carotene and a bunch of other stuff that's good for you.
Even though these pancakes are healthy, both Grace and Allie loved them! The pancakes' flavor is very similar to the pumpkin pie pancakes I also love, and they were only a wee bit more work than normal pancakes.
| | |
| --- | --- |
| | |
Cook the sweet potatoes using your favorite method. We microwaved ours for 8 minutes, but you could boil or bake them, too. Peel and mash the potatoes.

In a stand mixer (or in a large bowl with a hand-held mixer or wooden spoon), combine the mashed sweet potatoes with the eggs, vanilla, and melted butter.

Sift the flour, baking powder, and cinnamon into a small bowl.

Gradually add the dry ingredients into the wet ingredients, scraping down the bowl to make sure it's well blended. The mixture will be very thick.

Add milk slowly, until the batter is the right consistency, thin like cake batter. (If you need help getting your pancakes right, read my post on the secret to making perfect pancakes.)

Preheat the griddle over medium heat. Drop the batter onto the griddle using a 2-3 tablespoon scoop (or a 1/4 cup measuring cup if you don't have a scoop). When bubbles begin to form in a pancake, flip it over and cook another minute or so, until both sides are slightly browned.
Don't worry about the whole wheat flour in these pancakes. You can't taste the whole wheat flour at all. If you don't have any, though, feel free to substitute with white flour.
IHOP at Home® Syrup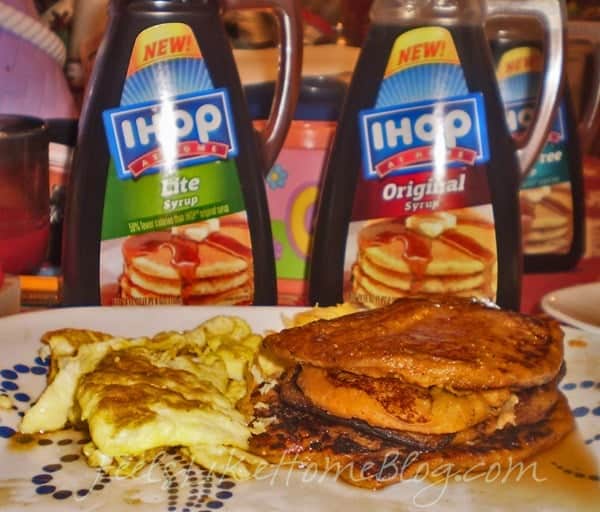 We tried all three kinds of IHOP at Home syrups–Original, Lite, and Sugar-Free.
Honestly, I didn't love the Lite. I can't explain why, but I didn't like it as much as the Original and the Sugar Free.
The Sugar Free syrup was thinner than the Original, but it tasted good. It was sweet and had no strange chemical taste or aftertaste.
I'm a stickler for reading labels; I noticed the IHOP at Home Sugar Free syrup has no aspartame and no saccharine, both of which I avoid religiously. It had about 20 calories per 2 tablespoons.
The Original syrup was thick and buttery. It was rich and wonderful and amazing. I would have liked to have eaten it on many, many pancakes, but it has more calories than Sugar Free, and I didn't have enough calories left for the day to enjoy it on my pancakes.
I was compensated to write a recipe using IHOP at Home® syrups. All opinions are my own.
© 2012 – 2019, Tara Ziegmont. All rights reserved.