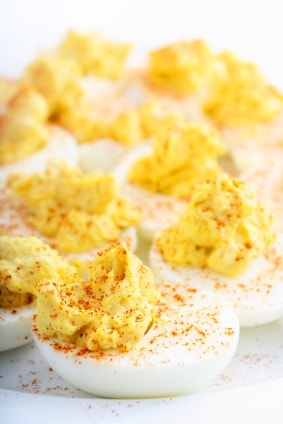 I have not made deviled eggs since I was in college. That was ten years ago. I didn't exactly remember what to do. I have made hard cooked eggs since I was in college, and they always come out badly. The yolks turn green, the whites get rubbery, and the peels stick so tightly to the eggs that I lose huge chunks when I try to peel them off. I did some research, and I found a terrific tutorial for hard cooking eggs at The Hungry Mouse. I cooked the eggs exactly as Jessie explained, using Julia Child's method. Jessie says that her eggs don't end up with green yolks, but about half of mine did. I'm not sure where I went wrong there. The whites were very nice and very tender, as Jessie claimed they would be. They tasted great. The whites were so tender, however, that they stuck to the shell when we tried to peel them. The peels stuck to the egg as if they'd been attached with glue. We tried everything to separate them, and (in many cases) we ended up losing big chunks of egg white. I thing I'm hard cooked egg impaired. It never works out nicely. Is there an important tip I've never learned? Nonetheless, I fashioned the mangled eggs into deviled eggs using the following recipe.
Cut each egg in half through the yolk to make 2 long, thin halves. Pop the yolks out into a bowl, and set the whites aside.

Mash the yolks and combine with Miracle Whip light, both mustards, and Worcestershire sauce. Blend well. Taste and adjust ingredients as necessary to suit your palate.

I use my Easy Accent Decorator from The Pampered Chef to fill the egg whites. You could use any decorator to pipe the filling into the wells (or even a plastic bag with the corner cut off). Fill the decorator with the yolk and use it to fill each well.

When eggs are all filled, sprinkle paprika over top for color and a punch of flavor.

Don't forget to stop back on Thursday for Grace's Kitchen!
© 2009 – 2018, Tara Ziegmont. All rights reserved.