These sugar free hot tea bombs will bring your favorite drink to the next level. These trendy viral Tiktok drinks are made using loose tea or tea bags and dried edible flowers, enclosed in a hard, brightly colored shell made of isomalt crystals. When you drop the tea globe into hot water, the shell melts, and the tea explodes into your mug. Give this recipe a try if you are looking for a fun blooming twist on typical hot tea.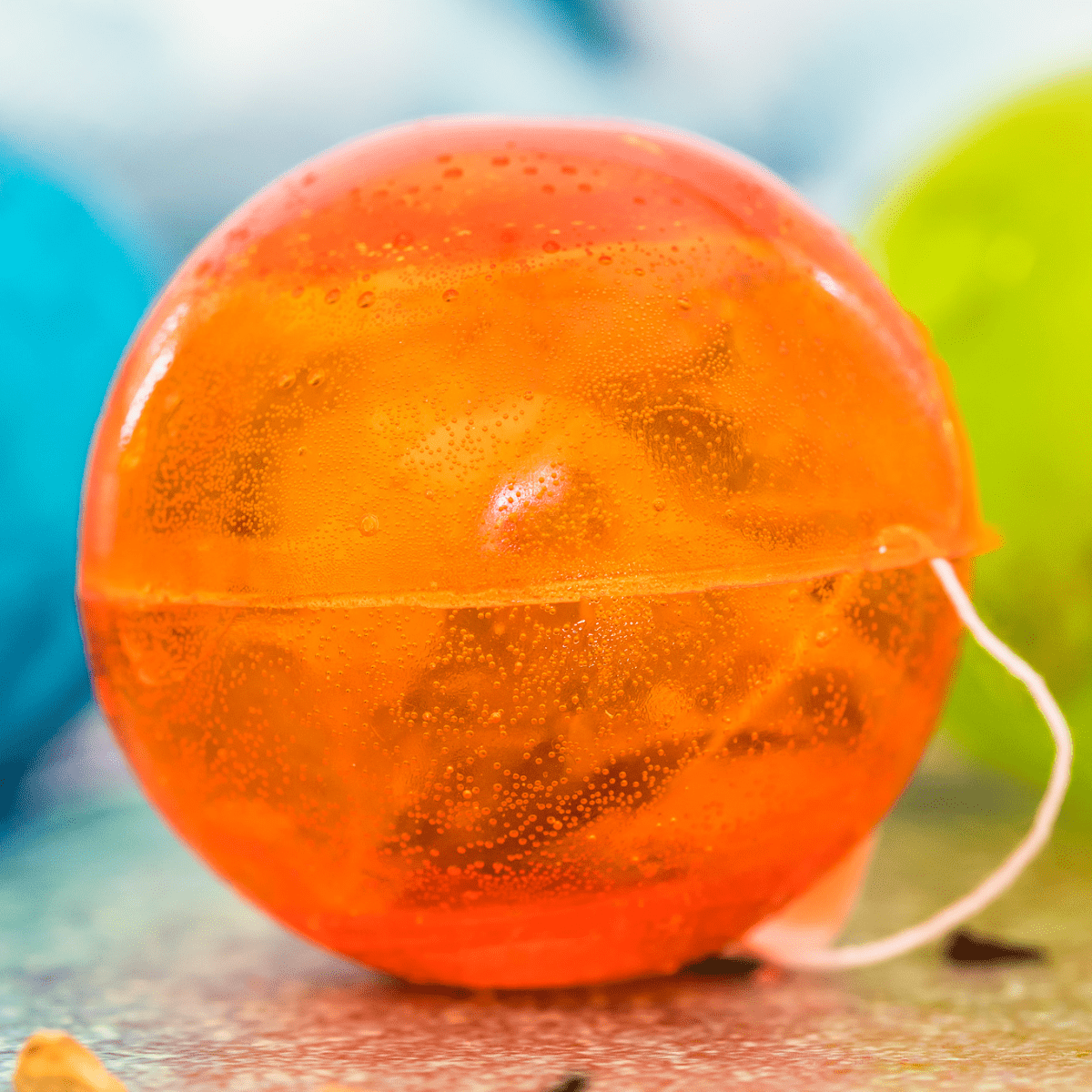 Hot tea bombs are a big thing on Tiktik (I guess? So my teen tells me so.), and they are super easy to make. You will be shocked at how quickly and easily hot tea bombs come together. It literally takes a few minutes and a few dollars' worth of supplies.
We've been buying hot tea bombs at the tea room we love to visit, but at $5 a piece, they add up quickly. Given how cheap and easy they are to make, I stopped buying them from the tea room and started making them myself.
My favorite tea to put in a hot tea bomb is an herbal tea, like the cherry vanilla or black cherry berry, but of course any black tea or green tea works just as well. I have many, many flavors of loose leaf herbal tea, and I thought they would be really cool in tea bombs, but the first time I used one, I realized that loose tea is not the best idea.
Here's what I was thinking: I'd put the tea bomb in the mug, the loose tea would explode into my cup, I'd make my tea, and then I'd pour the tea through a tea strainer and drink it. Except, I made the tea right in the mug and so... where was I going to pour it? I tried pouring it from the first mug into a second mug, but you know if you've ever tried pouring out of a mug that it dribbles all over the place and basically makes a huge mess.
Thus, if you're going to use loose leaf tea in your hot tea bombs, you're going to want to put the bomb into a small teapot, and that sort of dampens the fun of the blooming tea. But if you want to use that special loose tea you love, go for it. It's still fun to watch, even if you do put the globe into a pot.
What you'll need to make hot tea bombs
EQUIPMENT
INGREDIENTS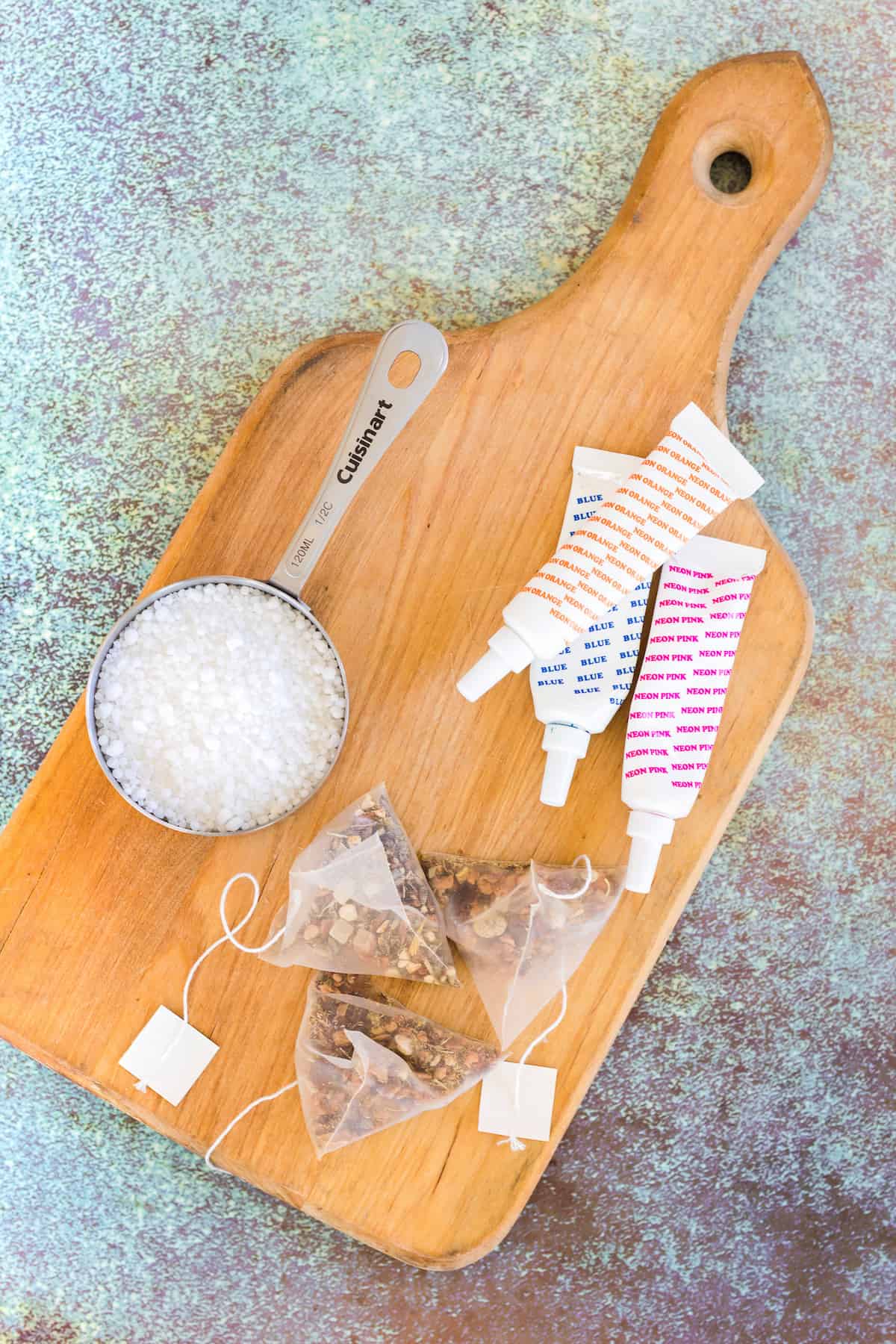 See printable recipe card at the bottom of the page for measurements and more information.
Isomalt crystals - These clearish crystals are made from beets, and they have virtually no nutritional value. Sugar free. Very mildly sweet flavor; nothing to assault your tea or your tastebuds.
Gel food color - You don't have to color your tea bombs, but I think colored ones are so much prettier. You can't use liquid food color because it will dilute the isomalt, and then the isomalt will not harden. It's necessary to use gel because it's more potent and has less liquid to muck up your isomalt solution.
Tea bags - You will see tea bags in the photos below, but you can also use loose leaf tea. Simply measure out 1 teaspoon of tea per globe and pour the loose tea into the melted isomalt crystals. The tea may sort of incorporate into the globe itself, and it will then be directly in the hot water when you pour the water over the hot tea bomb. Thus, if you use loose tea in your hot tea bomb, you'll need a tea strainer and will probably have to pour the tea from your first mug into a second one or else be content drinking the tea leaves.
Optional ingredients
These all make your tea bombs extra special.
Dried edible flowers - You can add dried lavender, dried rose petals or tiny buds, dried chamomile flowers, dried pansies, or any number of other flowers. Some have a flavor and some don't, so choose carefully and experiment often.
Dried herbs - There are many different herbs that can flavor your tea. I've tried nettle and thistle (in Scotland - and they were both excellent!), but you could also try thyme or anything really. As with the flower, feel free to experiment.
Edible glitter - This is just plain fun! You can mix it into the isomalt to make a glittery tea bomb, or you can add it with the teabag to make a glitter explosion when the bomb melts.
Sugar cubes - These are a nice addition since most people put sugar into their tea anyway. My kids especially love sugar cubes. They're so much more fun than plain old sugar crystals.
Honey - Because it's shelf stable, you can squirt or spoon honey into the globes along with the tea bags.
How to make the easiest hot tea bombs recipe
Melt isomalt crystals in a small saucepan over medium heat. If needed, shake pan to facilitate melting. DO NOT STIR.

When all crystals have melted, work quickly to spoon the mixture into the mold cavities of semi-sphere molds. The melted isomalt is very hot and can cause severe burns. Be very careful to avoid contact with skin.

Add a few drops of gel food coloring into each mold. This will bubble up and sizzle. It's ok.

Blend food color with melted isomalt using a small spoon.

Working quickly, use the back of the spoon to spread the colored isomalt mixture over the entire surface of the mold. Do this step as fast as you can, it won't take long for the mixture to begin to set up.
Allow the halves to set completely before continuing, approximately 30 minutes.
Remove the top half of one sphere from the mold by carefully pushing up from bottom. Leave the bottom half in the mold; this will make it easier to assemble the globe.

Place 1 teabag (or one teaspoon of loose tea) in the bottom half of the globe in the mold along with any edible flowers, sugar cubes, honey, or herbs you want to use. You may need to fold or crinkle the tea bag; it will be fine. If you're using a teabag, you can either leave the tea bag string outside the mold or tuck it inside.

Reheat the small saucepan or a small skillet over low heat. This will be used to smooth the globe edges and ease joining the two globes together.
Place the globe top onto the bottom of the hot pan for just 2-3 seconds to smooth and melt the edge.

Quickly join the top to the bottom globe that is still in the mold.

Allow the tea bomb to cool for 5-10 minutes. After 5 minutes, you should be able to remove the entire sphere from the mold by carefully pressing up on the mold to release the bottom half of the globe.

How to use a hot tea bomb
Hot tea bombs are super easy. Simply place the bomb into a mug and pour boiling (or very hot) water over the top. The hot liquid will melt the isomalt and whatever's inside will explode right out.
How do you store hot tea bombs?
Tea bombs can be stored at room temperature. They don't need to be refrigerated and in fact would get likely get sticky in the fridge.
Keep tea bombs in a safe, dry location, away from moisture.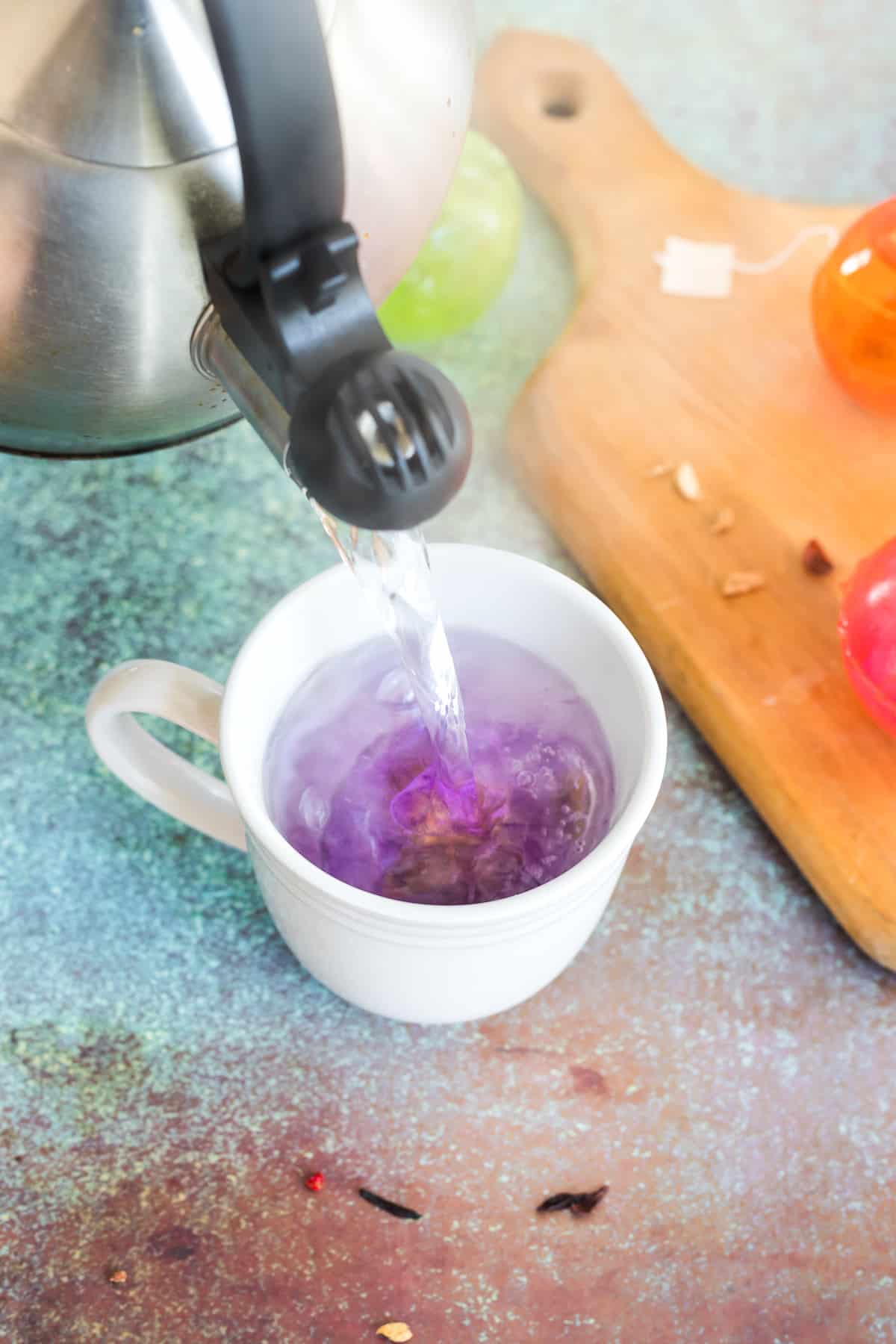 Notes for hot tea bombs
Tea globes are extremely fragile. Use care when handling them.
Making hot tea globes is more labor intensive than making hot chocolate bombs. Your globes will improve with practice.
If you're concerned about burns, wear sugar gloves to reduce the risk.
When you use gel food coloring, the tea will have a tint of the color of the globe but it will not affect the taste of the tea.
Can you make more than two hot tea bombs at one time?
If you want to make more than two hot tea bombs, I recommend making multiple batches (and make only two tea bombs per batch of melted isomalt). If you try to double or triple the recipe, the isomalt mixture will begin to set up before it can be placed in the molds and spread out to form globes.
You might also enjoy these delicious recipes:
Recipe