This quick & easy cheesy hot pizza dip recipe from the Pampered Chef is the best appetizer for any party because it has all the flavors you love in pizza in a bite-sized serving.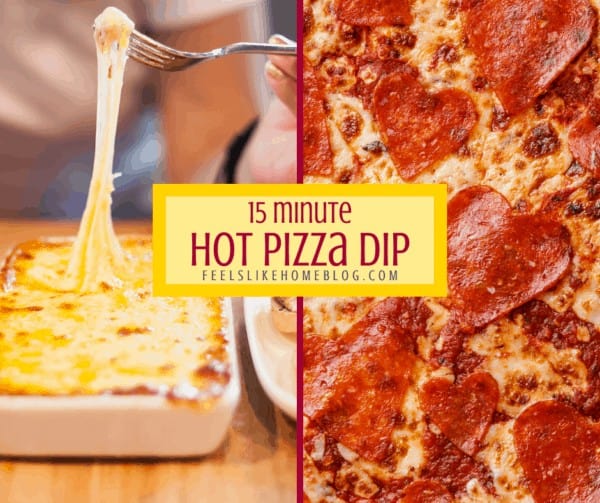 When I was a Pampered Chef consultant, I made this hot pizza dip recipe pretty often at parties. It was always a big hit because it tastes amazing, and it's so easy to put together.
All you have to do is soften the cream cheese (this is the hardest part!). You can leave it out on the counter for the afternoon or you can microwave the two blocks for about a minute. I never remember to let it sit out, so I always end up microwaving.
After the cream cheese is soft, all you do is mix in the spices, spread the mixture in the bottom of a baking dish, top with shredded cheese, spread pizza sauce over the cheese, and finish with some additional shredded cheese.
You could pop this hot pizza dip into the oven for a half hour or so, but I prefer to microwave the whole thing because then it's done in less than 10 minutes.
We take this to potlucks pretty often, and there are never leftovers. It's so good and cheesy and garlicky; everyone wants a second helping.
When we make hot pizza dip at home, the kids make sandwiches out of their scooper chips. I don't get it, but they always do it, so it must be a thing. Whatever. Kids are weird.
If you're looking for an awesome appetizer recipe, you should check out these ones as well:
With its garlic and Italian seasoning and a healthy amount of cream cheese and pizza cheese, this quick & easy hot pizza dip is sure to please your whole party crowd!
Recipe