Light and fluffy Fruity Pebbles pancakes are sweet and delicious and make the perfect breakfast for a birthday, sleepover, St. Patrick's Day, Easter, or other special occasion. Kids love them!
Why these are the best Fruity Pebbles pancakes
This pancakes from scratch recipe is super easy and makes the very best light and fluffy pancakes! If you want to shortcut the process, you could use a prepared pancake mix and just whip that up, adding in the Fruity Pebbles as instructed in the recipe below. You'll be missing the cereal milk component, but you'll save a bunch of time.
This recipe uses cereal milk - a yummy concoction formed by soaking Fruity Pebbles cereal in milk for an hour and then straining out the soggy bits - resulting in a lot of fruity taste in every beloved bite. Cereal milk makes these pancakes a sweet fruity flavored treat!
These rainbow cereal pancakes make every weekend morning fun. The super cool rainbow colors make them perfect for St. Patrick's Day, Easter, and Christmas breakfast, as well as birthday breakfasts and sleepovers. You can't go wrong with Fruity Pebbles pancakes for a breakfast treat!
The history of Fruity Pebbles cereal
Fruity Pebbles cereal was first introduced in grocery stores in 1971 to capitalize on the popularity of The Flintstones cartoon and the movie spinoffs that followed.
I'm so glad that they decided to make Fruity Pebbles because it's been my favorite cereal since I was a kid! I have eaten them on and off for most of my forty-two years.
The original Fruity Pebbles cereal was made of cherry, lemon, and orange flavored flakes. In 1985, Post added purple. In 1987, they added green. Berry Blue came in 1994, Incrediberry purple in 1995, and Bedrock Berry Pink in 2005.
Who knew there was so much involved in one little box of cereal, am I right?
Are Fruity Pebbles gluten-free?
According to the box, they are! I ate Fruity Pebbles for all the years I ate a gluten-free diet, and I never had a problem.
Because recipe formulations can change, always make sure you check the ingredients on the box before you add them to your pancakes.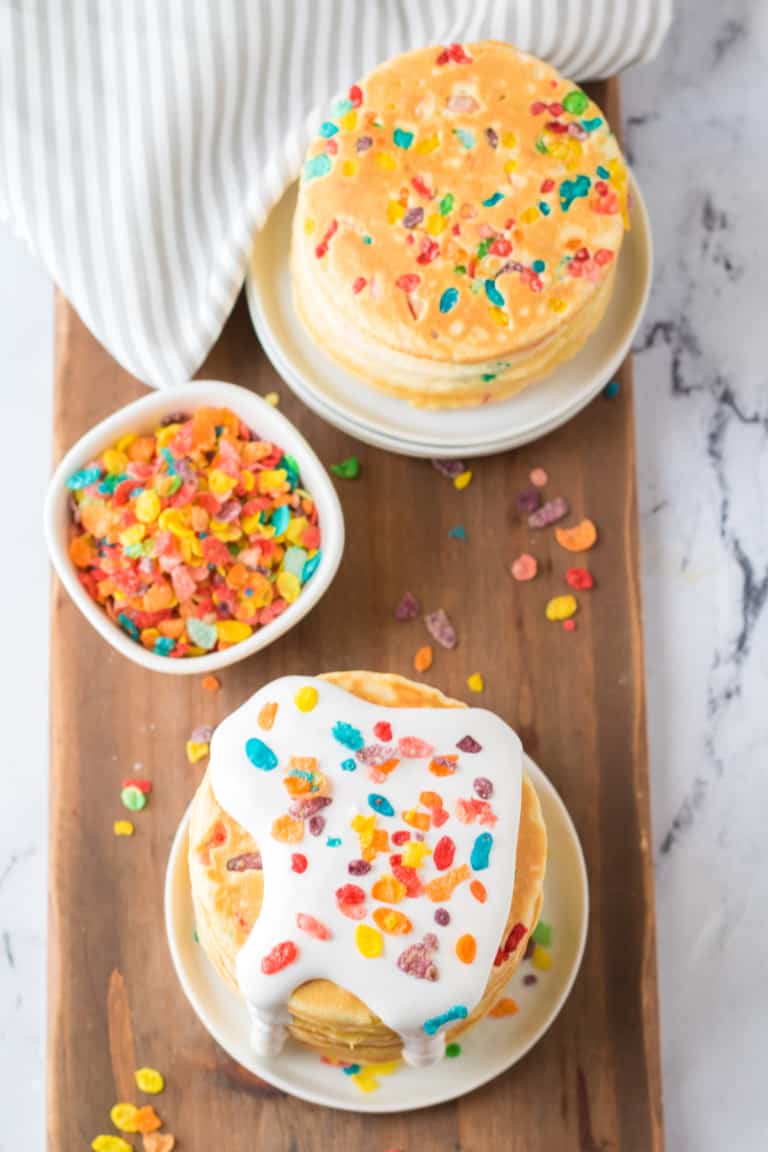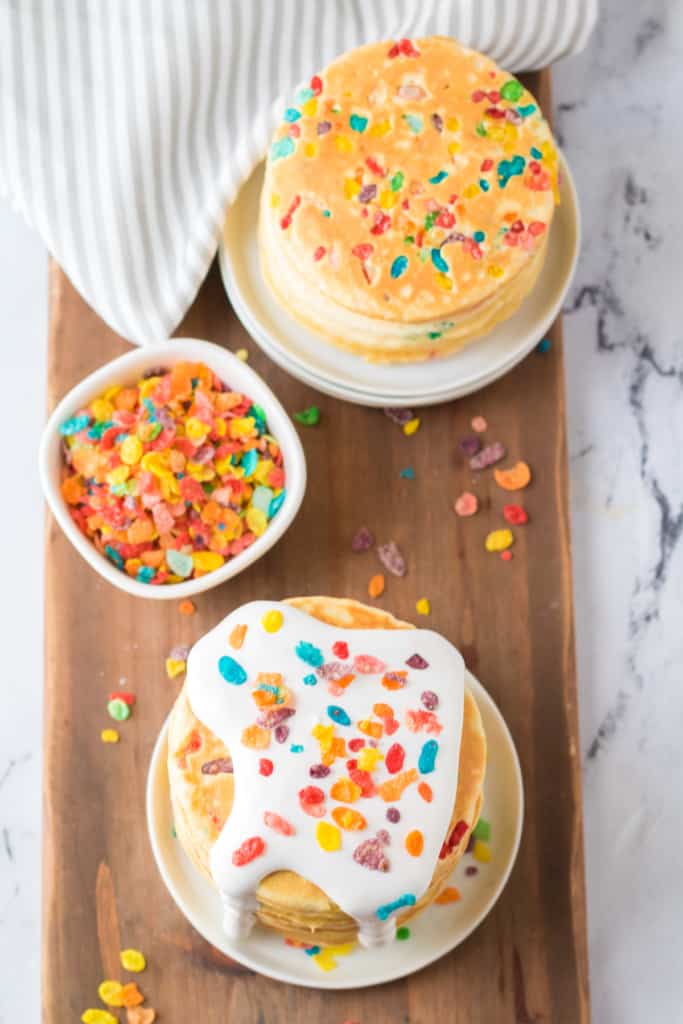 Are Fruity Pebbles vegan?
Fruity Pebbles contain several ingredients that are not vegan-friendly.
Are Fruity Pebbles healthy?
Welllllll... Post says that Fruity Pebbles is an "excellent source of vitamin D and 11 other essential vitamins and minerals" but it also contains 9 grams of sugar in a ¾ cup serving. An adult is supposed to consume 38 grams of sugar or less per day, so one smallish bowl of cereal is roughly a quarter of your sugar intake for the whole day.
So yeah, no one can claim that it's healthy.
However, if you're going to eat a stack of pancakes topped with marshmallow fluff or maple syrup, do you really care how much sugar is in the cereal that's mixed in? Just live dangerously and enjoy them as a treat.
What you'll need to make the best Fruity Pebbles pancake recipe
Equipment
You'll need measuring cups and spoons, including a ¼ cup measuring cup to pour the batter on to the skillet and a strainer to separate the soggy cereal from the cereal milk (more on that below). You'll also need a wire whisk and a spatula to turn the pancakes, as well as a large skillet with a flat bottom or a non-stick griddle.
If you want to get really fancy, you can use a Dash mini griddle to make perfectly uniform colorful mini pancakes, but I mostly make mine on a large griddle for time's sake. They aren't as perfectly uniform on a standard griddle, but they're a lot quicker. It just depends on what is more important to you: uniform perfection or less cooking time.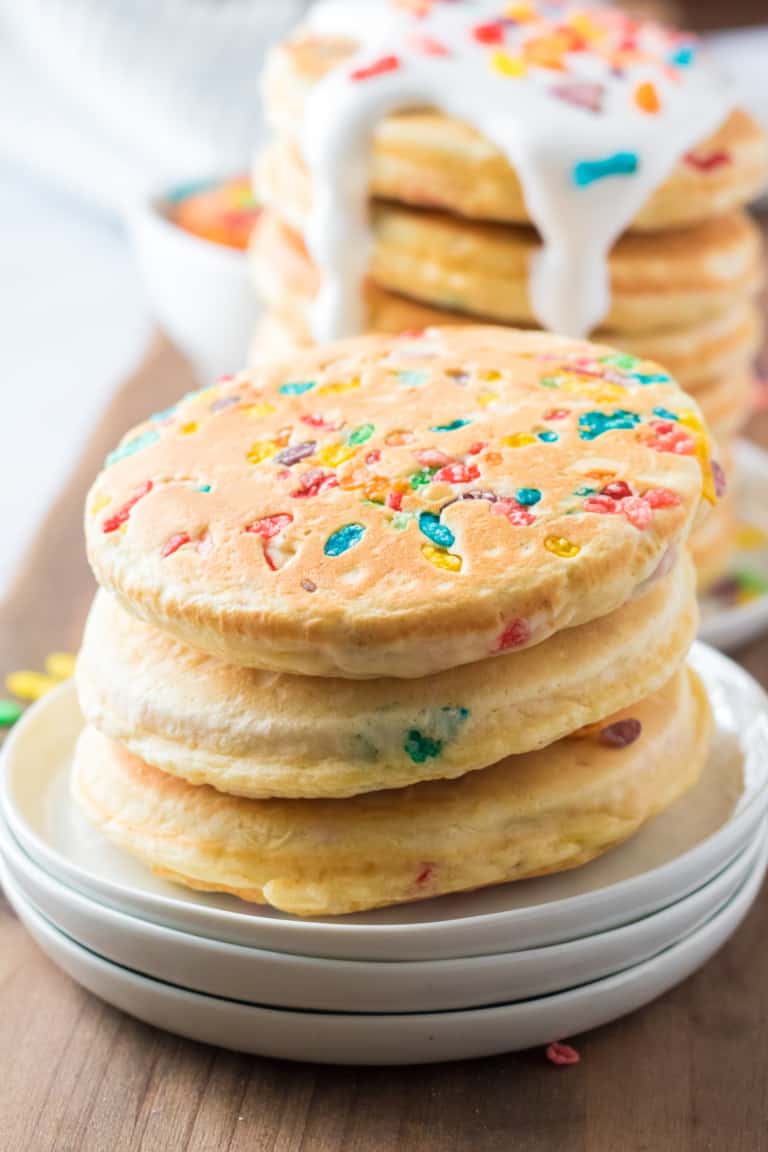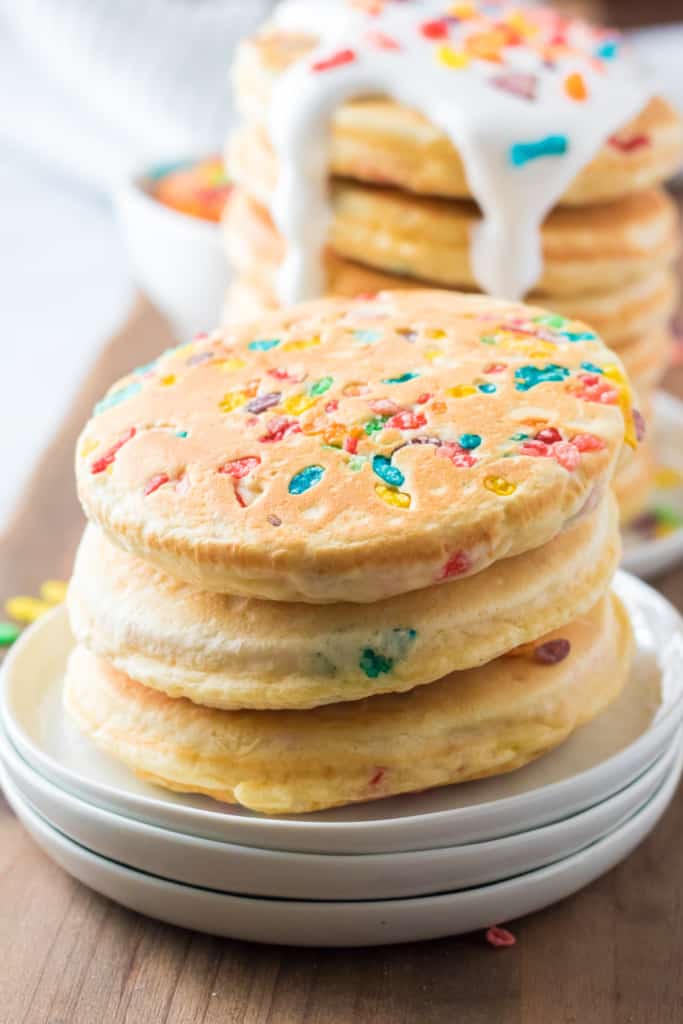 Ingredients
All purpose flour - Fruity Pebbles cereal is gluten-free, so it's pretty easy to make this entire recipe gluten free as well. Simply replace the flour with a cup for cup g-free substitute, and you'll be in great shape. You could also replace everything but the vanilla bean paste and cereal with a gluten-free pancake mix. Make sure to add the vanilla (it makes a big difference!) and of course, the cereal.
White sugar
Salt
Milk - You'll use the milk to make cereal milk or milk infused with the Fruity Pebbles flavor. I use whole milk, but you can use low fat dairy or non-dairy milk substitute.
Melted butter
An egg
Vanilla bean paste - I am in love with vanilla bean paste. It's a thick, glue-like liquid containing ground up vanilla beans. It has a dark but translucent appearance, and you can see the flecks of vanilla beans all throughout. I greatly prefer vanilla bean paste to vanilla extract because the extract has a noticeable alcohol taste (being made from soaking vanilla beans in alcohol), and the paste is all vanilla flavor. Also, the beans are removed from the extract prior to bottling, whereas they are ground up and part of the paste. I use vanilla bean paste in everything I make, but if you don't have it and don't want to get some, you can substitute an equal amount of vanilla extract.
Fruity Pebbles - You'll need the amount required in the recipe plus a bunch of extra. Buy more than you think you'll need.
Marshmallow fluff - This is to top the pancakes, in place of maple syrup. You can also use melted vanilla frosting, yogurt, honey, or of course, maple syrup.
How to make the best Fruity Pebbles pancakes
Make the cereal milk: soak ¾ cup Fruity Pebbles in 1 cup of milk for at least 30-45 minutes. Pour the milk and cereal mixture through a strainer and discard the soggy cereal. Set cereal milk aside.
In a medium bowl, whisk together the flour, sugar, baking powder, and salt.
Next whisk the milk, melted butter, vanilla bean paste, and eggs into the flour mixture until just combined. Don't over mix or your pancakes will be tough.

Stir in the remaining 1 cup of Fruity Pebbles cereal.

Lightly grease a large nonstick griddle or skillet with cooking spray or a small amount of butter. Heat to medium heat.

Pour one quarter cup batter onto the pre-heated skillet, filling up the pan without allowing the edges to touch. Cook pancakes until the edges start to form bubbles, about 1-2 minutes. Flip the pancakes and cook the other side 1-2 minutes. Remove cooked pancakes from pan and keep warm (see note below) while you repeat the cooking process with the rest of the batter.
When all the pancakes are cooked, prepare the marshmallow fluff by placing it in a medium-sized microwave safe bowl. Microwave for 15-20 seconds, then stir. You may need to microwave more than once to get it to a drizzle-able consistency. Keep your eye on it in the microwave because it will expand greatly when heating up. You will need a much large bowl than you think.
Spoon the melted marshmallow fluff over your pancakes and garnish with a sprinkle of Fruity Pebbles. Serve hot and enjoy!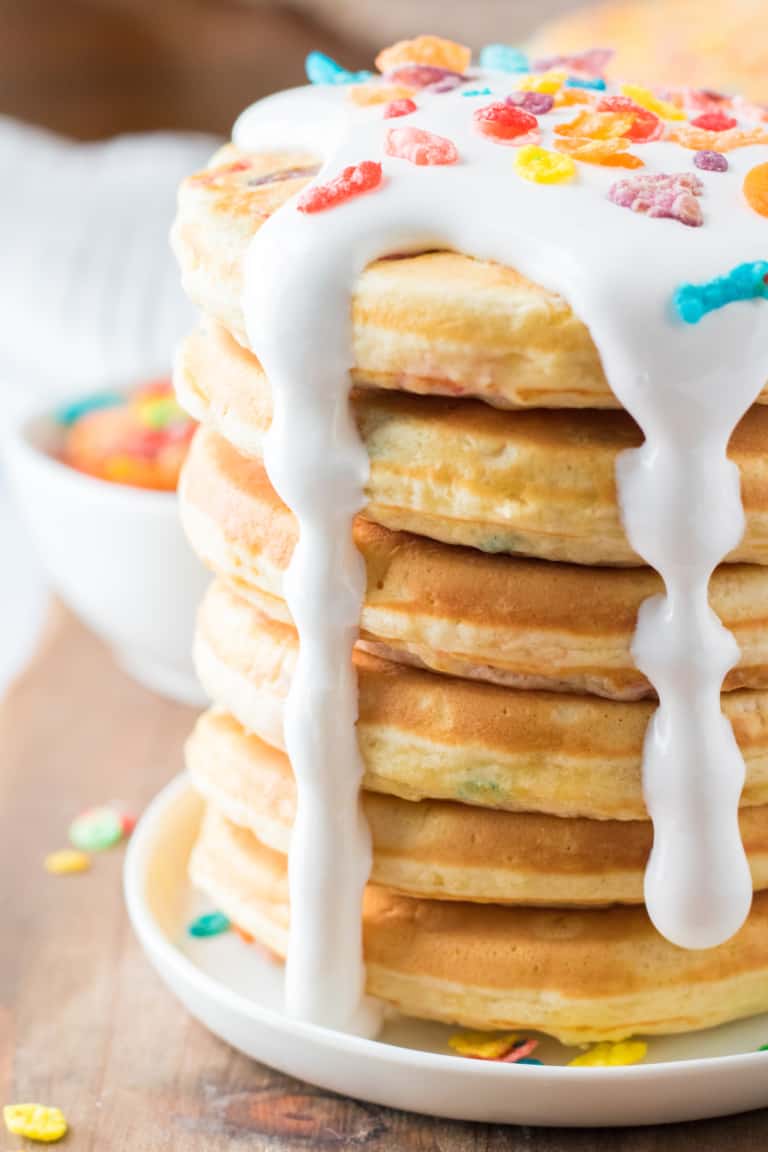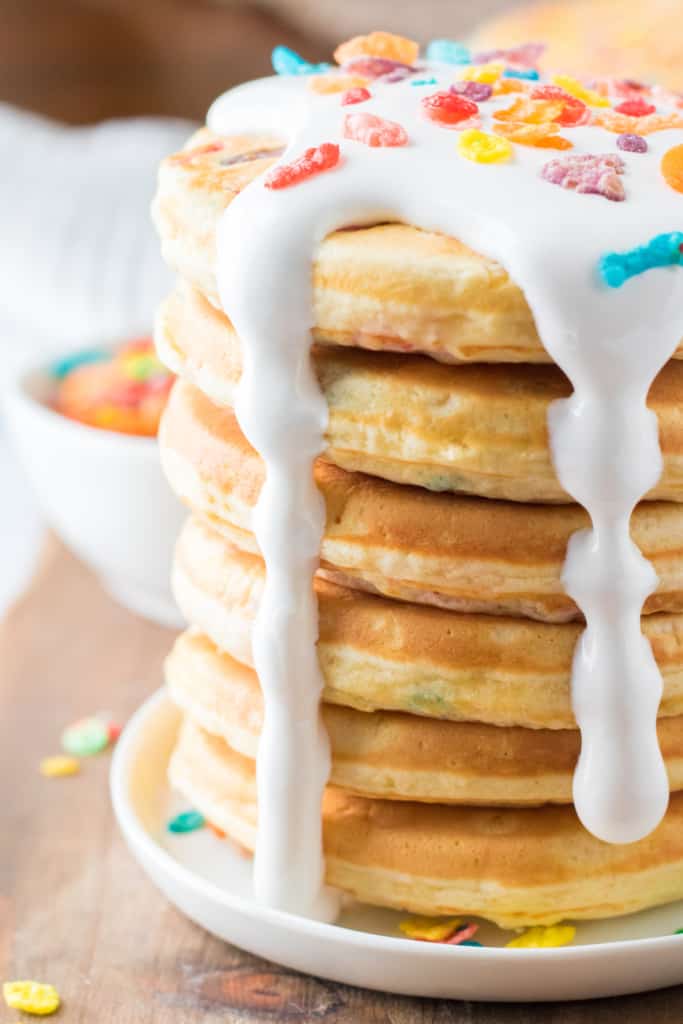 Rainbow cereal pancake variations
Fruity Pebbles work in this recipe because they're tiny. You could make it with other types of cereal, such as Fruit Loops, Cap'n Crunch, or Cinnamon Toast Crunch, but you'd need to chop those into small bits first. Of course, Cocoa Pebbles would work just as well as Fruity Pebbles.
My recipe includes a marshmallow fluff topping which makes these pancakes so rich and decadent that you won't believe it. However, you could just as easily heat up some jam or jelly, or top them with a dollop of vanilla-flavored Greek yogurt, whipped cream, or melted vanilla frosting. And of course, maple syrup or honey are always pancake options as well.
And if you wanted to up the health factor, you could add sliced strawberries or whole fresh raspberries or blueberries to the top (in addition to some extra Fruity Pebbles cereal!).
How to store Fruity Pebbles Pancakes
You can store your cooked Fruity Pebbles pancakes in the refrigerator for 2-4 days. Simple drop them into a zippered freezer bag and lay flat in the fridge.
I prefer to freeze leftover pancakes. Lay them on a baking sheet in the freezer for 4 hours, or until they are hard. Then drop the frozen pancakes into a zippered freezer bag, squeeze out all the air, and lay flat in the freezer. They should stay fresh for up to 2 months. To cook them, simply microwave for about 30 seconds or until heated through. I love to make a big batch and freeze them for breakfast later on!
Check out these other delicious breakfast foods while you're here:
Recipe