Cheeseburger Soup, originally from Taste of Home, is a rich and creamy, cheesy soup with a Velveeta base and a mildly spicy kick. This soup is a huge hit and makes enough for a crowd.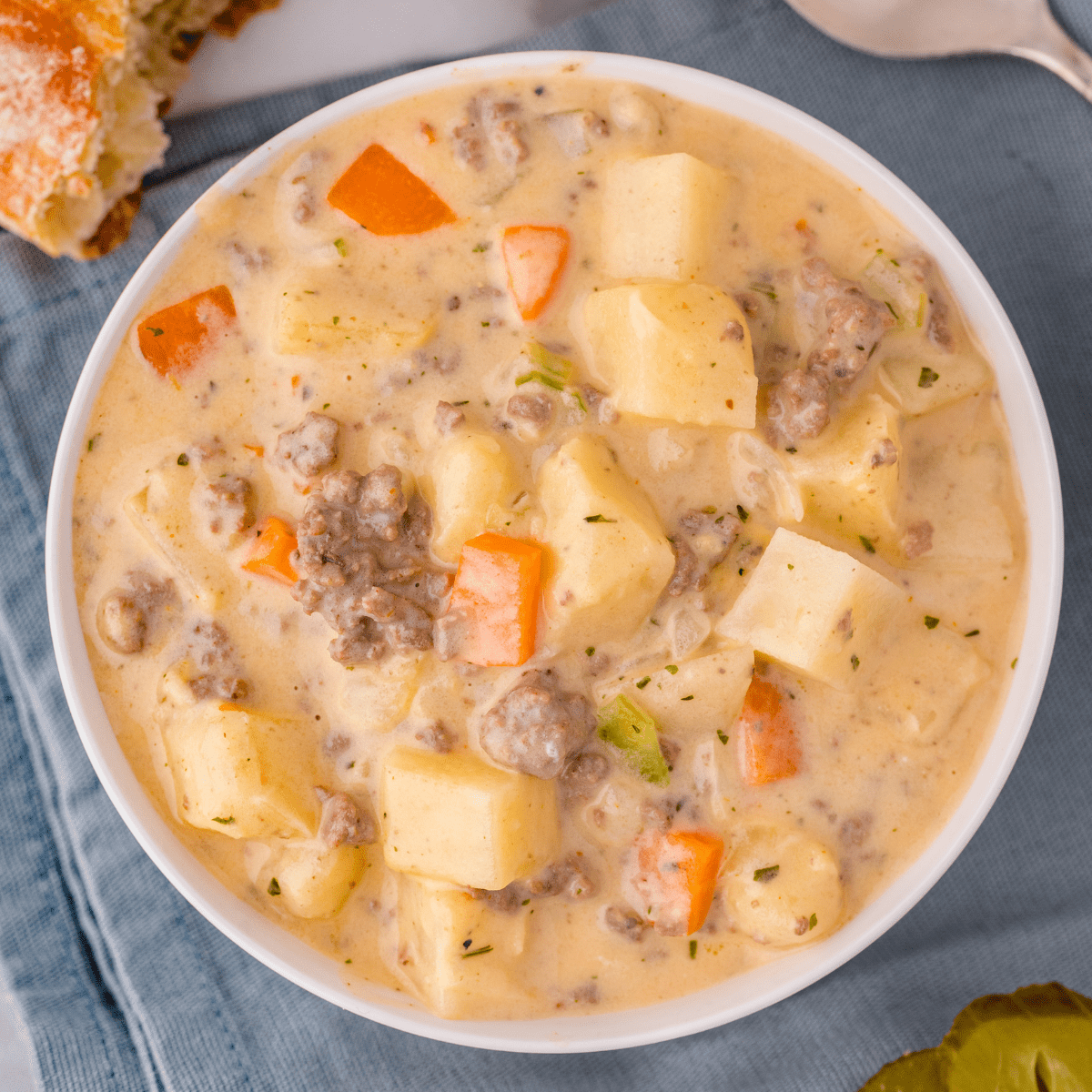 Once a month, we get together with our good friends and eat spend the day enjoying each others' company. It's always a long, laughter-filled day of eating.
This month, my friend Linda (who, as you may have noticed, gives me most of my best recipes), made Cheeseburger Soup.
In my brain, cheeseburger soup was full of ketchup and mustard and laden with pickles. It was a broth-based soup, and it was not at all pleasing in my brain.
Where did all that nonsense come from? It makes no sense, because who would want to eat a brothy soup with ketchup and mustard in it?
Nonetheless, I was hungry, and I asked if I could try some of the cheeseburger soup.
I was wowed with the very first bite. The smell was even amazing. That first bite was cheesy and creamy and spicy and out of this world good.
The soup turned out more like a spicy potato soup than what I would consider a cheeseburger soup. It's so very good.
Even Grace liked it. She ate my entire first bowl, allowing me only two little bites.
The soup is filling, though, and that one bowl was enough for her. I was able to enjoy my second bowl in relative peace.
I can also report that this soup reheats nicely as I ate the leftovers on Monday night.
Note (2017) - We have made this soup at least monthly since the time I posted the recipe in 2009. It's one of our most favorites. Joe takes it to every soup and recipe contest, and he almost always wins because everyone loves this creamy soup.
Linda served her soup with fresh bread. The bread was splendid dipped into the soup. When we make it at home, we skip the bread and serve it with carrot sticks or a small salad to increase the healthy factor (marginally, but every little bit counts, right?).
What you'll need to make Taste of Home Cheeseburger Soup
Equipment
No special equipment is needed for this recipe beyond standard kitchen tools. You'll use a vegetable peeler, sharp knife, 3-quart saucepan, and a small skillet.
Ingredients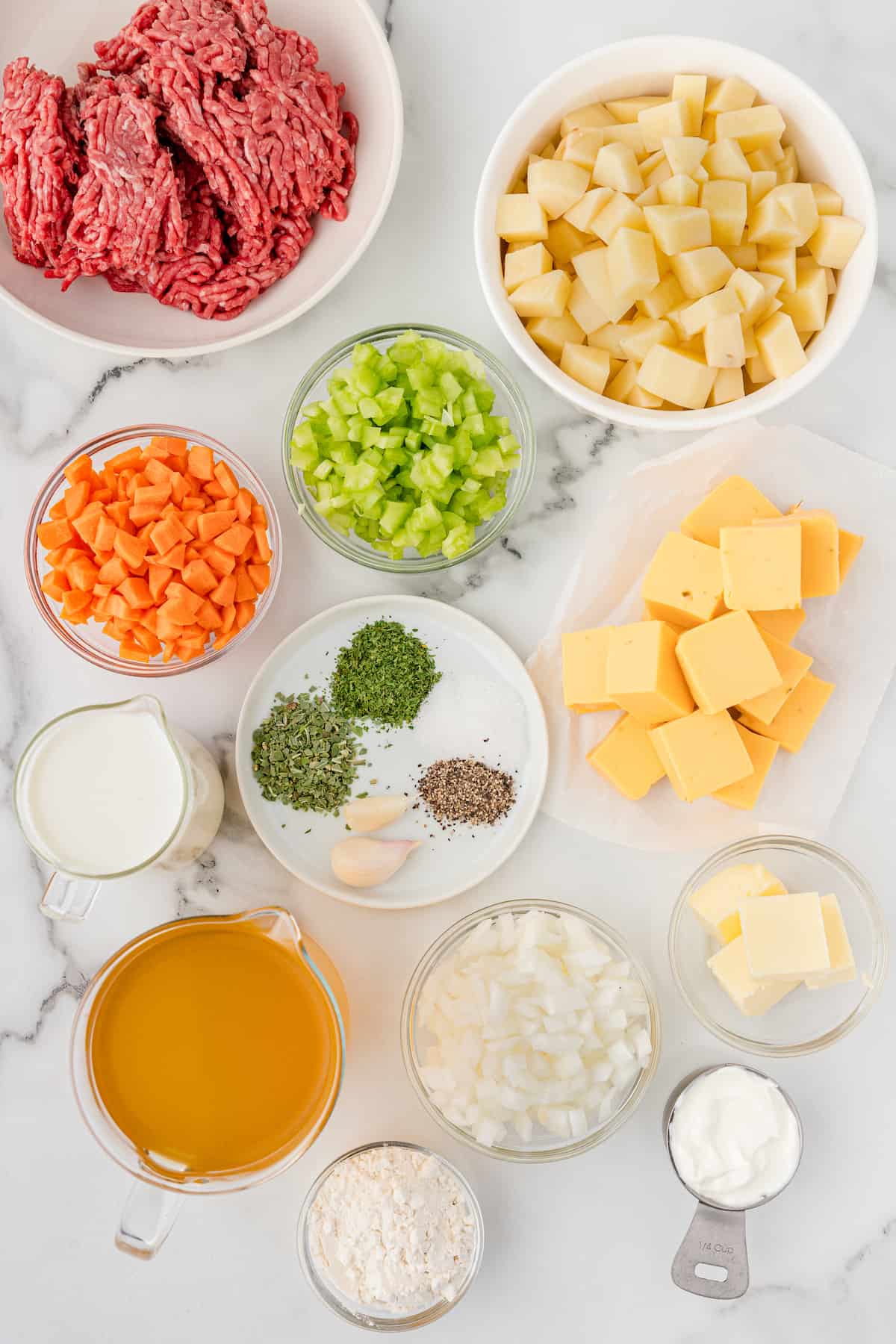 See printable recipe card at the bottom of the post for all measurements.
Ground beef - The original Taste of Home recipe calls for a half pound of ground beef, but when I make this recipe, I double it and use one pound of 93% lean ground beef. It makes the soup heartier and healthier.
Chopped onion - I think the onion lends a wonderful sweetness to the soup.
Shredded carrots - I don't know what carrots have to do with cheeseburgers, but I love them in this soup. They get soft, but they keep their shape and bite.
Diced celery - I personally hate celery and cut it so small that it disappears into the soup, but it adds to the flavor, so I don't leave it out.
Dried basil
Dried parsley flakes
Garlic - This is not in the original Taste of Home recipe, but it adds a spicy note to the soup which is magnificent.
Butter - You can use salted or unsalted. It won't matter.
Low sodium chicken broth - This is what makes the liquid in your soup. I suppose you could try low sodium beef broth; I never have, but it would probably taste good.
Diced peeled potatoes - This is about 1-¾ pounds. The potatoes bulk up the soup and give it a nice bite beyond just the ground beef.
All-purpose flour - This helps to thicken the broth. You can use gluten-free flour or wheat flour.
Pepper jack Velveeta, cut into cubes - This may be labeled as Mexican Velveeta Cheese. I have only ever used this exact cheese in my cheeseburger soup, but there are literally hundreds of comments on Pinterest where home cooks have used shredded cheddar, shredded pepper jack, shredded Monterey jack, and regular Velveeta, and every single person has said their soup came out awesome. So I don't think the exact type of cheese is all that important. What is important is the amount of cheese. Remember that the 12 ounces is a weight, and is not the same as a cup and half of shredded cheese.
Milk - This adds to the broth to make the liquid in the soup. You can use dairy or non-dairy milk, but make sure not to use a flavored milk like vanilla. Use the plain unflavored milk.
Salt
Pepper
Sour cream or Greek yogurt - This works with the cheese to make the soup rich and creamy.
How to make this cheeseburger soup recipe
Instructions
In a 6-quart saucepan or large dutch oven, brown the ground beef over medium-high heat; remove cooked beef from pan, drain, and set aside.

In the same saucepan over medium heat, sauté onion, carrots, celery, basil, and parsley flakes in 1 tablespoon butter until vegetables are tender, about 10 minutes.

Press garlic into pot, and cook until just fragrant, about 1 minute.

Add broth, potatoes, and beef to the vegetables in the pot; bring to a boil.

Reduce heat; cover and simmer for 10-12 minutes or until potatoes are tender.

Meanwhile, make a roux in a small skillet by melting remaining 3 tablespoons butter. Add flour; cook and stir for 3-5 minutes or until bubbly.

Add roux to soup; bring to a boil. Cook and stir for 2 minutes.

Reduce heat to low. Add cheese, milk, salt, and pepper; cook and stir until cheese melts.

Remove from the heat; blend in sour cream.

Serve immediately.
Can you make cheeseburger soup in a Crockpot or slow cooker?
You sure can! Head over here for Crockpot cheeseburger soup instructions.
Can you make cheeseburger soup in an Instant Pot or electronic pressure cooker?
You sure can! Head over here for Instant Pot cheeseburger soup instructions.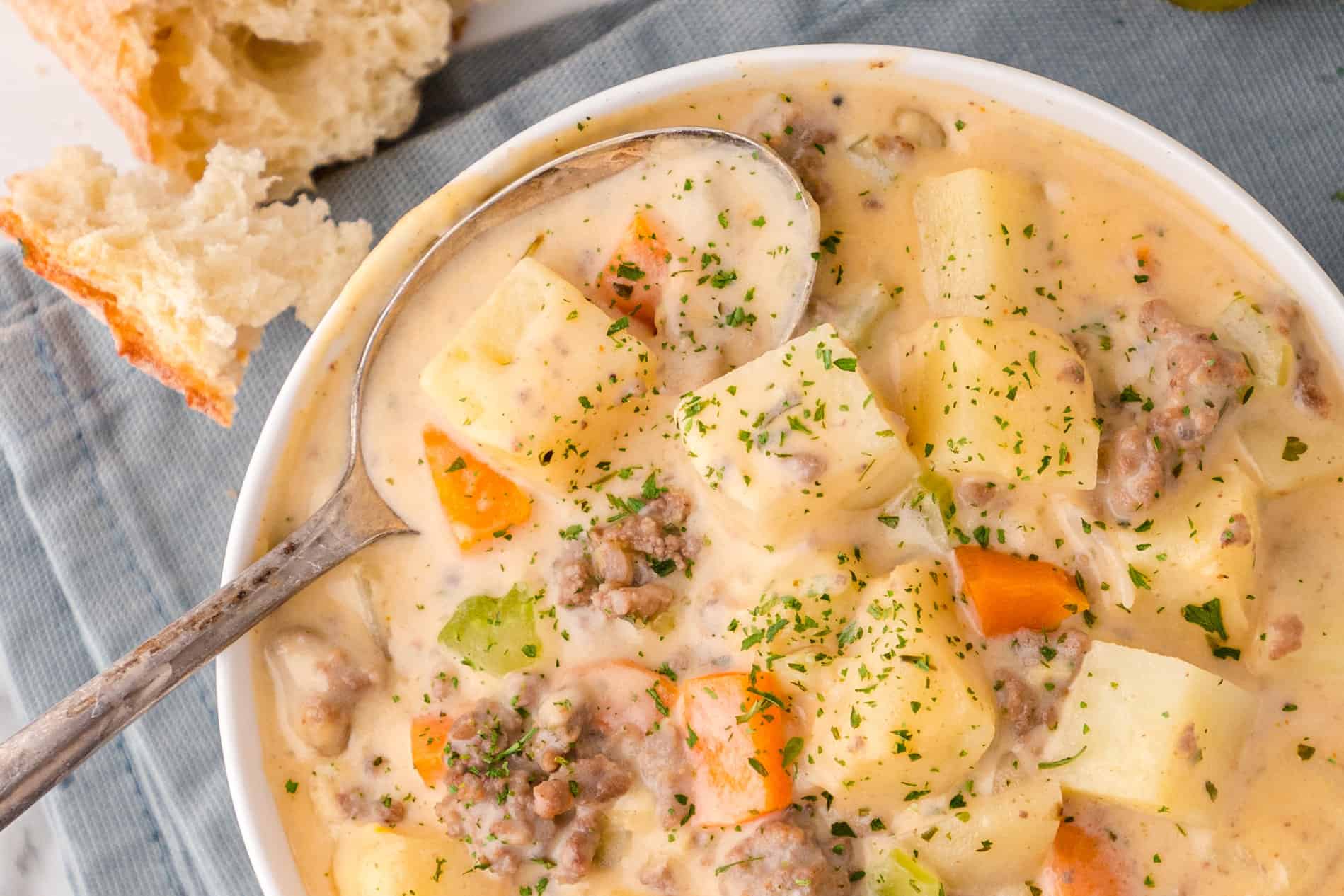 Tips for the best cheeseburger soup
Get the leanest ground beef you can. I buy 90% or 93% lean, depending on the store I'm shopping at (they don't all carry 93%). Make sure you drain the grease off after you brown it.
My favorite potatoes are Yukon golds, and they hold up pretty well in the soup. If you're worried about them getting mushy, you could use Russets instead, as those are a bit more firm. I would not recommend red potatoes in this recipe.
Velveeta makes all the difference. Velveeta makes this soup thick and creamy. As I have said above, it is possible to use shredded cheese, and the soup will still taste great, but it will have a thinner, runnier consistency.
Sour cream makes the soup creamy and rich. If you don't have any, Greek yogurt will work in a pinch. Or, try a few tablespoons of cream cheese which will also thicken and add cream to the soup.
Make sure you remove the soup from the heat before adding the sour cream. If you don't, the sour cream may curdle. You wouldn't have this problem with cream cheese.
Cheeseburger soup variations
It's hard for me to imagine this soup being any better than it is - it is already superlative!!! - but there are some adjustments that people have tried and discussed on Pinterest.
Vegetarian cheeseburger soup - Believe it or not, it's easy to make vegetarian cheeseburger soup! All you have to do is use vegetable broth in place of the chicken broth and TVP or veggie crumbles in place of the beef. Easy!
Keto cheeseburger soup - This soup is easy to make low carb! Simply replace the potatoes with an equal amount of chopped cauliflower. It will still be delicious!
Add crumbled bacon when you add the cooked ground beef into the soup.
Change the meat. You could substitute a different meat for the ground beef. Try ground turkey, Italian sausage, ground pork, or even ground chicken.
Change the cheese. As I mentioned above in the ingredients section, I have only ever used pepper jack or Mexican Velveeta in my cheeseburger soup, but you could try shredded sharp cheddar cheese, shredded pepper jack cheese, shredded Monterey jack cheese, some combination of the three, or regular Velveeta. As long as you use the right amount (12 ounces by weight), I think the soup will be great.
Add vegetables. Some Pinterest commenters have added mushrooms, bell peppers, or canned tomatoes.
Use beef broth. The original Taste of Home recipe called for chicken broth, and I'm not really sure why because beef broth would probably taste better. I'm going to try beef myself the next time I make it.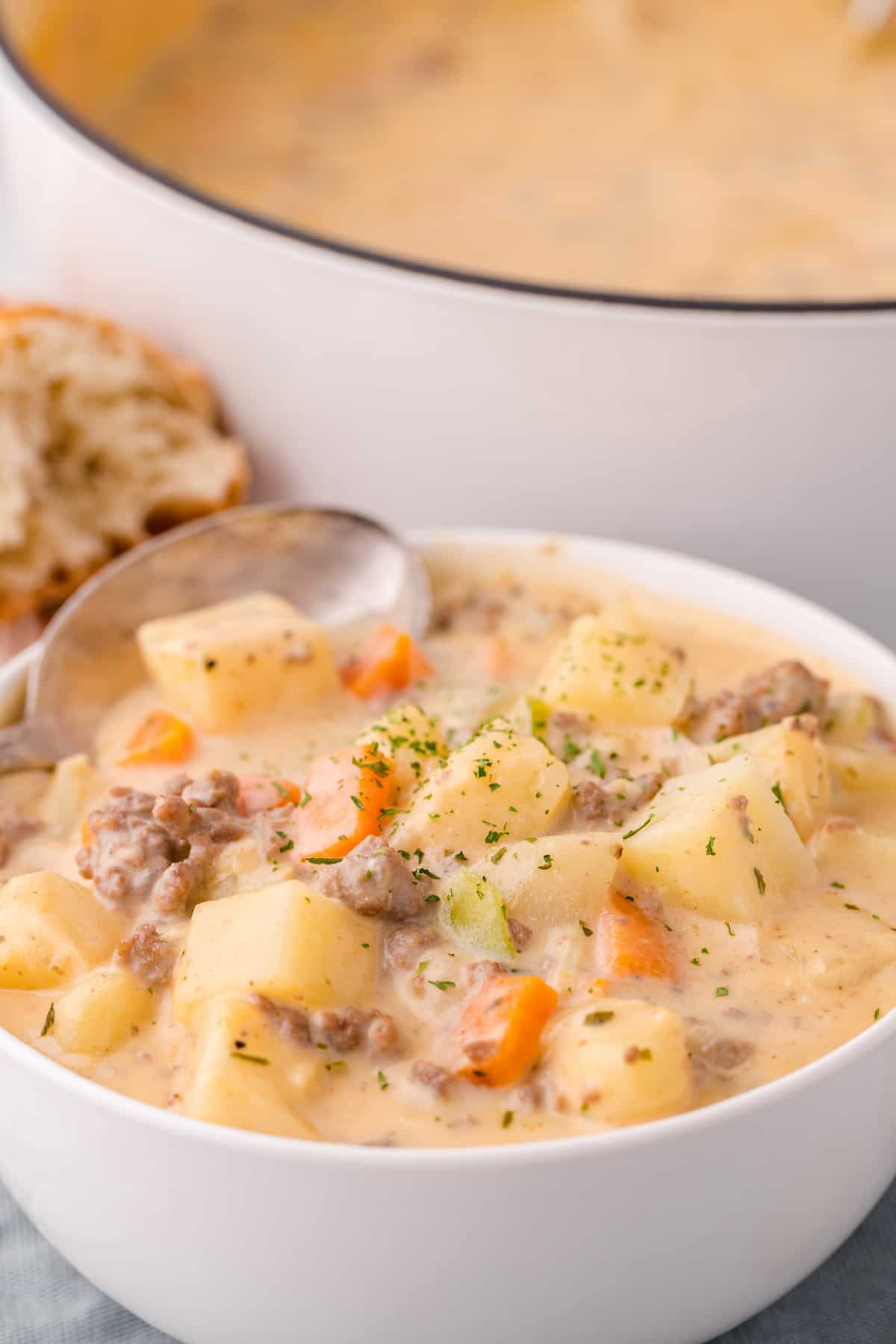 Garnish your cheeseburger soup!
Add toppings to your soup just before serving. There are some suggestions below, and it would be awesome to try one or a combination.
Crumbled bacon
Sour cream
Shredded pepper jack
Sliced green onions
Diced red onion
Chives
Dill pickles or dill pickle relish
Croutons - try bun croutons by dicing a hamburger roll, spritzing it with some butter-flavored cooking spray, and toasting the cubes in the oven at 375ºF for 10 to 15 minutes or until golden brown, turning once or twice during cooking.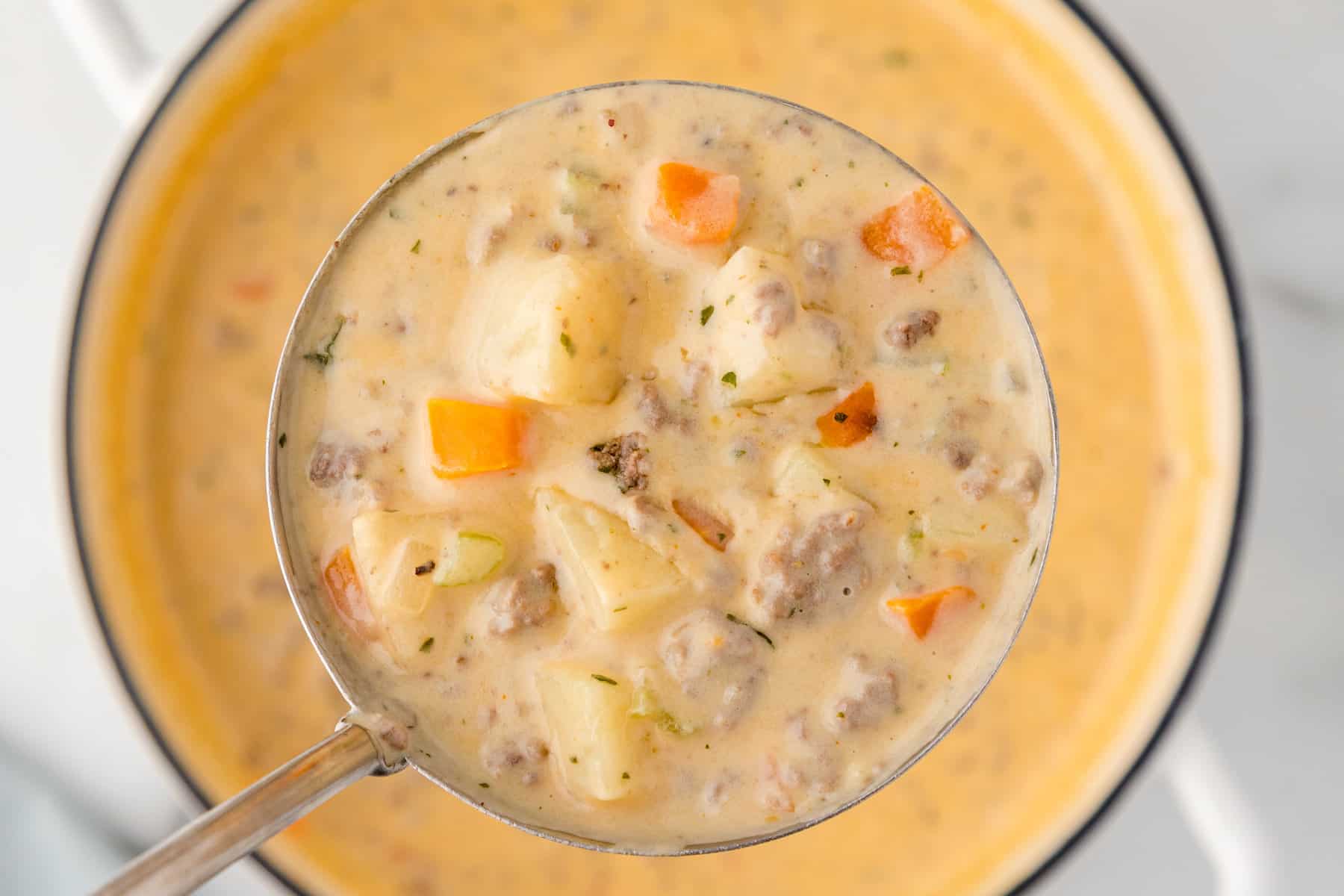 Storing cheeseburger soup
Cheeseburger soup reheats beautifully. Once it's totally cool, you can store it in an airtight container in the refrigerator for up to 3 or 4 days. When you want to eat it, you may need to thin it with a tiny bit of broth.
To freeze, let the soup cool to room temperature and then spoon it into zippered freezer bags. It will keep up to 3 months in the freezer. Thaw overnight in the refrigerator prior to heating in the microwave or on the stovetop.
Potato-based soups get a little weird after freezing and then thawing, so be aware of that. I do freeze it though if I've made too much. I deal with mushy potatoes than rather than throwing out spoiled soup.
More easy soup recipes
Check out these other delicious soups, stews, and chowders while you're here:
This cheeseburger soup is the best soup you will ever eat, bar none. It is cheesy and hearty and thick and rich. Your whole family will love it!
Recipe