These 24 Bible verses on chronic illness are encouraging and uplifting scriptures for people who are suffering physically or mentally. You can trust God for complete healing on earth or in heaven.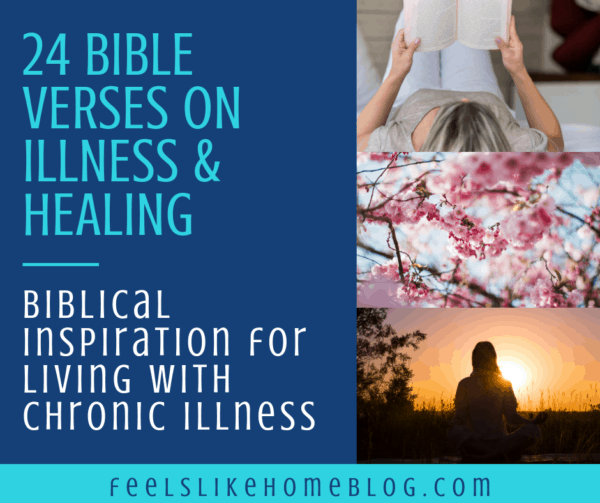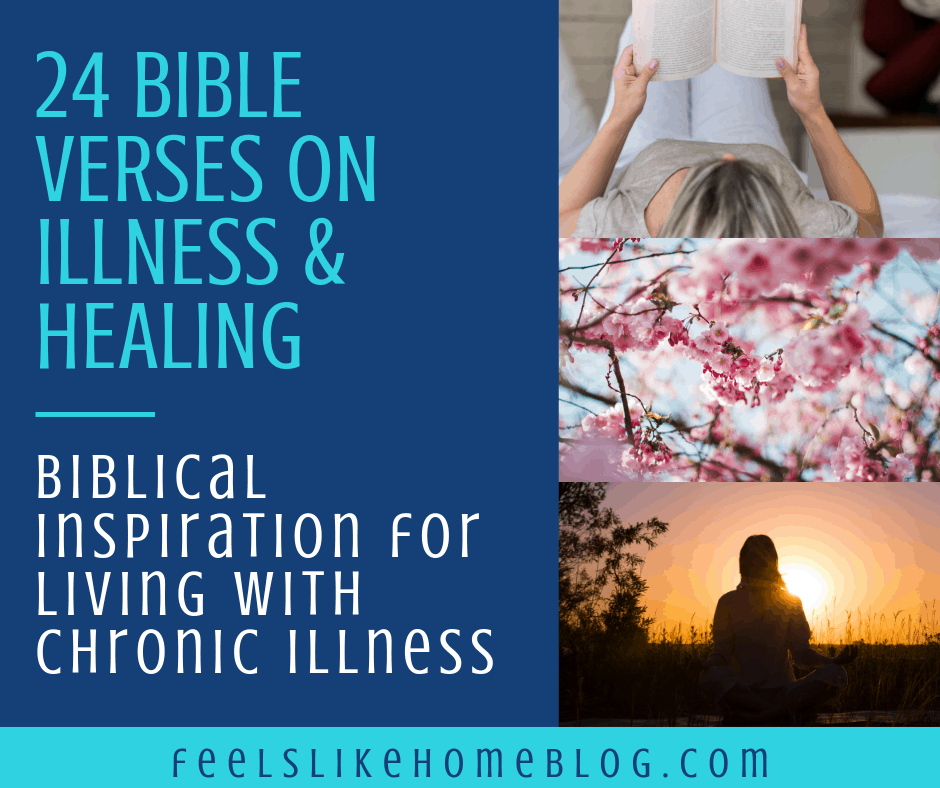 As I shared on Tuesday, I know what it's like to live with a chronic illness. I don't claim to know what it's like to deal with constant physical pain or body parts that don't work or are missing, but I do know a little about being unable to function or having to ask for accommodations in your life and work. In addition to bipolar disorder, I suffer from narcolepsy which makes me extremely sleepy a lot of the time, and I take daily medicine for both of those and a few other chronic issues.
I share this not for your pity but so that you may understand that I do understand chronic illness. Like many of my dear readers, I experience daily symptoms of diseases that betray my body and mind.
Why do you have a chronic illness?
Oh, my dear, sweet friend. I don't know the answer to that question, and I don't think you will know it either, at least not until you get to heaven.
One thing I know for sure is that I do not believe illness is necessarily caused by sin. You need look no further than the book of Job to see a man afflicted with terrible and painful illnesses through no fault of his own. Having said that, if you've had a chronic illness for years and willfully neglected its treatment all that time, then maybe your current situation is of your own making. But those cases are few and far between, and I don't believe that most of us are to blame for our current circumstances.
The answer I have come to appreciate for myself is that I have the issues I have so that I can help others with similar issues. It doesn't matter whether the issue is bipolar disorder or narcolepsy or the death of my mother or childhood abuse. I can use my experiences to glorify God and help other women in similar situations.
"It was not because of his sins or his parents' sins," Jesus answered. "This happened so the power of God could be seen in him." -Spoken by Jesus in John 9:3 (NLT)
Jesus spoke the words above in reference to a man who had been blind his entire life. He was an adult, and, though we don't know his exact age, we know that he was born blind. Thus, it would not be an exaggeration to say that he had been blind for at least twenty years and likely longer. It says elsewhere in John 9 that the man's parents were still living, so he likely wasn't an old man, though it also says that he was old enough to speak for himself, and the passage calls him a man and not a boy.
From all of this, I deduce that this man was blind for a good many years. At the time Jesus healed him, he was begging in the street, reaching out to strangers and neighbors alike for food and money. His disease defined him up until the point that he met Jesus. Afterward, he was dedicated to telling everyone of the restoration of his sight by Jesus, Son of God.
We don't have to be completely healed of our maladies to bring glory to God, friend. We can bring Him glory by reaching out to others, by helping them and lending an ear and a hand to them in their afflictions.
Chronic illness is a common problem
When I think of my illness, and the illnesses of the people that I know, I think of the Bible passage that Paul wrote two thousand years ago in 2 Corinthians 12:6-10 (NLT):
If I wanted to boast, I would be no fool in doing so, because I would be telling the truth.
This was a man ordained by God, who saw Jesus Himself in a vision of blinding light along the roadside. He was full of the Spirit and literally traveled the world to preach the Good News of the gospel. God granted him unique power and vision on earth. He wrote the majority of the New Testament. He was most certainly special. He continues:
But I won't do it, because I don't want anyone to give me credit beyond what they can see in my life or hear in my message, even though I have received such wonderful revelations from God.

So to keep me from becoming proud, I was given a thorn in my flesh, a messenger from Satan to torment me and keep me from becoming proud.

Three different times I begged the Lord to take it away. Each time he said, "My grace is all you need. My power works best in weakness." So now I am glad to boast about my weaknesses, so that the power of Christ can work through me. That's why I take pleasure in my weaknesses, and in the insults, hardships, persecutions, and troubles that I suffer for Christ.

For when I am weak, then I am strong.
[emphasis added]
No one knows what the thorn was in Paul's flesh. Much has been written on the subject, and Biblical scholars continue to disagree. Many say it was an eye disease, such as cataracts or persistent infections, but there are others who say it may have been a speech impediment, epilepsy, malaria, or frequent headaches. There are even some who believe it was a mental illness or simply persecution for being a Christian.
The point of the thorn, and of Paul's speaking it, is that it was not taken from him. He lived with it all or most of the days of his life, despite asking God to remove it not once but three separate times.
Should we hope for healing?
We have hope but no assurance of healing on earth. The only assurance we have from God in reference to our chronic physical and mental illnesses is that we will be healed in heaven. Let me explain.
Jesus said, in John 16:33 (NLT) that:
"I have told you all this so that you may have peace in me. Here on earth you will have many trials and sorrows. But take heart, because I have overcome the world."
In the days of the Apostles, this most likely meant persecution by the church of the Pharisees and by the Romans. It probably meant imprisonment, trials, beatings, and stoning. But what does it mean today, for those of us in free nations where we have the right to practice Christianity without threat of harm?
I believe it could mean physical and mental illnesses, as well as hard times like job losses, heartache, and hard feelings from friends and family.
"But take heart, because I have overcome the world."
I love this part of the verse because I know Jesus walked on this earth, just like me. He knows what it's like to be hungry and thirsty and suffering. He knows what heartache feels like, and he knows disappointment and maybe even jealousy. He is the ultimate intercessor because He's been in my shoes.
I mean, not my SAS sandals, with the internet and an iPhone.
But in my proverbial shoes all the same.
I don't remember ever reading anything about Jesus having an illness or physical malady, but that doesn't mean he never did. I'm quite sure he suffered from rashes and illnesses common to the people of the time, just like everyone else. He was human, after all, with a fallible body just like anyone else's.

Why hasn't He healed me?
When my mother lay in a hospital, dying from pancreatic cancer, my pastor said words to me that I'll never forget.
"God will heal her, Tara."
"I don't think He will. I know that she's going to die from this," I replied to him with tears in my eyes and a waver in my voice. This may have been my anxiety speaking or it may have been borne of divine knowledge; I'll never know.
"He may not heal her on earth, that is true, but He will heal her. When she goes to heaven, her body, mind, and spirit will be healed, and she will be perfect. She will have no pain and live for eternity with her Father in glory."
My mom wasn't saved at this point, and I had no idea how he knew she'd go to heaven when I wasn't sure she would, but my eyes were opened in that moment to the wonder and awe of a very good God. He would heal her.
He WOULD heal her.
Prior to that conversation, I had no hope, literally NO hope. I was certain that she would succumb to pancreatic cancer, like all patients do. No one survives this deadliest of all cancers.
But that didn't mean there was no hope in Jesus. There is always hope in Jesus.
I share this story not to tell you that your disease is going to kill you, although it might. I have no way to know, and you may not either.
But you CAN rest assured that God will heal you either on earth or in heaven. It's a promise.
Are any of you sick? You should call for the elders of the church to come and pray over you, anointing you with oil in the name of the Lord. Such a prayer offered in faith will heal the sick, and the Lord will make you well. And if you have committed any sins, you will be forgiven. -James 5:14-15 (NLT) [emphasis added]
This is a special one to me because it is exactly what my pastor spoke into my heart that day. Whether she is healed on earth or in heaven, she will be healed, and so will you be healed, my friend.
Read it again:
You will be healed, on earth or in heaven.
I have collected a bunch more verses to encourage you and strengthen your spirit to fight your disease. You can do this. I have faith in you, and I'm praying for you right now, as I type these words.
Save the free printable of the Bible verses below. 
6 more Bible verses on the trials of chronic illness:
God is our refuge and strength,
a very present help in trouble.
Therefore we will not fear though the earth gives way,
though the mountains be moved into the heart of the sea,
though its waters roar and foam,
though the mountains tremble at its swelling.
Selah -Psalm 46:1-3 (ESV)
That I may know him and the power of his resurrection, and may share his sufferings, becoming like him in his death, that by any means possible I may attain the resurrection from the dead. -Phillipians 3:10-11 (ESV)
We are afflicted in every way, but not crushed; perplexed, but not driven to despair; persecuted, but not forsaken; struck down, but not destroyed; always carrying in the body the death of Jesus, so that the life of Jesus may also be manifested in our bodies. For we who live are always being given over to death for Jesus' sake, so that the life of Jesus also may be manifested in our mortal flesh. So death is at work in us, but life in you. -2 Corinthians 4:8-12 (ESV)
Beloved, do not be surprised at the fiery trial when it comes upon you to test you, as though something strange were happening to you. But rejoice insofar as you share Christ's sufferings, that you may also rejoice and be glad when his glory is revealed. -1 Peter 4:12-13 (ESV)
For the moment all discipline seems painful rather than pleasant, but later it yields the peaceful fruit of righteousness to those who have been trained by it. -Hebrews 12:11 (ESV)
For our present troubles are small and won't last very long. Yet they produce for us a glory that vastly outweighs them and will last forever! So we don't look at the troubles we can see now; rather, we fix our gaze on things that cannot be seen. For the things we see now will soon be gone, but the things we cannot see will last forever. -2 Corinthians 4:17-18 (NLT)
But I would never leave you in the trials and the illness, just like Jesus will never leave you there. He is with you no matter what you face. He promises to never leave you, no matter what you do or how you feel. He is with you, and He promises to heal you.

8 more Bible verses on divine healing:
I have seen his ways, but I will heal him;
I will lead him and restore comfort to him and his mourners,
creating the fruit of the lips.
Peace, peace, to the far and to the near," says the Lord,
"and I will heal him. -Isaiah 57:18-19
I will give you back your health
and heal your wounds," says the Lord. -Jeremiah 30:17 (NLT)
For I will restore health to you,
and your wounds I will heal,
declares the Lord,
because they have called you an outcast. -Jeremiah 30:17 (ESV)
The Lord nurses them when they are sick and restores them to health. -Psalm 41:3(NLT)
Even when I walk
through the darkest valley,
I will not be afraid,
for you are close beside me.
Your rod and your staff
protect and comfort me. -Psalm 23:4
For your Father knows exactly what you need even before you ask him! -Matthe 6:8 (same in NIV, NLT, & ESV)
For though he wounds, he also bandages.
He strikes, but his hands also heal.
From six disasters he will rescue you;
even in the seventh, he will keep you from evil. -Job 5:18-19 (NLT)
O Lord, if you heal me, I will be truly healed;
if you save me, I will be truly saved.
My praises are for you alone! -Jeremiah 17:14 (NLT)
25 scriptures on joy & happiness
This next part might sound disingenuous, but I truly hope not. God wants you to find joy even in the struggle of chronic illness. He wants you to find joy in Him.
Joy, unlike temporary happiness, is found in knowing you are created, special, holy, and treasured by the God who made the universe. It's found in believing that Jesus came to earth just for you, that he bled and died on the cross to cover your sins and that he lives in heaven as your special minister who will intercede for you. That's the hope and promise of true joy.
I've recently written a blog post about Bible verses on joy and happiness, so I hope you'll check that out when you're finished here.
7 scriptures on strength and prayer:
For his anger lasts only a moment,
but his favor lasts a lifetime;
weeping may stay for the night,
but rejoicing comes in the morning. -Psalm 30:5 (NIV)
All praise to God, the Father of our Lord Jesus Christ. God is our merciful Father and the source of all comfort. He comforts us in all our troubles so that we can comfort others. When they are troubled, we will be able to give them the same comfort God has given us. For the more we suffer for Christ, the more God will shower us with his comfort through Christ. -2 Corinthians 3-5 (NLT)
Though I am surrounded by troubles,
you will protect me from the anger of my enemies.
You reach out your hand,
and the power of your right hand saves me. -Psalm 138:7 (NLT)
As soon as I pray, you answer me; you encourage me by giving me strength. -Psalm 138:3 (NLT)
I will be your God throughout your lifetime—
until your hair is white with age.
I made you, and I will care for you.
I will carry you along and save you. -Isaiah 46:4 (NLT)
The Lord is my rock, my fortress, and my savior;
my God is my rock, in whom I find protection.
He is my shield, the power that saves me,
and my place of safety. -Psalm 18:2 (NLT)
Give all your worries and cares to God, for he cares about you. -1 Peter 5:7 (NLT)
Sweet friend, you've got this. You may not be in control of your illness, but you are in control of your reaction to it. You can choose to have joy in your life and faith in your God, even through the hard times, the pain and the suffering.
You can be like the Apostle Paul, who asked the Lord to take away the thorn in his flesh. It's okay to petition God and ask to be healed. It's also okay to not be healed and to manage an illness for all of your days, if that's part of His plan.
I've created a printable of the verses in this post so you can print them out and memorize them. Use it with my scripture memory system to bathe your heart in God's word and remember what and whose you are. Also be on the lookout for some affirmation cards for chronic illness. I'm working on those now and should have them ready some time next week.
Be well, sweet friend. You've got this.
See these other Bible study posts while you're here: