I hope you will enjoy this fun science experiment for kids. With some basic materials and a day of waiting, you can show your children what drinks like soda pop and fruit juice to do to their teeth and give them an idea of how important it is to brush every day.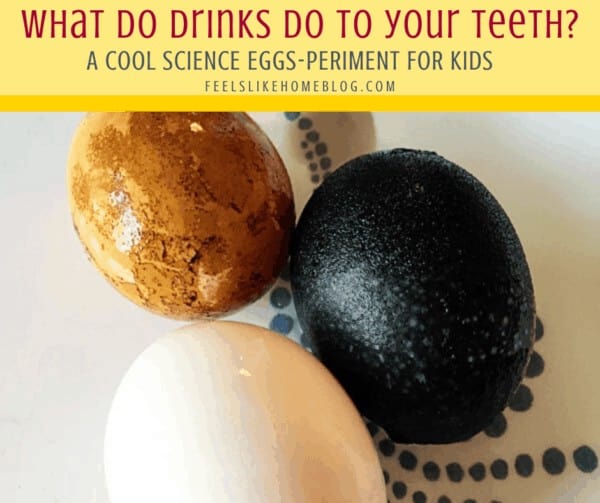 My kids are pop fiends. (I know some of you are confused right now because you call pop soda.)
Probably because I am a pop fiend. They learn what they see, right?
It's not one of our finer points.
Anyway, I wanted to show the girls what pop does to their teeth because they are both kind of in a funk where they don't want to brush without a lot of prompting.
So we talked about how your tooth enamel is made of the same basic stuff (calcium) as eggshells (calcium carbonate, I think), and so we could soak some eggs in drinks that we like to see what would happen to them over time. The discoloration of the white egg would be similar to the discoloration of our white teeth over time.
The effects of different drinks, as you can see above, were striking. The kids, Allie especially, really got the idea that these drinks are harmful to her teeth, and she has since been brushing every day without any fuss.
Materials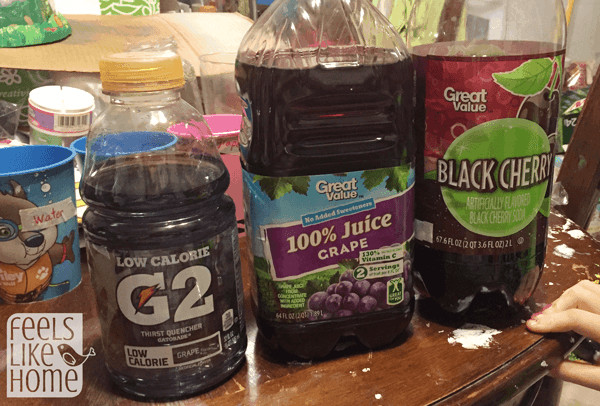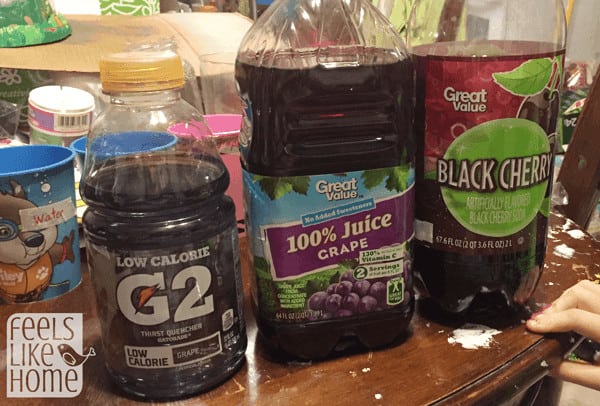 5 raw white eggs - Actually, they don't have to be raw, but they also don't have to be cooked, so I don't know why you would spend the time.
5 cups - I thought about buying clear plastic cups, but the liquid is dark, and you can't see the eggs anyway, so use whatever cups you already have.
Masking tape
Water
A dark-colored sugar-free drink like Gatorade G2 or a diet soda
A dark-colored fruit juice like grape juice
A dark-colored flavor of regular soda or pop - we used black cherry but a cola like Pepsi or Coke would probably work better
Orange juice (We only had 4 eggs left in the house, so we omitted orange juice, but I was really interested in what would happen with this. My dentist told me that orange juice is pretty close to the worst drink possible for my soft teeth because the acid attacks the enamel and the dentin inside.)
Instructions
This one is super easy.
Label the cups, one with each liquid.

Pour the drink into the cup with that label. Water into the water cup, Gatorade into the Gatorade cup, etc.

Store your cups in a safe spot.
Wait. Check your cups after a few hours if you want. We checked ours before we went to bed and then took them out after about 24 hours.
The Science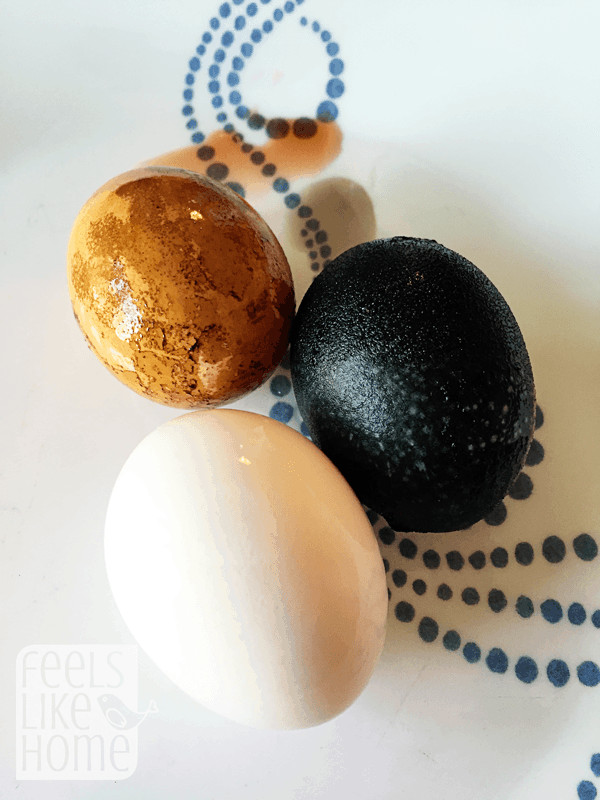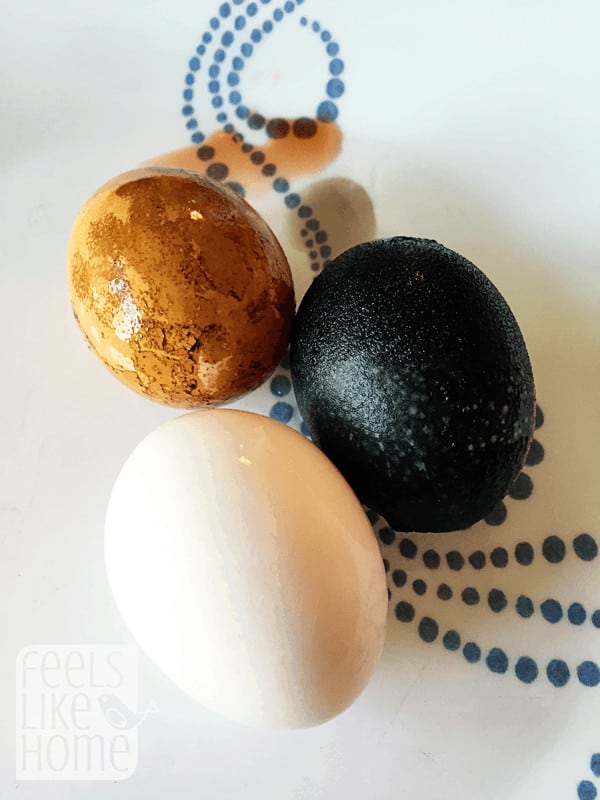 The hard shell of an egg protects the soft parts inside, just like the hard enamel on your teeth protect the soft and tender pulp on the inside. Both eggshells and teeth are made of calcium, a hard white substance that also makes up our bones.
Sugar and acids are very harmful to teeth. Acids actually dissolve the enamel, giving bacteria an inroad to begin decaying it, and sugar promotes tooth decay (cavities).
Of course, the water egg was the best after 24 hours. But take a look at the Gatorade egg: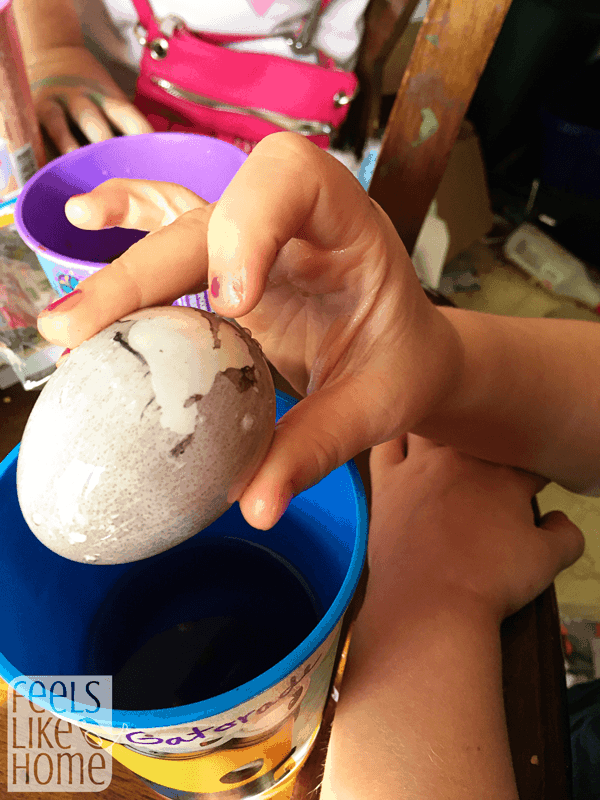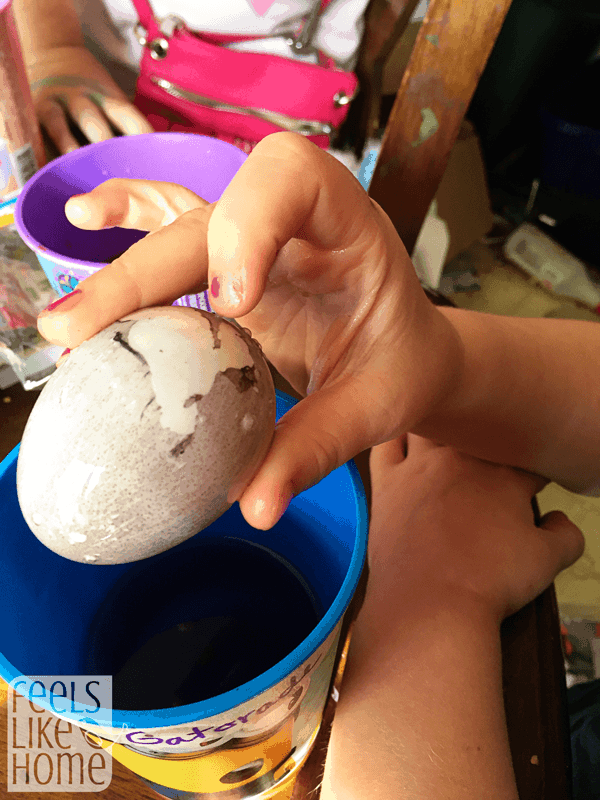 There was definitely a yucky-looking purplish coating on the egg, but it was fairly easy to wipe off with just our fingers. Unfortunately, the slime made the egg slippery and it fell on the floor before I was able to photograph it with the other eggs (in case you were wondering why there were only 3 eggs in the photos, now you know).
This was the black cherry pop egg: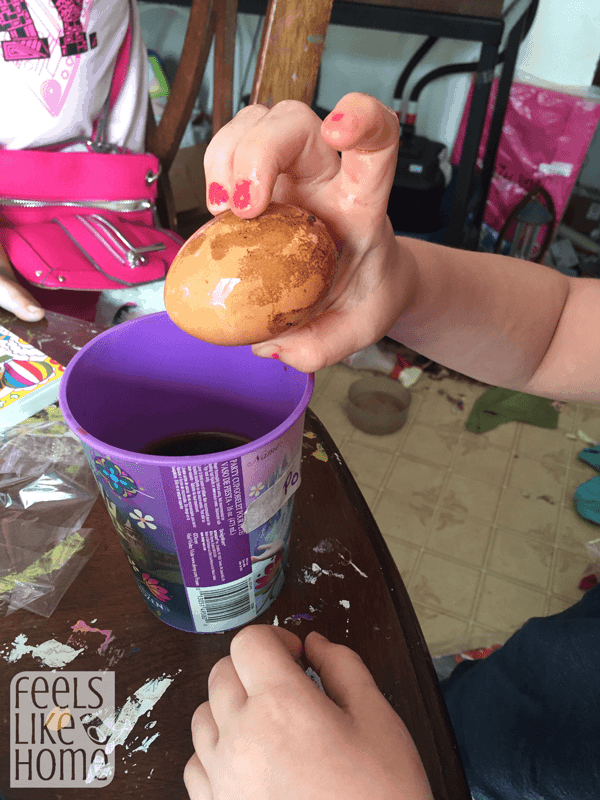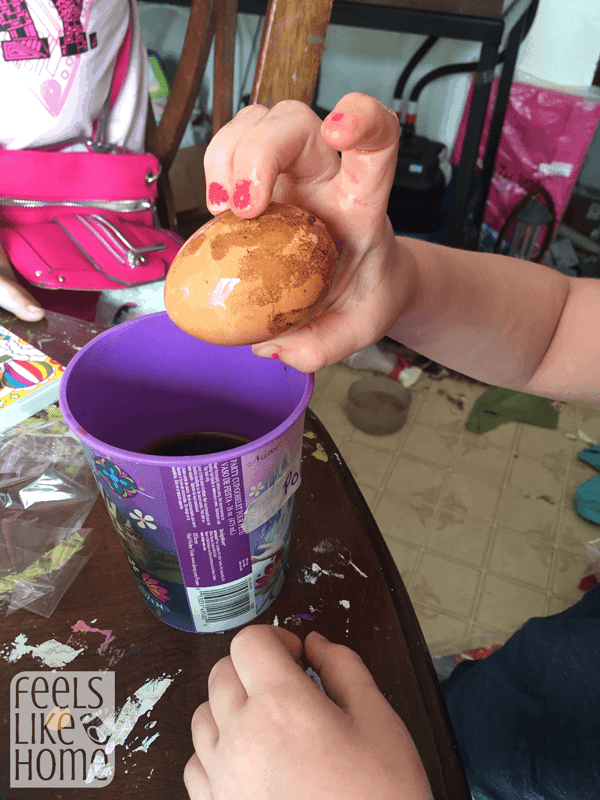 And this was the grape juice egg: (I love the shock on Allie's face here.)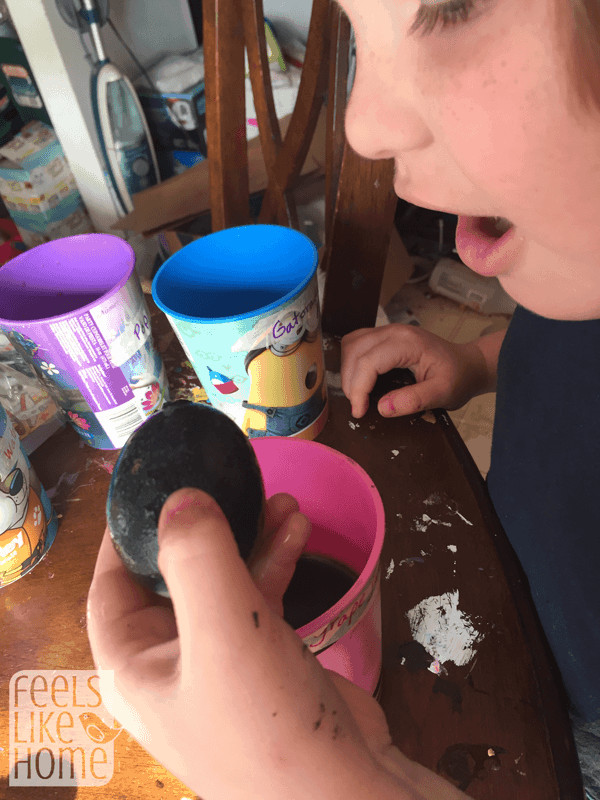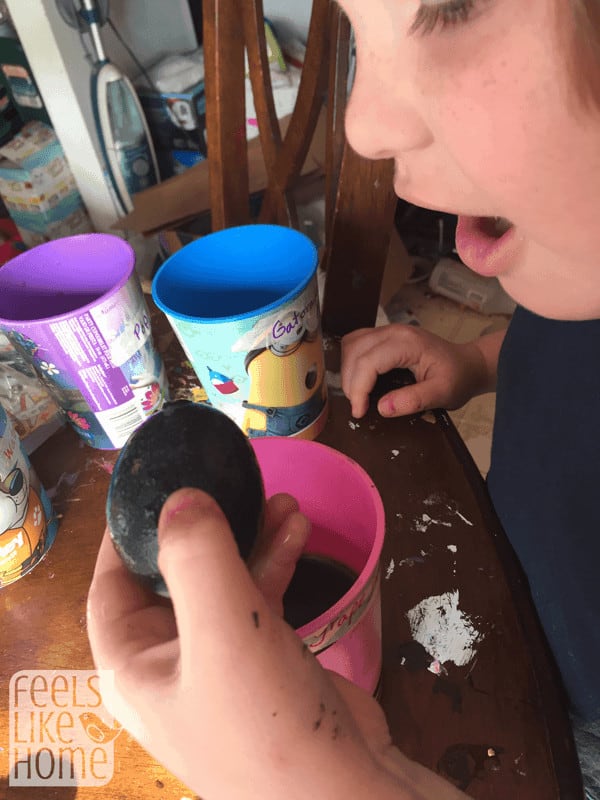 A study published in the journal General Dentistry found that pop is actually ten times more harmful in the minutes after drinking than is fruit juice. Our experiment showed that the discoloration from grape juice was a lot worse and longer-lasting, but it's not likely to cause actual decay as quickly as the pop would. So that part of the experiment was a little confusing.
The bottom line is that the sugar, color, and acids in our drinks harm our teeth, and those effects are exacerbated by poor brushing habits.
Extend the Experiment
Take this experiment a step further by brushing the eggs with a toothbrush and then with toothpaste and a toothbrush, to see how much of the stain can be removed from the egg and how much is left. It takes a lot longer than you think to clear away the stain, and you will probably find (as we did) that a lot of the stain is permanent.
More Cool Science Experiments for Kids
While you're here, check out a few of our other simple science experiments for kids:
I hope you enjoyed this fun science experiment for kids. With some basic materials and a day of waiting, you can show your children what their drinks to do to their teeth and give them an idea of how important it is to brush every day.
Check out more cool science activities in the STEM index!