How to make the best CrockPot meatloaf - This simple and easy slow cooker recipe makes a delicious and healthy dinner with a combination of ground beef and turkey and a packet of onion soup mix.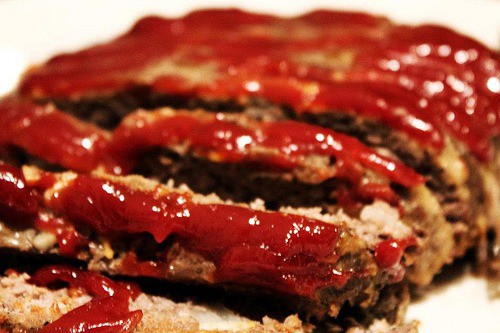 Today is Old Grandma's birthday. I wanted to write a post all about some fabulous recipe that she makes that I make now, but I couldn't think of anything.
When Grandma was a young woman, she cooked in restaurants.
For most of her life, Grandma made everything from scratch. Everything.
I remember very clearly the year that Grandma first started buying frozen pies. I was sad, but I wouldn't have dreamed telling Grandma that I wanted a homemade pie.
Old Grandma turns 84 today. She doesn't do much cooking at all these days. She heats frozen and ready-made foods. She eats from styrofoam plates and uses paper napkins. The apple butter on Grandma's table came from the grocery store. The rotisserie chicken, the bread, the jam, the pancakes, everything comes from the grocery store or the frozen food truck.
One thing Grandma still makes is vegetable soup, but I haven't convinced her to give me the recipe.Sorry.
Anyway, this recipe has absolutely nothing to do with Old Grandma or her birthday, but I do remember my mom making meatloaf a lot when I was a kid.
I couldn't think of a recipe that did remind me of Old Grandma, but I wanted to mention that it's her birthday. Because she's amazing, even if she doesn't cook much any more.
Recipe