36 quotes & Bible Verses for when you're having a bad day - This inspiration and encouragement from God can turn around a bad day at home, at work, or in any area of life, these scriptures and words from Jesus Christ and others are motivation to cheer you up.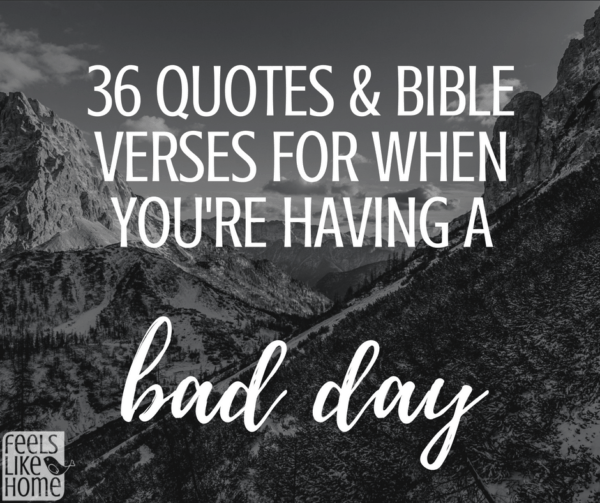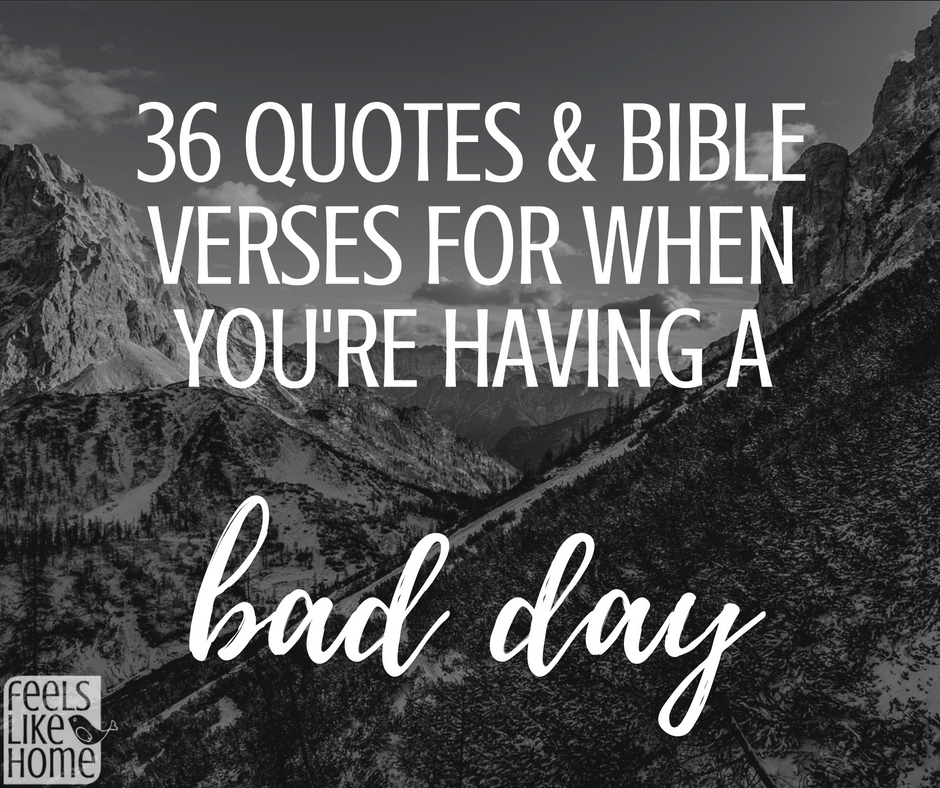 So far, you have survived 100% of your bad days. You can survive this one, too.
I saw that quote on Pinterest and loved it. I've been thinking about bad days a lot lately, ever since hearing about the suicide of Kate Spade. I wasn't especially interested in her or the company bearing her name, but I was saddened to hear that another celebrity took her own life.
This brought up my old feelings from the death of Robin Williams, which I considered then and still to be a great tragedy for American culture. It brought up feelings about mental illness and "normal" people and what it's like to feel bad.
Bad minutes lead to bad days, and bad days lead to bad weeks, and bad weeks to bad months and years. These compound on one another and make you feel defeated and hopeless.
If you're in the midst of a bad day, I hope you'll find comfort and solace in the words below. Some of them are from the Bible, and some of them are from wise people throughout history. They're all helpful, I think.
Coming up this Friday, I will post 28 self care ideas and tips for turning around a bad day, so be on the lookout for that. I hope it too will help you as you navigate through this crazy hard life of yours.
Be well, my friend.
36 Quotes & Bible Verses for When You're Having a Bad Day
The Bible Verses
The Lord is with you in this bad day, and He will never leave you.
The Lord is near to the brokenhearted and saves the crushed in spirit. —Psalm 34:18
Leave your worries with God in prayer.
Cast all your anxieties on him, because he cares for you. —1 Peter 5:7
This is one of my favorites because I used to pray it at night when I was really burdened or upset by something. I would pray, "God, take this weight off my shoulders. It's too heavy for me, and I can't handle it. Lift it from me and carry it for me so that I may again be free and light and joyful." And when I would wake up in the morning, I would always feel better.
Come to me, all who labor and are heavy laden, and I will give you rest. Take my yoke upon you, and learn from me, for I am gentle and lowly in heart, and you will find rest for your souls. For my yoke is easy, and my burden is light. —Matthew 11:28-30
You probably already know that this is one of my very favorite verses. You can do all things.
I can do all things through Christ who strengthens me. —Philippians 4:13
This is another of my very favorite verses because it comes to me in that still small voice when I am really struggling or just plain trying too hard.
Be still and know that I am God. —Psalm 46:10
Jesus lived as a human being and walked among men. He knew what it was like to have bad days. He knows that we will all have bad days, but He wants us to rest in the knowledge that there's no day bad enough that He can't handle it.
I have said these things to you, that in me you may have peace. In the world you will have troubles. But take heart; I have overcome the world. —John 16:33
God will never leave your side, no matter what you do or have done.
It is the Lord who goes before you. He will be with you; he will not leave you or forsake you. Do not fear or be dismayed. —Deuteronomy 31:8
God can redeem even the worst situation. He will save you from this.
The Lord your God is in your midst, a mighty one who will save; he will rejoice over you with gladness; he will quiet you by his love; he will exult over you with loud singing. —Zephaniah 3:17
God is strong enough to conquer this thing. Just give it to Him in prayer, and He will handle it.
Be strong in the Lord and in the strength of his might. —Ephesians 6:10
Have hope that this situation will come to an end, and everything will be okay.
May the God of hope fill you with all joy and peace in believing, so that by the power of the Holy Spirit you may abound in hope. —Romans 15:13
It's hard to imagine rejoicing in your bad day, but know that good will come from even this. Remember Joseph who was sold into slavery, thrown in jail, and then saved his family and many nations from starvation. God has a good plan in even this bad season of your life.
We rejoice in our sufferings, knowing that suffering produces endurance, and endurance produces character, and character produces hope. —Romans 5:3-4
I've said this before, but God is always with you, ready to step in with His infinite strength to solve your problem.
God is our refuge and strength, a very present help in trouble. —Psalm 46:1
Again, God can make this situation work for your good. It's what He does. Here's another Biblical example. Esther was a young orphaned Jewish exile who lived with her uncle. When the king disposed of his rebellious wife, he asked to have young women brought to him to select a new one. He chooses Esther, and she becomes queen. Eventually, an evil royal advisor convinces the king to exterminate the whole of the Jewish people, and Queen Esther takes some serious risks to save her people and knock off the evil advisor. Good can come from any situation.
And we know that all things work together for good to those who love God, to those who are the called according to His purpose. —Romans 8:28
Forget the past. Whatever happened to make you have a bad day is done now, so move on and let it go. (Are you singing the song now?)
Forget the former things; do not dwell on the past. See, I am doing a new thing! Now it springs up; do you not perceive it? I am making a way in the desert and streams in the wasteland. —Isaiah 43:18-19
If I remember correctly, the phrase repeated most often in the Bible is "do not be afraid," so that seems apropos here. Whatever this situation is, don't worry that it's going to last forever. God's got it under control.
For I am the LORD, your God, who takes hold of your right hand and says to you, Do not fear; I will help you. —Isaiah 41:13
Again, do not fear no matter what may happen.
God is our refuge and strength, an ever-present help in trouble. Therefore we will not fear, though the earth give way and the mountains fall into the heart of the sea, though its waters roar and foam and the mountains quake with their surging. —Psalm 46:1-3
God has big plans for you. You may not know it yet, but they are good plans. Everything will turn out okay in the end. Here's another Bible story for you. There was a prostitute named Rahab living in Jericho during the time of the Jewish Exodus. Two spies were sent to scout out the Promised Land and report back. Rahab hid the two men, even when soldiers appeared at her home asking for them. She helped the spies to get safely away from the city, and in exchange, she asked them to protect her and her family when they came to conquer the city. They did, and she has a place in the lineage of Jesus Christ, a prostitute who lied to the government!
For I know the plans I have for you, declares the Lord, plans for welfare and not for evil, to give you a future and a hope. —Jeremiah 29:11
All you need to do is ask for God to grant you His Peace, and He will do it.
Now may the Lord of peace himself give you peace at all times in every way. The Lord be with you all. —2 Thessalonians 3:16
Do not be sad about this bad day. Be joyful in the Lord who will give you the strength you need if you pray and ask for it.
Do not grieve, for the joy of the Lord is your strength. —Nehemiah 8:10
Trust in the Lord and believe that He has a great plan for even this. Pray and ask Him to guide you, and He will show you what to do.
Trust in the Lord with all your heart; do not depend on your own understanding. Seek his will in all you do, and he will show you which path to take. —Proverbs 3:5-6
Again, pray and tell Him your worries and problems, and He will take care of them.
Cast all your anxiety on him because he cares for you. —1 Peter 5:7
Nothing will defeat you as long as you are close to God in prayer and study.
When you pass through the waters, I will be with you; and when you pass through the rivers, they will not sweep over you. When you walk through the fire, you will not be burned; the flames will not set you ablaze. —Isaiah 43:2
The Quotes
One small crack doesn't mean that you're broken, it means that you were put to the test and you didn't fall apart. —Linda Poindexer
Was it a bad day? Or was it a bad five minutes that you milked all day? —Unknown
When you trust your gut, it all works out. —Scooter Braun
What screws us up most in life is the picture in our head of how it is supposed to be. —Unknown
A good day is a good day, a bad day is a good story. At the end of the day, it's all good. —Glennon Melton
A smooth sea never made a skilled sailor. —Franklin D. Roosevelt
Try again. Fail again. Fail better. —Samuel Beckett
I would tell my 24-year-old self to get sleep. Being a great leader means you have to take care of yourself. —Alexa von Tobel
When you have a bad day, a really bad day, try and treat the world better than it treated you. —Patrick Stump
The trials that you go through are just lessons and blessings. —Tristan Walker
You may not control all the events that happen to you but you can decide not to be reduced by them. —Maya Angelou
On particularly rough days when I'm sure I can't possibly endure, I like to remind myself that my track record for getting through bad days so far is 100%, and that's pretty good. —Unknown
My motto is Nike's slogan: Just do it. Even if you fail, you learn how not to fail the next time. —Justine Ezarik
Slow down in terms of constant frustration that you're not where you want to be. Take that energy and be more strategic. —Rebecca Minkoff
I don't know about you, but I was encouraged, inspired, and uplifted just writing this blog post. We don't have to dwell on our bad minutes and bad days; we just have to lift them up in prayer to our Heavenly Father who cares about us and will help us. While prayer can't fix everything, it always helps. Always.
Get these Bible verses to encourage you when you're having a bad day in a convenient black and white printable below. You can work on memorizing and meditating on them, one at a time.
See these other Bible study posts while you're here:
Be sure to stop back on Friday for a list of 28 ways to turn a bad day around.