These 10 Bible verses will help you to overcome worrying about the uncertain state of the world and your family. Uncertainty is everywhere, and there is a lot of stress, but these Bible verses and simple steps will help you to conquer those feelings.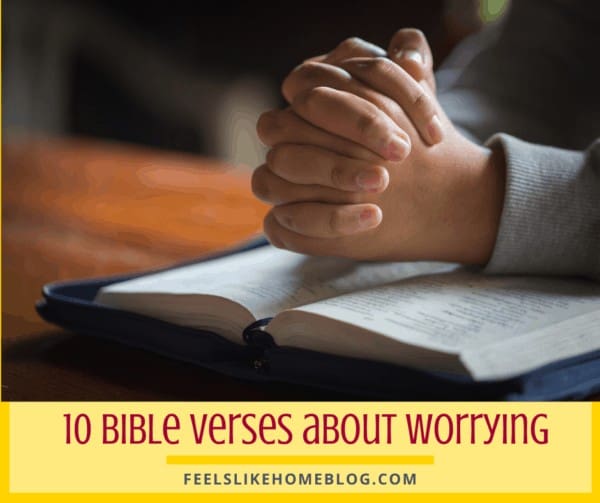 Last week, I was not worried at all. I thought the world was overestimating the COVID-19 virus, and I was convinced that the media was blowing it all out of proportion.
I was not worried about the virus itself. My husband and I are both middle-aged and healthy, and our kids are healthy. I work in healthcare and work from home, and he works in construction but is assigned to a project to build a new cancer center. I thought the virus and its hysteria couldn't touch us.
And then, with no warning, our governor shut down all "non-life-sustaining industries," including the construction of a new cancer center. Joe is out of work, temporarily laid off until the governor lifts his order.
I am not upset with the governor. After reading quite a bit about the COVID-19 situation in Italy, I am glad for the governor's extra dose of caution. I'm all for social distancing and keeping my little bubble healthy and safe.
Let me back up to say that Joe and I are frugal failures (mostly me). We try to save money, and we do have automatic savings plans for many different purposes, but we spend a lot of money every month. We take our family on a lot of trips, and we buy whatever we want. We aren't used to scrimping or making do.
But now we're without a whole income in our two-income family. Joe will be eligible for unemployment, but even that will be a fraction of his normal pay.
So we are forced into a situation where we have to be frugal. We have to abstain from buying. We have to abstain from meals purchased in restaurants (in-house dining is prohibited, but takeout is still an option from most establishments) and focus on only necessities.
It's going to be tough, especially for me and my Amazon and CrateJoy habits. It's going to be very tough.
I am now worried.
So what is a Christian to do when she's worried? When times are uncertain and she doesn't know how to cope?
I've written out some Bible verses that might help you to rest in God's assurances. I hope they help you as much as they've helped me.
10 Bible Verses to Overcome Anxiety and Worry
1. The first thing you have to do to overcome your worry is to pray. Spend some time talking to your Heavenly Father. Tell Him your heartache. Tell him what you're worried about. I promise you that He has good in this for you, and it's okay to ask Him what that good is.
And we know that God causes everything to work together for the good of those who love God and are called according to his purpose for them. Romans 8:28
Don't worry about anything; instead, pray about everything. Tell God what you need, and thank him for all he has done. Then you will experience God's peace, which exceeds anything we can understand. His peace will guard your hearts and minds as you live in Christ Jesus. -Philippians 4:6
2. The second thing you have to do is to believe in God's plan. Our God is a miracle worker. He can part waters, move boulders, heal the dead (not just the sick, remember, the dead), save, destroy, bless, and curse. He can do anything, everything, things beyond our comprehension.
And He has you in the palm of His hand.
That is why I tell you not to worry about everyday life - whether you have enough food and drink, or enough clothes to wear. Isn't life more than food, and your body more than clothing? Look at the birds. They don't plant or harvest or store food in barns, for your heavenly Father feeds them. And aren't you far more valuable to him than they are? Can all your worries add a single moment to your life? And why worry about your clothing? Look at the lilies of the field and how they grow. They don't work or make their clothing, yet Solomon in all his glory was not dressed as beautifully as they are. And if God cares so wonderfully for wildflowers that are here today and thrown into the fire tomorrow, he will certainly care for you. Why do you have so little faith? So don't worry about these things, saying, "What will we eat? What will we drink? What will we wear?" These things dominate the thoughts of unbelievers, but your heavenly Father already knows all your needs. Seek the Kingdom of God above all else, and live righteously, and he will give you everything you need." -Matthew 6:25-33
So that's it. It's a lack of faith. If we believe in God's plan and provision, we have no worry.
I have often meditated on these verses over the last week as I've worried about our finances. Do we have enough money in savings? Are we all going to stay healthy? How long is this shutdown going to last? Sometimes, the thoughts come, and I don't know how to stop them.
As Jesus said, the birds don't worry about their next meal. Neither should we worry about anything. It's easier said than done, which returns me to point #1.
When you notice yourself worrying about things outside of your control, pray to the Father to remove the worry from your shoulders and give you a clear head to carry out His plans in your life.
The next one is actually the last verse of the above passage, but I thought it warranted its own box. It's a big one.
So don't worry about tomorrow, for tomorrow will bring its own worries. Today's trouble is enough for today. -Matthew 6:34
My pastor preached a sermon on worry not too long ago. He said that worry is a sin.
That's right, A SIN.
He said that worrying is not having faith in God's plan for your life, unbelief that He has your best interest at heart. I can see his point.
And yet.
I worry because I am broken and bruised and sad.
Jesus spoke often about worry and about peace.
Peace I leave with you; my peace I give you. I do not give to you as the world gives. Do not let your hearts be troubled and do not be afraid. -John 14:27
Do not let your heart be troubled. Pray through. Believe.
Then you will experience God's peace, which exceeds anything we can understand. His peace will guard your hearts and minds as you live in Christ Jesus. -Philippians 4:7
I have often felt the peace that passes all understanding in my life. When my 7-week-old baby was hospitalized with RSV and pneumonia, I had no anxiety. I just knew that she would be okay. When my husband lost his job several years ago, I had no anxiety. I knew we'd be okay.
This time is different. There are so many factors at play here: industry shutdown, the health of my family, not being able to go anywhere or do anything, being able to make ends meet, whether the American medical system will collapse in the face of all the inevitable illness. It's a lot to hold on to, and I know we're all holding on to it just the same.
But now, O Jacob, listen to the lord who created you. O Israel, the one who formed you says, "Do not be afraid, for I have ransomed you. I have called you by name; you are mine. When you go through deep waters, I will be with you. When you go through rivers of difficulty, you will not drown. When you walk through the fire of oppression, you will not be burned up; the flames will not consume you." -Isaiah 43:1-2
Do not be afraid. The Lord is with you, and He will equip you for whatever is in your future.
Give your burdens to the Lord, and he will take care of you. He will not permit the godly to slip and fall. -Psalm 55:22
You, my friend, are the godly. You are chasing after God, trying to do the right thing, seeking a better understanding of Him. Aren't you? He's talking about you.
3. The last thing you must do is to trust in Him. It is not easy to trust God when you feel like things are out of control, but that's exactly what you have to do. Trust Him. Nothing is out of His control.
Trust in the lord with all your heart; do not depend on your own understanding. Seek his will in all you do, and he will show you which path to take. -Proverbs 3:5-6
God is with you. He is holding you. He is in control of every little detail of your situation.
So be strong and courageous! Do not be afraid and do not panic before them. For the lord your God will personally go ahead of you. He will neither fail you nor abandon you. -Deuteronomy 31:6
This verse comes from a passage where Joshua and the Israelites are crossing over into the Promised Land, which is inhabited by giants and all sorts of scary people.
No doubt they were anxious. Their fathers turned away from the Promised Land and wandered in the desert for 40 years because of their anxiety over facing the insurmountable odds on the other side of the river.
But God had this under control. He knew what He had in store for His people, and He pushed those giants right out of their homes. He knocked down the walls of Jericho. He cleared a path for the Israelites to enjoy the milk and honey in their new homes.
God knew the plan. All the Israelites had to do was trust Him.
All you have to do is trust Him, too.
Pray. Believe in His plan. Trust Him. It's that easy and that hard.
Receive these Bible verses on overcoming worry and anxiety in a convenient black and white printable below. You can work on memorizing and meditating on them, one at a time.
See these other Bible study posts while you're here: