This homemade watermelon frosting is soft, sweet, tangy, and creamy! Fluffy yet dense, the light buttercream is perfect to pipe onto cupcakes or to decorate a cake.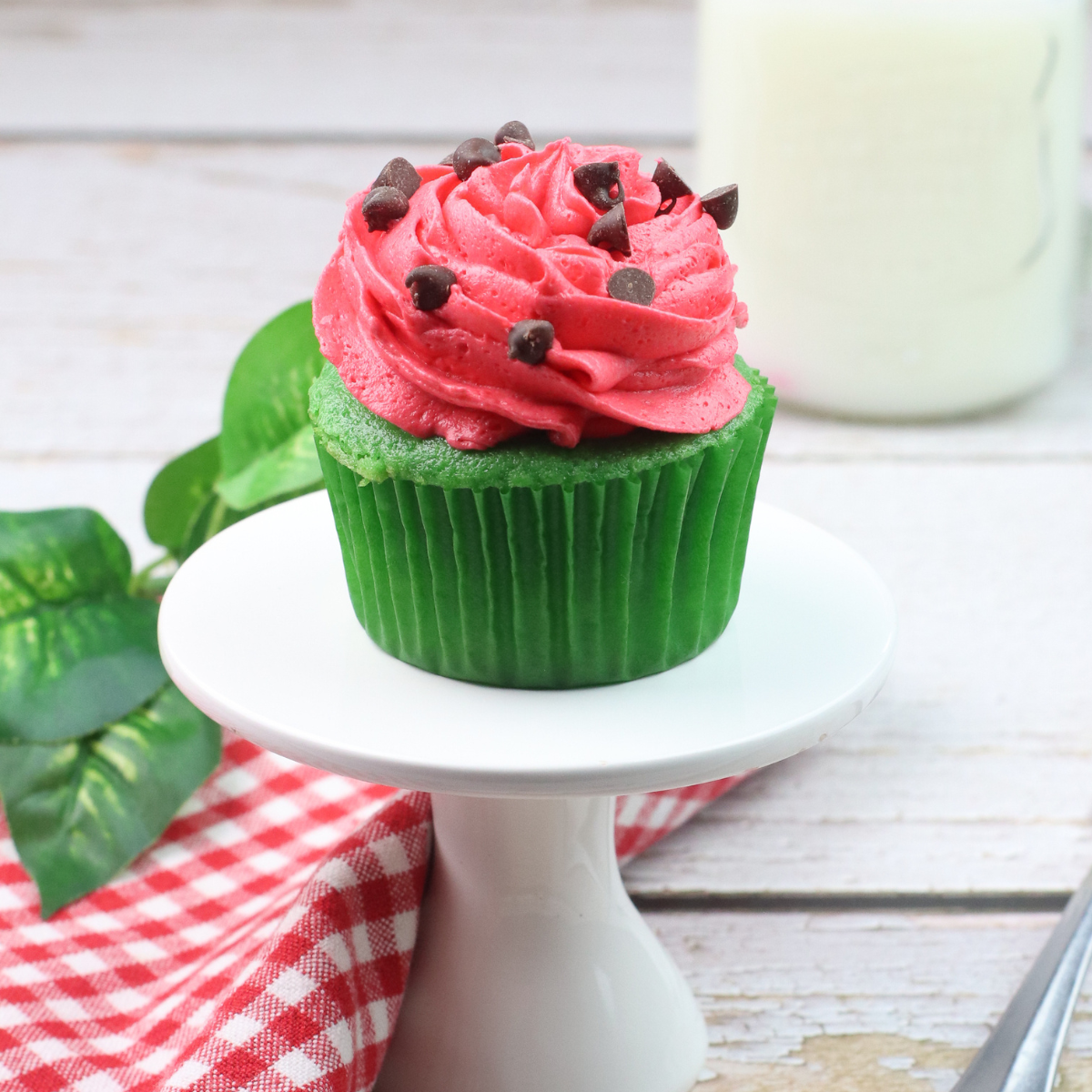 When I was a little girl, my mom got me Hubba Bubba watermelon gum all the time. I remember that fake watermelon flavor with such fondness that I am a sucker for anything watermelon today.
When I came up with watermelon cupcakes, I knew they had to be topped with watermelon frosting.
Buttercream is my favorite type of frosting, so that was my logical choice for the watermelon version. To make buttercream, you simply cream together butter and powdered sugar (which is also known as icing sugar in most countries around the world), thinning with milk or cream as needed to get the right consistency. In my watermelon-flavored version, you're also going to add half of a packed of watermelon Jello for a subtle burst of fruity bliss. (Is subtle burst an oxymoron? It is a burst of flavor, but it's not overwhelming or in your face.)
If you want your watermelon cupcakes to look like mine in the photo, you'll need a white cake mix, some green food coloring and green cupcake liners, as well as dark pink and red gel food coloring.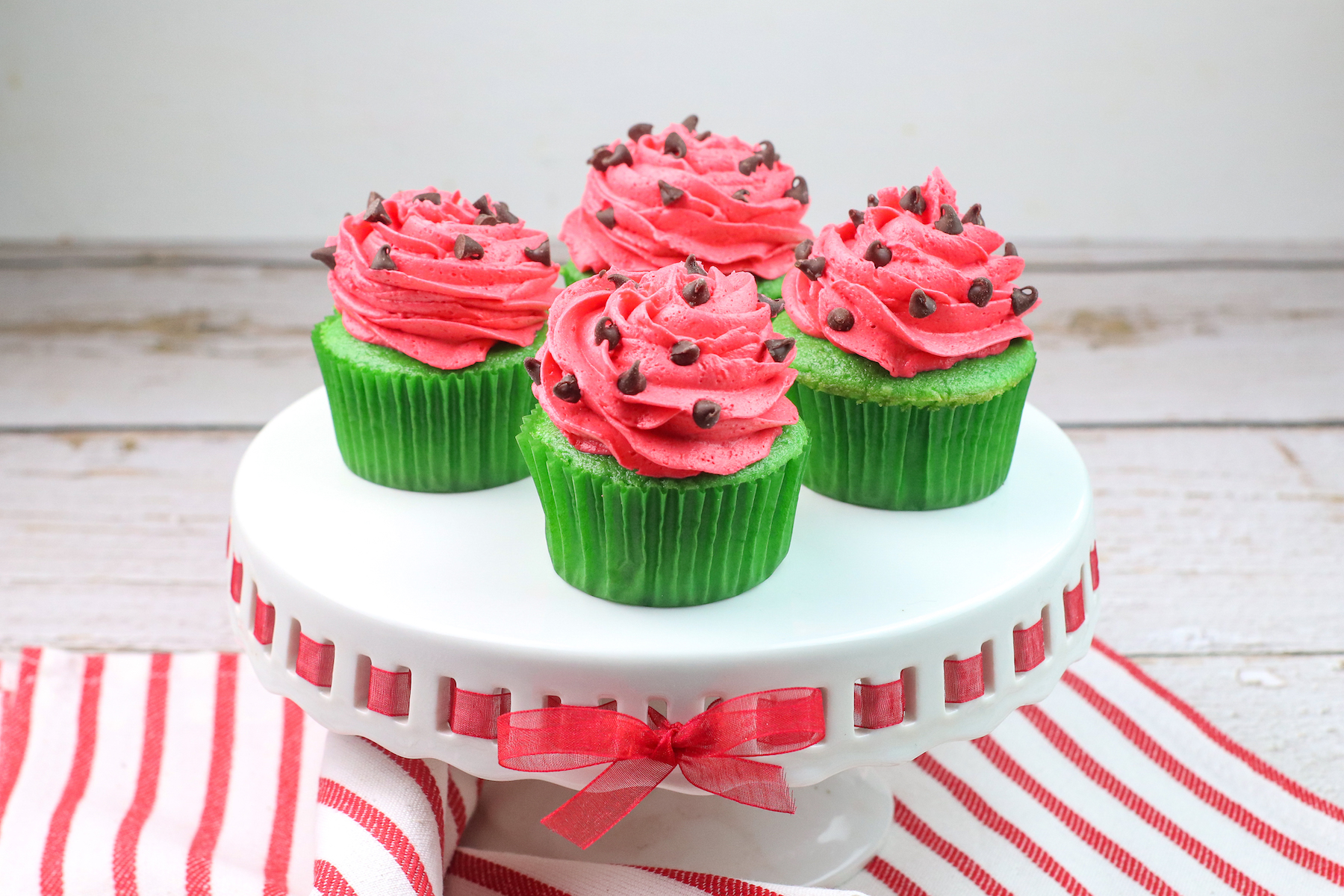 What you'll need to make watermelon frosting
Equipment
You will need a mixer to make buttercream frosting. I prefer my electric hand mixer because it's easy to use and always out on my counter or table. A stand mixer is easier and more hands-off because you can just turn it on and let it run. The only reason I don't use my stand mixer is that it's sort of buried on the back of my counter, and it's a pain to dig it out. The hand mixer is just more convenient.
You'll also need some piping bags with fancy piping tips if you want your frosting to look like mine in the photos. If you don't need that fancy look, you could just spread it on the watermelon cupcakes with a knife.
Ingredients
See the printable recipe card at the bottom of the page for the ingredient measurements.
Unsalted butter - It is buttercream after all. You can't make it without butter. The butter should be room temperature. It needs to be pretty soft, but it cannot be even a little bit melty. Melty will ruin your frosting.
Clear vanilla - I suppose that you could probably use regular old dark vanilla, but it's going to tint the frosting. If you want it to be bright pink (as mine is here), clear vanilla is the way to go.
Watermelon flavored gelatin - I used Watermelon Jello which is pretty easy to find, but any brand will work. I've also seen people use watermelon Kool Aid mix, but I haven't personally tried that.
Powdered sugar - You will need the full 4 cups specified in the recipe, but you will add it a little at a time to avoid it from poofing out all over your kitchen.
Milk - You can use half and half, heavy cream, or whole milk. I suppose you could even use low fat milk if you had to. You won't necessarily need the full amount here. You need just enough to make the frosting spreadable.
Gel food color - To get the color in my photos, you'll need a dark pink or a hot pink and the tiniest dab of red food coloring. I used green gel food coloring for the cupcakes as well as pink and red gel food coloring because gel food coloring is more potent and requires you to use less than liquid food coloring. Additionally, the liquid food coloring will dilute your frosting and could leave you with an unpleasant texture.
White sanding sugar - You will just mix this in and sprinkle it over the pink frosting at the end for a pretty almost glittery look. However, it does give the frosting a little bit of a gritty crunch. If you prefer your frosting to be completely smooth, leave this out.
Mini chocolate chips - You don't technically need these for the frosting recipe, but if you want something that looks like watermelon seeds on top of your frosting, mini chocolate chips are your best bet.
How to make watermelon frosting
I used this frosting to top watermelon cupcakes. (That's where I used the other half of the watermelon Jello, in the cupcake batter.) So step zero is to bake the cupcakes in the oven and cool them in the muffin pan. Then remove them from the pan to a wire rack and let them cool completely.
Cream the butter in a large mixing bowl or stand mixer.

Continue to beat until light and fluffy. Add 1 teaspoon clear vanilla, ½ of a packet of watermelon gelatin powder and ¼ cup sanding sugar. Beat until well incorporated.

Slowly mix the powdered sugar into the frosting, 1 cup at a time, while adding a splash of milk in between each cup. Mix for at least one minute between cups or until the frosting is creamy.

When the frosting has reached your desired consistency, fold in the pink food coloring. Add a few drops of red if you want a deeper pink color.

Variations of watermelon frosting
If you aren't a buttercream fan, you could add a half packet of watermelon Jello to the frosting of your choice. Add the food coloring and whip it to incorporate and distribute
How to use your watermelon frosting
You can use this watermelon flavored buttercream on any basic cake such as a white cake or a yellow cake, but my favorite way to use it is on these easy watermelon cupcakes. You can make them standard cupcake pans, but they're just as good as mini cupcakes or jumbo cupcakes (just use different sized pans).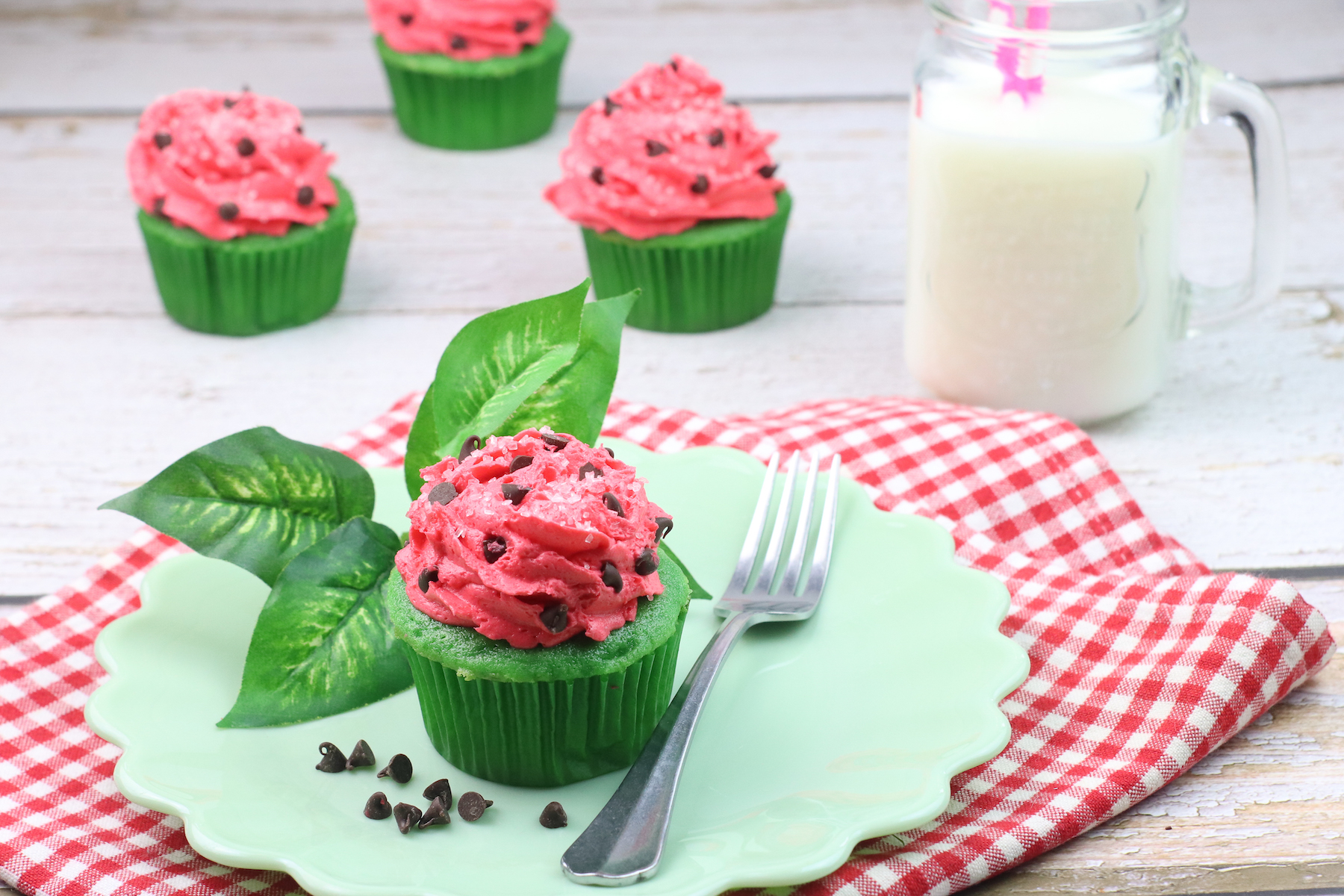 More fruity goodness
Recipe