These simple, healthy homemade fruit snacks are made with only 2 ingredients and one of them is juice! You will not believe how quick and easy they are to make.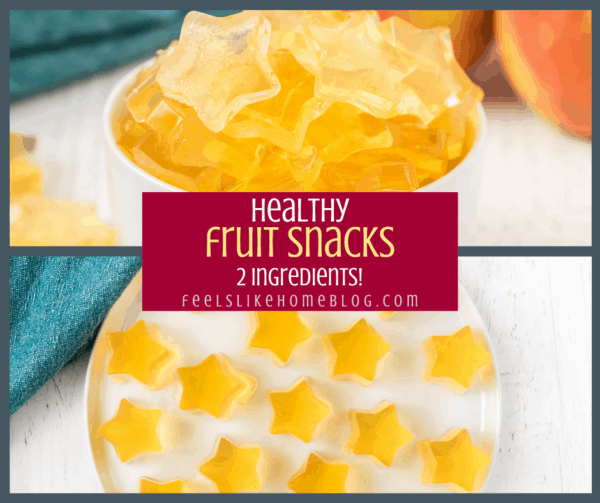 When I was a little kid, I had the same thing in my lunch every single day: a ham and cheese sandwich with Miracle Whip, a package of fruity snacks, a cookie, and a juice box. I don't remember anything else.
My kids, too, are totally enamored with fruity snacks. They love them.
However, I do not love them because they are full of sugar and basically plain old candy.
So, when I discovered that I could make homemade fruit snacks without all the sugar of the real thing, I was all in. Total no brainer.
This recipe is super easy with only two ingredients. You do have to let it refrigerate for at least four hours, but as far as active cooking goes, it takes less than ten minutes. Allie helped me to make these fruity snacks one morning, and she was able to do most of the prep.
These homemade fruit snacks taste just like the juice you use to make them, being that they are simply flavorless gelatin and the juice itself. We used fruit punch and apple juice this time, but I can't wait to try them with orange tangerine and cherry. Cherry is my favorite!
How to make healthy homemade fruit snacks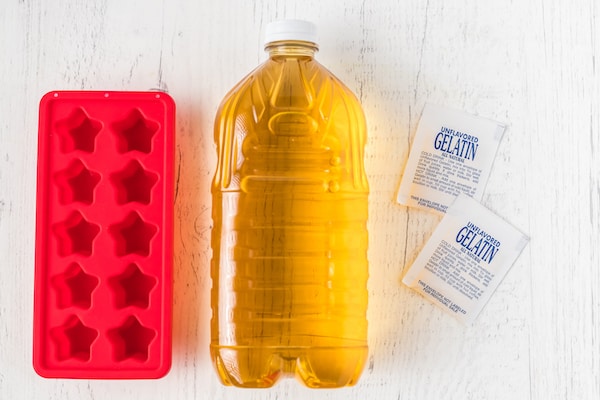 Pour juice into a small saucepan. Add gelatin and allow to sit and absorb for a few minutes.

Once the gelatin has absorbed, whisk the mixture gently.

Turn on the heat to medium, getting the mixture hot but never boiling.

Continue to heat until the mixture changes from thick to runny and all of the gelatin has dissolved.

Pour the mixture into candy molds or a shallow loaf pan and refrigerate for 4 hours.

Remove from the molds. If necessary, cut into bite-sized pieces.

Store in an airtight container in the refrigerator for up to 2 weeks.

Recipe