How to make the best slow cooker pot roast - This simple and easy recipe uses onion soup mix, a can of soda pop, and a can of cream of mushroom soup to make a tender, juicy, and flavorful roast that falls apart with a fork. It's an awesome, classic, easy CrockPot dinner. Add potatoes, carrots, and other vegetables for a full meal.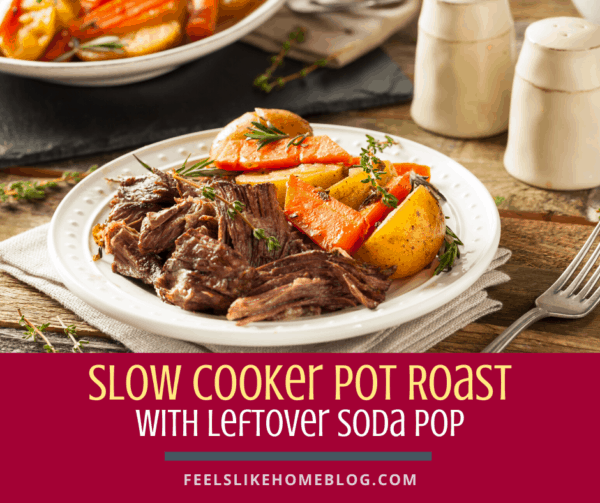 I'm really serious about giving up Mountain Dew. I intended to give it away this week, but the weather has been too cold for me to leave it my car all day while I'm at work, so it's still tempting me from the garage. I'm not giving in.
I was trying to think of something I could do with some of the pop, and I remembered this recipe that my friend Holly shared with me many years ago when we were both pregnant.
Holly swore by this recipe to make the most tender and juicy pot roast, and I have to admit that I agree with her. It's so easy and it comes out perfectly every time.
Holly's recipe used regular soda pop, and I thought about using it for mine as well since I have some in the garage. But it would be a lot healthier and fewer calories to use a can of diet, so that's what I've included in the recipe below. If you don't do artificial sweeteners, you could use the regular full sugar version with similar results, just more calories.
How to make the best slow cooker pot roast
Heat 2 tablespoons of olive oil in a large skillet over medium heat. When the oil is hot, place the pot roast in the oil and cook until it is browned. Do this on each side so that the whole roast is brown on the outside.
Put the browned roast into the slow cooker. Sprinkle the onion soup mix over it and pour the soup and soda pop over top.
Fill the crock with your choice of veggies. We prefer potatoes and carrots. You can pack the vegetables in pretty tight.
Cook on low for 6-8 hours.
If you want to make gravy for your pot roast, whisk 2 tablespoons of cornstarch into the broth in the bottom of the slow cooker. Turn it on high to thicken the gravy a bit.
While you're here, check out these other delicious beef recipes:
Recipe