Christmas Sugar Cookies with Sprinkles - These easy sugar cookies are great to make with kids this holiday season. Soft sugar cookies are rolled in colorful sprinkles with a hint of vanilla in every bite. No need to chill or roll this dough.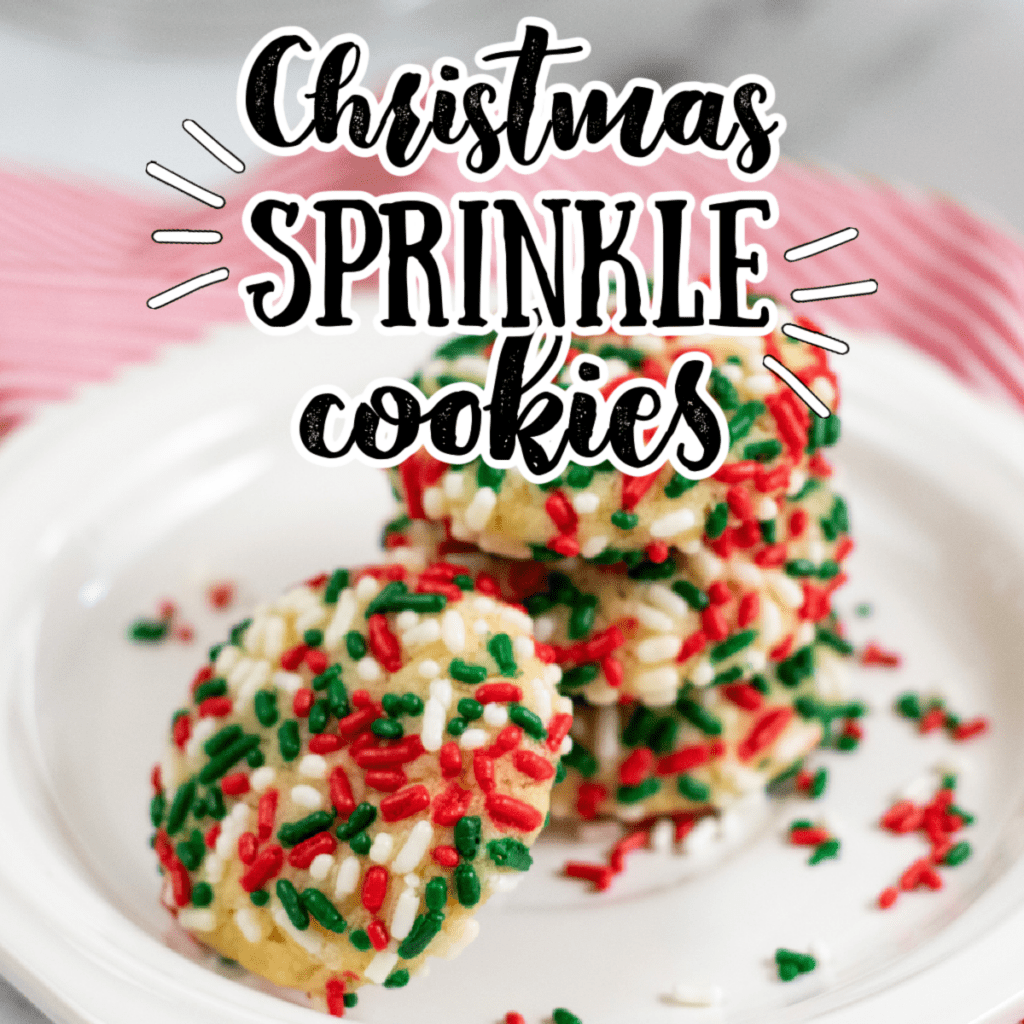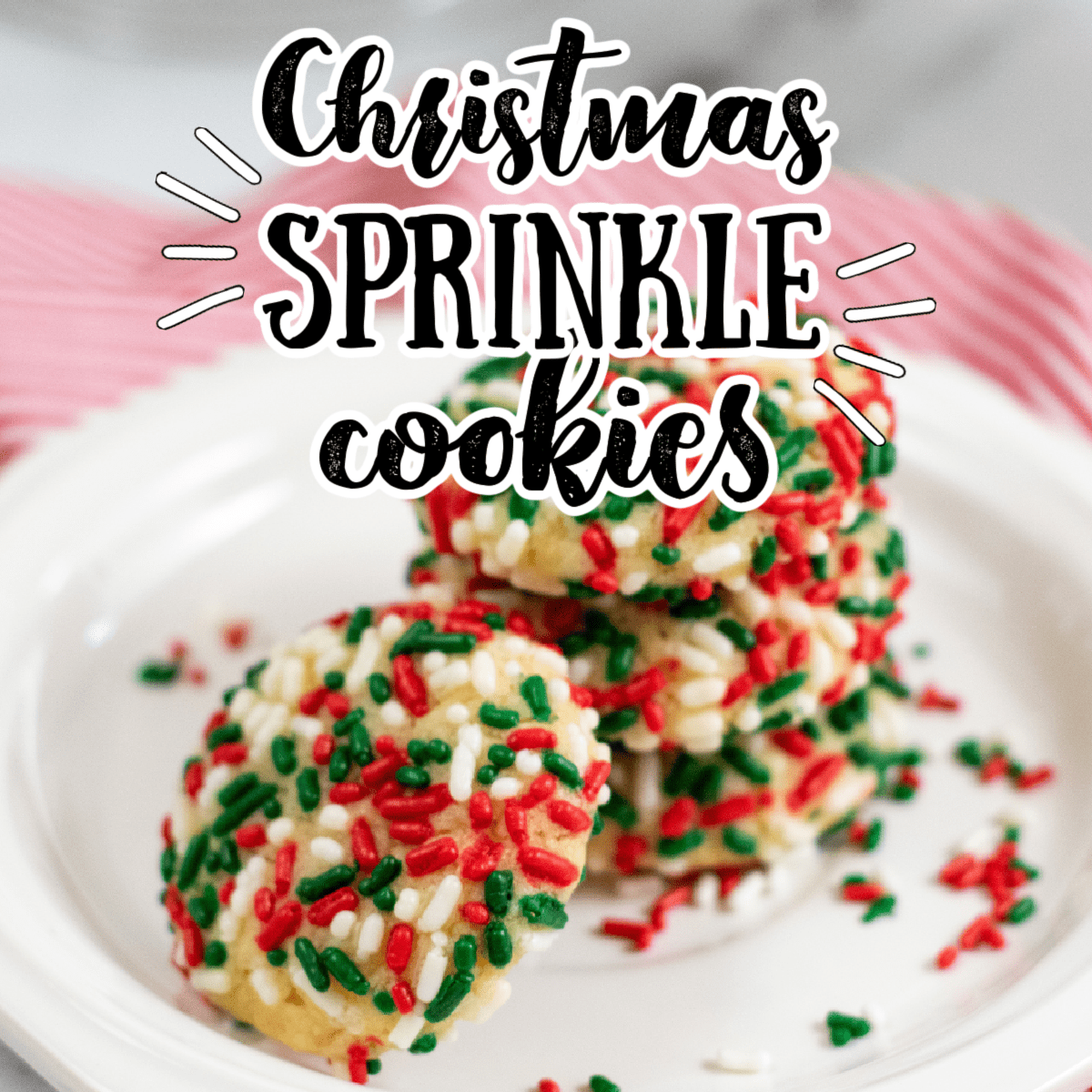 I haven't shared a lot of cookie recipes on the blog before this year because I've never really had a cookie plan. This year, I figured it out and can now make cookies that are good enough to actually share.
My sugar cookie recipe is super versatile and lends itself to making all different kinds of cookies, one of which is the sprinkles cookie below. I think this one is my 10-year-old's favorite because sprinkles.
The basic sugar cookie recipe is very simple with only a few ingredients, and all you have to do to make perfect sprinkles cookies is take balls of the dough and roll them in a bowl of sprinkles. What could be easier?
I'm no expert, but these cookies come out perfectly every time I've ever made them. They're pretty much fool-proof.
I've made this batch for Christmas with red, green, and white sprinkles, but imagine how much fun they would be for a birthday with multi-colored sprinkles? Or for Valentine's Day with pink and red? Or pastel colors for Easter? Or red, white, and blue for the summer holidays? I could go on and on, but I'll let you use your imagination.
What you'll need to make Christmas sugar cookies with sprinkles
Equipment
This is a pretty standard cookie recipe, so you will need a cookie sheet or baking sheet and parchment paper or a silicone baking liner (sometimes called a silpat) to line it. Strictly speaking, the liner isn't necessary, and our grandmothers probably didn't use them, but liners do make cleanup quite a bit easier, and they also make it easier to reuse the cookie sheet over and over again in succession without having to get it wet or scrape off cookie crumbs.
You'll need an electric hand held or stand mixer to cream the butter and sugar. The stand mixer makes things easier because you don't have to stand over the ingredients, but mine does not sit out on the counter and so I most often just grab the hand mixer because it's easier.
You'll also need a scoop set. I say you need it because I prefer to use scoop for cookies and cupcakes because it ensures evenly sized individual servings. If your cookies aren't all exactly the same size, they will cook unevenly and some will be underdone and too soft while others are overdone and too hard. A 1-tablespoon scoop is perfect for this recipe and will yield 6 dozen cookies.
Finally, you will need a wire rack to remove the cookies to after they've cooled a bit on the cookie sheet. I have 5 wire racks because 1 is never enough. Mine stack like bunk beds for cookies.
Ingredients
You will need a batch of sugar cookie dough. Here's my recipe for that. It makes 6 dozen cookies which is perfect to divide among your favorite varieties of cookies.
That same sugar cookie recipe can be adapted to make 3 other types of cookie as well, including the following:
This recipe also requires 1 cup of sprinkles. For Christmas, I prefer red, green, and white jimmies, but you can use any color or shape that you want.
How to make Christmas sugar cookies with sprinkles
In the instructions below, I assume you are starting with the sugar cookie dough already made.
Preheat oven to 350ºF.
Line the baking sheet with parchment paper or a silicone baking mat.

Place jimmies in a shallow bowl or dish.
Scoop out dough and roll into tablespoon size balls. Place each ball into the dish of jimmies and roll around, pressing lightly until the dough ball is covered evenly with sprinkles.

Place cookies on cookie sheet about 2 inches apart.

Bake for 12-15 minutes or until set and lightly golden brown around the edges.
Remove from the oven and allow to cool on the baking sheet for 5 minutes before removing to a wire cooling rack to cool completely.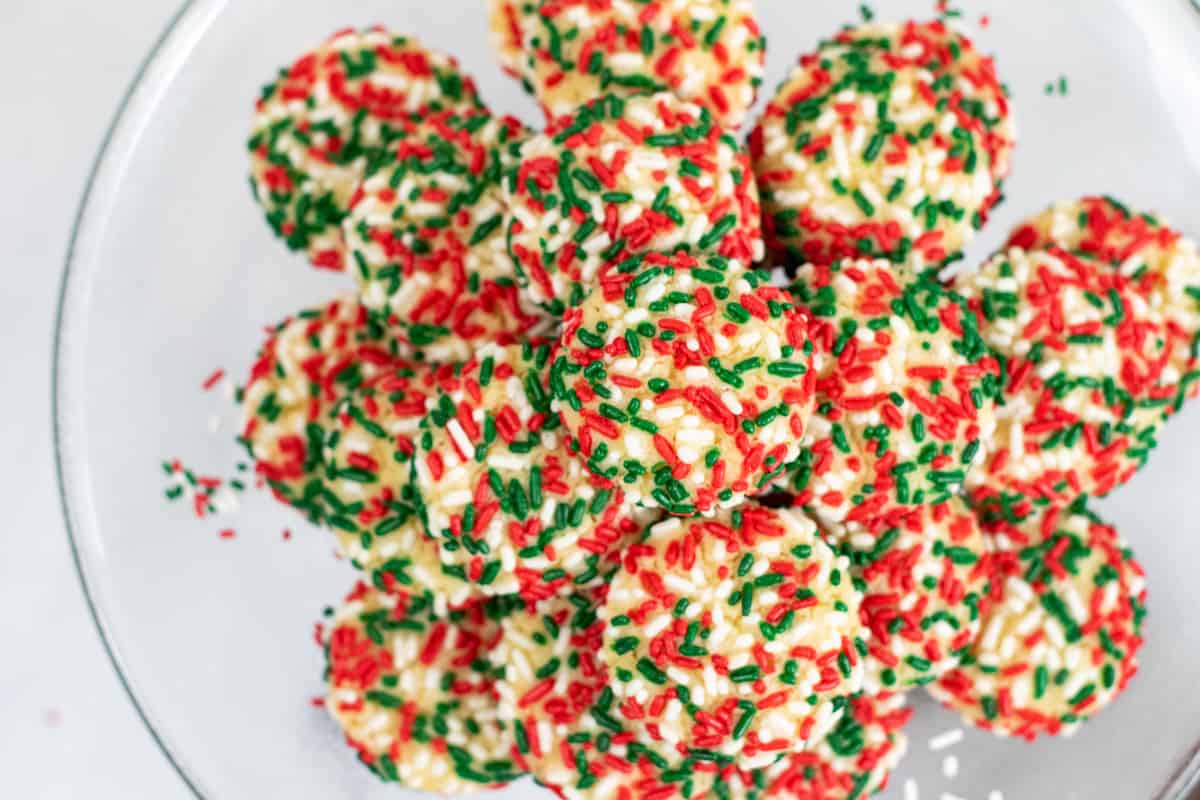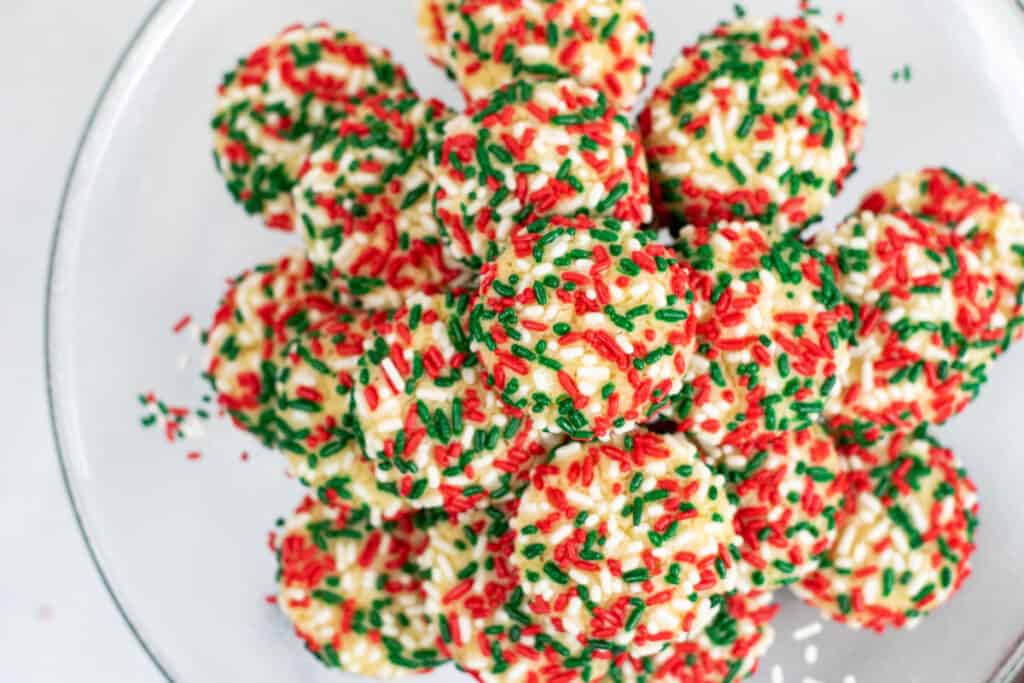 Tips for the best sprinkle cookies
Getting the sprinkles to stick - Roll these cookies in sprinkles as soon as the dough is mixed. Don't let it sit around, and especially don't let the balls sit after you've rolled them. If the dough sits, it will lose its stickiness and the sprinkles won't stick.
Chilling the dough - There is no need to chill this sugar cookie dough. You can mix it up and use it as is.
To prevent cracks - These cookies shouldn't crack if you roll them really well. Take each ball and roll it until it is perfectly round and smooth with no lines or cracks in the dough. There is no need to press or flatten the cookies prior to baking. They'll flatten on their own.
To prevent the cookies from spreading too much - A lot of times, the first batch of cookies comes out perfectly but the second baking spreads too much. Do you ever have that problem? The reason it happens is that the baking sheet was too hot when you put the cookies on it, and the butter in the cookies melts before the cookies can bake. To prevent overspreading, use multiple cookie sheets and cool each one completely before adding a second batch of cookie dough.
To keep the cookies soft - Be careful not to over bake the cookies. Remove them from the oven as soon as they are set, when the edges are just beginning to get golden. If you cook them too long, they will get hard.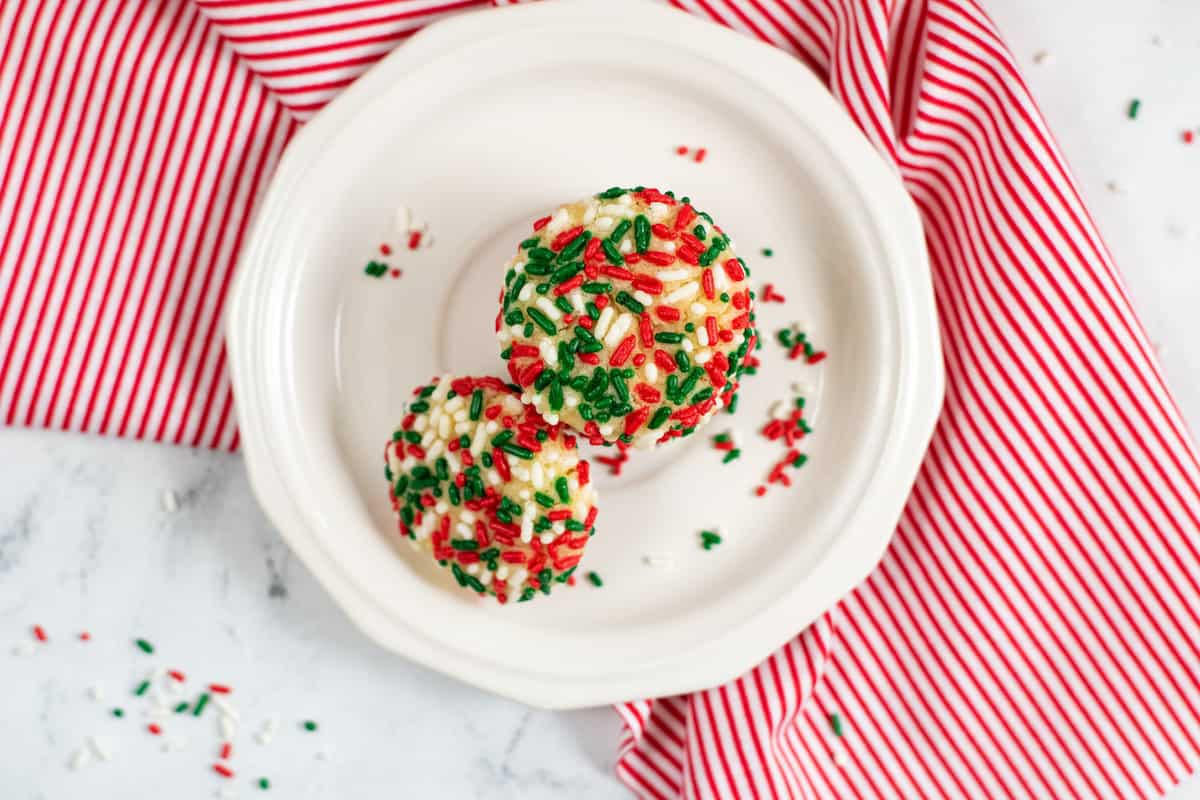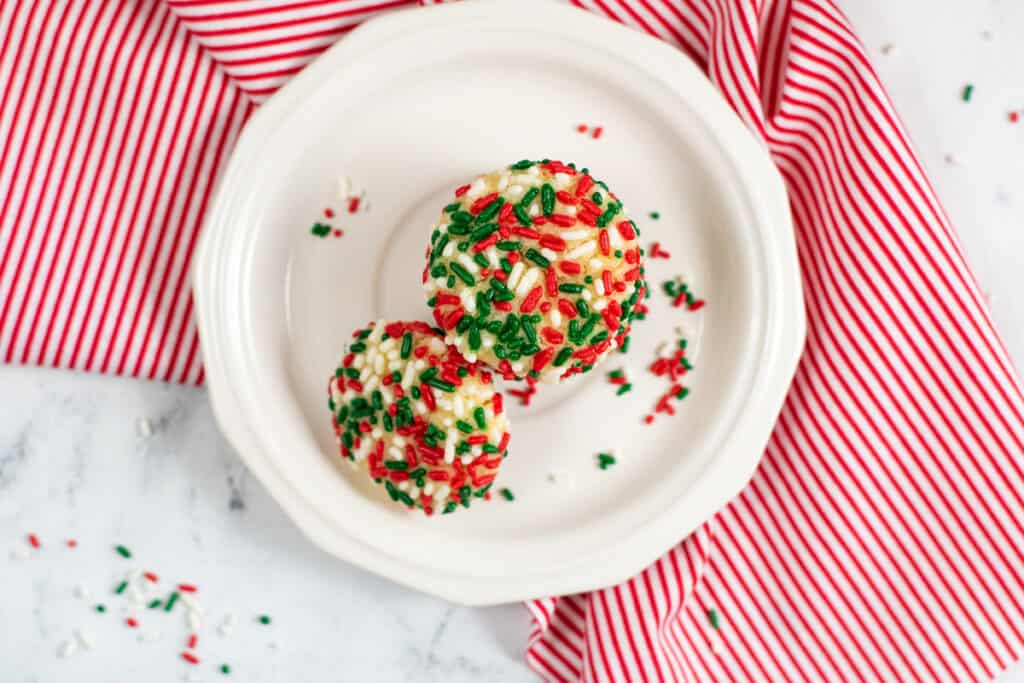 How to store these sugar cookies with sprinkles for maximum softness
You can store these cookies in an airtight container or zippered plastic bag for 4-5 days, and they will still be nice and soft.
If you want to keep them for longer, you can freeze the cookies. Simply let them cool to room temperature then place into an airtight container or a zippered plastic freezer bag and stick them in the freezer. They will stay good for months. To eat, simply place the cookies in the fridge or on the counter overnight.
Frequently asked questions
What should I do if my dough is too stiff?
If your dough is too crumbly or too stiff to work with, you probably added too much flour. Try adding milk, 1 tablespoon at a time and mixing it in.
What should I do if my dough is too runny?
If your cookie dough is too sticky or runny, add flour, 1 tablespoon at a time, and mix it in until the dough is the right consistency. It should be workable but not stick to your hands.
Recipe