These thumbprint sugar cookies with jam centers are the best! Perfectly soft and chewy cookies filled with strawberry jam are the absolute perfect treat for any time of year. Easy, versatile, classic Christmas cookie that everyone loves.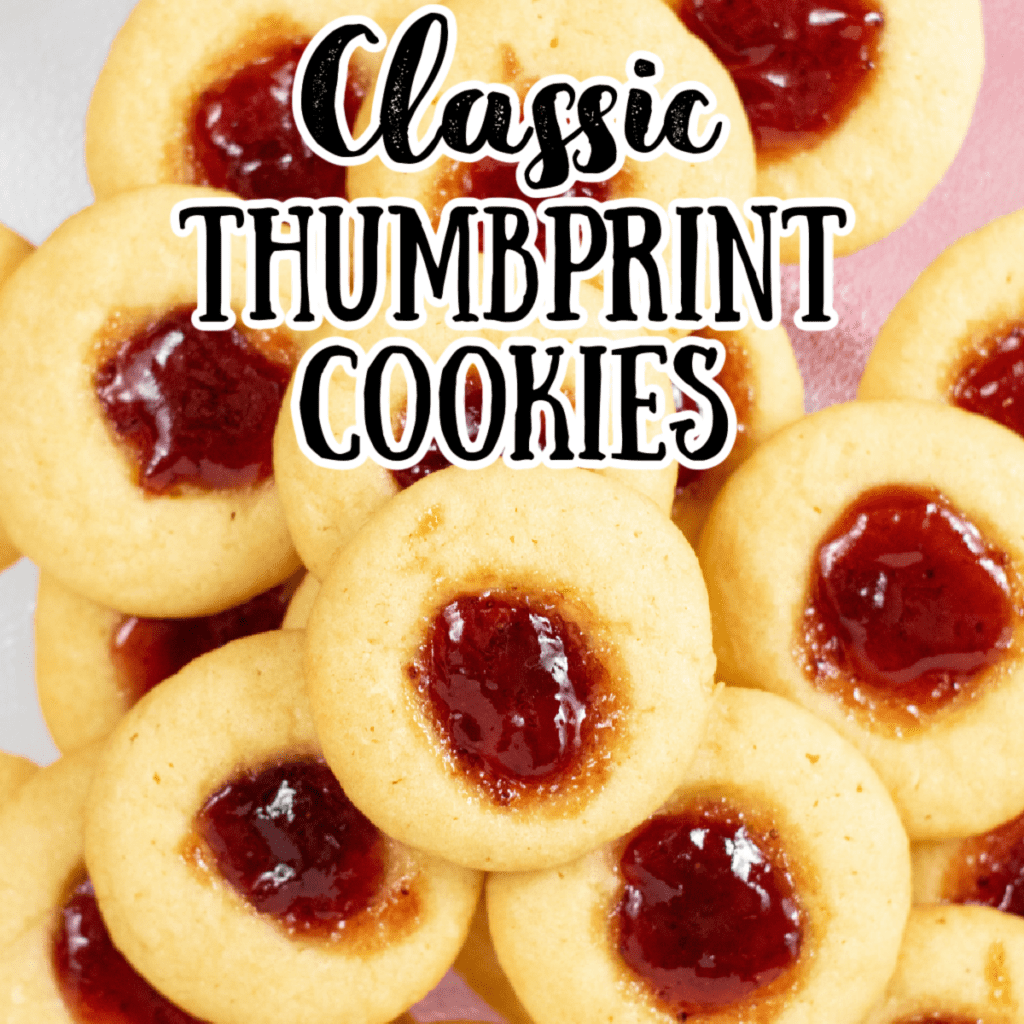 I have not traditionally been very good at baking cookies. It seems like I've made every mistake in the book: overworking the dough, over baking the cookies, under baking the cookies, putting cookies on a hot baking sheet... you name the mistake, and I've probably made it.
My mistakes are your gain though because I have figured out exactly what doesn't work! See below for lots of tips for making these Christmas cookies come out perfectly every time.
Now that I've figured out how to make good cookies, I think these thumbprint cookies are my favorite. Strawberry jam is the classic filling, but I think my favorite filling is cherry jam.
Cherry jam is pretty hard to find outside of boutique stores, so I often make a small batch in the summer and either can it or freeze it to use the rest of the year. It's not hard to make.
What you'll need to make classic thumbprint sugar cookies
Equipment
This is a pretty standard cookie recipe, so you will need a cookie sheet or baking sheet and parchment paper or a silicone baking liner (sometimes called a silpat) to line it. Strictly speaking, the liner isn't necessary, and our grandmothers probably didn't use them, but liners do make cleanup quite a bit easier, and they also make it easier to reuse the cookie sheet over and over again in succession without having to get it wet or scrape off cookie crumbs.
You'll need an electric hand held or stand mixer to cream the butter and sugar. The stand mixer makes things easier because you don't have to stand over the ingredients, but mine does not sit out on the counter and so I most often just grab the hand mixer because it's easier.
You'll also need a scoop set. I say you need it because I prefer to use scoop for cookies and cupcakes because it ensures evenly sized individual servings. If your cookies aren't all exactly the same size, they will cook unevenly and some will be underdone and too soft while others are overdone and too hard. A 1-tablespoon scoop is perfect for this recipe and will yield 6 dozen cookies.
Finally, you will need a wire rack to remove the cookies to after they've cooled a bit on the cookie sheet. I have 5 wire racks because 1 is never enough. Mine stack like bunk beds for cookies.
Ingredients
You will need a batch of sugar cookie dough. Here's my recipe for that. It makes 6 dozen cookies which is perfect to divide among your favorite varieties of cookies.
That same sugar cookie recipe can be adapted to make 3 other types of cookie as well, including the following:
This recipe also requires 1 cup of jam. I prefer strawberry, but cherry and raspberry are also really nice. You can use any flavor you want.
How to make classic thumbprint cookies with jam centers
In the instructions below, I assume you are starting with the sugar cookie dough already made.
Preheat oven to 350ºF.
Line the baking sheet with parchment paper or a silicone baking mat.

Scoop dough by the tablespoonful and shape into balls.

Place dough balls on the prepared baking sheet about 2 inches apart. Using a finger or the back of a small spoon, form an indent in the center of each cookie.

Fill the indent with about a half teaspoon (more or less) of jam.

Bake cookies for 12-15 minutes or until set and lightly golden brown around the edges.
Remove cookies from the oven and allow to cool on the baking sheet for 5 minutes before removing to a cooling rack to cool completely.
Thumbprint sugar cookie variations
As I mentioned above, you can use any flavor of jam or jelly in these cookies. You could even use fruit preserves if you chop up any big fruit pieces.
Lemon curd is also a great filling for these cookies.
Another great variation is to fill the indent with chocolate ganache (before or after baking) or melted caramel.
You can roll the cookies in granulated sugar or sprinkle them with powdered sugar before baking or drizzle them with a powdered sugar and milk glaze after baking.
Tips for the best thumbprint cookies
Chilling the dough - There is no need to chill this sugar cookie dough. You can mix it up and use it as is.
To prevent cracks - These cookies shouldn't crack if you roll them really well. Take each ball and roll it until it is perfectly round and smooth with no lines or cracks in the dough. Gently use your finger or a teaspoon to slowly press an indent into the cooking. If you see a crack starting to form while pressing, carefully push the dough back together or re-roll it.
Filling the cookies - Some thumbprint cookie recipes tell you to add the jam after baking, but I like how it gets a little firm during baking and so add it before. If your jam is too firm to drop onto the cookies, you can put it in a glass bowl and microwave it for 10-15 seconds. You don't want it to get hot, just warm and thin enough to drip into the cookie.
To prevent the cookies from spreading too much - A lot of times, the first batch of cookies comes out perfectly but the second baking spreads too much. Do you ever have that problem? The reason it happens is that the baking sheet was too hot when you put the cookies on it, and the butter in the cookies melts before the cookies can bake. To prevent overspreading, use multiple cookie sheets and cool each one completely before adding a second batch of cookie dough.
To keep the cookies soft - Be careful not to over bake the cookies. Remove them from the oven as soon as they are set, when the edges are just beginning to get golden. If you cook them too long, they will get hard.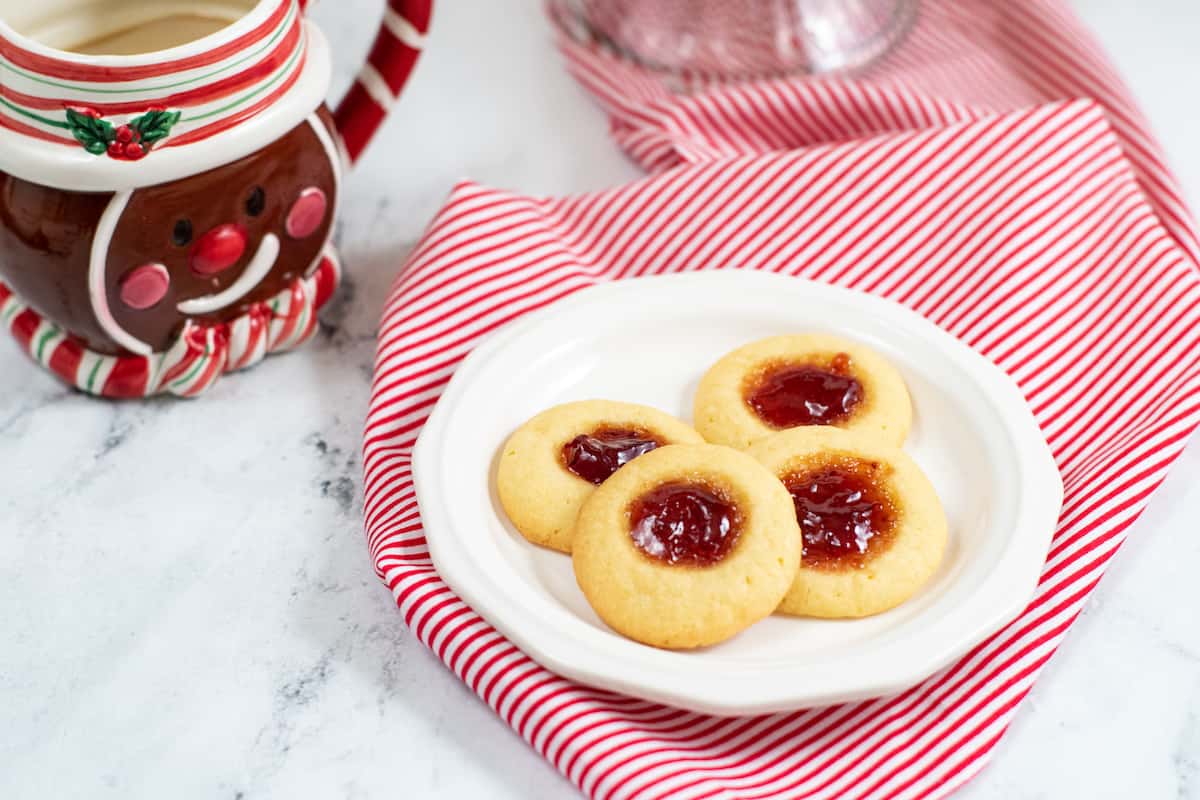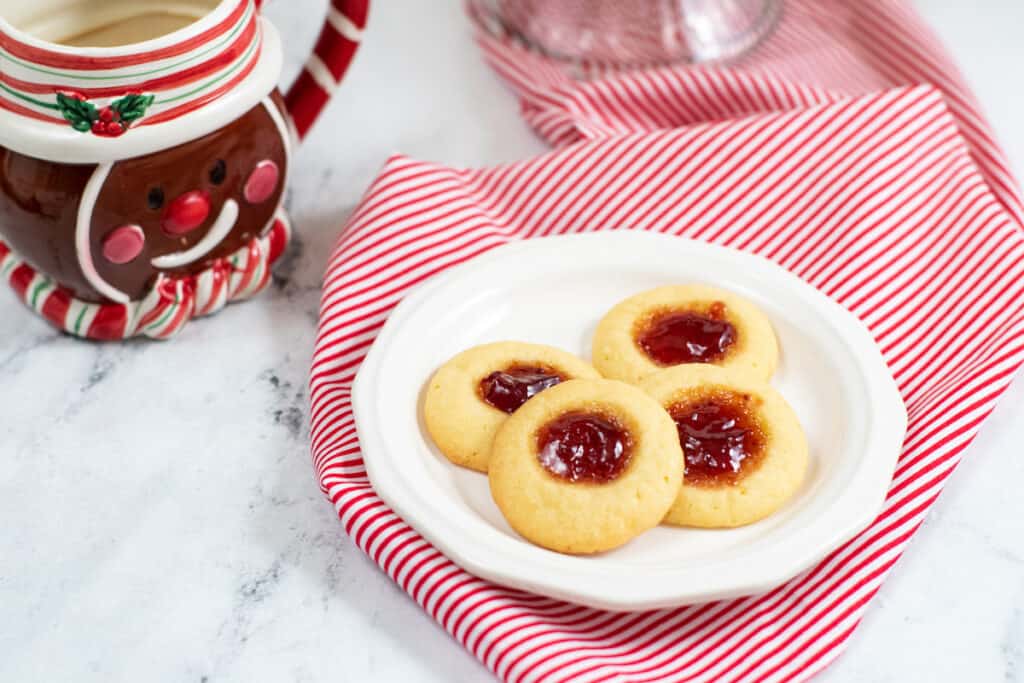 How to store these thumbprint cookies for maximum softness
You can store these cookies in an airtight container or zippered plastic bag for 4-5 days, and they will still be nice and soft.
If you want to keep them for longer, you can freeze the cookies. Simply let them cool to room temperature then place into an airtight container or a zippered plastic freezer bag and stick them in the freezer. They will stay good for months. To eat, simply place the cookies in the fridge or on the counter overnight.
Frequently asked questions
What should I do if my dough is too stiff?
If your dough is too crumbly or too stiff to work with, you probably added too much flour. Try adding milk, 1 tablespoon at a time and mixing it in.
What should I do if my dough is too runny?
If your cookie dough is too sticky or runny, add flour, 1 tablespoon at a time, and mix it in until the dough is the right consistency. It should be workable but not stick to your hands.
Recipe