These gorgeous Christmas sugar cookies have the best thick and creamy homemade buttercream frosting that you've ever tasted! Spread or pipe the frosting onto the cookies, and it will harden in a few hours.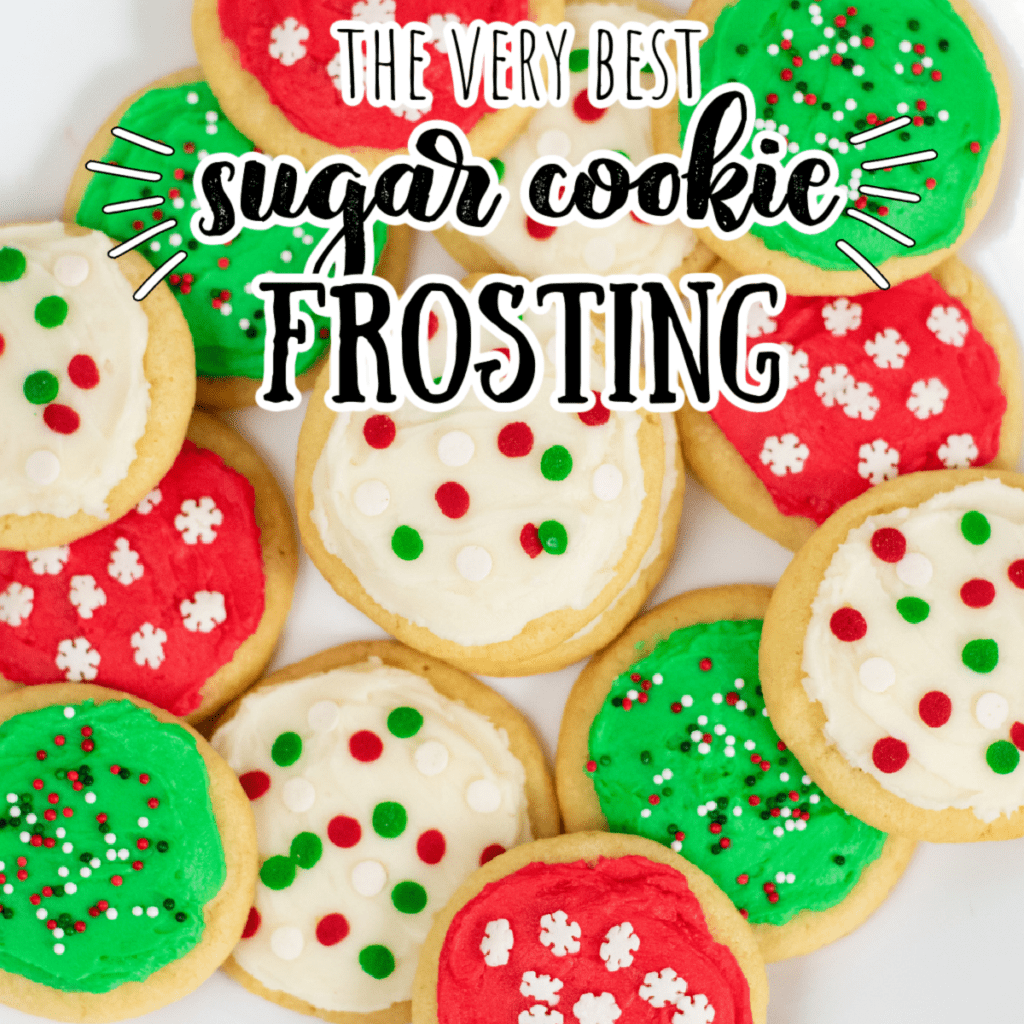 Have you ever bitten into a nice, soft sugar cookie, only to discover that the "frosting" is really a crunchy bitter royal icing mess? I hate that!
If I'm going to eat a cookie, I want it to taste amazing. Otherwise, it's not worth wasting the calories. Am I right?
The recipe below is the perfect sugar cookie frosting because it sets up with a hard crust, but it stays soft, creamy, and sweet underneath. And it actually tastes good. You can't go wrong with that winning combination.
Why you'll love this sugar cookie frosting recipe
It tastes good. Have I mentioned that yet? It's delicious with buttery vanilla goodness and just a hint of almond extract for an extra burst of flavor.
It's easy. If you have a stand mixer, this frosting takes about 3 minutes of active work time. If you're using a hand mixer, it takes a little longer, but it's still under 10 minutes.
The ingredients are already in your pantry. Butter, vanilla, almond extract (optional), cream, and powdered sugar, plus some food color and sprinkles if you want them. But that's all there is to this recipe. Couldn't be simpler.
It's versatile. You can frost your cookies by spreading the buttercream on top or by piping it with a bag. You could also melt the frosting and dip the cookies into it (mind blown, right?). To do that, simply whip the frosting and melt it in the microwave in 20-30 second increments. Add a little extra cream if you need to, so that it's thin enough to dip the cookies into.
What you'll need to make frosted sugar cookies
Equipment
I am assuming that you have already made your sugar cookies according to this recipe, so I will not include the tools required to make them below.
You'll need an electric hand held or stand mixer to prepare the frosting. The stand mixer makes things easier because you don't have to stand over the ingredients, but mine does not sit out on the counter and so I most often just grab the hand mixer because it's more convenient.
Ingredients
You will need a batch of sugar cookies, baked and cooled completely to room temperature. That recipe makes 6 dozen cookies, and the frosting recipe below is enough to cover all 6 dozen.
However, if you want to make a variety of different cookies, that same sugar cookie recipe can be adapted to make 3 other types of cookie as well, including the following:
This buttercream frosting recipe below requires the following ingredients, in addition to the cookies themselves:
½ cup unsalted butter - This is one stick. It should be softened slightly, not so much that your finger will go right through but enough that your finger can make a decent dent in the top.
½ teaspoon vanilla bean paste or equal amount of vanilla extract - I have switched over from using vanilla extract to using vanilla bean paste almost exclusively.
Vanilla extract is an alcohol-based liquid with the consistency of water. To make it, vanilla beans are soaked in alcohol for a long time (many months). There are no actual vanilla beans in extract.
Vanilla paste on the other hand is a combination of highly concentrated vanilla extract, vanilla bean powder, and a binder (which can be either xanthum gum or corn syrup, read the label). It is the consistency of Elmer's glue.
The reason I prefer vanilla paste is that, aside from having actual vanilla beans inside, the paste has a richer, more bold flavor, and it has no alcohol taste when it is not cooked. I hate the bitter flavor that traditional vanilla extract gives foods that are not cooked. That bitterness cooks off when heated, but in recipes like popsicles, buttercream, and overnight oats, the alcohol stays in and can taint the flavor if you are heavy handed with it (as I often am).
¼ teaspoon almond extract - This is optional but really makes the frosting sing when you use it.
6 tablespoons heavy cream - You can substitute whole milk or half and half, but heavy cream is really the best option.
¼ teaspoon salt
4 cups powdered sugar - This is the foundation of your buttercream. You can't substitute or use something else. It has to be powdered sugar.
Gel food color - You can't use liquid food color in frosting because it will thin it and make it runny. Gel food color is required. I think you could probably also use powdered food color, but I have never tried that.
Sprinkles - Optional, but they make the presentation pretty.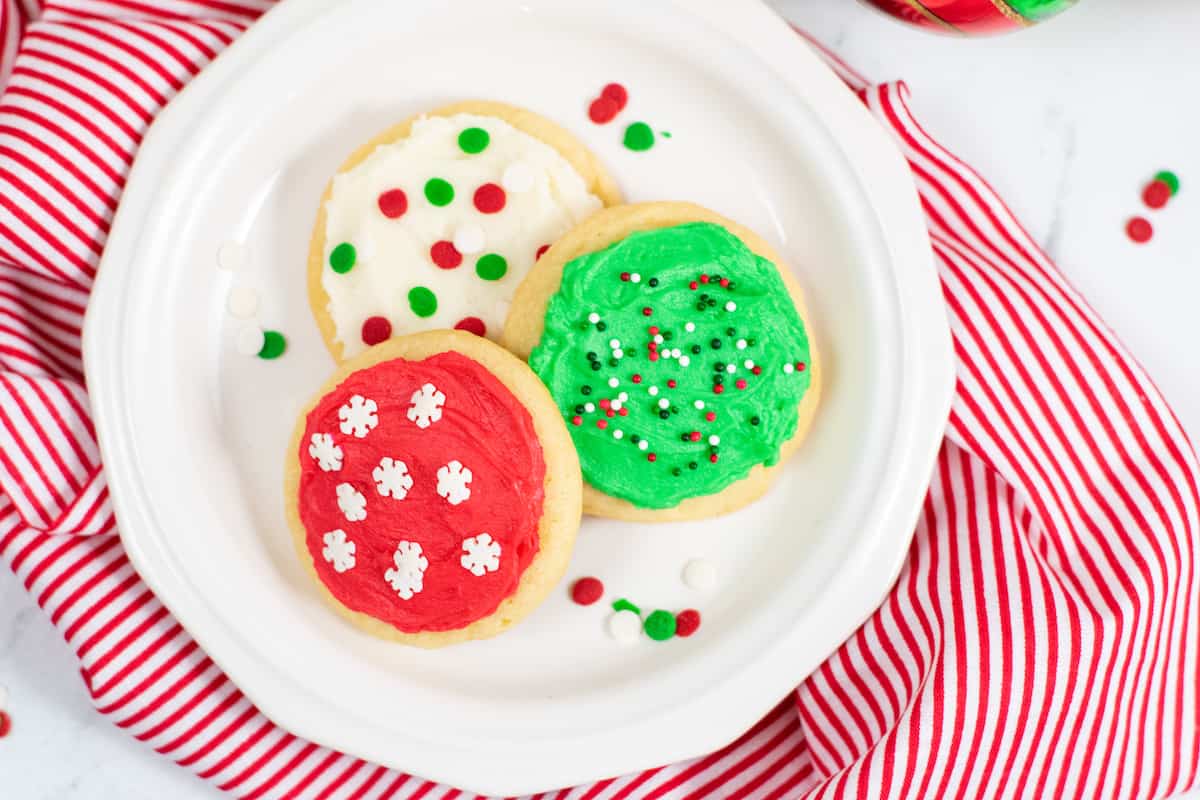 How to make homemade buttercream frosting for sugar cookies
Beat softened butter with an electric mixer until light and fluffy. The color should change and lighten slightly.

Add in the powdered sugar and heavy cream a little at a time, alternating and mixing between the two. You cannot over mix frosting, so let the mixer go until you're certain that the sugar and cream are thoroughly incorporated.

Continue adding and mixing until all the powdered sugar and cream have been added.
Add in vanilla bean paste, almond extract, and salt and beat until well incorporated.
Divide the frosting into smaller bowls, one per desired color. Add food coloring to each bowl and whisk, adding additional food coloring until the desired color is achieved.

Frost each cookie with a smear of buttercream and a dash of sprinkles, if desired.
Sugar cookie frosting tips
The temperature of the butter matters - The butter should be cool to the touch, not room temperature. You should be able to put a dent in the top with your finger, but it should not be so soft and melty that you can put your finger the whole way through. If your butter is too warm, your frosting will be greasy.
The powdered sugar needs to be smooth - If your powdered sugar has lumps in it, you will need to sift it through a strainer or flour sifter.
Add sprinkles right after frosting - This frosting does not harden like royal icing (and that is a very good thing in my opinion!). But it does set up and get a sort of crust on top, so if you want to use sprinkles, you will need to apply them right away after frosting the cookies. Otherwise, they won't stick to the frosting.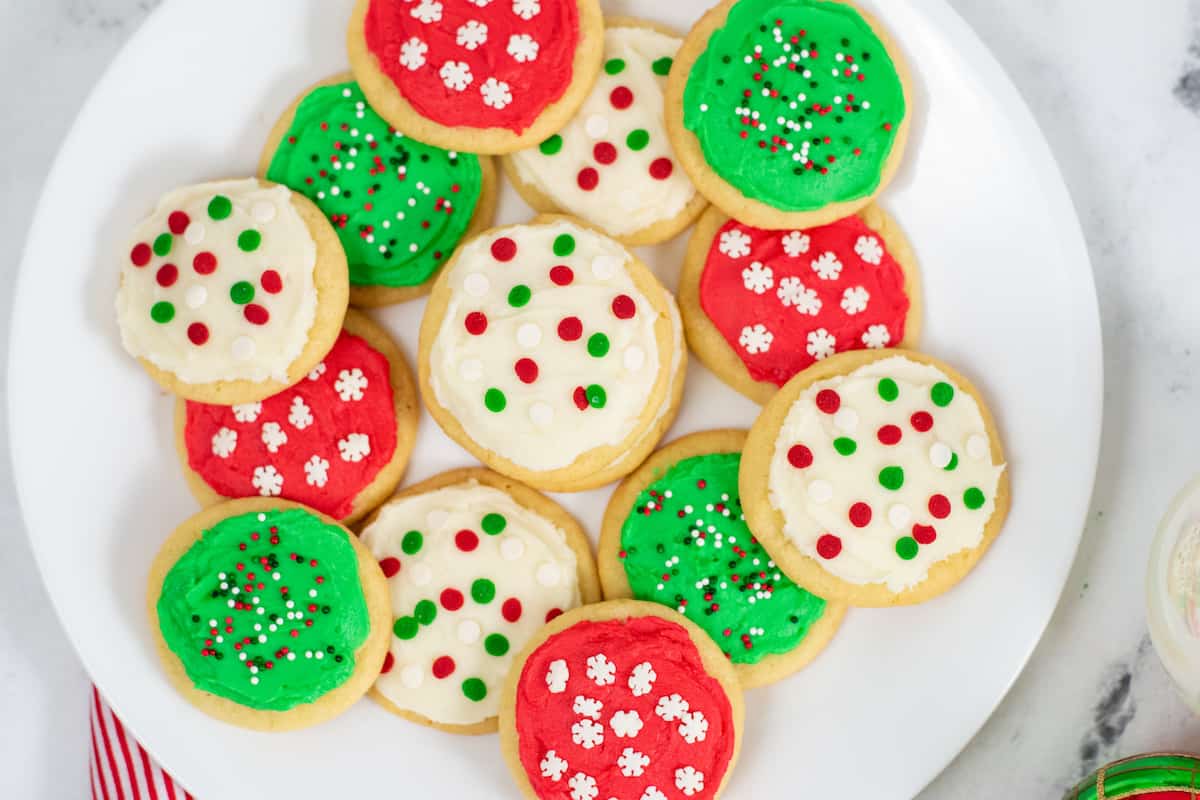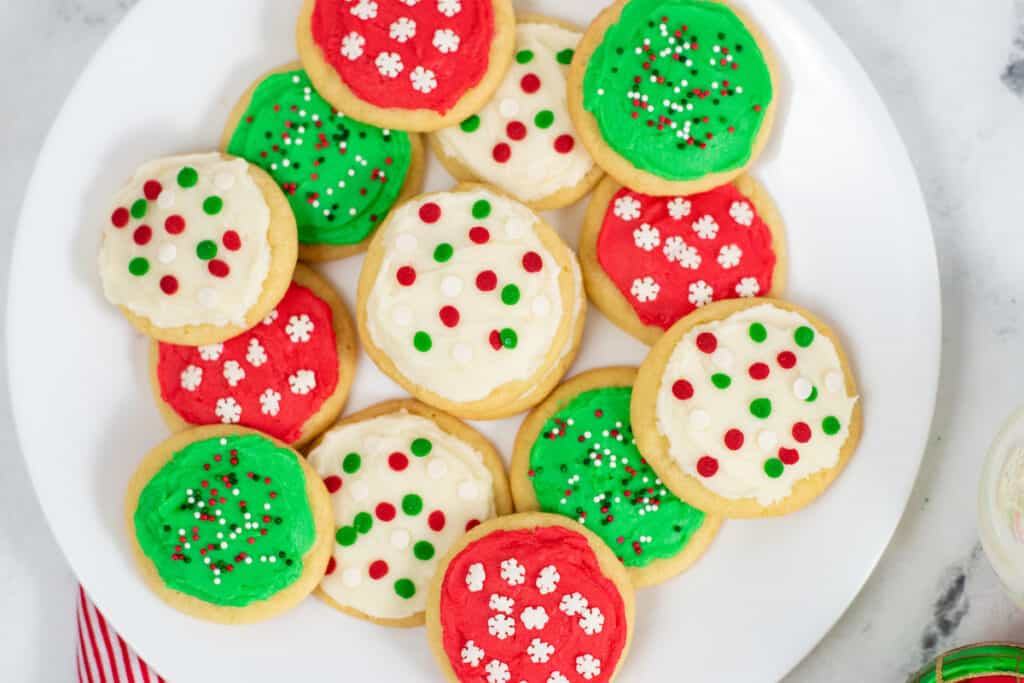 Frequently Asked Questions
What if my buttercream is too runny?
You want this frosting to be a little thinner and runnier than a typical cake frosting because it should soak down into the cookie a bit. This helps to keep the cookies soft. But if it's thinner and runnier than it should be, you may have added too much cream or your butter could have been too soft. Add powdered sugar, about ¼ cup at a time, until you reach the consistency you want.
What if my buttercream is too stiff?
You need more liquid. Add additional cream 1 teaspoon at a time. NOT 1 TABLESPOON. 1 teaspoon at a time.
Can I change up the frosting flavor?
You sure can! Vanilla is the traditional frosting flavor, and I like to add a teeny amount of almond extract, but you can leave that out if you want.
You can also substitute peppermint, anise, caramel, butterscotch, or orange extract for the almond. Extracts are very potent, so you should start with ¼ teaspoon at a time and taste frequently.
You can also add a bit of maple syrup or honey to alter the flavor. Do that about 1 tablespoon at a time, but recognize that you are adding liquid and thus may need to add additional powdered sugar to balance it out.
Whatever flavor adjustments you make, do so at the very end, after the frosting has been made, so that you get an accurate idea of the finished flavor.
How can I store the leftover buttercream frosting?
Buttercream is made from butter and cream, so you should keep it in the refrigerator to prevent spoiling. Store it in an airtight container or zippered plastic bag. Let it come to room temperature before using.
You can also freeze sugar cookie frosting. Put it in the fridge overnight to thaw, and then let it warm up to room temperature before using.
After having been stored in the refrigerator or freezer, you may need to re-whip your frosting with the mixer to make it fluffy again. This will not change the flavor at all. It will still be delicious.
How to store frosted sugar cookies for maximum softness
The buttercream frosting on these cookies will harden slightly after a couple of hours, but I still recommend placing a layer of wax paper between the layers if you to stack the cookies so that they don't stick to each other.
You can store these cookies in an airtight container or zippered plastic bag at room temperature for 3-4 days, and they will still be nice and soft.
If you want to keep them for longer, you can freeze the cookies. Simply let them cool to room temperature then place into an airtight container or a zippered plastic freezer bag and stick them in the freezer. They will stay good for months. To eat, simply place the cookies in the fridge or on the counter overnight.
Recipe