The best Cajun style red pinto beans and rice recipe - This simple, quick, and easy dinner is healthy for the budget because it's cheap! Can be vegetarian or vegan or you can add some meat. Great for lunch or supper. Spicy recipe that's amazing with some shredded cheese, sour cream, and cilantro on top.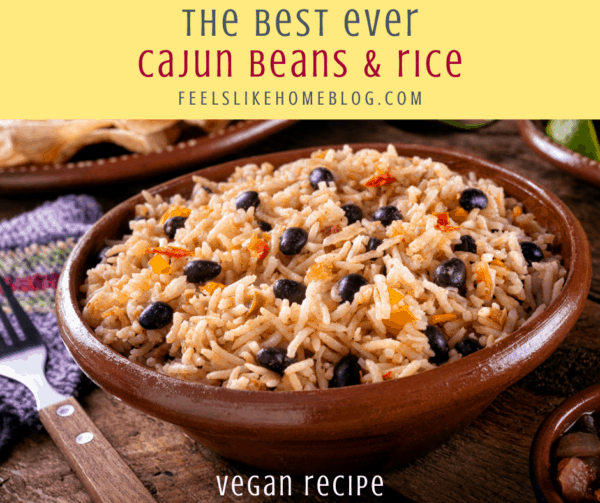 I spent 10 years of my life as a vegetarian, and I loved it. Even today, I sometimes feel like an icky traitor for eating meat.
I'm aware that I'm weird. Just play along.
I feel a special allegiance to meatless cuisine, and we eat meatless meals often around here.
On and off over the last 12 years, Joe and I have eaten this beans and rice recipe for supper pretty often. We go in spurts, and we'll eat it weekly for months and months and then put it away because we're sick of it, and then get it back out again after some time has passed. We're like that with a lot of recipes.
As written, this beans and rice recipe is vegan. There are no animal products at all. However, Joe and I really love to serve this it with a healthy amount of shredded cheddar cheese and Greek yogurt. It makes the whole thing creamy and delicious and tones down the spice a bit. Grace and Allie like to top theirs with Hidden Valley Ranch dressing because they're weird too, just in a different way. Everything is better with ranch dressing, I guess.
How to Make the Best Cajun Style Red Beans and Rice
Cook the rice according to package instructions. You will need 3 cups cooked.
Heat oil in a large skillet over medium-high heat. Add onion, salt, and pepper. Sauté until onion is tender and translucent, 3-4 minutes. Add garlic and cook until fragrant, about 30 seconds. Add chili powder, cumin, oregano, and paprika.
Mix in beans, corn, and rice. Cook until heated through, about 5 minutes. Add water if it looks like the spices or rice are sticking or burning.
Serve with a sprinkle of cilantro, 2 tablespoons of Greek yogurt, and ½ ounce of shredded cheese.
Cooking note: To make this a heartier meal, you could add some chopped or shredded chicken, pork, or beef. We normally don't but have once or twice.
Recipe