Bible verses and quotes about overcoming overthinking - Biblical inspiration to stop over thinking and get rid of anxiety. These wise words will help you to stay positive in times of stress or sadness. They are God's words, thoughts, and truths about worry.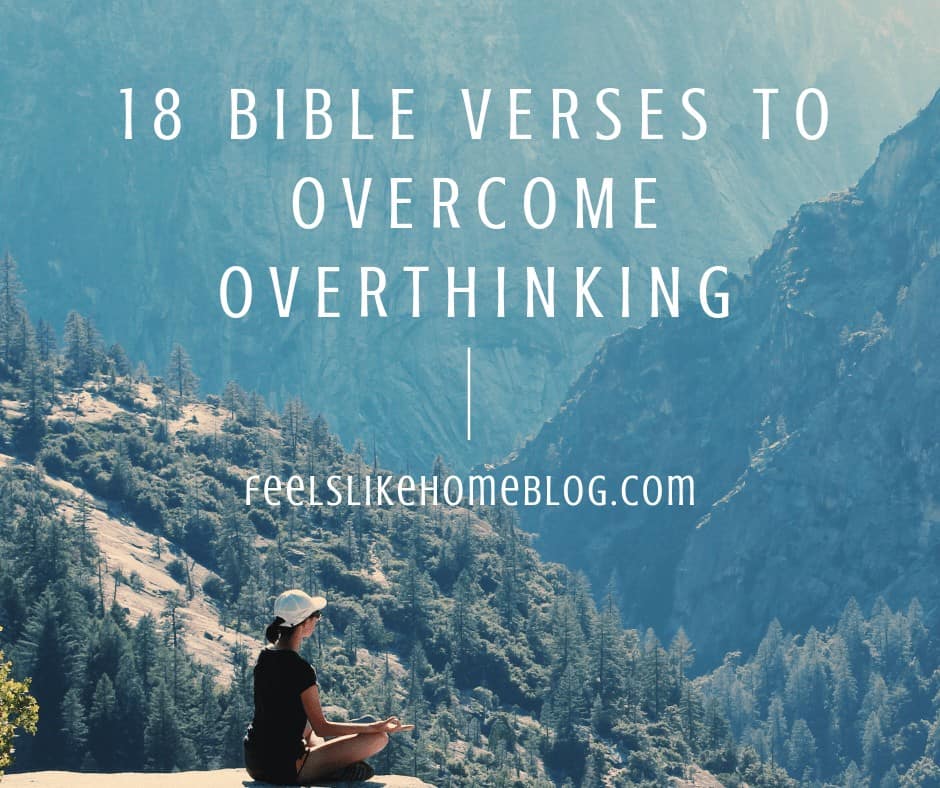 I am a champion overthinker.
When I say champion, I mean that I am an overthinker of epic proportions. I take situations - happy and miserable - and I ruminate on them until they no longer make sense.
You know how, sometimes, when you look at a word for too long, it stops looking correct, and the letters start looking out of place? (Please tell me that that happens to people besides me.)
Well, that's how over analyzing makes things go askew for me. Especially when I want something, I chew on it and replay it in my head until it no longer looks the way it did when it was real.
What is overthinking?
I recently had dinner with someone I didn't know well. It was fairly easy to talk to one another, but there were a few awkward pauses and silences between us, times when neither of us knew just the right thing to say.
I really liked the person I imagined this person to be, and I desperately wanted us to be friends. By the time I was done overthinking the situation, I had us both enticing and charismatic and best buddies and having had the best dinner either of us had ever had.
It was overthinking at its finest, and it led me to be pretty intense in texting the person over the next couple of weeks. Fortunately, this situation turned out well; the person and I became good friends and still talk a couple of times a week.
But in my experience, it rarely does turn out like that. Typically, it leads me to do dumb things. I have an example of that happening in my life, too.
I used to have a friend I called my best friend. I spoke to her at least three times a day every day, and I loved the sense of closeness and intimacy I felt with her.
The problem was that she didn't have the emotional energy that I needed. She probably liked me just fine and did want to be my friend, but my all-consuming intensity was too much for her, and she pulled away.
I took that slight change in our friendship as total rejection. I overthought it until she no longer wanted anything to do with me at all, and I subsequently stopped reaching out to her. Our friendship fizzled and withered, and I still miss her.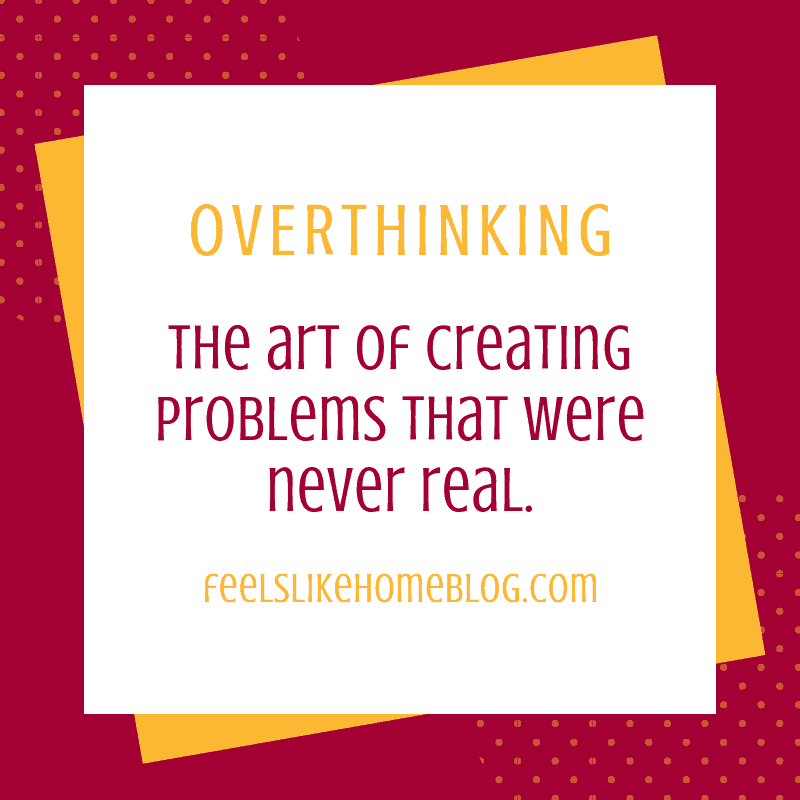 What causes me to overthink?
In my experience, it is almost always the result of anxiety.
I feel very anxious where friendships are concerned. I assume other people don't or won't or can't like me, and I am desperate to have friends. That desperation leads me to overthink.
Some people worry about what other people think of them, about what is going to happen, about what they should have done or said, and about what the worst case scenario. I worry and overthink about all those things, too.
Am I overthinking?
Here are some signs that you might be:
You second guess everything.
You analyze situations/reactions/conversations endlessly.
You predict the worst will happen.
You hate making decisions because you can't stop going over the options.
You can't sleep at night because you can't shut off your brain.
You prefer to let someone else make decisions for you.
You experience extreme feelings of regret once you've had time to analyze and re-analyze a situation.
You can't let things go.
You take things personally even when they aren't meant to be personal.
You are a perfectionist.
You criticize yourself all the time.
You criticize others all the time.
You feel tense.
18 Bible verses to help you stop overthinking
I wish I had 6 easy steps for you to stop, but I don't. I do think there are some strategies that you can try (and I'll write about them someday soon), but there's no magic pill to make it stop.
One thing that I have learned to do when I notice I'm doing it is to pray. Prayer is almost always the best answer to any question. Prayer brings the peace of God into my heart and into my mind.
What do you pray though? When I don't know what to pray or can only think of please help me Jesus prayers, I like to turn to scripture. I say the words back to the Lord and ask Him to make them true. It would go something like this:
Be still and know that I am God. –Psalm 46:10 (NLT)
Lord, help me to be still and trust in Your divine plan. Help me to know that You are God and give me faith that You will always do what's best for me.
Trust in the Lord with all your heart; do not depend on your own understanding. Seek his will in all you do, and he will show you which path to take. –Proverbs 3:5-6 (NLT)
Lord, help me to trust You every day, in everything I do. Help me to lean on You instead of my own understanding and knowledge. Help me to rely on thanksgiving instead of anxiety. You see the big picture while I only see what's right in front of me, so Your wisdom is so much better than anything I could fathom. Reveal Your will to me and show me what path to take so that I can follow You in everything I do.
If you can pray prayers like that with all the verses below, you will have 18 surefire ways to beat worry and overthinking before it starts - or as soon as you realize it's happening.
Can all your worries add a single moment to your life? –Matthew 6:27 (NLT)
The Lord himself will fight for you. Just stay calm. –Exodus 14:14 (NLT)
This is my command — be strong and courageous! Do not be afraid or discouraged. For the Lord your God is with you wherever you go. –Joshua 1:9 (NLT)
Don't worry about anything; instead, pray about everything. Tell God what you need, and thank him for all he has done. Then you will experience God's peace, which exceeds anything we can understand. His peace will guard your hearts and minds as you live in Christ Jesus. –Philippians 4:6-7 (NLT)
So don't worry about tomorrow, for tomorrow will bring its own worries. Today's trouble is enough for today. –Matthew 6:34 (NLT)
Can all your worries add a single moment to your life? And if worry can't accomplish a little thing like that, what's the use of worrying over bigger things? –Luke 12:25-26 (NLT)
Since you have been raised to new life with Christ, set your sights on the realities of heaven, where Christ sits in the place of honor at God's right hand. Think about the things of heaven, not the things of earth. –Colossians 3:1-2 (NLT)
And I am convinced that nothing can ever separate us from God's love. Neither death nor life, neither angels nor demons, neither our fears for today nor our worries about tomorrow—not even the powers of hell can separate us from God's love. No power in the sky above or in the earth below—indeed, nothing in all creation will ever be able to separate us from the love of God that is revealed in Christ Jesus our Lord. –Romans 8:38-39 (NLT)
Guard your heart above all else, for it determines the course of your life. –Proverbs 4:23 (NLT)
Now may the Lord of peace himself give you his peace at all times and in every situation. The Lord be with you all. –2 Thessalonians 3:16 (NLT)
But when I am afraid,
I will put my trust in you.
I praise God for what he has promised.
I trust in God, so why should I be afraid?
What can mere mortals do to me? –Psalm 56:3-4 (NLT)
Obviously, I'm not trying to win the approval of people, but of God. If pleasing people were my goal, I would not be Christ's servant. –Galatians 1:10 (NLT)
Therefore, since we are surrounded by such a huge crowd of witnesses to the life of faith, let us strip off every weight that slows us down, especially the sin that so easily trips us up. And let us run with endurance the race God has set before us. 2We do this by keeping our eyes on Jesus, the champion who initiates and perfects our faith.12:2a Or Jesus, the originator and perfecter of our faith. –Hebrews 12:1-2 (NLT)
We destroy every proud obstacle that keeps people from knowing God. We capture their rebellious thoughts and teach them to obey Christ. –2 Corinthians 10:5 (NLT)
Seek the Kingdom of God above all else, and live righteously, and he will give you everything you need. So don't worry about tomorrow, for tomorrow will bring its own worries. Today's trouble is enough for today. –Matthew 6:33-34 (NLT)
Study this Book of Instruction continually. Meditate on it day and night so you will be sure to obey everything written in it. Only then will you prosper and succeed in all you do. –Joshua 1:8 (NLT)
So do not worry about tomorrow; for tomorrow will worry about itself. Each day has enough trouble of its own. –Matthew 6:34 (Amp)
Do not be conformed to this world, but be transformed by the renewal of your mind, that by testing you may discern what is the will of God, what is good and acceptable and perfect. –Romans 12:2 (ESV)
We destroy arguments and every lofty opinion raised against the knowledge of God, and take every thought captive to obey Christ. –2 Corinthians 10:5 (ESV)
Therefore I tell you,  do not be anxious about your life, what you will eat or what you will drink, nor about your body, what you will put on. Is not life more than food, and the body more than clothing? Look at the birds of the air: they neither sow nor reap nor gather into barns, and yet your heavenly Father feeds them. Are you not of more value than they? And which of you by being anxious can add a single hour to his span of life? And why are you anxious about clothing? Consider the lilies of the field, how they grow: they neither toil nor spin, yet I tell you, even Solomon in all his glory was not arrayed like one of these. But if God so clothes the grass of the field, which today is alive and tomorrow is thrown into the oven, will he not much more clothe you, O you of little faith? Therefore do not be anxious, saying, 'What shall we eat?' or 'What shall we drink?' or 'What shall we wear?' For the Gentiles seek after all these things, and your heavenly Father knows that you need them all. But seek first the kingdom of God and his righteousness, and all these things will be added to you. Therefore do not be anxious about tomorrow, for tomorrow will be anxious for itself. Sufficient for the day is its own trouble. –Matthew 6:25-34 (ESV) *I have included bits and pieces of this above, but I really like the overall message of the larger passage and decided to include it here as well.
As I said above, I don't have a miracle cure for overthinking. If I did, I'd be rich because every woman I know (and some men) are plagued by it and don't know how to stop.
But if ever there was a cure, it would have to be fervent prayer. If you pray about your thoughts and worries, God will faithfully answer and help you to protect your brain against them. He will grant you peace and comfort.
See these other Bible study posts while you're here: