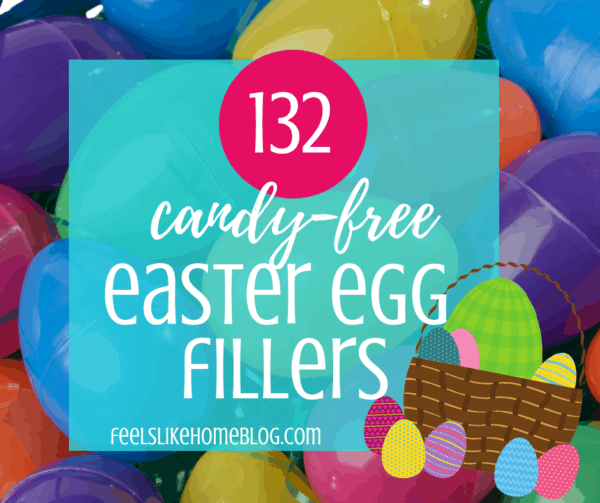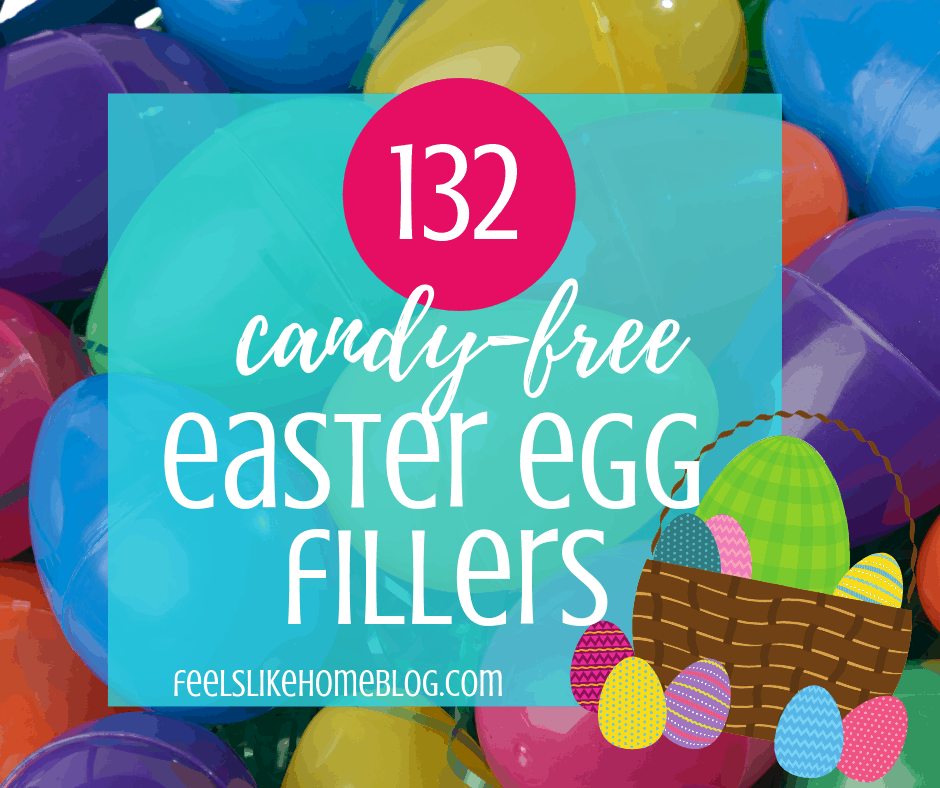 There are more ideas to fill plastic Easter eggs here than you could ever possibly use. Recently updated for 2020, this list includes items for toddlers all the way up to teens.
I like candy. A lot. Give me some chocolate and I'll follow you anywhere.
Okay, not anywhere, but many places.
My kids like candy, too.
They like candy so much that they'll eat it until their bellies hurt and then whine for days.
As the parent, it's my job to make sure they don't get enough candy to make that happen. At the same time, I don't want to deprive them of a super fun Easter egg hunt on Sunday.
We'll be stuffing our Easter eggs with things from this list. If you're also looking for some non-candy alternatives, pick up some of this stuff between now and the weekend.
2019 update: I no longer use items from the list below, having streamlined significantly. Head over to this post on Easter egg fillers to find out what we're currently doing and will do for the rest of all eternity.
Fruit snacks (but they're basically candy anyway, right?)
Mints
Trail mix
Dried fruit
Nuts
Marshmallows
Cereal (even sugary cereal is probably healthier than candy)
Gummy bears or worms
Nilla Wafers
Gum or gumballs
Fruit roll ups
Goldfish crackers
Peanut butter crackers or cheese crackers
Grapes
Cuties (clementines)
Dollar bills
Coins - We will have lots of eggs stuffed with coins. My girls love money! (Who doesn't?)
Nail stickers - Make sure you get self adhesive ones.
Scented body spray
Body glitter - Don't forget the adhesive for this, even though it probably won't fit in an egg. Also, probably best for older kids.
A mini tube of lotion
Homemade coupons - These are my Valentine's coupons, but you could make something similar for Easter.
A folding travel toothbrush - I think a little kid would find this cool and different.
Socks (or a sock if it's a small egg)
A pair of lace or satin gloves for dress up - I just saw some of these in the dollar stuff at Target.
Magic towels (If you haven't seen them, these are wash cloths molded into teeny shapes. When you put them in the bathtub, they expand into full-sized wash cloths. I buy them at the dollar store.)
Pop arty beads - My kids have had several sets of these and LOVED them. They're so cool!
A folding fan
Zipper pulls
Jibbitz - Those little charms that you stick in the holes of your Crocs.
Band-aids with cool designs
Stickers
Foam shapes
Chalk - Don't buy this on Amazon! You'll have tiny pieces by the time it arrives. (Speaking from experience.)
Little action figures - Think army men
Mini skateboards
Small key chains to hang on a backpack
An un-inflated beach ball
Party games - Check the party supply store or that aisle at Wal-mart or Target. They have all sorts of favor items that are little enough to put in eggs.
Little Play-doh tubs or little balls of homemade play dough in zip top baggies
Crayons - these egg-shaped crayons are really cute
Crayola's Pipsqueak markers
Glitter glue
Confetti
Vials of glitter for making crafts
Googly eyes for making crafts
A little bottle of bubbles
Wind up toys
A pocket knife - obviously only for older kids & teens
A coupon for a free ice cream (handmade or from the local shop)
The monkeys from a Barrel of Monkeys game
Little People - You know, the chubby little figures?
Toy bugs or toy animals (TOOB pieces are an awesome size!)
A punching ball (Really a big balloon with a rubber handle. You have to blow it up.)
A mini kaleidoscope
Baseball cards - Do kids still collect these?
Pokemon cards. I've seen them at our homeschool co-op, so I'm pretty sure they're still a thing.
A top - You know, they spin.
A bendable rabbit - Think Gumby. I've taken some flak for including these, but my kids think they're super fun.
Ear buds - You know, like headphones but without the bulk
Egg-shaped shakers - These are like maracas without handles. My kids loved them when they were littler!
Pencil top erasers (I want these ones!)
A mini magnifying glass (These ones really work, unlike those plastic ones with the long handle.)
A mini squirt gun
Sticky hands - I've seen these at the dollar store. They have a long, long arm, and the hand at the end is sticky. Grace played with one in the bathtub until it got sucked down the drain.
A parachute man - My kids LOVE these!
Slap bracelets - And also these!
Those weird sea creatures that grow when you soak them in water - Please tell me you had these as a kid. I loved them, and my kids love them too!
Seashells
Interesting or polished stones
Jokes - I'm going to print a couple, cut them up, and fold them into eggs. Grace loves the jokes on popsicle sticks, so I know she'll love jokes in Easter eggs.
I have two girls, so my list is pretty heavily girl-themed. Sorry about that. I tried to include lots of things for boys, as well, but I'm not sure how successful I was.
Please use your brain and some common sense. Don't use anything smaller than a toilet paper tube for small children, and don't give anything sharp to a kid under ten or twelve.
What will you put in your kids' Easter eggs?