10 Ways for Using Corn Flakes in Cooking - This includes recipes from treats like easy fried ice cream to potatoes to a crispy coating for chicken tenders!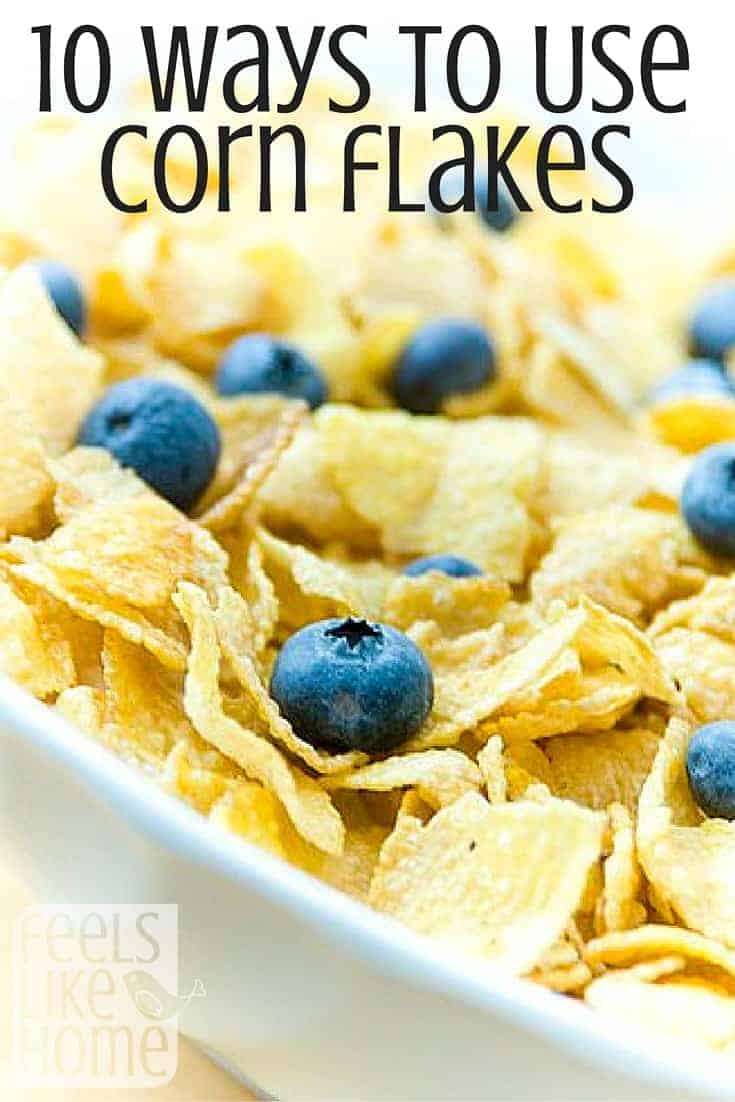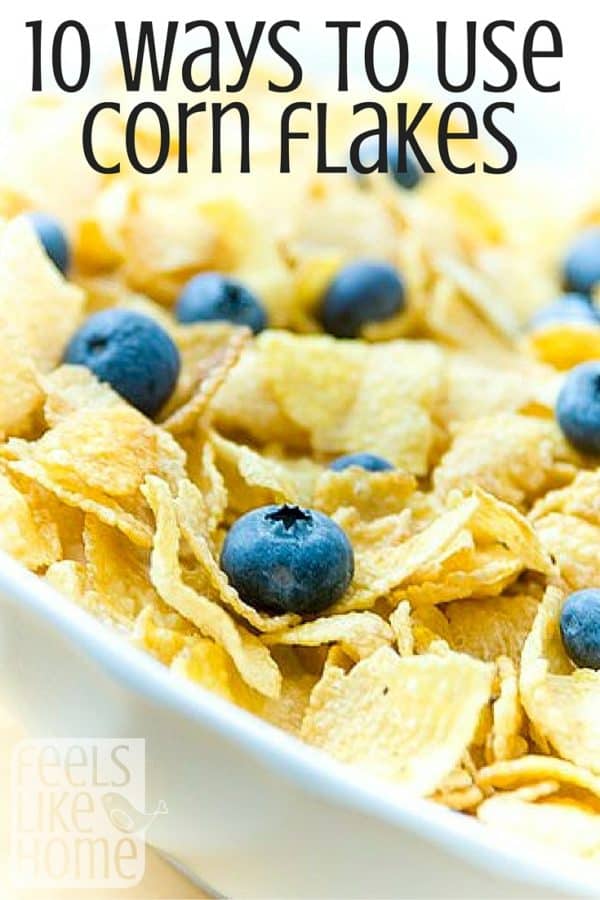 Pin
If you're only using your cornflakes for breakfast, you are missing out on some tasty treats. How many of these have you tried?
10 Ways to Use Corn Flakes (Without a Cereal Bowl)
Replace bread crumbs or fried onions. Many casseroles call for bread crumbs or fried onions on top. Even simple mac & cheese tastes better with a crunchy topping. Crushed up corn flakes work perfectly. If you top them with some shredded cheese, it will turn into a pleasantly crunchy crust.
Zucchini fritters. Kelloggs.com has over a hundred recipes that use corn flakes - everything from baked fruit crisp to stuffed chicken breast to these delicious-looking zucchini fritters. I can't wait until our garden starts producing a glut of zucchini.
Make a crunchy coating for chicken, fish, or shrimp. Whisk together one cup of milk and one egg. Add in one cup of flour, a half teaspoon of salt, a pinch of pepper, and some onion and/or garlic powder to taste. Put it in a bowl and crushed cornflakes in a shallow dish (a pie plate or something similar). Dip the uncooked meat into the liquid then into the cornflakes, then place it on a cookie sheet or in a baking dish. Bake at 350 until cooked through. We use a meat thermometer to check the internal temperature. Boneless skinless chicken breasts take a little less than an hour for us.
Crunchy potato wedges. Cut 3-4 medium potatoes into wedges. Brush with egg white, then dip into crushed cornflakes. Sprinkle wedges with seasoned salt, Parmesan cheese, and/or your favorite spice blend (ranch dressing salad dressing mix, taco seasoning, cajun seasoning, or even a combination of several individual spices). Bake at 425 for a half hour or until tender.

Baked cheese sticks. Another gem from Kelloggs.com, and I almost scrapped the rest of the list to go make them. They sound amazing.
Peanut butter squares. This is one of my favorite sweet treats. Melt a cup of peanut butter, one cup of corn syrup, and a cup of brown sugar (in the microwave or over medium heat on the stove). Mix in 3 cups of corn flakes. Pour mixture into a greased 9x13 pan. Melt two cups of chocolate chips and pour over peanut butter mixture. Allow to cool and harden completely before cutting and serving.

Cookies. I found all kinds of cookie recipes, including these chocolate, marshmallow and caramel cookies and these buttery cookies.
Cereal granola. Bring ¾ cup sugar, ½ cup corn syrup, and ¼ cup butter to a boil over medium heat. Boil for one minute, then remove from heat. Stir in 6 cups cornflakes, 1 cup peanuts, and ½ cup dried cranberries. Spread mixture on waxed paper about ¼-inch thick and allow to cool. Break into pieces.
I like this with almonds and cherries or walnuts and dried banana or pecans and dried cranberries. You could make up lots of different combinations. I've also considered stirring in chocolate or peanut butter chips or M&Ms after it's cooled a bit. I haven't tried that, though.
Because of the butter, you need to keep the granola in the refrigerator.
Pie crust. Combine a cup of crushed cornflakes with 2 tablespoons sugar, 2 tablespoons melted butter, and 2 tablespoons of light corn syrup. Bake at 350 for 5 minutes, until golden. Cool and fill with your favorite filling.

Fried ice cream. There are two ways to make fried ice cream. For both, you make ice cream balls and then refreeze them for 3 hours or overnight (to get them really firm).
For real fried ice cream, combine a tablespoon of cinnamon with a few cups of crushed corn flakes. Roll the ice cream balls in this mixture then deep fry for 10 to 15 seconds.
For faux fried ice cream, combine a teaspoon of cinnamon, a half cup of brown sugar, and a tablespoon of melted butter. Pour that mixture over a cup and a half of crushed cornflakes, toss to coat. Bake the coated cornflakes at 350 for 8 minutes. Roll ice cream balls in the roasted cornflake mixture.
In both methods, you can refreeze the ice cream to set the coating in place. To serve, drizzle it with chocolate sauce, honey, or caramel, whipped cream, and a cherry.
What do you use corn flakes for?
This is not a sponsored post. I just happened to find good recipes from Kellogg's website.