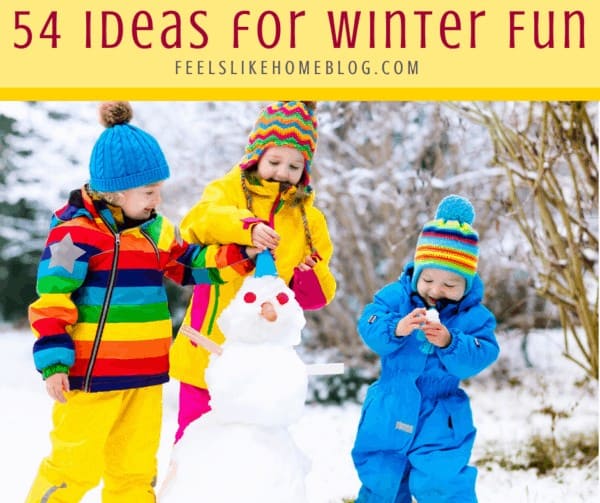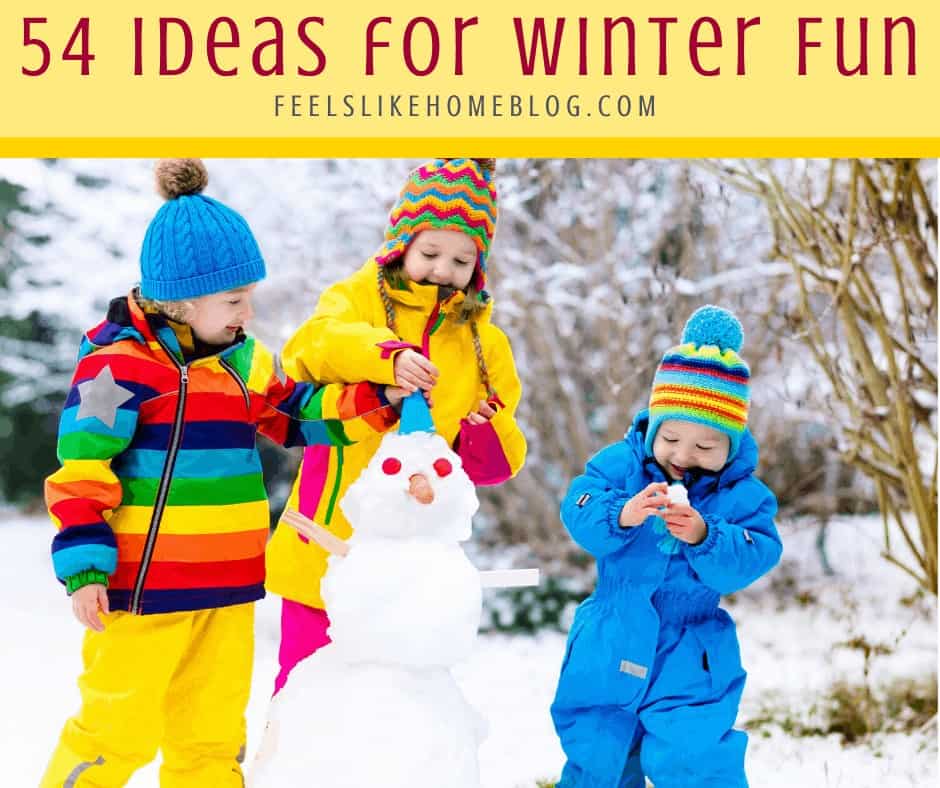 When gas prices were really high, I used to hear the word staycation all the time. Now that they're lower, I haven't been hearing it as much, but the idea is still the same - to schedule a vacation in your hometown instead of going somewhere else.
Before our 2017 Disney cruise was over, we had already put down a deposit on our next Disney cruise, this one in May 2019. It doesn't give us much time to save up the money though as our final payment is due in just twelve months, and we've had to tighten our budget quite a bit to make it work.
This year, instead of going on a couple of getaways as a family, we are planning some staycations instead. It's still the same idea - take a few days off and spend time enjoying each other and doing fun things together, but without a hotel in a strange city.
The Ultimate List of Winter Fun Ideas
Board game tournament. I love playing games with my sweetheart. It's romantic and fun and the games give us something to focus on when we might otherwise have a lull in conversation. It would be a great time to branch out and find some new games you haven't previously tried. I have compiled a couple of lists of great family board games that you could easily use for a whole day of gaming. Here are the best board games for families with non-readers, the best board games for elementary school kids, the best board games for preschoolers, and the best games for an adults-only date night.
Take a cooking class. This would be a super fun way to spend an afternoon with your sweetheart or family. Find a local cooking school (or even a large grocery store), and enroll in a class to learn a technique or recipe you've never tried before.
Cook a gourmet meal together. I think time in the kitchen is very sensual, but I can't put my finger on exactly why. I love cooking alongside Joe, especially when there are no kids around to pester us. Choose a fancy meal from online (I have a great recipe archive of over 300 recipes.) or from a cookbook like Guy Gourmet: Great Chef's Best Meals for a Lean & Healthy Body, and get cooking right in your own kitchen.
Learn something new. One of my favorite things to do on vacation is go to a studio and make something. There is a glass blowing studio where we normally vacation that I've always wanted to go to, but just never made the time. I think stained glass would also be fun.
Go to a comedy club. This is obviously an adults-only activity, but a comedy club is a fun way to spend an evening. There is one close to our house, and we often went when we were dating. You can have a drink and usually a snack and laugh all night. Also really fun are hypnotists.
Go to trivia night at a restaurant or bar. Many establishments have trivia night, and it's always fun. I remember going to trivia at Damon's way back when I was a teenager. My mom and her friend and I would go, and we had a blast and sometimes even won. This would not be a great activity for small children, but it would make a great couple activity.
Bake and decorate a treat. Kids love baking because it ends with something yummy and decadent. Add some sprinkles and fun frosting, and it's 100 times better. Don't be afraid of the mess they are doubtlessly going to make, but do enlist them in the cleanup. Check out over 300 recipes I've shared here.
Take a skiing lesson. I've never skied in my life, and neither have my kids, but we live about 10 miles away from a major east coast ski resort. This would be a great time to get everyone bundled up and out on the slopes for a crash course in the fine art of skiing. (Hopefully not crashing, of course.)
Try geocaching. My kids tried this once with my sister, and they have raved about it ever since. All you need is a zippered bag with small trinkets and a smartphone with the geocaching app. Then you go for a hike to find the treasure. When you find it, you leave your trinket, take a trinket from the box, and sign your name. That's it! It's like a little treasure hunt every time. Learn more here.
Have a movie marathon. My kids love to watch tv. Don't they all? At any rate, they would happily curl up with me and watch movies all day. Whether you stream from Netflix, rent some from Redbox, or just watch normal DVDs, gather up a bunch you haven't seen in a long time and binge watch all afternoon. Don't forget the popcorn.
Have a living room picnic. We love living room picnics, and we traditionally only have them for New Year's Eve and the Super Bowl. In both cases, we eat buffalo chicken dip for dinner (my kids' absolute #1 favorite meal) and usually watch The Sound of Music on tv.
Host a bonfire. We often have backyard campfires in the spring, summer, and fall, but why not have a bigger fire now, during the winter? Make sure it's kosher in your area, but if it is, build a big fire teepee and get toasty warm with s'mores and hot dogs and hot cocoa.
Go bowling. Bowling isn't something we do as a matter of course, but it is really fun and my kids love it. We go a couple of times a year, usually when the Girl Scouts plan a trip. Just going on a random day would make the day special. You could also try glow bowling which is usually later at night.
Camp out. I'm not one for camping, but I've been thinking about giving in for the sake of my family. You can rent a cabin with or without heat (don't forget the firewood!) for winter camping.
Have a selfie scavenger hunt. Divide into teams. Decide on a number ahead of time and go forth and find that number of interesting selfies. Maybe you decide on 10, and you take one in front of the t-rex in downtown (do other cities have random dinosaurs on the sidewalks or is that just Harrisburg?) and another by the statue on Market Street and another in the shelves of the library. Make it fun, and whichever team finds the most interesting or unique ones gets a prize at the end. A fun prize would be to choose the meal for dinner.
Enjoy a progressive dinner. You could set this up with friends or you could do it at a restaurant. The idea is that you eat an appetizer at one place, then a salad at the next place, then the main course at a third place, and then the dessert at a fourth place.
Have fun at an indoor water park. These are all over the place these days and, while they are a little pricey, they never disappoint. We won't be doing it this year ($$$) but this has been a favorite of our kids in years past.
Take a hike. I walk 2 miles every day, so this has a huge lure for me. You could walk in your neighborhood, but I think it would be fun to travel to a state or county park and do a winter scavenger hunt (like this one or this one or this team-based one).
Have a photo contest. Challenge your family members to take the best photo during your staycation. Whoever wins gets her photo blown up and framed as a momento of the fun you've had. Even the kids can participate.
Get up early and watch the sun rise. Some of the most beautiful scenes in the world happen when the sun is coming up, so set the alarm, bundle up, and go out to watch.
Pause to watch the sun set. The sun sets early this time of year, so it can be easy to miss it in the hustle and bustle of dinnertime. Take a few minutes to go outside and pay attention to it wherever you are and whatever else you're doing.
Paint and scatter rocks. This is a fun fad that is sweeping the country. The idea is that you paint smooth rocks with happy pictures or uplifting quotes, cover them with Mod Podge, and then leave them somewhere to be found. We've found a couple recently, and it totally made my kids' day.
Go to a museum. Whether you go to a children's museum, science museum, or the Smithsonian, museums are always fun and interesting. We are huge museum fans and have, on and off, had memberships to various local museums.
See a play or musical. In my area, we have several big theaters including Sight & Sound and American Music Theater which are nationally renown. I would love to take my kids to see a show there.
See a ballet. We think of the ballet at Christmastime, but what about the rest of the year? There are great shows out there other than The Nutcracker. We're seeing Midsummer Night's Dream this spring.
Watch a sporting event. Football is mostly over for the year, but there's always indoor soccer, basketball, and ice hockey to see. Ice hockey is my favorite as it's exciting and fast-paced and there's something special about the chill in the air as you watch. I have always loved a good hockey game.
Go to the zoo. We are also big zoo fans and visit often. Animals that might be lethargic in the summer come out in a big way in the winter and the trip is always very exciting. ZooAmerica is a local zoo that's always fun.
Find the ugliest contest. This is really fun. Divide into teams. The challenge is to find the ugliest item possible at a thrift store. You might also want to set a dollar limit. Everyone will get a big laugh when you compare to see who found the worst thing.
Go birdwatching. I love wild birds (birds as pets, not so much). We have a bird feeder in the front yard, but I also enjoy going out to look for birds in the woods. There are no leaves on the tress of course, so finding birds is much easier than during warmer months. You'll need binoculars (this pair is cheap and very good) and a good bird book (this is my favorite).
Check off a few things on your bucket list. Here's my free printable winter bucket list.
Be a tourist in your hometown. We have the state capitol nearby, as well as attractions like Hershey's Chocolate World and the Turkey Hill Experience. People come from out of town just to see these things, so why not head out and see them for yourself? To find sites you may not know about, google "best of..." or "things to do in..." and see what you find.
Road trip. Set a number of miles, say 25, and drive. Whenever you've gone that far, look around and see what there is so see and do. Then do it. You could do this in any number of directions and routes, and you'll find something different every time.
Go ice skating. Ice skating is hard and fun and hard, but it's worth it to hold hands with your sweethearts and try not to make everyone fall down. You'll enjoy it if you bring your sense of humor and maybe some knee pads.
Create a snow masterpiece. Anyone can create a snowman, but can you create a snow castle or some other fantastic sculpture? Make all your neighbors jealous of your mad snow skills.
Hit the arcade or Chuck E. Cheese's. I will admit that this is not my favorite thing, but my kids do love it. Going to an arcade would be a special treat for them, so I would suffer through for their sake. You can print out coupons for Chuck E. Cheese's online, so do that before you leave home.
Make your own art. Those paint your own pottery places are all the rage these days, and kids especially love them. We just had a special date at a local place last week and we're waiting for the pieces to be ready. It's a super fun way to spend an afternoon and perfect for a staycation.
Find a local festival. These don't happen as often during the cold months as they do during the warmer season, but check the newspaper for nearby festivals and celebrations. I am excited for the Lititz Fire & Ice Festival in a couple of weeks, and I bet there are similar things where you live.
Go tubing or sledding. A lot of ski resorts offer tubing runs where you ride a big inner tube down a series of hills. It's like sledding on steroids.
Go on a factory tour. Many factories offer public tours. In our area, there are potato chip factories, pretzel factories, gourd farms, violin factories, and even the Harley Davidson factory where you can take a tour. Each has rules about ages, dress code, and hours, so make sure you do some research beforehand.
See an IMAX movie. We don't go to the movies very often, so that would be a big deal in itself for my kids. But an IMAX movie is so unusual and interesting that it is sure to delight anyone!
Go to a bounce gym. Monkey Joe's is a chain where kids can go to play in bounce houses (and slides and mazes) and there are lots of trampoline gyms now where kids and adults can jump for hours. Until very recently, I was too heavy to participate, but now that I'm smaller, I'm kind of excited about trying it out!
Try an escape room. Every city has at least one escape room place where you can go as a family, get locked in a room, and try to solve the puzzle and escape in the time allotted (usually an hour). We haven't done this but Grace has been begging to.
Crayola Experience. These are all over the country, and they are super fun. It's basically a Crayola museum/art center that's 100% hands-on. You make all kinds of projects using Crayola products. The last time we visited, we made crayons, markers, pictures, an animated short, and even drawings of ourselves. We can't wait to go back here even though it's about 3 hours away from our home.
Head out to the big city. I know this is about things you can do at home, but most people (especially those of us on the east coast) are a short drive away from a big city. For us, Washington DC is about 2 hours away, Baltimore is 90 minutes, and Philadelphia is about 2 hours. We can go to any one of these cities for a nice day trip, and they all offer countless (!!!) resources for fun including children's museums and science centers, zoos, theaters, and much, much more.
Go indoor rock climbing. Many cities have indoor rock climbing walls, so this would be a great option, especially if you're the athletic type. (Not sure I'm adventurous enough for this one!)
Play indoor mini golf. There aren't many of these in my area, but I can think of at least one place where you can play mini golf indoors during the winter. You may not want to keep score if you have littler kids, but it is still fun to hit the ball around the course. My kids always end up cheating which makes it kind of fun for my husband and I (as we secretly laugh at them trying to be sneaky).
Go roller skating. Roller skating is still a thing, and there are rinks everywhere. This is another activity that we seem to do only when the Girl Scouts sponsor it, but I know our local skating rink has weekly public skating. Even adults can get in on the fun (if you dare).
Go playground hopping. If the weather is decent, you can drive your kids to a couple of different parks and playgrounds in an afternoon. They'll get lots of exercise (read: sleep well tonight) and you might even discover a new favorite.
Eat at a fancy restaurant. Again, not a frugal activity, but it would be fun to get all dressed up and go out for a fancy dinner. Get a babysitter if it feels like too much to take the kids along.
Try laser tag or paintball. You will need a crowd for these, but there are lots of indoor sports parks where you can do one or the other.
Drive go-karts. We recently discovered a go-kart track just a few miles from our house. It's pricey, but for an afternoon's special treat, it would be doable. Ours has age, weight, and height restrictions, so do a bit of research before you go.
Ride a scenic train. Trains are fun, and this is out of the ordinary enough to be a special event for the whole family. If you do some research, you will undoubtedly find at least one historic steam train to ride. If there aren't any at all, you could always take the Amtrak to a local spot and back. It's pretty fun.
Find a dinner theater. Whether you eat while you watch a movie or a show, dinner theaters are fun. We used to have a dinner movie theater in Harrisburg where I once watched the movie Titanic. It had big stuffed armchairs and I remember the food being pricey and not amazing, but I will always remember how much fun it was.
Go shopping. Shopping is my guilty pleasure. I absolutely love it and so do my girls. My idea of a good time is shopping all day! Unfortunately, I usually do buy too much, which defeats the frugal nature of the staycation. We have been to some amazing malls lately (in Philadelphia, Orlando, and Baltimore), and I'm willing to bet there are some great ones where you live, too.
No matter what you decide to do, make sure your staycation is fun! Unplug from your devices, turn off the news, and focus on your family - like you would on any vacation - even if it's just for two or three days. Have a good time!