We eat this baked ravioli for dinner on many weeknights. It's a quick and easy meal that can be tossed together and thrown in the oven in under ten minutes. It takes a half hour to cook, and we can spend that time playing with Gracie while it's in the oven. It's comfort food, it's delicious, and it's fairly healthy. What's not to love?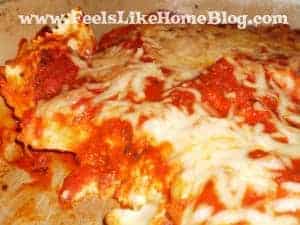 Variations
You can cook a pound of ground beef or turkey in a skillet with 2 tablespoons Italian seasoning, and add that to the spaghetti sauce.
You can sauté 16 ounces of sliced mushrooms and half of an onion, diced, and add that to the spaghetti sauce.
For a cheesier casserole, double the ricotta mixture and add a layer on top of both layers of ravioli.
Recipe
Tonight, Joe served this with snow peas, fresh from his garden. Delicious.