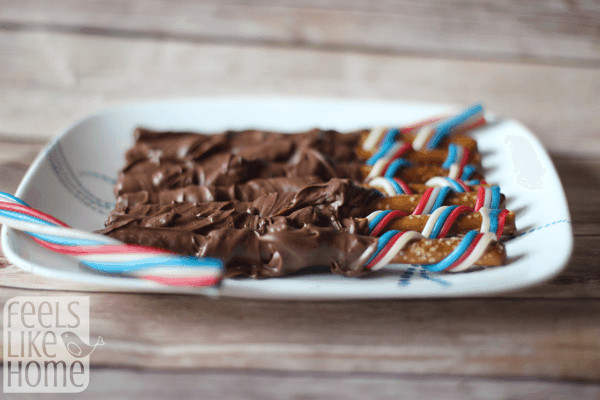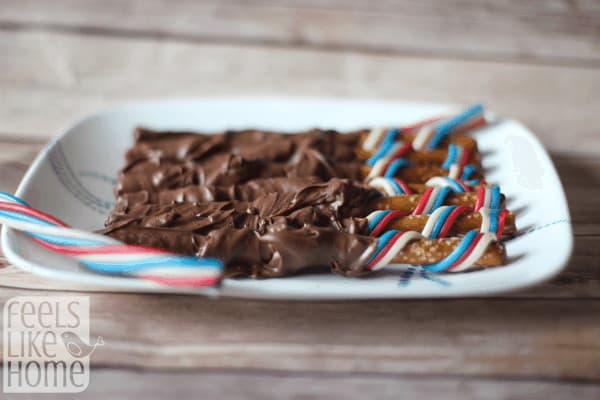 Pin
Aren't these patriotic chocolate covered pretzels fun? When you see how easy they are to make, you'll be whipping some up for your Memorial Day picnic.
Because really, who can resist chocolate covered pretzels? Nobody, that's who. Add Twizzlers Twists, and you have a supreme candy concoction.
Materials
All you need for these chocolate covered pretzel twists is the following:
A bag of Twizzlers Twists Pull and Peel candy in red, white, and blue
A bag of pretzel rods
A bag of HERSHEY'S Semi-Sweet Chocolate Chips
½ cup heavy cream (if you want your chocolate to be runny and dippable rather than spoonable, you'll see what I mean below)
Wax paper to lay the pretzels on to cool
Instructions
1. Gently separate the Twizzlers Twists into 3 strings, each with a red, a white, and a blue. If you pull too hard, they will stretch and break, so you'll have to be careful.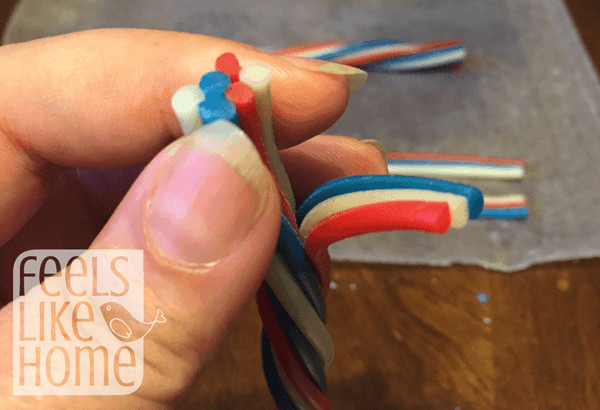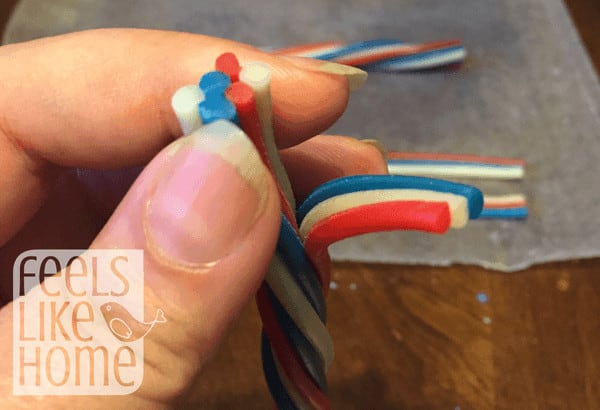 Pin
When they're fresh, these little buggers stick to everything, so lay them on the wax paper to make your next task a little easier.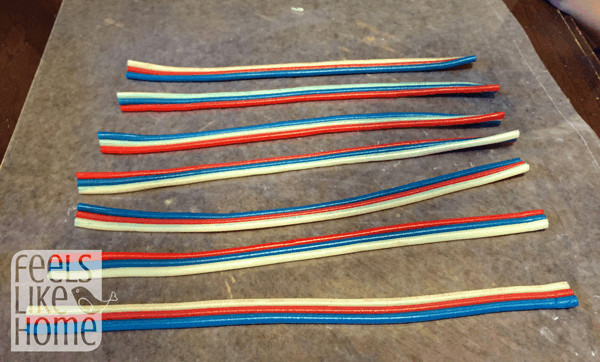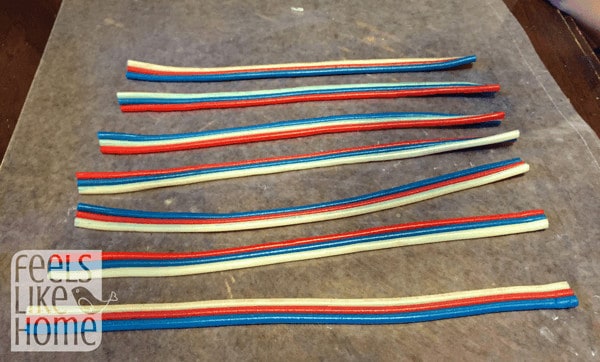 Pin
2. Take one red, white, and blue section of candy and wrap it around a pretzel rod, smashing the top a bit to stick firmly to the pretzel.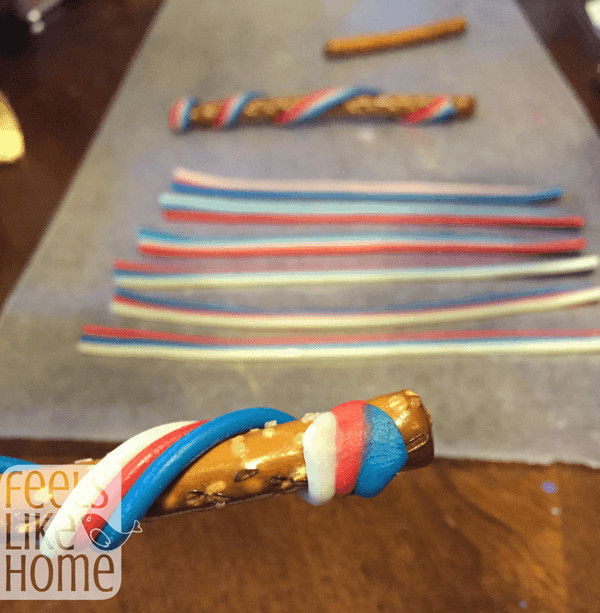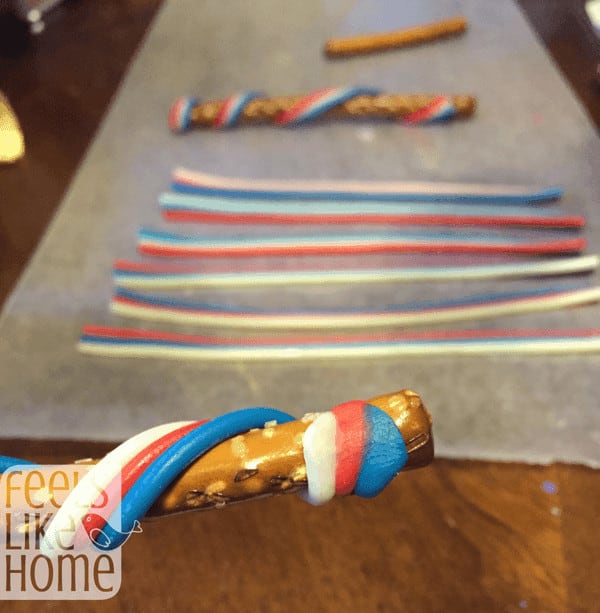 Pin
3. Repeat with the rest of the candy.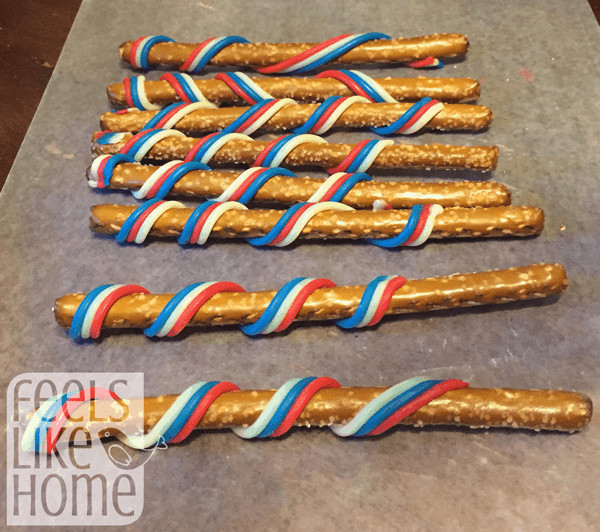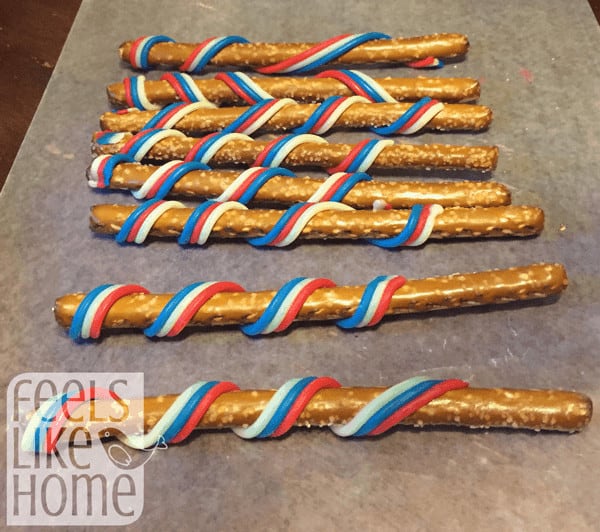 Pin
4. Place the chocolate chips in a microwave safe bowl. If desired, add ½ cup heavy cream.
Microwave for 30 seconds, stir well. Microwave for another 30 seconds, stir well. If there are still lumps in the chocolate, microwave it a third time. Be very careful not to overcook the chocolate because it is easy to ruin.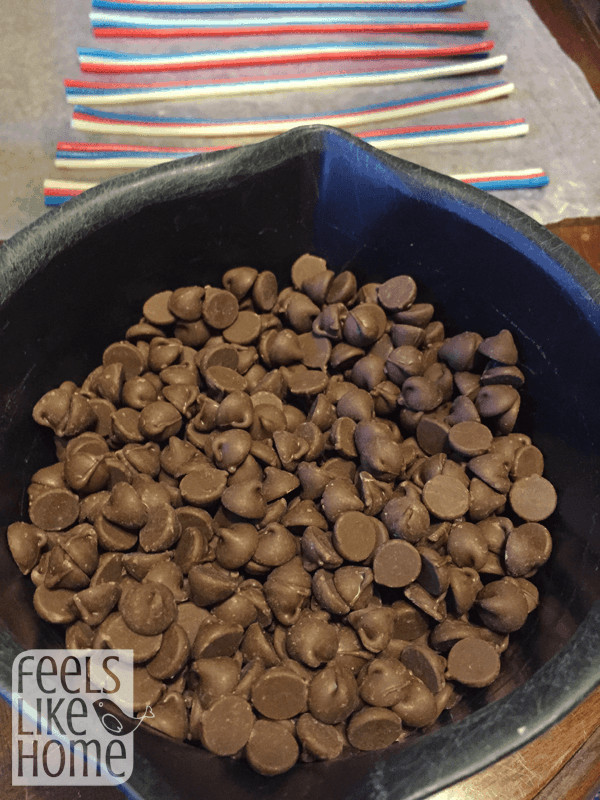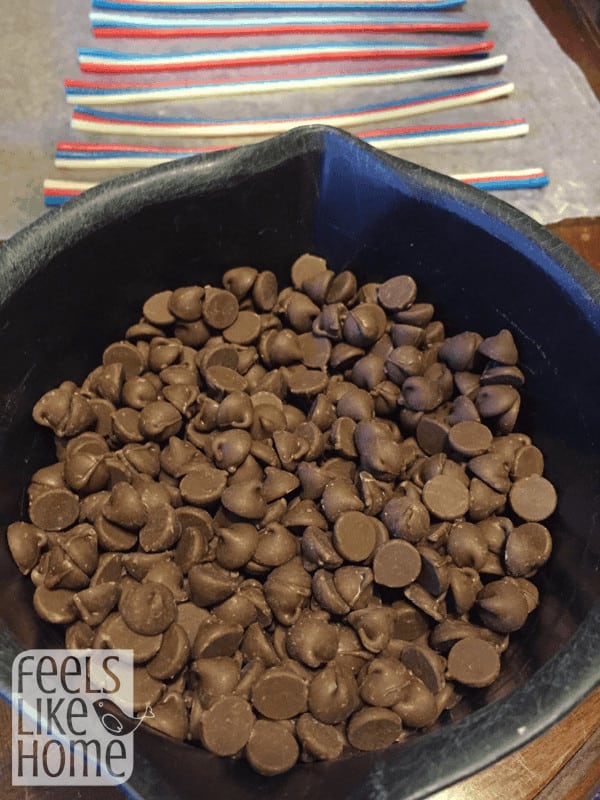 Pin
5. See how my chocolate below has a pudding-like consistency? That's because I didn't use any heavy cream. It was not a big deal, but I couldn't just dip the pretzels into the chocolate. I had to place them in the dish and spoon the chocolate overtop of them.
Neither way is better. They both taste great at the end. So use cream if you want to or don't.
Also, I wanted the pretty red, white, and blue ends to stick out, so I put the end with less Twizzlers Twist into the chocolate first. Joe said I should have done them the other way around, with more Twizzlers Twist in the chocolate (just for the record).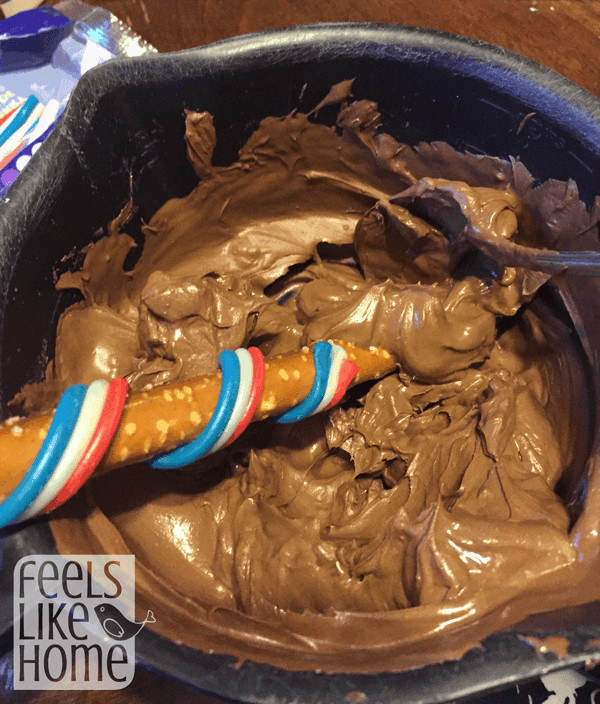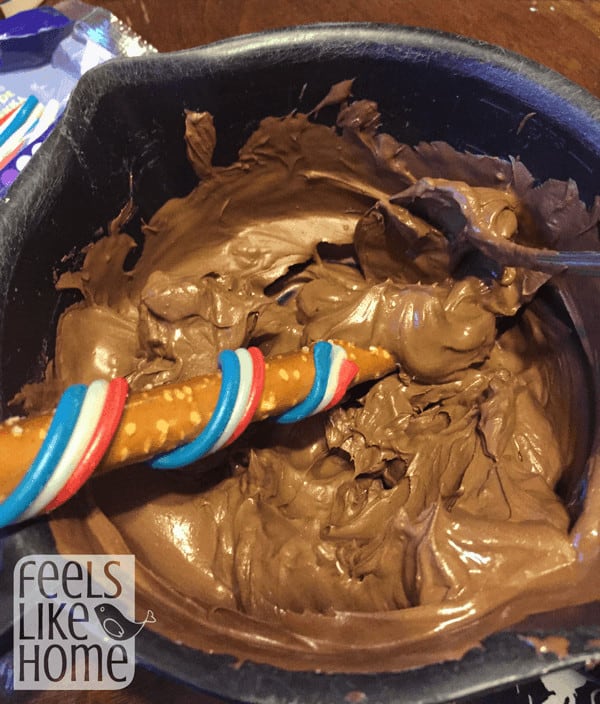 Pin
6. We had leftover chocolate, so we coated everything that wasn't nailed down and then the kids licked the bowl.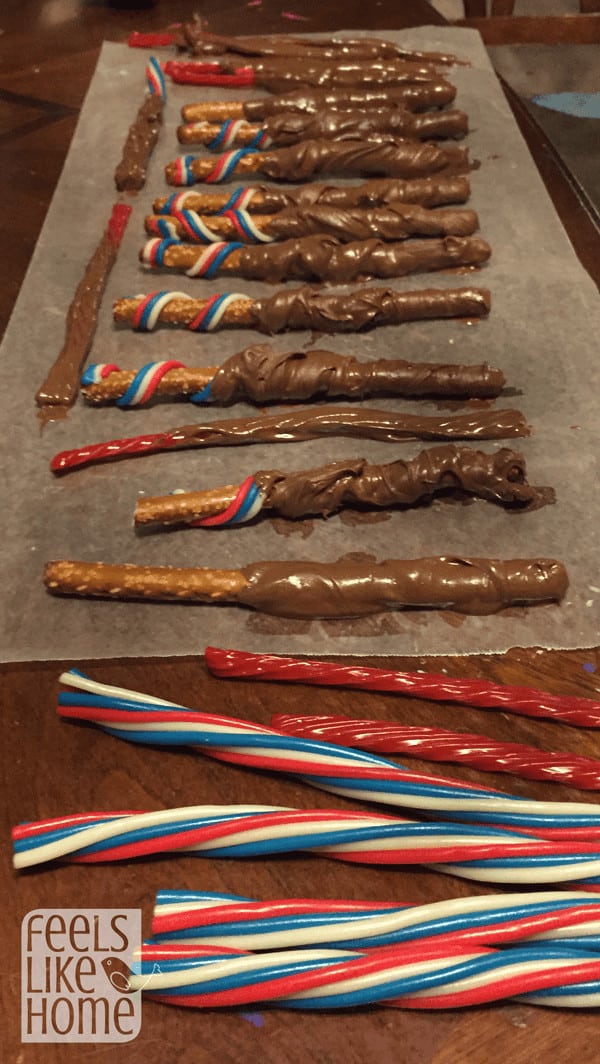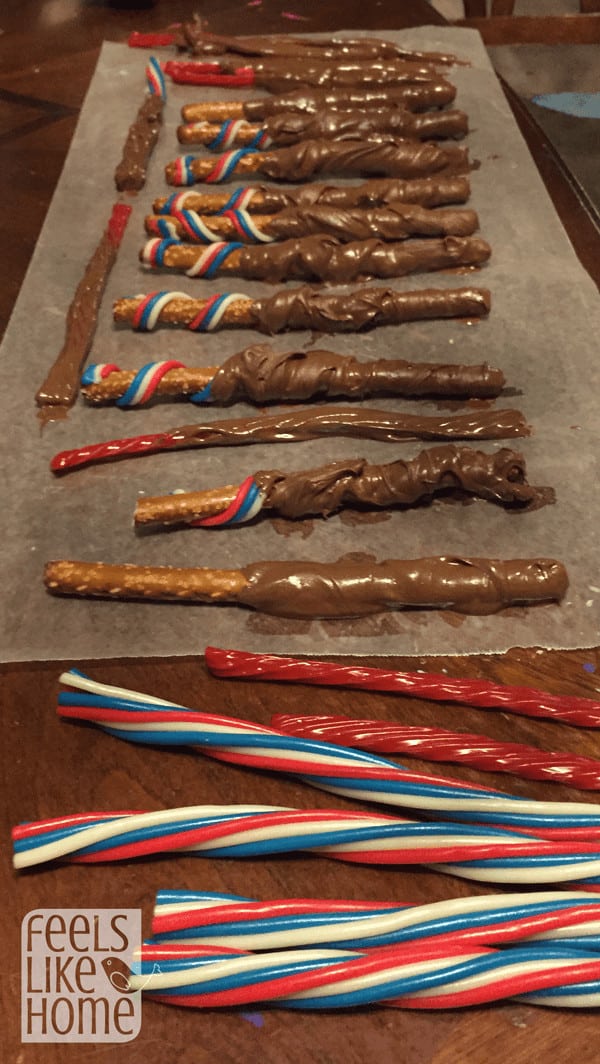 Pin
That's it! Couldn't be easier, right?
Head over to Celebrate With Hershey's for more fun ideas using Twizzlers Twists and other Hershey's goodies. It's a fun way to sweeten your summer!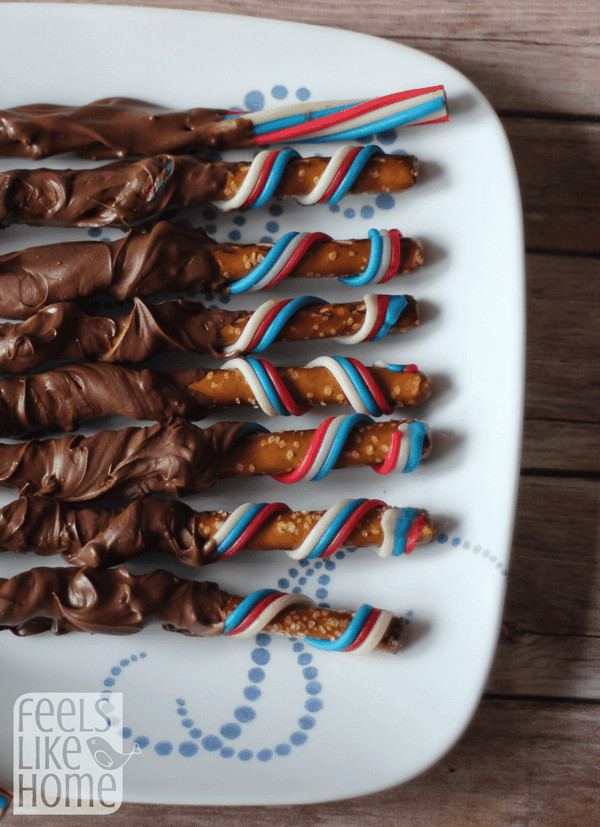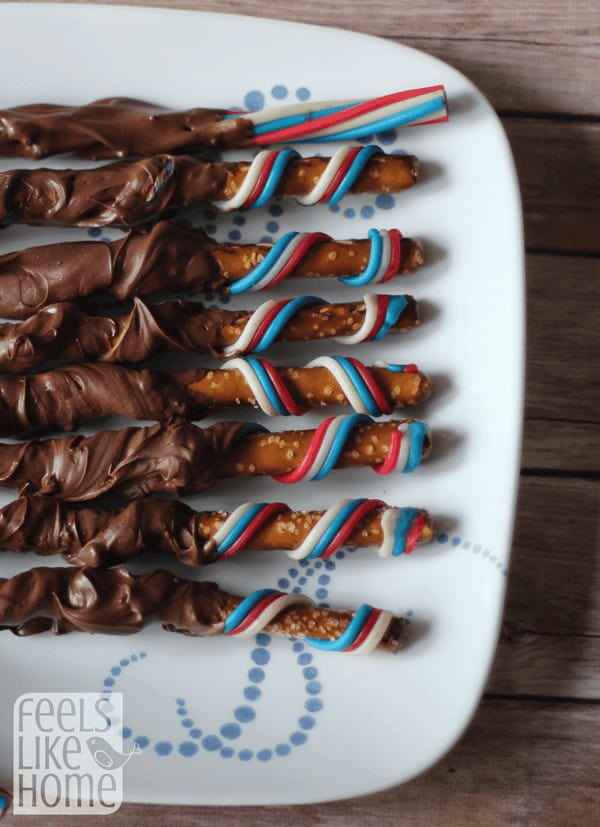 Pin
Have you ever made chocolate covered Twizzlers Twists before?
Compensation was provided by The Hershey Company via MomTrends.  The opinions expressed herein are those of the author and are not indicative of the opinions of The Hershey Company or Momtrends. #HersheySummer