The best gluten-free nut crusted chicken fingers recipe. These low carb chicken tenders are baked and very healthy! Simple and easy to prepare and can use chopped almonds, almond flour, or almond meal to bread the chicken. Kids love them!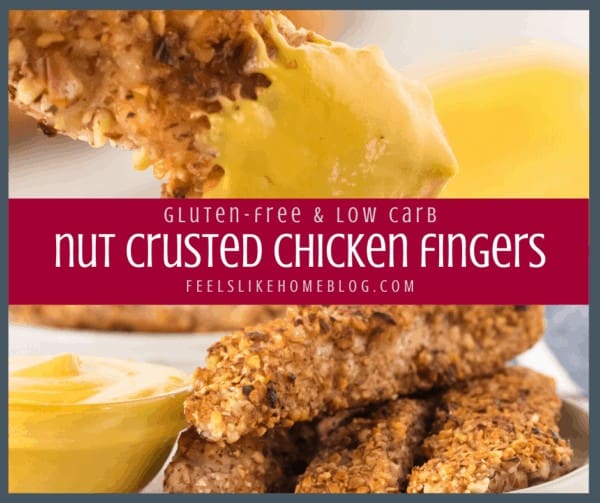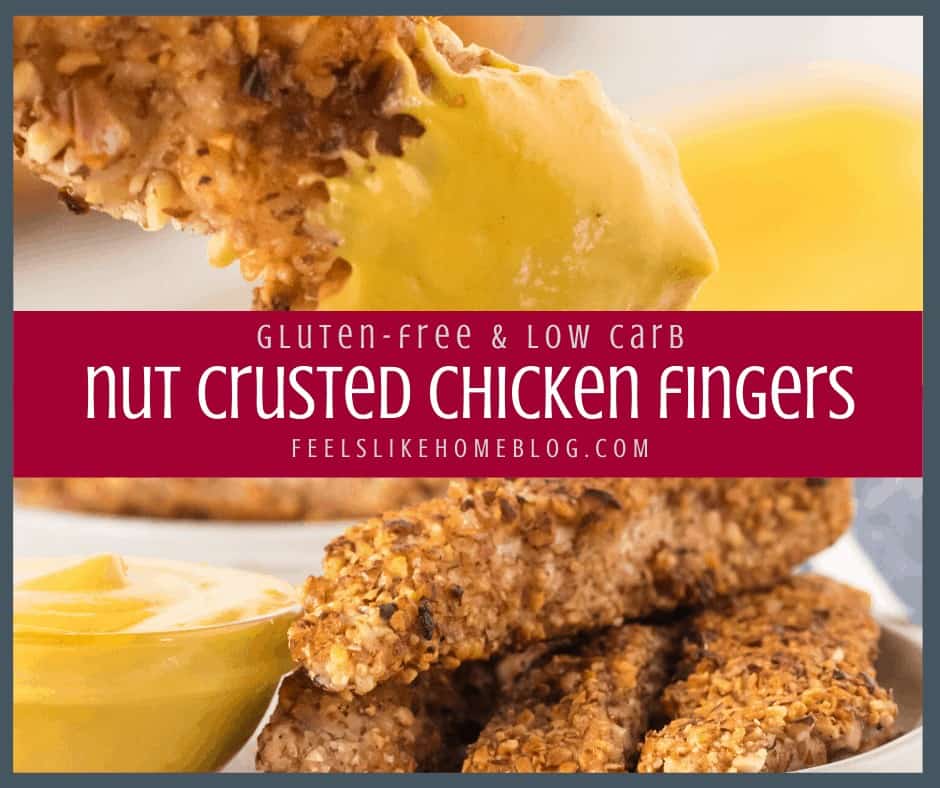 Eating gluten-free is not as hard as I expected it would be.
We've been eating normally for the most part since I went gluten-free. We have cut out most of our pasta and bread, having gluten-free pasta only twice (it wasn't that good) and no gluten-free bread (also not very good).
We've modified some recipes and used our gluten-free flour blends quite a bit.
I am pain-free, though I can't be sure whether it's because I'm gluten-free, because I wear hand/wrist braces to bed every night, or because the medicine my rheumatologist gave me is finally working. It's probably a combination of all three. I have already ascertained that I can't go without the braces or the medicine (via very scientific experimentation).
My next back to a normal life step is to eat gluten normally for a few days and see how it affects my gut and my hands.
Anyway, these chicken strips are amazing. When Joe said he was going to make gluten-free chicken fingers, and I was skeptical. I may have groaned inside, remembering the first gluten-free pizza he made. That experiment was not a success even though I lied and said I liked it.
So the chicken strips.
Try them, whether you eat gluten or do not eat gluten. You will love them.
I ate all the leftover chicken strips for lunch, not sharing a single one with my children. The nuts in the coating give the chicken fingers a nice crunch and a boost of protein.
This is my new favorite chicken fingers recipe. I won't ever go back to the old breaded way.
How to make gluten-free nut-crusted chicken fingers
In a flat, shallow bowl (or a pie plate), blend cornstarch, sugar, salt, and water. Gradually stir in egg whites.

Place the ground nuts in a second flat, shallow bowl.

Dip each chicken finger in the egg mixture then coat with nuts.

In a large skillet, cook chicken fingers for 5-7 minutes or until there's no more pink. Drain on paper towels.

Serve with honey mustard and some veggies.

Try these other low carb and gluten-free chicken recipes while you're here:
Recipe
Recipe adapted from Taste of Home Kid-Approved Cookbook, which my mom and sister gave us for Christmas. It's an awesome cookbook, and we love it.