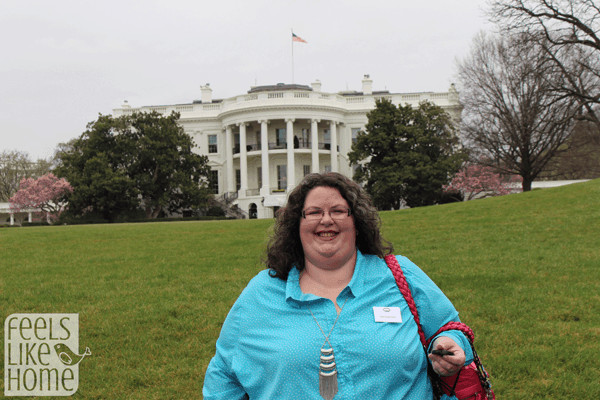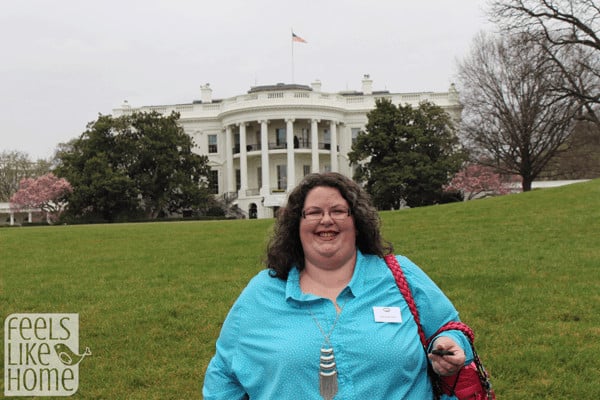 Pin
The physical and emotional health of an entire generation and the economic health and security of our nation is at stake. Over the past three decades, childhood obesity rates in America have tripled, and today, nearly one in three children in America are overweight or obese.
Two weeks ago, I got the email of a lifetime.
Inviting me to The White House.
For a meeting with The First Lady, Michelle Obama.
After I picked myself up off the floor, I emailed Joe. Should I take off work? Should I bother?
He (and my friend and babysitter) both practically screamed YOU HAVE TO GO!!! This was a chance to meet with government leaders on a topic that should be at the top of everyone's priorities - the heath of the nation's children, and there was no way they would let me pass it up.
So I obliged them. (ha! I was so crazy ecstatic to go!)
It took us almost 4 hours to get to Washington DC from our house because of traffic, and I came THIS CLOSE to being locked out. They actually unlocked the gate to let me through after everything had been closed up.
So I walked as fast as I could up the small hill from the street to the main gate of The White House. (Which isn't very fast at my current weight, but still, as fast as I possibly could go.)
By the time I got to the security gate, not only was I out of breath, I was wheezing and on the verge of an asthma attack. I was mortally embarrassed to be so out of shape as to not be able to hoof it up the hill any faster than a stroll.
And this was an event about promoting good health and preventing childhood obesity. The irony fell hard on me.
We definitely need to make some big changes at my house.
Monumental changes.
I have been obese since before I was 1, and the lifelong struggle caused by the habits I grew up with is nothing short of torture. I don't want my kids to be fat. My biggest fear is that they would grow up to be like me, a slave to fat.
Scared to sit down on all but the sturdiest chairs and benches.
Too fat to ride most of the rides at amusement parks.
Too fat to buckle the seat belt in some cars and all airplanes.
Too fat to buy clothes even in the plus size section of regular stores.
I could go on and on. My weight truly affects every area of my life, and it makes me sad pretty much every day.
And yet.
I just ate a handful of jelly beans and drank a Mountain Dew with my lunch.
Knowing what to do doesn't do any good unless I put the knowledge into action.
That's exactly what the First Lady's Let's Move initiative is all about, putting knowledge into action and improving the health of the nation's kids and families.
I am for this 100%.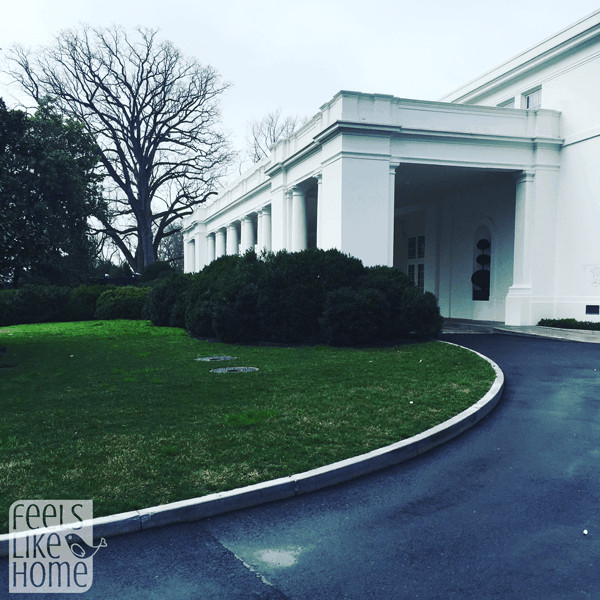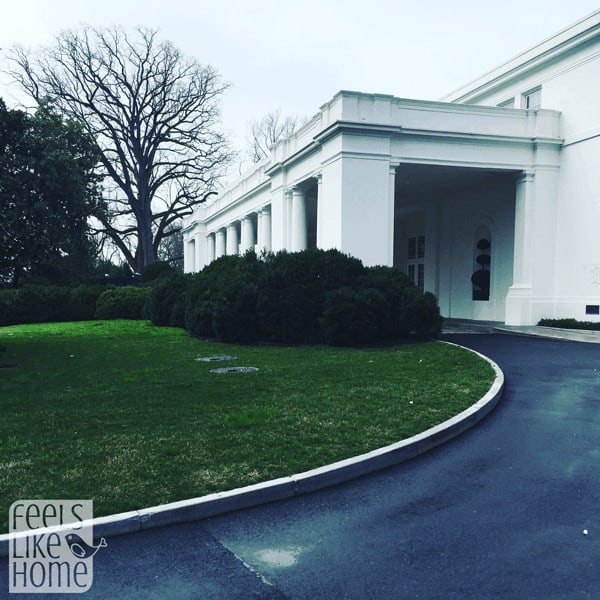 Pin
The event transcended party lines as it makes a plea to all parents to consider the health of their children. Who can't get behind that?
The morning included all kinds of speakers from Deb Eschmeyer, executive director of Let's Move and Senior Advisor on Nutrition Policy to three-time Olympian Dominique Dawes, co-chair of the President's Council on Fitness, Sports, and Nutrition. They were all real and personable and very motivating.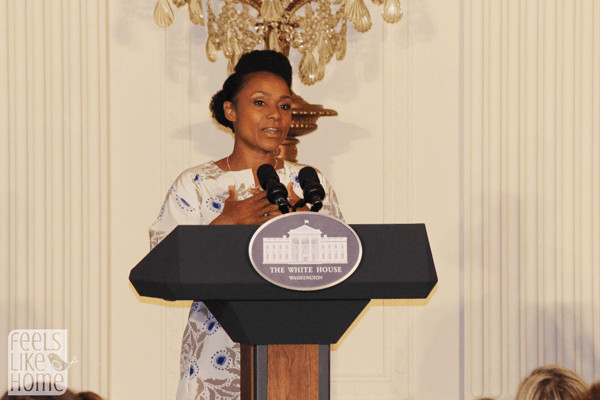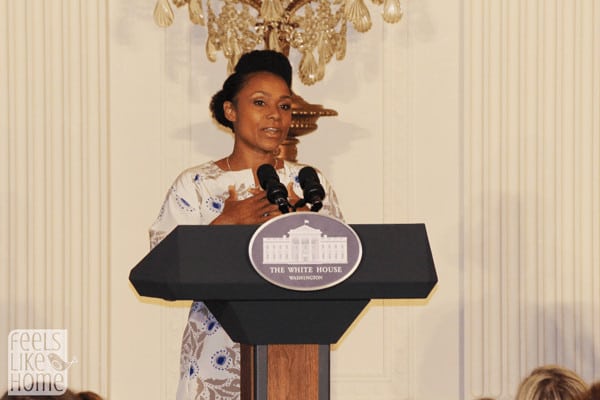 Pin


Pin
Let's Move! is a comprehensive initiative, launched by the First Lady, dedicated to solving the challenge of childhood obesity within a generation, so that children born today will grow up healthier and able to pursue their dreams. Combining comprehensive strategies with common sense, Let's Move! is about putting children on the path to a healthy future during their earliest months and years. Giving parents helpful information and fostering environments that support healthy choices. Providing healthier foods in our schools. Ensuring that every family has access to healthy, affordable food. And, helping kids become more physically active.
Let's Move has many parts including Let's Move Active Schools, Let's Move Childcare, Let's Move Cities, Towns, and Counties, Let's Move Faith & Communities, and Let's Move Outside.  They have different missions and purposes, but they all point to the same main goal - to raise healthy kids.
With all the different organizations and speakers, Let's Move can become overwhelming, but it boils down to that one thing: healthy kids.
Here's a graphic from the Let's Move site to help you (and me) get started. It is the recommended first steps towards improving your family's overall health: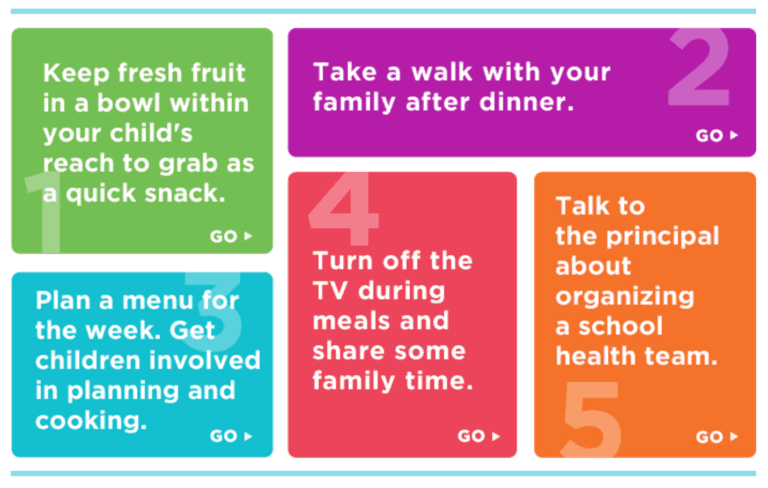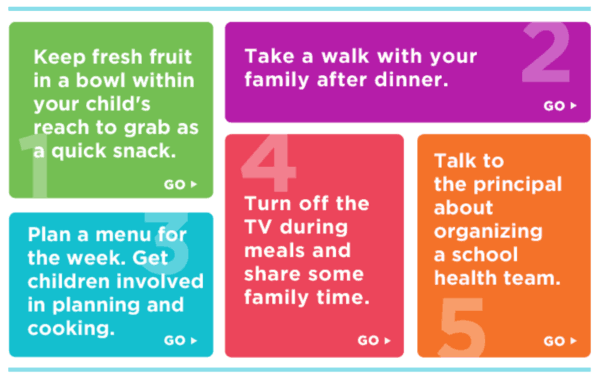 Pin
There were all these different speakers, all motivating and every interesting, but mostly talking about programs in schools (which would obviously not be that interesting to me). I mean, I am thrilled that kids in school are getting healthier foods and everything, it just isn't that relevant to my family.
So then the First Lady came out, and let me tell you, that lady knows how to give a speech.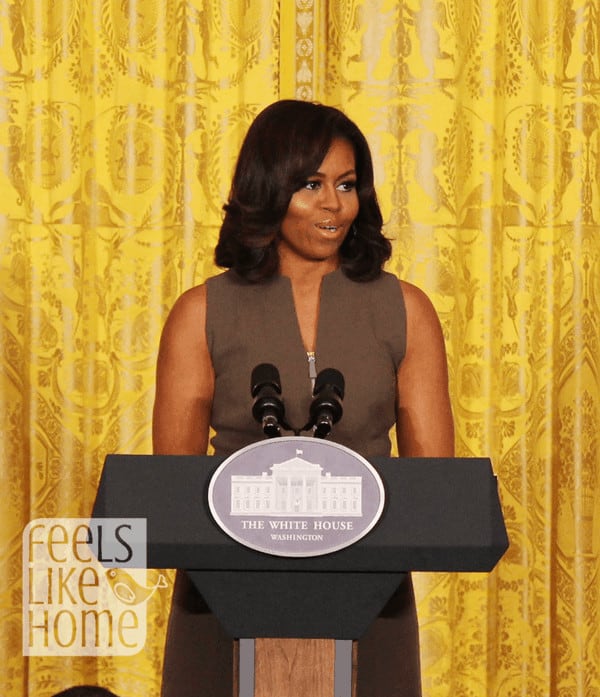 Pin
My biggest takeaway from her talk was this:
DESSERT IS NOT A GOD-GIVEN RIGHT.
This is perhaps something you already knew, and perhaps I knew it, too. But I have been operating for some years with a dessert motivates kids to eat their real food mentality, and to hear Michelle Obama say it just like that really smacked me in the forehead.
OF COURSE it's not a God-given right.
OF COURSE they don't need dessert every night.
OF COURSE they should be eating their meals without the promise of a goodie.
Think about going over to the White House press site and reading her speech. It was great. But if you don't, here is the Obama family's story, the highlight for me:
We were always rushing, always pressed for time.  And as a result, meal times were all about whatever was quick and easy -- the drive-thru, the microwave, takeout -- any convenience food you could think of, we did it.  And this went on for quite a while, but one day, I got a wakeup call.  We were at our pediatrician's office for a routine checkup, and after doing the exam -- you know, they take the measurements and weigh them and measure their head and all that stuff -- our doctor got this look of concern on his face.  And he asked me, "What are you all eating at home?"  And right then and there, I remember, in his -- the exam room, my heart sank.  The thought that I was maybe doing something that wasn't good for my kids was devastating.

And maybe some of you can relate, but as an overachiever, I was like, "Wait, what do you mean, I'm not getting an A in motherhood?  Is this like a B-?  A C+?  What are you telling me?"

But it really threw me.  And that was my lightbulb moment -- when I realized that we needed to make some real changes in our family routine.  So I rolled up my sleeves, went home, did some homework, and I searched for, obviously, simple, affordable approaches and started making some changes.

For starters, I tried to cook more -- nothing crazy, just a few more home-cooked dinners each week.  Maybe baked chicken on Monday, pasta and a salad on Wednesday.  And I always tried to make a nice Sunday dinner that would provide leftovers for the week.  Instead of cookies and chips for snacks and sugary drinks, we switched to fruit and string cheese and lots of water.  And dessert in our household went from being a basic human right every night to being a special treat for weekends.

So we really shook things up.  And I have to tell you, this new routine was not very popular at first.  I still remember how the girls would sit at the kitchen table and I'd sort out their lunches, and they would sit with their little sorry apple slices and their cheese sticks. And they'd have these sad little faces.  They would speak longingly of their beloved snack foods that were no longer in our pantry. And as they ate their veggies each night at dinner, they would curse their mother under their breath -- which was okay as long as it was under their breath.

So we faced some initial resistance.  But here's the thing -- we stuck with it, and eventually, our kids adjusted.  Their palettes actually changed, and they got used to eating food that wasn't drenched in sugar, salt and fat.  And at our next checkup, everything was back to normal.  And our pediatrician was amazed.  He asked me, he said, "What did you all do?"  And he wasn't asking hypothetically; he really wanted to know how we'd been able to turn things around so quickly.
So if the Obamas can make a monumental change in one year, so can the Ziegmonts. I'm putting us on the clock.
Here's another, more pointed remark from the First Lady. This one made me pause and really think about how I'm raising my kids:
But of course, we also understand that government alone can't solve this problem.  And at the end of the day, this is really on us as parents.  We're the only ones in charge, even if it doesn't always feel like it.

And we often have to make our kids do things that they don't want to.  I mean, if our kids came home and told us -- which my kids would do -- "I don't like math," we wouldn't say, "Okay, no more math classes for you.  You're done with that."

When they don't want to go to the dentist, we don't say, "Okay, no more checkups, no more cleanings, no braces for you.  You don't like it, I'm not going to make you do it.  Of course we don't do that.

So why would we treat nutrition any differently?  Why would we look at our kids and go, "You don't like it, you don't have to eat it."

As adults we get to and have to make the final call.  And honestly, that was just about the only thing I had going for me back when I changed my own family's diet.  My girls were little then.  They couldn't drive.  They didn't have jobs, so they didn't have any money.

So they had to eat the food that I bought them.  And I was the one who decided what to buy at the grocery store.

And that's really our secret weapon -- as parents, we decide where to spend our money.  And believe it or not, we truly have the power to control the marketplace for food in this country.
I feel like this morning at The White House has the potential to change my family. It has the potential to change yours, too, if you will just put into action what you already know:
Make physical activity part of your family routine.
Reduce screen time and get active.
Set better examples.
Provide healthier snacks.
Eat healthy meals together, as a family.
We can do this, all of us together.
The Let's Move program has accomplished so many things, but this blog post is already longer than most people will bother to read. So I'm not going to list them out. Check out the Let's Move website for more information, especially more on healthier school lunches and the Smart Snacks programs, both of which benefit millions of kids every year.
Now on to my tour of the White House.
We went on a public tour of the White House in November 2015, and it was awesome.
Except that we weren't allowed to touch anything, all the rooms were roped off, and all of the carpets were rolled up against the walls.
When you're an invited guest at the White House, you are allowed to touch everything! And I did!
When you're "the public," you are not permitted to use the bathroom in the White House, but invited guests are! I marveled at the marble stalls and the two-way hinges on the doors. It was craziness. And the paper towels! I should have snagged one of these as a souvenir, but I didn't think of it until I was already gone.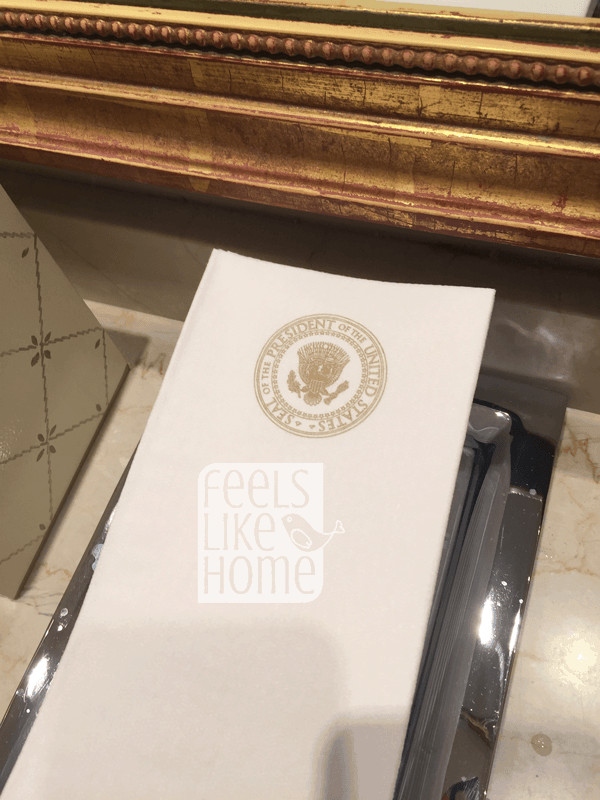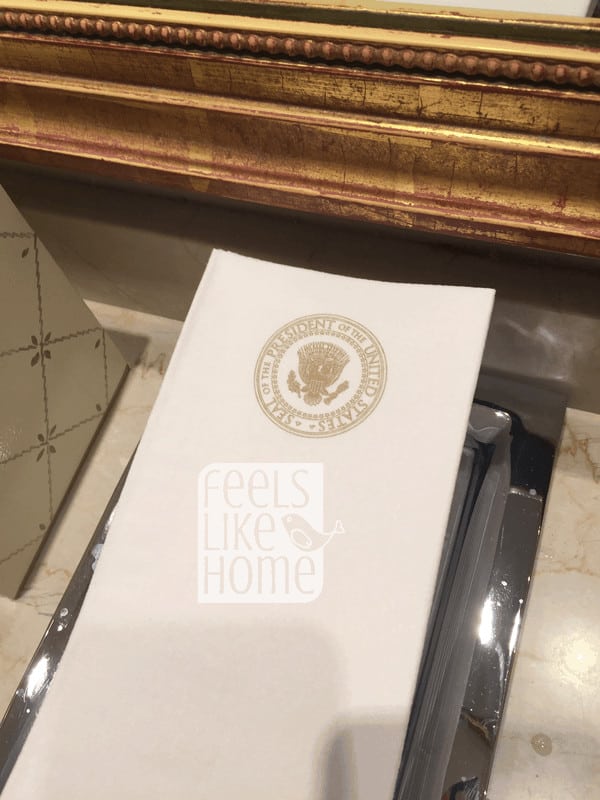 Pin
This is also the bathroom.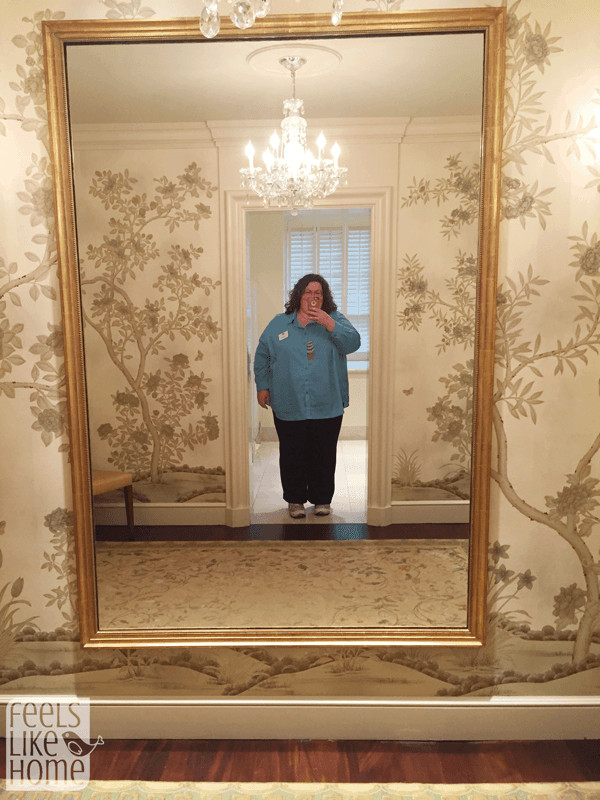 Pin
One of my disappointments from the public tour is that I wasn't able to look at the china in the China Room. This time, I was able to go in and photograph all of it! Which I did!
Here is the Obama's State China. I thought it was so pretty: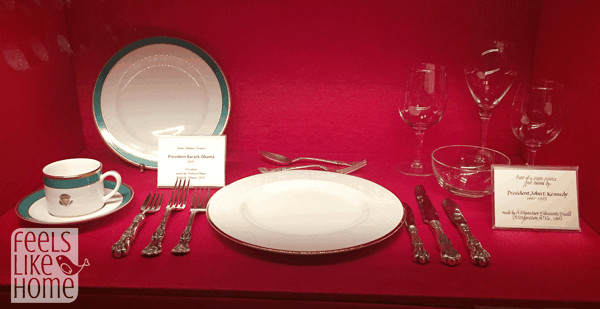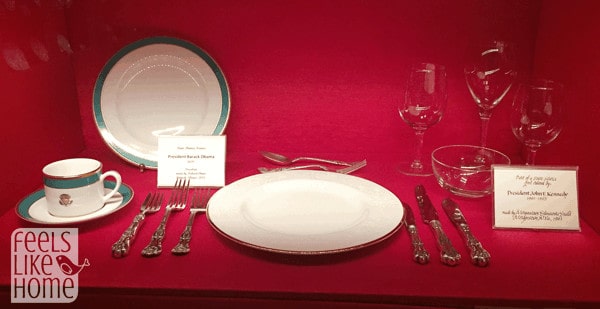 Pin
We also weren't allowed in the library during the public tour, and I wondered why it was called a library since I could only see about 100 books.
Well! It turns out that the walls you can't see on the public tour are 100% covered with books! It was really cool.
And of course, I sat on the furniture and touched some of the books.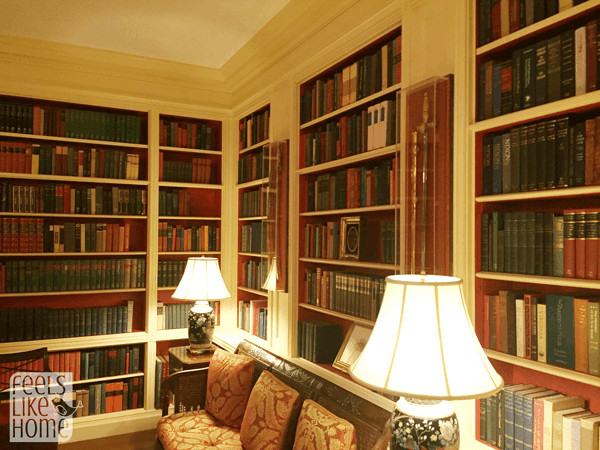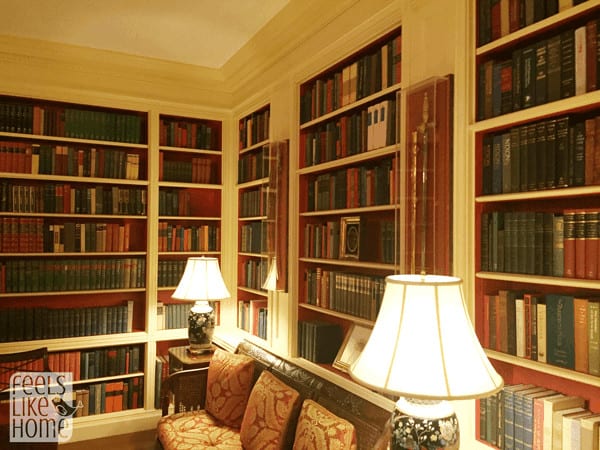 Pin
This is the Vermeil Room, another space where the public is not allowed: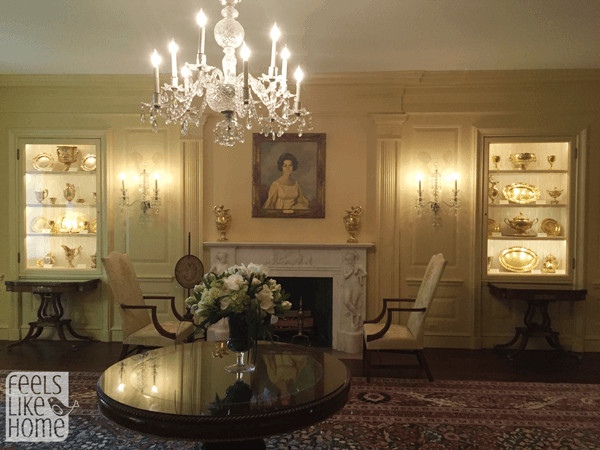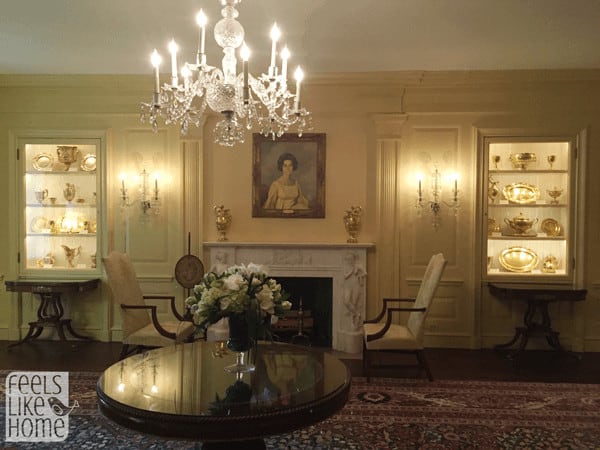 Pin
This is the lobby of the White House. When you are an invited guest, there is a piano player playing music for your enjoyment.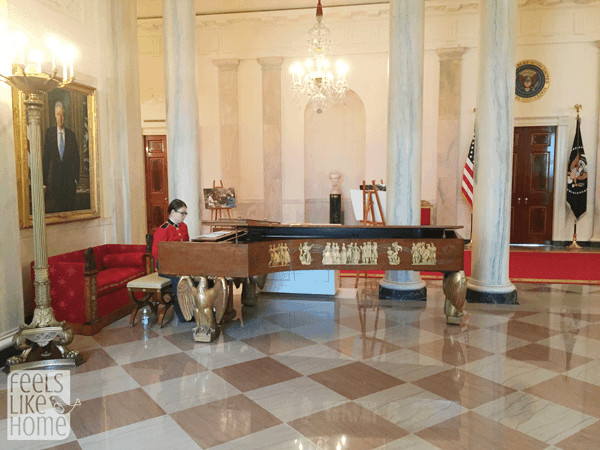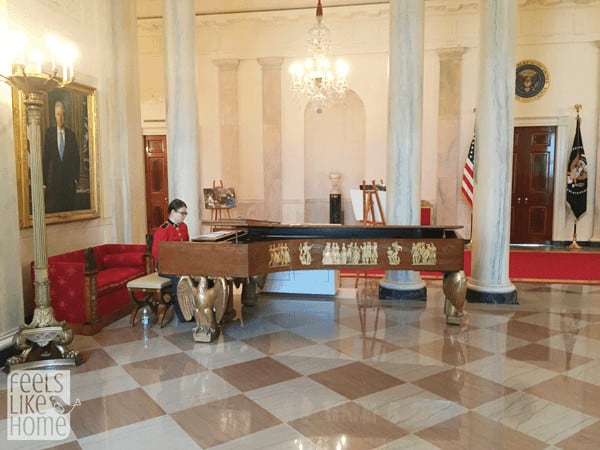 Pin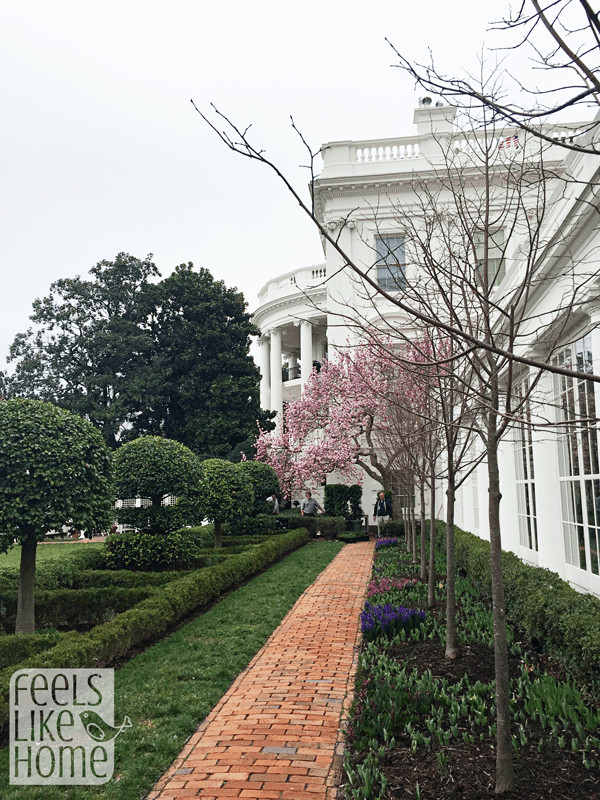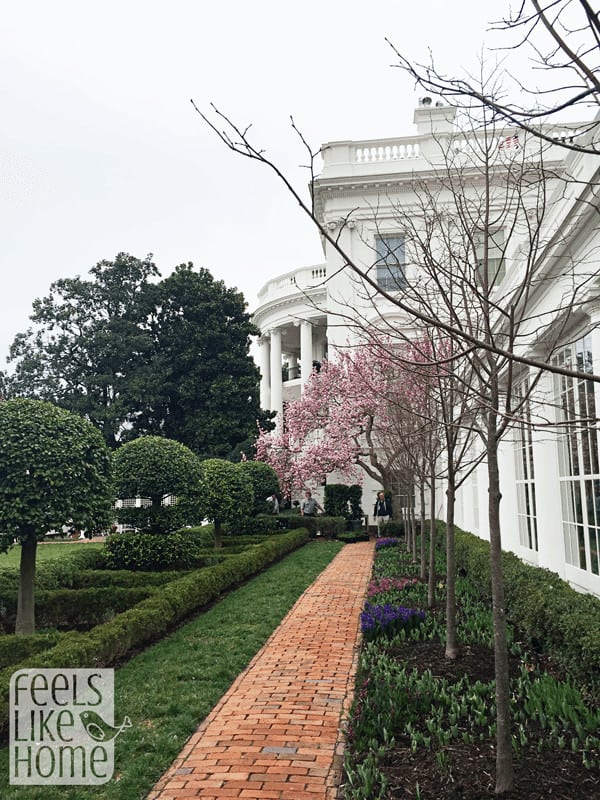 Pin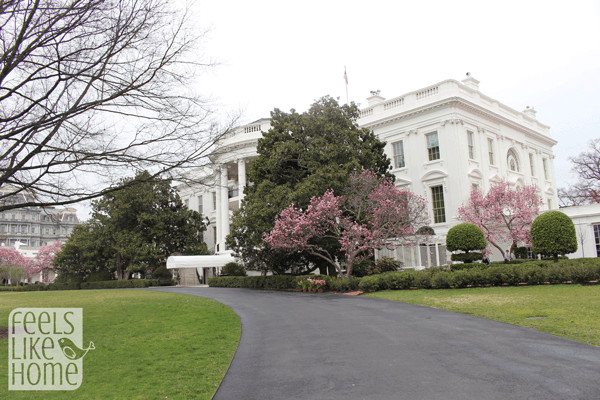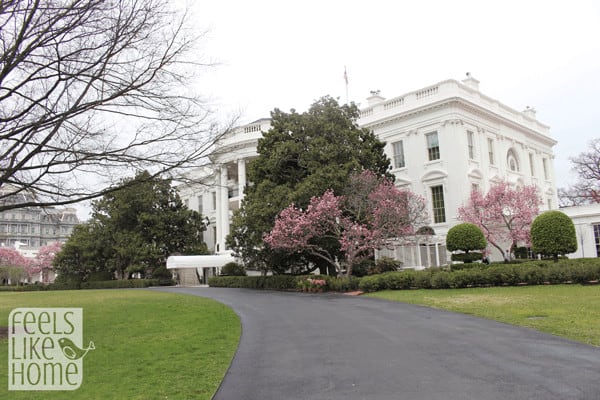 Pin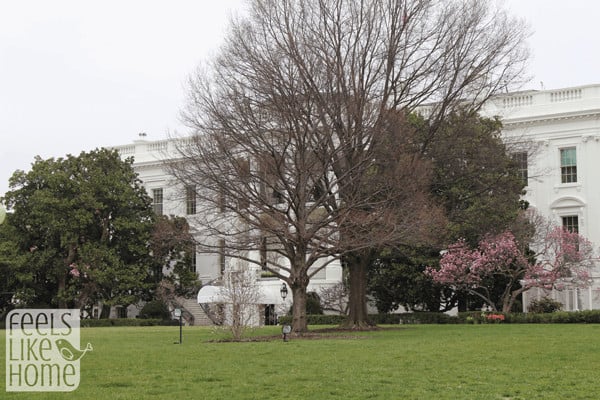 Pin
After the speakers, we were taken on a tour of the First Lady's White House Kitchen Garden. There wasn't much to look at there, being that it was March, but we got to see where everything will go in a couple more weeks.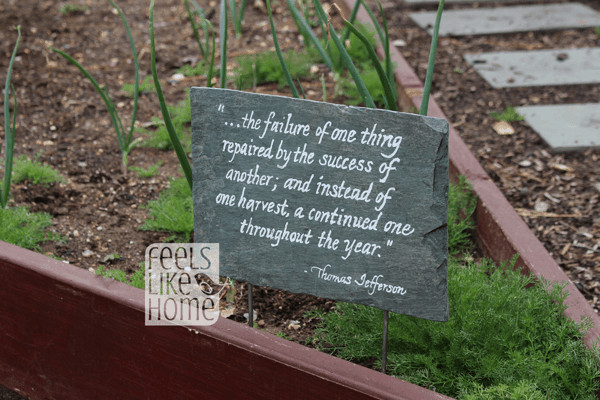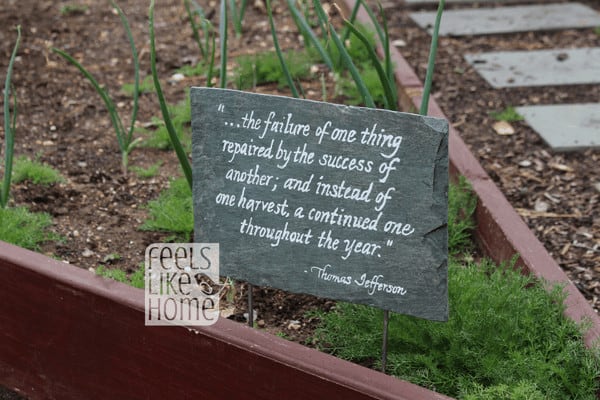 Pin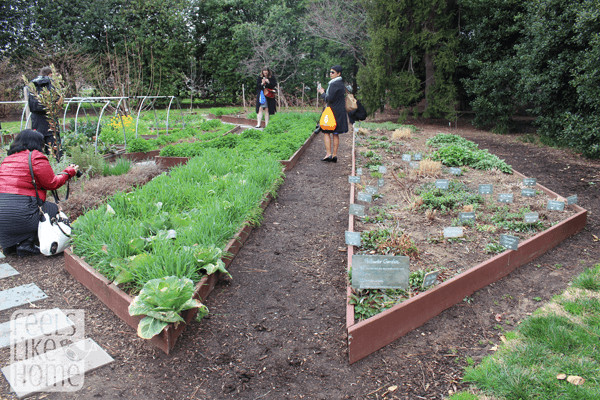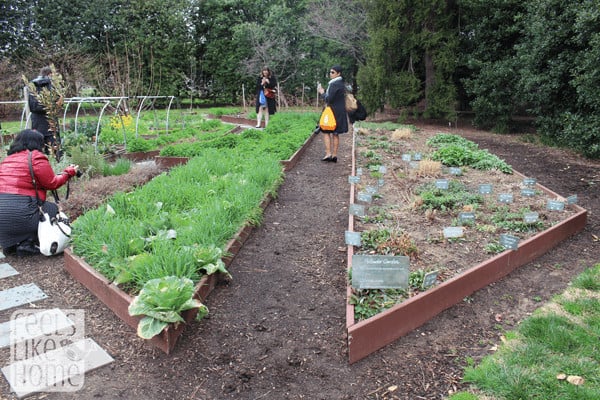 Pin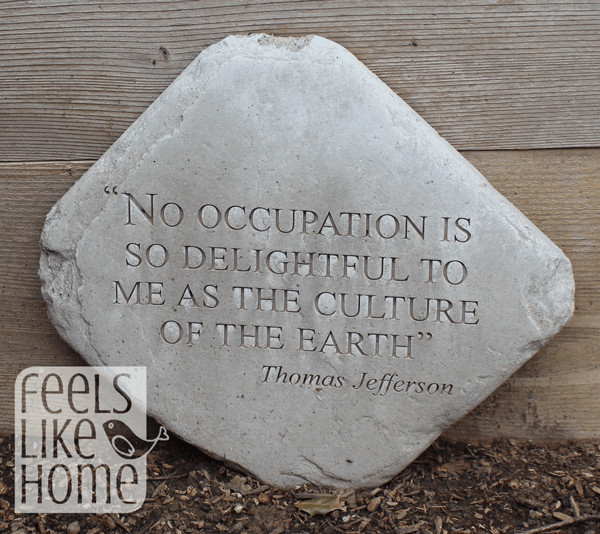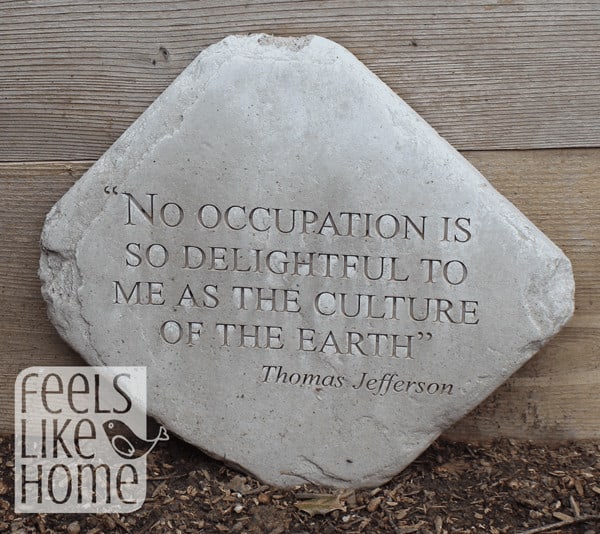 Pin
The First Lady even has bees, and from the looks of things, she has a lot of them.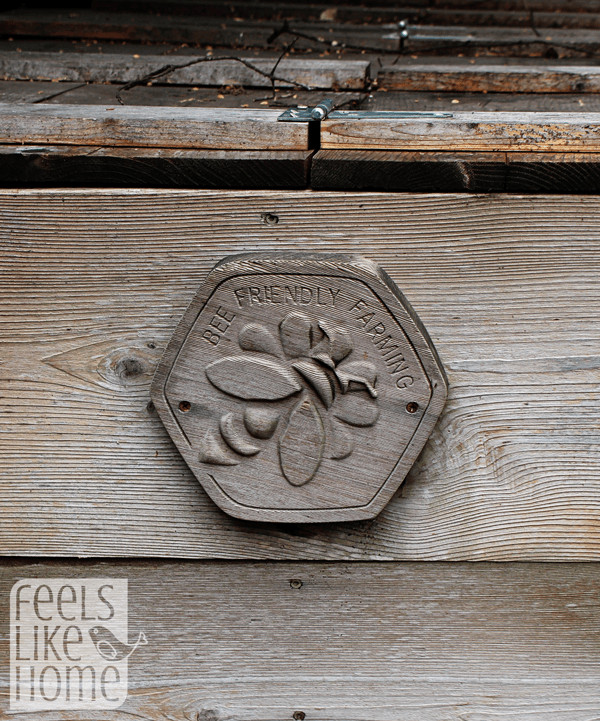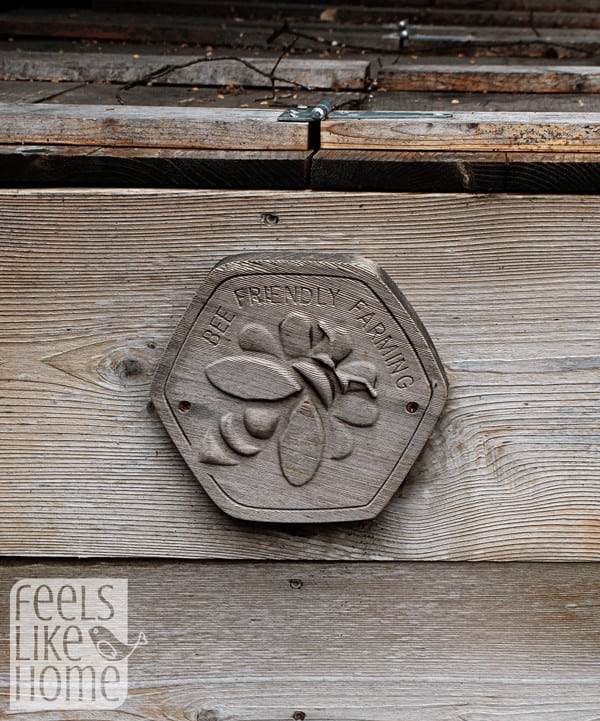 Pin
So that's what happened when I was invited to a blogger event with The First Lady at The White House. I wish I could go back and tell her how motivating her talk was and how I'm making real changes in my family's lifestyle. Hopefully, I'll get the chance!