This Instant Pot pot roast recipe makes a juicy and incredibly tender roast that is paired with potatoes, carrots, and a flavorful brown gravy.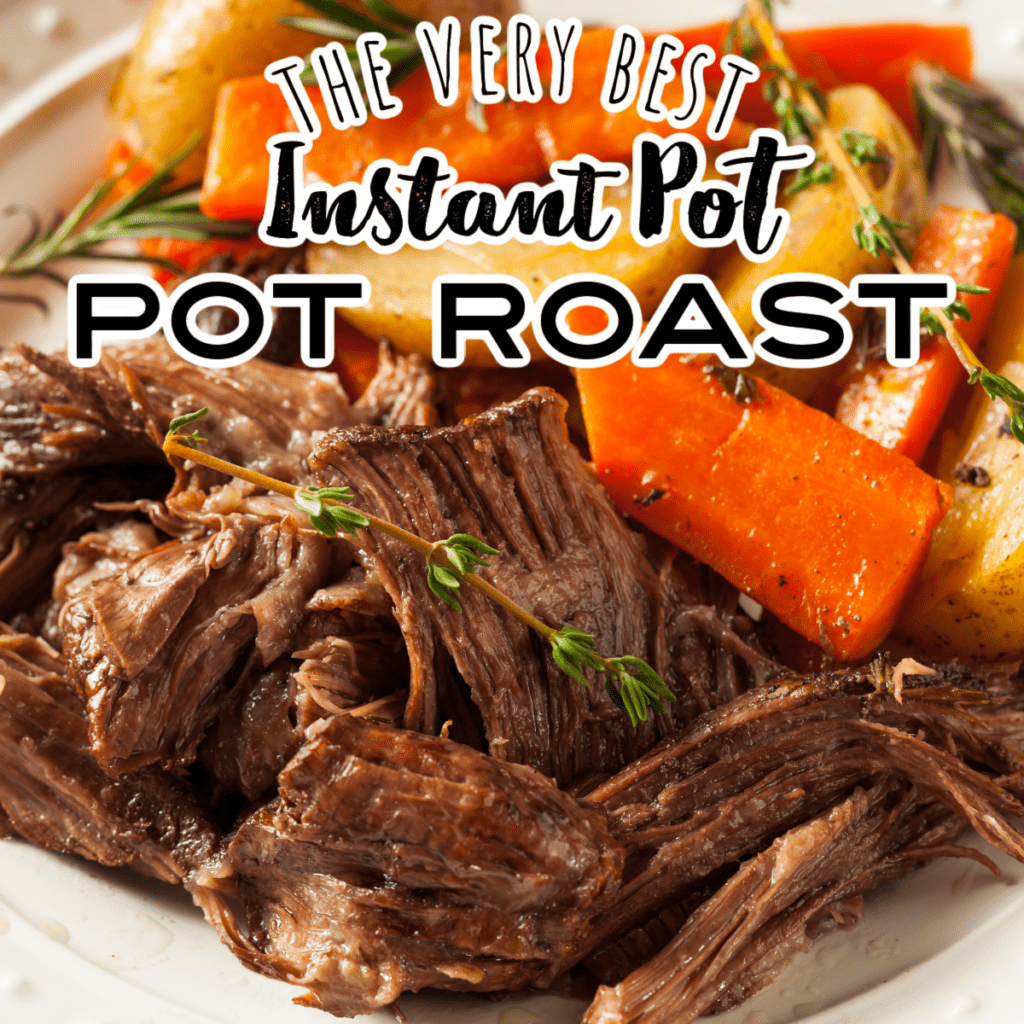 Before Joe and I were married, we used to go with my mom and sister to a local private club. It was pretty shady in a lot of ways, but their food was super cheap and really, really good. One of my favorite meals there was pot roast.
Their pot roast reminded me of my mom's from my childhood. (She had pretty much stopped cooking by that time.) It was tender and fell apart with a fork. It was also flavorful, but without anything weird. It just tasted like beef. The best part was that it was accompanied by a huge helping of mashed potatoes with copious amounts of homemade brown gravy.
The recipe below makes an amazing, tender, and flavorful pot roast, too, though it suggests making potatoes and carrots alongside it in the Instant Pot. This is more like the way my mom made pot roast when I was a kid, always with the potatoes and carrots right in the pot, and it doesn't make gravy, so you will have to whisk some up afterward.
I don't generally eat potatoes, but my family does and I'm sure would prefer them mashed like the club made them. It's totally up to you.
A quick side note: We once made this in the CrockPot, and IT WAS NOT THE SAME. So do yourself a favor and take the time to make it in the Instant Pot.
How to Make Instant Pot pot roast
Trim all the fat from a 2 pound chuck roast steak, then sprinkle salt on each side. Set your Instant Pot to sauté and and wait until the screen reads "hot." Add 2 teaspoon of the olive oil and sear meat on both sides. Remove roast from pot.
Add remaining 2 teaspoon of olive oil to the Instant Pot and add the onions and garlic. Sauté for a few minutes until fragrant, then deglaze with broth, tomato paste, and Worcestershire sauce and stir well. Get all those brown bits up from the bottom of the pot to flavor your meat and veggies and make a killer gravy!
Add the roast back to Instant Pot, along with potatoes. Place carrots in a steamer basket on top of meat and potatoes. Lock the lid and set on high for 60 minutes.
After the cook time, do a natural release. It took my pot about 15 minutes to release all the pressure. If you are hangry or impatient, you could switch it over to quick release anytime after this point and you should be good. Remove roast & veggies from the Instant Pot and serve.
To make gravy, remove a ½ cup of the stock and mix it with 1 T of your choice of thickener (we use corn starch but flour would also work if you prefer). Add this slurry back to the IP and place pot on sauté. Simmer until the gravy thickens to your liking, stirring frequently.
Here are a few other Instant Pot recipes you might enjoy:
Pot roast, which used to be an all day affair, got an update in this one-hour Instant Pot recipe, but you'll never know because it tastes so good!