These encouraging Bible verses will give you the uplifting boost of truth that you need in the morning. Quiet time is a great routine to start for life, and these beautiful scriptures are good for inspiration, motivation, and encouragement. Great daily reminder to overcome challenges with faith and peace.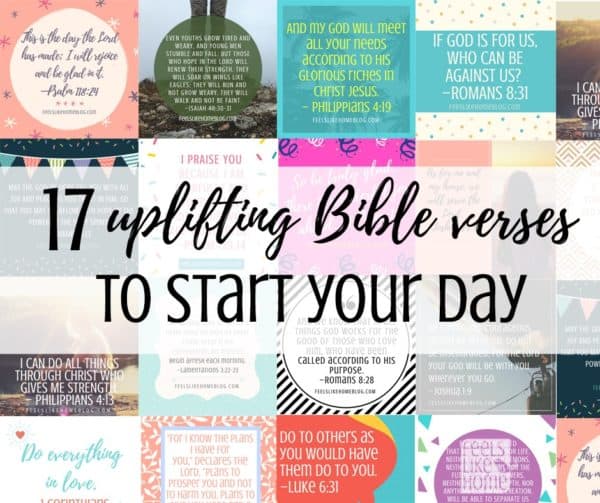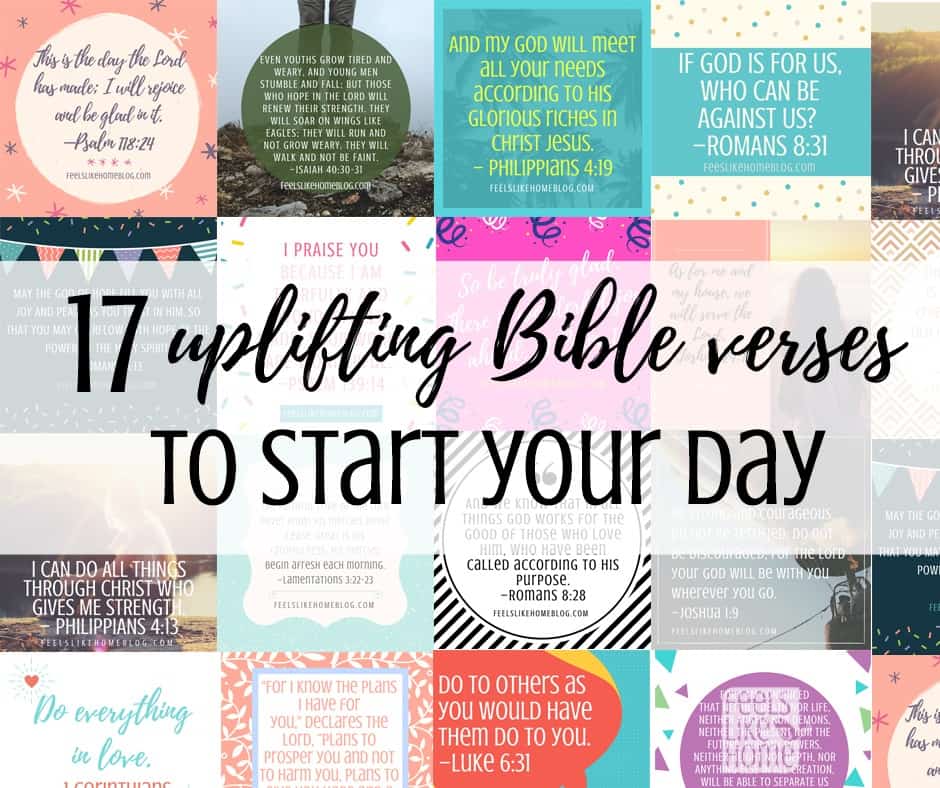 Five years ago, I wrote that it was impossible for me to get up early and have quiet time. I was working evenings, starting around 4 and ending around midnight, and getting up an extra hour early just seemed totally out of my reach.
Then something miraculous happened.
I accepted a job that required "normal" working hours during the morning and afternoon. I started taking my kids to bed around 9pm and falling asleep and staying asleep.
And then, suddenly, I was able to get up early for the first time in my entire life.
It makes so much stupid sense to me now, but back then the concept was completely elusive. If you go to bed early enough, you can get up at whatever time you want.
Duh.
But earth shattering for me.
So now, I usually take my kids to bed around 9pm, and I usually read for 30 to 60 minutes in the dark of their bedroom, and then I go to sleep myself, almost always by 10 but definitely by 10:30. Then I wake up between 6 and 6:30 (usually before my alarm) and I start my day.
And it is very good.
I love my new habits.
As I have said before, I almost always start the day with quiet time during which I read the Bible (I'm working through the One Year Chronological Bible right now and keeping pace with the new year so far.), pray using my prayer box, and sometimes write in my journal (but not consistently).
Something I've added recently is meditating on a scripture. I love scripture, and I find comfort in a lot of favorite verses. When I say I meditate on it, I read it through three or four times and then think about it while I begin my day. I let it play like a song stuck in my head, trying out the words and stressing different ones and saying it to myself.
My internal monologue might sound something like this:
"For I know the plans I have for you," declares the Lord. "Plans to prosper you and not to harm you, plans to give you hope and a future."

"For I know the plans I have for you," declares the Lord. "Plans to prosper you and not to harm you, plans to give you hope and a future."

"For I know the plans I have for you," declares the Lord. "Plans to prosper you and not to harm you, plans to give you hope and a future."

"For I know the plans I have for you," declares the Lord. "Plans to prosper you and not to harm you, plans to give you hope and a future."
I keep processing through the verse like this, repeating it to myself over and over and over with different emphasis until I know it backwards and forwards.
I repeat the verse to myself as I prepare my breakfast, as I eat, and as I clean up my dishes. I repeat the verse as I sit down in my office to begin my workday and then whenever it pops up in my brain throughout the day.
That's what I mean by meditating on it, just repeat it over and over again like a song on repeat.
I have chosen the scriptures below for a variety of reasons, but mostly because they are uplifting and encouraging and inspiring words from God that give me the right start to my day.
12/2021 update - Since I first published this post in 2017, I have received so many emails about verses that other believers find to be encouraging and uplifting, so I have included some verses from readers at the bottom of the list. I'm not able to make them into graphics just yet (although I might at some point in the future), so the graphics are only for the first bunch. But I thought it might be helpful to include some additional verses too.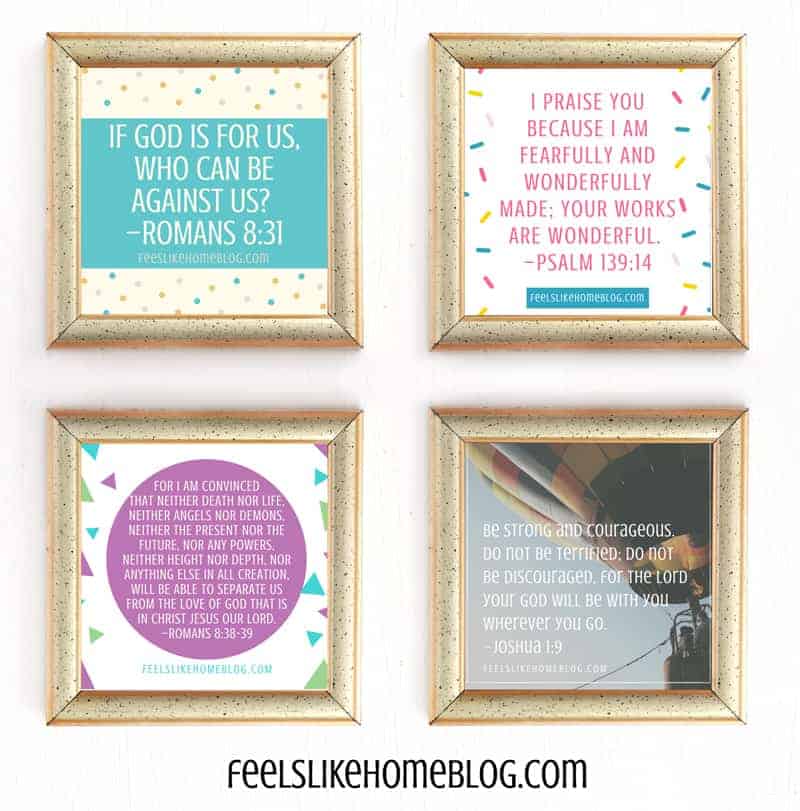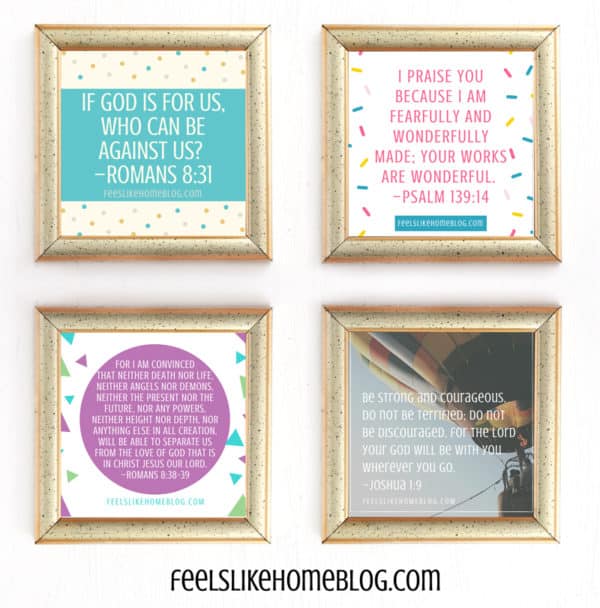 I praise you because I am fearfully and wonderfully made; your works are wonderful. -Psalm 139:14
Be strong and courageous. Do not be terrified; do not be discouraged, for the Lord your God will be with you wherever you go. -Joshua 1:9
If God is for us, who can be against us? -Romans 8:31
For I am convinced that neither death nor life, neither angels nor demons, neither the present nor the future, nor any powers, neither height nor depth, nor anything else in all creation, will be able to separate us from the love of God that is in Christ Jesus our Lord. -Romans 8:38-39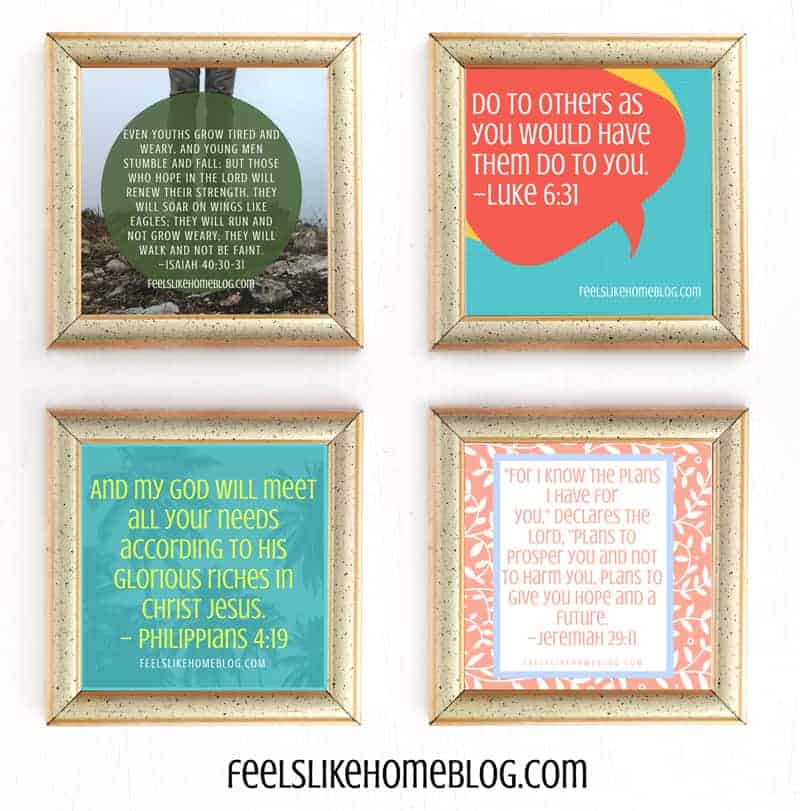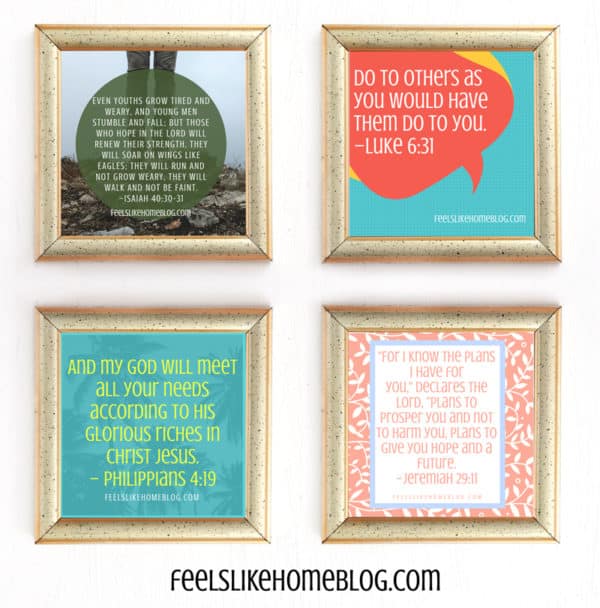 Do to others as you would have them do to you. - Luke 6:31
Even youths grow tired and weary, and young men stumble and fall; but those who hope in the Lord will renew their strength. The will soar on wings like eagles; they will run and not grow weary, the will walk and not be faint. -Isaiah 40:30-31
And my God will meet all your needs according to the riches of His glory in Christ Jesus. -Philippians 4:19
"For I know the plans I have for you," declares the Lord. "Plans to prosper you and not to harm you, plans to give you hope and a future." -Jeremiah 29:11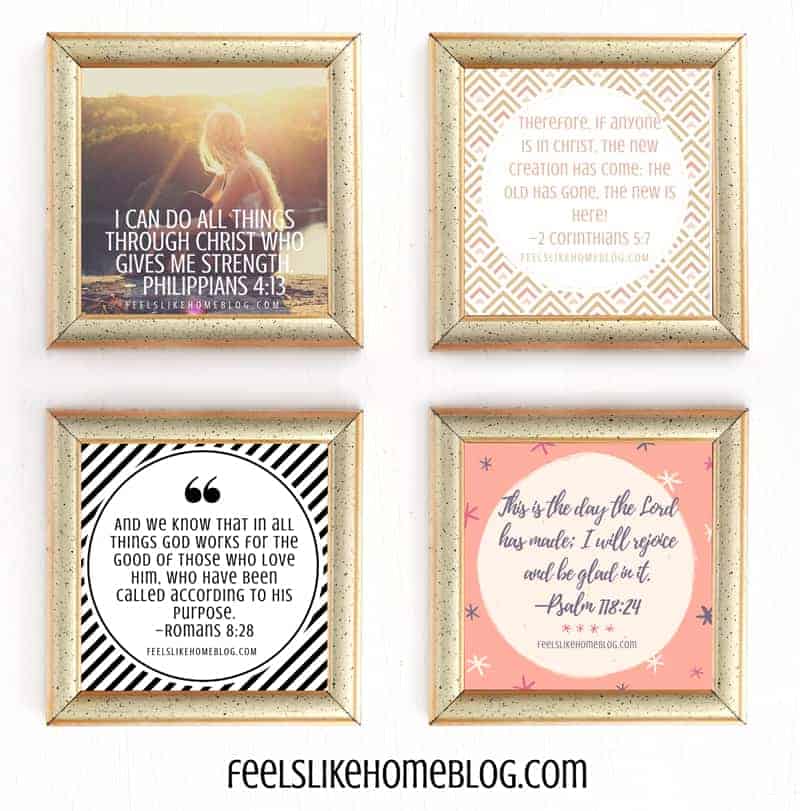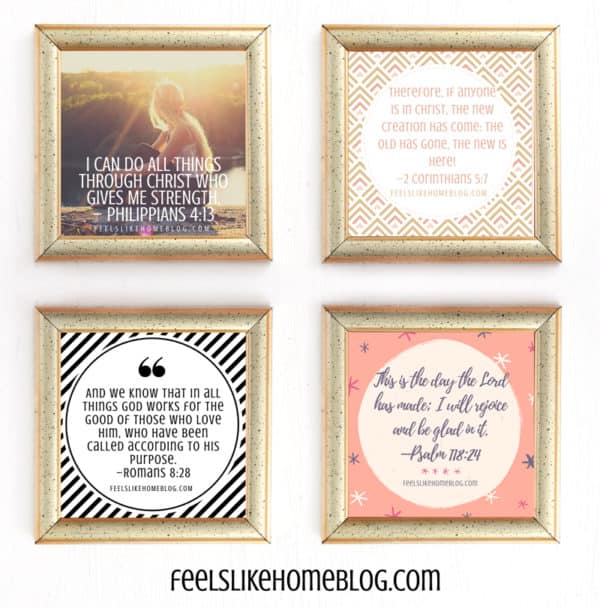 I can do all things through Christ who gives me strength. -Philippians 4:13
Therefore, if anyone is in Christ, the new creation has come: the old has gone, the new is here! -2 Corinthians 5:7
And we know that in all things God works for the good of those who love him, who have been called according to his purpose. -Romans 8:28
This is the day that the Lord has made; I will rejoice and be glad in it. -Psalm 118:24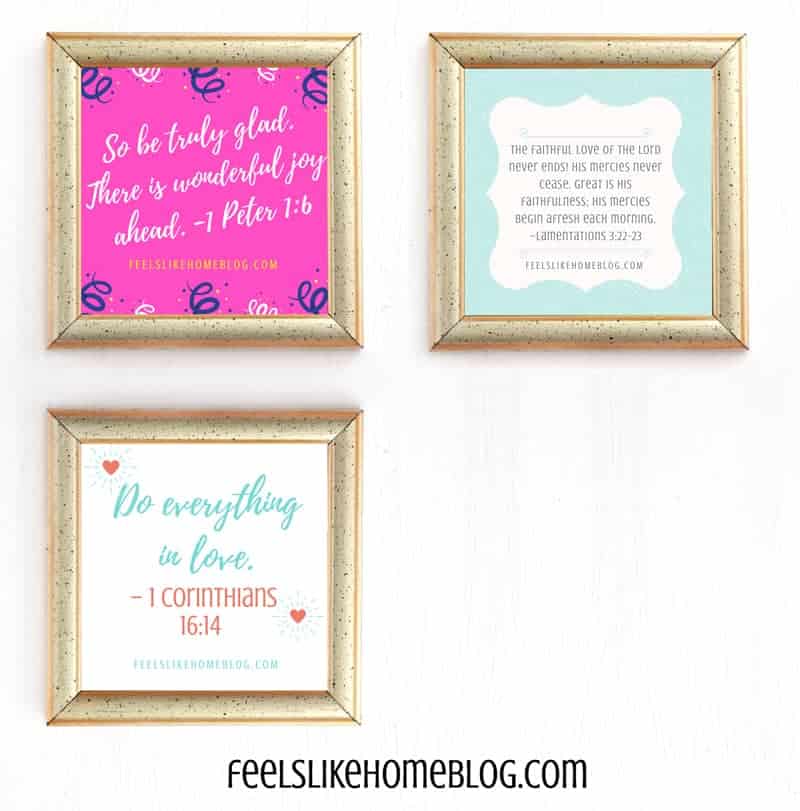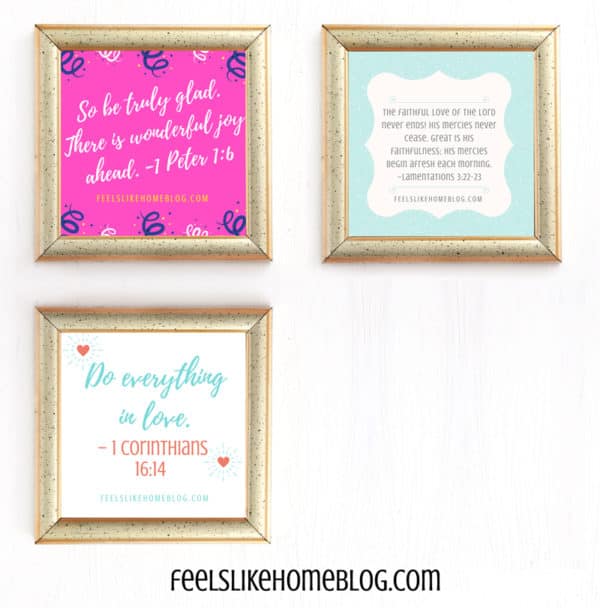 Do everything in love. -1 Corinthians 16:14
So be truly glad. There is wonderful joy ahead. -1 Peter 1:6
The faithful love of the Lord never ends! His mercies never cease. Great is his faithfulness; his mercies begin afresh every morning. -Lamentations 3:22-23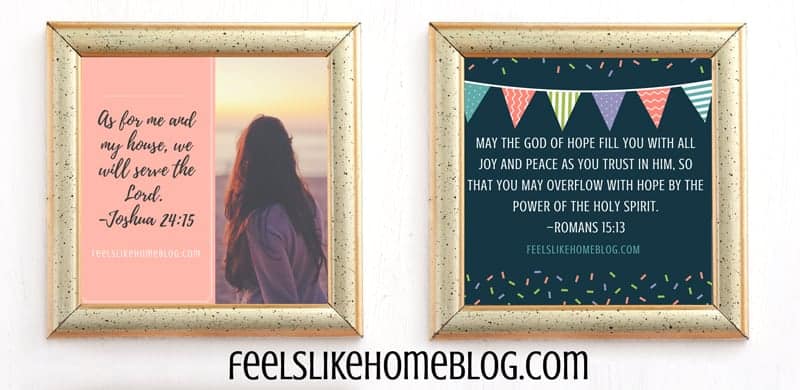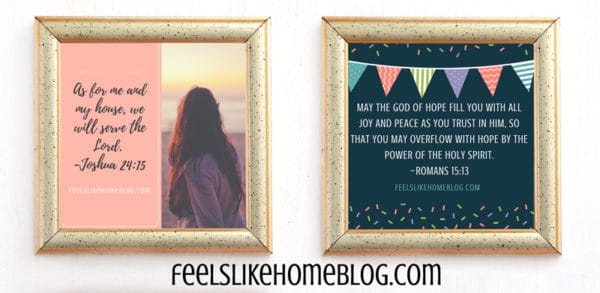 As for me and my house, we will serve the Lord. -Joshua 24:15
May the God of hope fill you with all joy and peace as you trust in Him, so that you may overflow with hope by the power of the Holy Spirit. -Romans 15:13
These are some of my favorite encouraging Bible verses for quiet time because they give me hope and joy for the day ahead, no matter what challenging circumstance is coming up. Knowing that I can start my day with such uplifting words makes facing a difficult day seem a little easier.
More encouraging Bible verses (submitted by readers)
I have told you these things so that in me, you may have peace. In this world, you will have trouble, but take heart! I have overcome the world. -John 16:33
You are my refuge and my shield;
I have put my hope in your word.
Away from me, you evildoers,
that I may keep the commands of my God! -Psalms 119:114-115
Trust in the Lord with all your heart and lean not on your own understanding; in all your ways submit to him, and he will make your paths straight. -Proverbs 3:5-6
Come to me, all you who are weary and burdened, and I will give you rest. Take my yoke upon you and learn from me, for I am gentle and humble in heart, and you will find rest for your souls. For my yoke is easy and my burden is light. -Matthew 11:28-30
The Lord is my shepherd, I lack nothing. 
   He makes me lie down in green pastures,
he leads me beside quiet waters,
   he refreshes my soul.
He guides me along the right paths
   for his name's sake.
Even though I walk
   through the darkest valley,
I will fear no evil,
   for you are with me;
your rod and your staff,
   they comfort me.
You prepare a table before me
   in the presence of my enemies.
You anoint my head with oil;
   my cup overflows.
Surely your goodness and love will follow me
   all the days of my life,
and I will dwell in the house of the Lord forever. -Psalm 23 NIV (How could I have forgotten this one the first time?!?! I learned the King James version of this psalm, which I have included below, just in case you prefer that one too.)
The Lord is my shepherd; I shall not want.
He maketh me to lie down in green pastures: he leadeth me beside the still waters.
He restoreth my soul: he leadeth me in the paths of righteousness for his name's sake.
Yea, though I walk through the valley of the shadow of death, I will fear no evil: for thou art with me; thy rod and thy staff they comfort me.
Thou preparest a table before me in the presence of mine enemies: thou anointest my head with oil; my cup runneth over.
Surely goodness and mercy shall follow me all the days of my life: and I will dwell in the house of the Lord for ever. -Psalm 23 KJV
But he said to me, 'My grace is sufficient for you, for my power is made perfect in weakness.' Therefore I will boast all the more gladly about my weaknesses, so that Christ's power may rest on me. That is why, for Christ's sake, I delight in weaknesses, in insults, in hardships, in persecutions, in difficulties. For when I am weak, then I am strong. -2 Corinthians 12:9-10
Do not be anxious about anything, but in every situation, by prayer and petition, with thanksgiving, present your requests to God. And the peace of God, which transcends all understanding, will guard your hearts and your minds in Christ Jesus. -Philippians 4:6-7
So do not fear, for I am with you;
    do not be dismayed, for I am your God.
I will strengthen you and help you;
    I will uphold you with my righteous right hand. -Isaiah 41:10
Consider it pure joy, my brothers and sisters, whenever you face trials of many kinds,  because you know that the testing of your faith produces perseverance. Let perseverance finish its work so that you may be mature and complete, not lacking anything. -James 1:2-4
In all of the verses above, God makes promises and, unlike the promises of men, we can trust God's promises because they will come true every. single. time. In times of trouble, you can stand firm and lean on the truth of all of the mighty promises because He is faithful and will follow through.
You are a new creation in Jesus Christ.
You will never be alone.
You never have to be afraid.
You can have peace that passes all understanding.
You can trust Him to guide you on the right path.
You can find rest in Him.
You can overflow with hope.
You can look forward to "wonderful joy."
Get a free printable version of the first 17 encouraging Bible verses below. You can work on memorizing and meditating on them, one at a time.
You can get the file below which contains all 17 images, sized 4 to a page (3.5-inch squares) for easier printing. I hope you enjoy the images.
See these other Bible study posts while you're here: