Printable active scavenger hunt for Easter morning - A treasure hunt is a great way to find your Easter basket. This hunt for kids uses rhymes and riddles as clues. Great non-religious fun for families at home. Easy clues using both indoor and outdoor spots.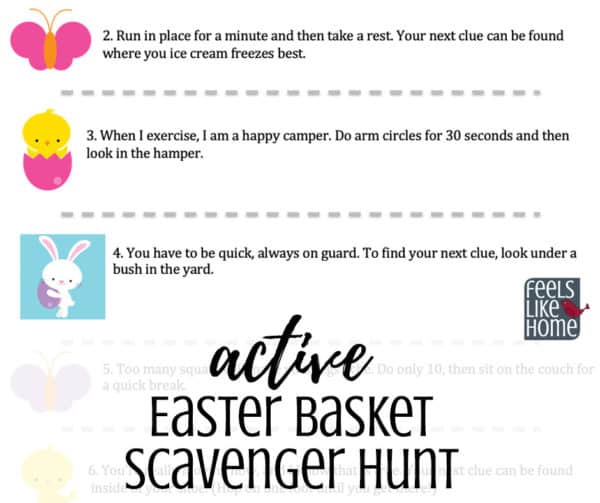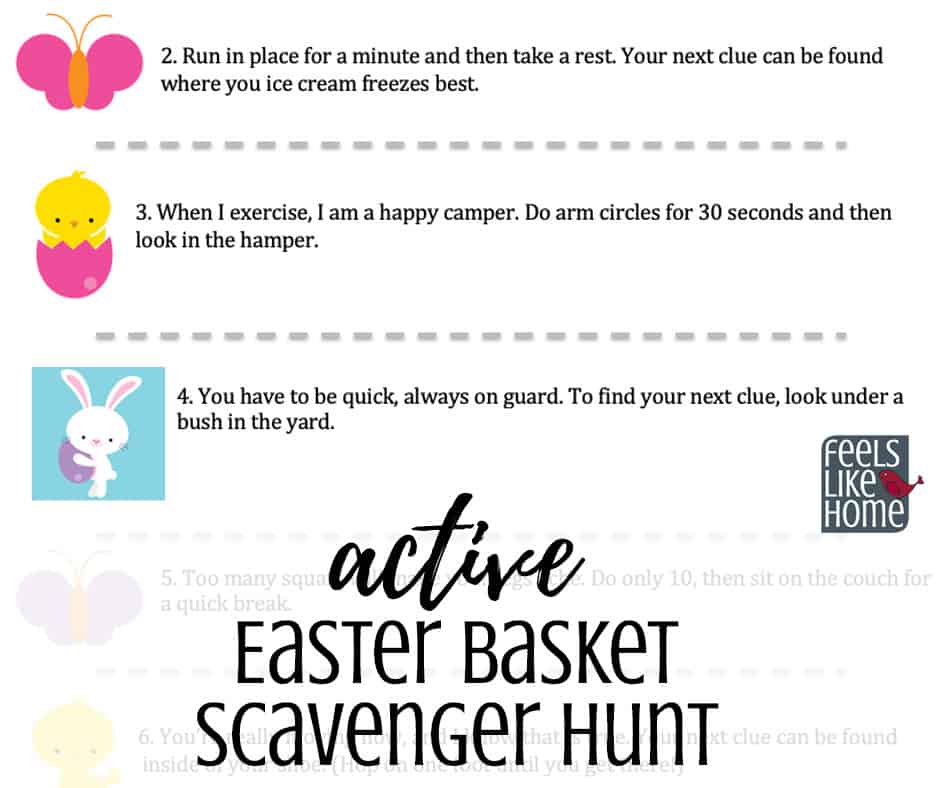 A few weeks ago, we read Pinkalicious: Eggstraordinary Easter in which Pinkalicious and her brother get sent on a scavenger hunt by the Easter bunny. They end up in her bedroom, discovering a huge basket full of goodies.
You can guess what is coming, right?
Grace very quietly asked me if our Easter bunny might send her on a scavenger hunt.
I gave a noncommittal "Maybe."
And then a few days later, she asked again whether I thought our Easter bunny might be able to manage a scavenger hunt to help her and Allie find their Easter baskets.
I told her, "We'll see."
And she has kept asking, always quiet so Allie won't hear. Always earnest and sincere and hopeful but not pushy.
So I created this little Easter scavenger hunt. It is very simple, requires them to exercise and read a little bit, and should take about fifteen minutes. I think it will be perfect for them to do before we have to get ready for Easter breakfast at our church.
Click here to purchase the scavenger hunt!
How to Create an Easter Basket Scavenger Hunt
Save and print out the clues I put together using clipart from Stockberry Studio.
Cut the clues apart.
Get a bunch of plastic Easter eggs.
Put the first clue in a plastic Easter egg. Leave several jelly beans in eggs with the clue-filled egg somewhere your kids will find it. I'm thinking we'll put ours in a basket on the dining room table.
Clue 2 - Repeat the jelly bean eggs with clue-filled egg thing outside the front door.
Clue 3 - Freezer
Clue 4 - Hamper
Clue 5 - Under a bush in the yard
Clue 6 - On the couch
Clue 7 - Inside a shoe
Clue 8 - In the mailbox
Clue 9 - A place where you put your toys away
Easter basket - In the car
Because this requires only about 15 minutes of prep, you could print these out and have them ready to go even the night before Easter.
You sort of have to wait until the last minute anyway. You couldn't hardly put the eggs and clues out before the night before!
I'd love to hear if you used these clues and how your kids liked them!
Update: I designed these at the last minute in 2016, and I saved the post for March 2017. The scavenger hunt was a HUGE hit with my kids, and I plan to do the same one again this year. They loved running around, finding clues, and hunting. It was great.