How to make the best bread machine whole wheat bread - This simple and easy recipe makes a basic crusty loaf with no kneading. Uses a combination of all purpose flour and whole wheat flour for a smooth, tasty loaf that's healthy.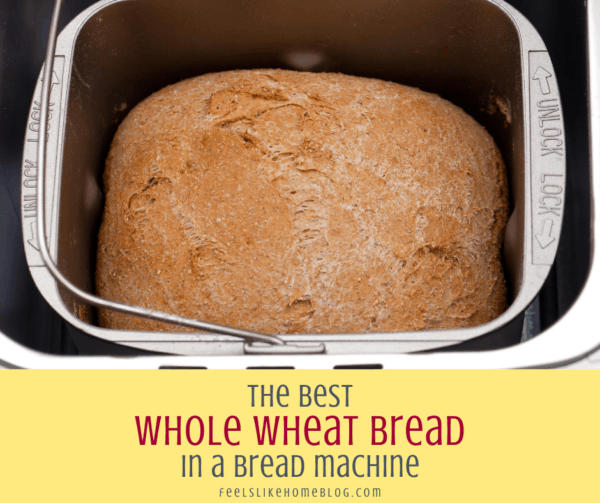 Somewhere between my need to avoid unnatural food additives, my desire to cook and eat more like my grandma, and Joe and my attempts to live more frugally, I talked my husband into making our own bread.
From scratch.
It took months of convincing. He likes the bread from the grocery store, and he isn't into making more work for himself.
After a lot of discussion with Amy Clark from MomAdvice, I posted a request on my local FreeCycle board for a bread machine. Only a few days passed before an offer came in, and Joe went to pick it up. And then it sat in our dining room for seven months, until the car crash forced us to become more serious about being frugal.
$4 for a loaf of our favorite bread seems wasteful and we don't really have that kind of money right now.
So, we are now committed to having a better, slower, more frugal lifestyle, and we are making our own bread.
Of course, when I saw we, I really mean that I'm lying on the couch with an ice pack while Joe follows the recipe I gave him, but that's just as good as doing it myself, right?
Our first couple of attempts at homemade whole wheat bread were miserable failures. We ate them, but they were barely edible.
Then we found the whole wheat bread recipe that Phoebe (who did not use a bread machine) had adapted from Crystal (who did use a bread machine). We made a few changes to reflect the ingredients we had on hand as well as our taste preferences.
We were eager to try our bread, so we smeared real butter on the warm bread and topped it with a dollop of my homemade apple butter. It was comfort food at its finest.
What you'll need to make the best homemade whole wheat bread
Equipment
This is a bread machine recipe, so you're going to need a bread machine. Often, you can find them for free or cheap at yard sales or on FreeCycle (which is what we did). But of course, you can also buy one that is fancy and new. The newer ones are obviously more advanced and easier to use than the older models.
Ingredients
See the recipe card below for measurements.
Warm water - It's important that this is neither hot nor cold.
Instant yeast - Make sure it's the instant kind, not the slow rise kind.
White sugar - This feeds the yeast. You can't make bread without a small amount of sugar.
Whole wheat flour - Whole wheat bread requires a mix of whole wheat and white flours. If you use all whole wheat flour, the bread will have a strange taste and a strange texture.
Unbleached white flour - You could certainly use bleached flour if you prefer. I try to go as unprocessed as possible, and bleaching is an added step that I don't think is necessary.
Table salt
Melted butter
White vinegar - You could also use apple cider vinegar for a similar flavor.
How to make the best homemade whole wheat bread in a bread machine
Layer the ingredients in the bread machine according to manufacturer's instructions. In our machine, we put the yeast in the bottom with warm water, topped by the dry ingredients (sugar, whole wheat flour, unbleached white flour, salt, and powdered milk), and then add the wet ingredients (melted butter and vinegar) last, then shut the lid and turn it on using the Light setting.
That's it. I'm not kidding. When the machine beeps, we open the lid and eat the most delicious and light wheat bread we've ever had.
I really like wheat bread with crunchy bits like seeds, so I am eager to experiment with this recipe and ingredients to see if we can get that kind of texture going.
Check out these other recipes from scratch:
Recipe