28 Bible Verses about giving grace to others - These scriptures show how Jesus and others extended grace throughout their lives. Christians are called to forgive as Jesus forgave, and this post is about encouragement and strength to do that. Includes an amazing story about real life!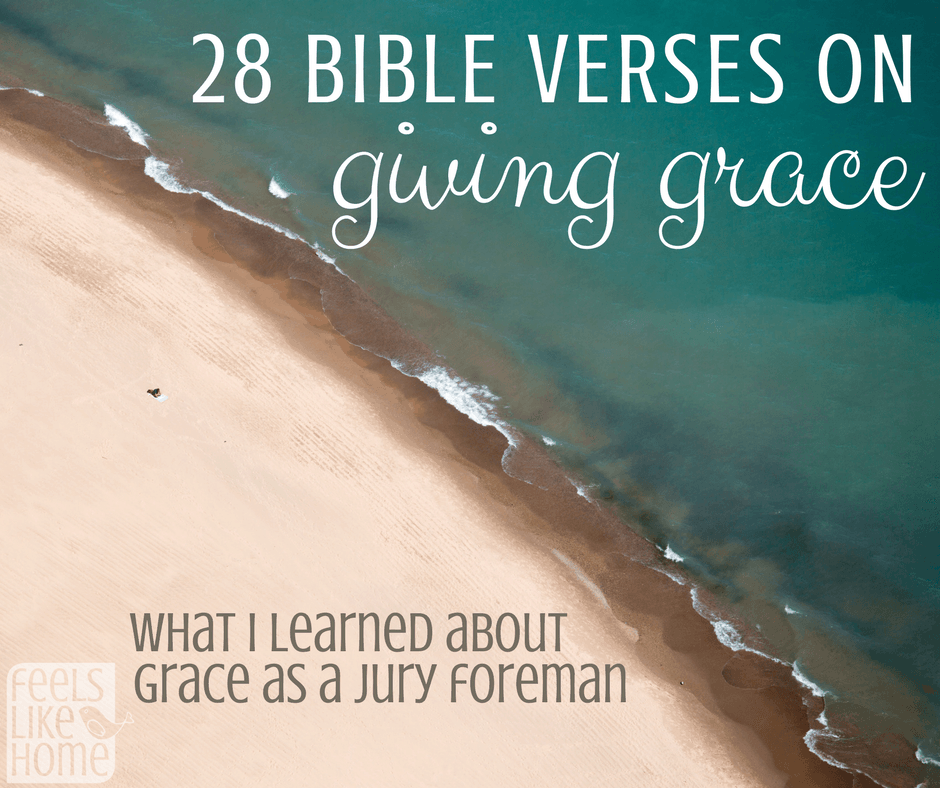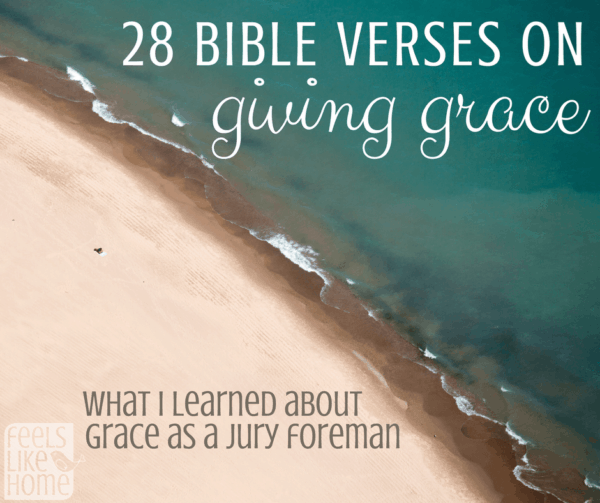 Pin
As I mentioned in a previous post, I had jury duty a couple of weeks ago. It was a real pain in the neck - I didn't get to see Grace off to sleep away camp nor pick her up, I had to take off a full week of work, and I had to arrange childcare for Allie. Fortunately, my sister was able to step in for me, but I would have much rather not gone.
At any rate, I spent most of the week reading or writing in my journal, shut up in a large room with 250 other prospective jurors. No cell phones allowed.
If you're interested in what I read, here's the list:
Okay, so books aside, I did get selected for one jury, and the experience was absolutely terrifying and wonderfully encouraging at the same time.
The defendant was charged with fleeing police. According to the dash camera footage, he continued to drive for approximately 45 seconds after the police officer turned on his lights and siren, despite ample safe opportunities to pull over.
And, for that 45 second delay, he was pulled out of his vehicle in front of his family, arrested, and prosecuted.
45 seconds.
The prosecutor called the two police officers who were in the car at the time, and the defense didn't present any evidence at all. The defendant did not testify. We deliberated longer than the trial actually went on.
In the jury room, we wondered if there was more to the story. Were there drugs? Some outstanding warrant? Illegal immigrants in the vehicle? These details were not for us to know.
There were multiple parts to the law that we had to weigh, and in the end, we found that the state did not prove beyond a reasonable doubt that the defendant willfully attempted to flee the police during those 45 seconds. He never sped up, and he did eventually pull over.
The terrifying part of the short trial was that it could have happened to anyone. 45 seconds. 4 city blocks. What if he was blaring music? What if the infant in the car had been screaming? What if he was having a heated argument with his wife? There could have been a hundred different reasons why it took him so long to notice the police car behind him.
And then there's the race factor. The arresting officers were very young and white. The defendant was a very dark skinned black man. I'm not saying that race did play a part, but I was left with questions.
So what could I possibly find encouraging about this trial?
The jury was made up of 12 white people who carefully weighed the evidence and ultimately unanimously decided that the defendant was not guilty of fleeing the police. We were not necessarily a jury of his peers.
Three of the jurors did initially think the defendant was guilty, but changed their minds after a lengthy deliberation and watching the dash cam footage again. Several of us felt that he never should have been arrested to begin with.
What I find particularly encouraging is that this black man received a fair trial in the racially charged climate of today's world.
I find it encouraging that the jury showed mercy for a man who was not guilty of the charged crime, and that he was really presumed innocent despite the evidence offered by two police officers.
I find it encouraging that the man cried as I pronounced the verdict to the court. He was obviously moved and relieved that he had been vindicated. I reasoned that a hardened criminal facing other more serious charges, one who had something to hide from police, would not have cried when he learned that he had been found not guilty of the lesser charge.
It felt good to be able to extend grace to this man whose story I will likely never know. I don't believe the judicial system is really about grace, but more about evidence and proof and evaluating the arguments. If the prosecutor had been able to prove that the man had willfully attempted to flee police, we would have found him guilty. But she didn't, and finding him not guilty felt a lot like grace.
In this situation, it felt easy for me. That's not always the case, especially when I've been wronged, hurt, or maligned, but it is exactly what we're called to extend.
The day after I wrote this blog post (on paper, in the jury room!), I added the following:
One of the jurors happened to be in the elevator at the end of the day with the defendant. He told her his story, and she shared it with the rest of us the next day. It turns out that this man was arrested in front of his family and taken to jail where he stayed for 78 days because he could not afford the high bail that had been set.
78 days.
He lost his job. He was in jail from mid-November until early February. He missed his baby's first Thanksgiving and first Christmas. He didn't get to celebrate the new year with his wife.
Almost 3 months in jail because he did not pull over for 45 seconds.
After the 78 days in jail, he was finally released to house arrest until his trial.
I felt like I had been punched in the gut when I heard this news.
78 days, and it could have been any one of us.
I just can't get over it. If those two young police officers had shown some kindness and understanding in the first place, the whole nightmare could have been avoided. But they didn't.
I don't know if the accused is a believer, but I hope that he is. I hope that he finds comfort in the grace of God and in Romans 8:28.
For now, for me, I need to be reminded of Jesus and the grace I am called to extend to everyone I meet (even the guy who cuts me off on the highway and the family member who constantly hurts my feelings).
28 Bible verses on grace
For all have sinned and fall short of the glory of God. -Romans 3:23
Blessed are the merciful, for they shall receive mercy. -Matthew 5:7
And the God of all grace, who called you to his eternal glory in Christ, after you have suffered a little while, will himself restore you and make you strong, firm and steadfast. -1 Peter 5:10
For by works of the law no human being will be justified in his sight, since through the law comes knowledge of sin. But now the righteousness of God has been manifested apart from the law, although the Law and the Prophets bear witness to it "" the righteousness of God through faith in Jesus Christ for all who believe. For there is no distinction: for all have sinned and fall short of the glory of God, and are justified by his grace as a gift, through the redemption that is in Christ Jesus. -Romans 3:20-24 (I know I called out verse 23 above, and I did mean to draw extra attention to it, but I thought the whole passage was worthy of inclusion here as well.)
Let no corrupting talk come out of your mouths, but only such as is good for building up, as fits the occasion, that it may give grace to those who hear. -Ephesians 4:29
But God is so rich in mercy, and he loved us so much, that even though we were dead because of our sins, he gave us life when he raised Christ from the dead. (It is only by God's grace that you have been saved!) -Ephesians 2:4-5
But to each one of us grace has been given as Christ apportioned it. -Ephesians 4:7
For it is by grace you have been saved, through faith - and this is not from yourselves, it is the gift of God. -Ephesians 2:8
But he gives us more grace. That is why Scripture says: "God opposes the proud but shows favor to the humble and oppressed." -James 4:6
But by the grace of God I am what I am, and his grace to me was not without effect. No, I worked harder than all of them - yet not I, but the grace of God that was with me. -1 Corinthians 15:10
And all are justified freely by his grace through the redemption that came by Christ Jesus. -Romans 3:24
Let us then approach God's throne of grace with confidence, so that we may receive mercy and find grace to help us in our time of need. -Hebrews 4:16
In the same way, you who are younger, submit yourselves to your elders. All of you, clothe yourselves with humility toward one another, because, "God opposes the proud but shows favor to the humble and oppressed." -1 Peter 5:5
For sin shall no longer be your master, because you are not under the law, but under grace. -Romans 6:14
Grace and peace be yours in abundance through the knowledge of God and of Jesus our Lord. -2 Peter 1:2
Out of his fullness we have all received grace in place of grace already given. -John 1:16
But where sin increased, grace increased all the more. -Romans 5:20b
Let your conversation be always full of grace, seasoned with salt, so that you may know how to answer everyone. -Colossians 4:6
And if by grace, then it cannot be based on works; if it were, grace would no longer be grace. -Romans 11:6
And in their prayers for you their hearts will go out to you, because of the surpassing grace God has given you. -2 Corinthians 9:13
So that, just as sin reigned in death, so also grace might reign through righteousness to bring eternal life through Jesus Christ our Lord. -Romans 5:21
All this is for your benefit, so that the grace that is reaching more and more people may cause thanksgiving to overflow to the glory of God. -2 Corinthians 4:15
He mocks proud mockers but shows favor to the humble and oppressed. -Proverbs 3:34
One who loves a pure heart and who speaks with grace will have the king for a friend. -Proverbs 22:11
Each of you should use whatever gift you have received to serve others, as faithful stewards of God's grace in its various forms. -1 Peter 4:10
Let us then approach God's throne of grace with confidence, so that we may receive mercy and find grace to help us in our time of need. -Hebrews 4:16
Let us then with confidence draw near to the throne of grace, that we may receive mercy and find grace to help in time of need. -Hebrews 4:16
Be merciful, even as your Father is merciful. -Luke 6:36
This jury duty experience was one I will never forget. I will never forget the man who sat accused of a ridiculous crime, and I will never forget the hope that his verdict gave me.
While you're here, check out these other Bible study posts: