How to make the best peanut butter balls - This simple and easy recipe makes classic, chocolate covered peanut butter truffles that are rich, buttery, creamy, and old-fashioned the way Grandma used to make. Totally no bake, making it a sweet homemade candy that is made quickly.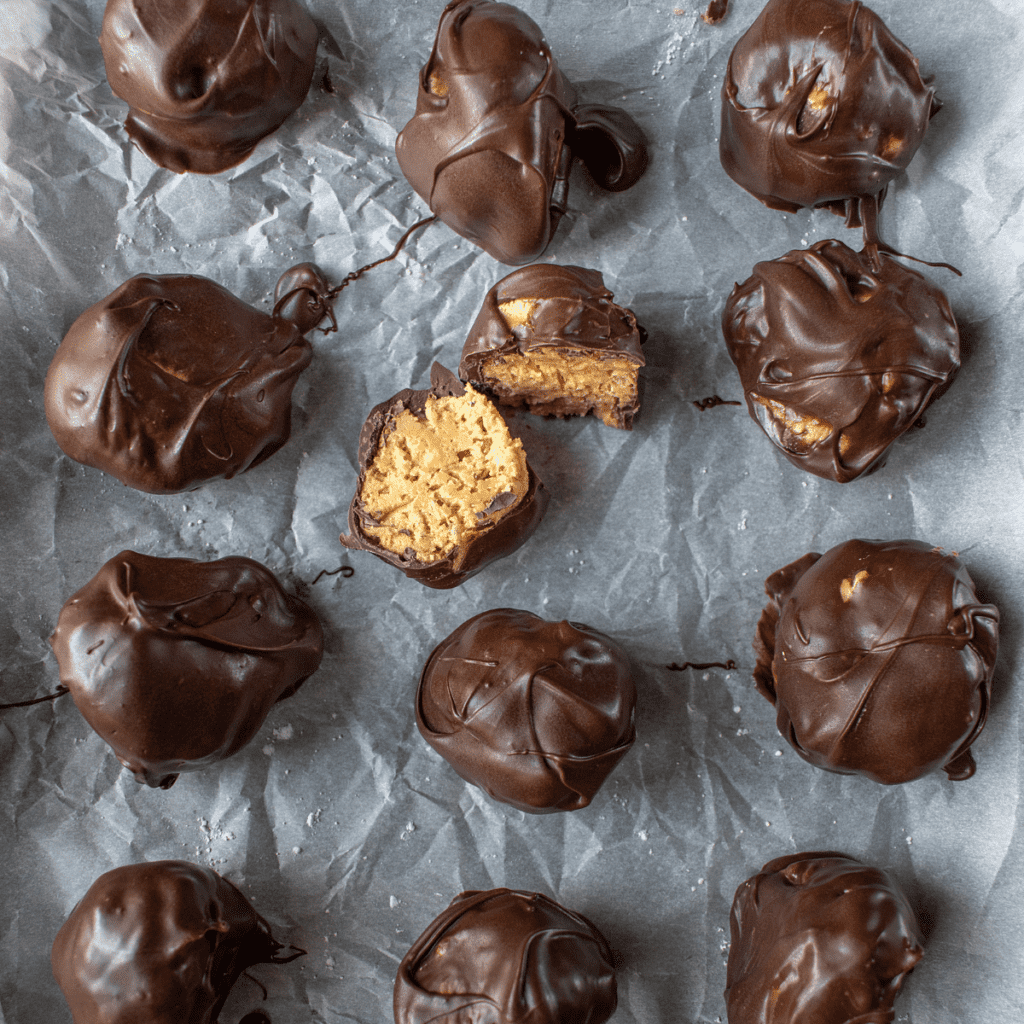 Before Christmas, I found this chocolate peanut butter balls recipe in my Family Fun magazine. I have never been able to make chocolate covered peanut butter anything come out quite right, so I tried the recipe with skepticism.
I didn't mess them up, and they were gone in about a day. These chocolate peanut butter balls are creamy, diet-grieving, bites of heaven. You can't eat just one.
Especially now, in the season of chocolate peanut butter Easter eggs, I am longing for some chocolate peanut butter goodness. Actually, now that I write that, I think I stashed a Reese's egg in the back of the entertainment center.
But I am going to make these again too, because they're even better than the Reese's. No kidding.
How to make chocolate peanut butter balls
In a medium bowl, combine the peanut butter and softened butter with a wooden spoon until well blended. Add the powdered sugar and stir until the mixture has the consistency of sticky play dough.
Use a double boiler to melt the chocolate chips with the shortening, stirring frequently. If you're using two different types of chocolate (such as milk and dark or milk and white), melt them in separate batches. White chocolate doesn't contain cocoa butter, so it will require extra shortening. You will need 2 tablespoons of shortening for semi-sweet chocolate chips and 3 tablespoons for white chocolate.
While the chocolate melts, roll the peanut butter mixture into 1-inch balls and set them on a baking sheet lined with wax paper. (Reader tip: If the dough is too sticky, add more confectioners' sugar and/or wet your hands with warm water to prevent sticking.)

Brilliant - Put the baking sheet in the freezer until the peanut butter balls are solid enough to pick up with a toothpick, about 5 to 10 minutes. Why have I never thought of this?
Insert a toothpick into each peanut butter ball, then dip it into the melted chocolate. Set the chocolate-coated balls on a baking sheet lined with waxed paper. Remove the toothpicks. Immediately place a chocolate or peanut butter chip or a piece of a peanut over each toothpick hole. Cool the peanut butter balls in the refrigerator until the chocolate has hardened, about 5 minutes.

Reader Tip: Use leftover melted chocolate to coat pretzels, or pour it into candy molds and add chopped nuts or dried fruit.
Ingredient substitutions
Chocolate chips - I like to use semi sweet chocolate chips, but you could also try milk chocolate or white chocolate for a different flavor. Or, try a combination of several. I don't mean mix them together, but rather try making one batch of peanut butter balls and splitting it into several different coatings.
Peanut butter - I like to use smooth peanut butter, but you could try crunchy for a different take on this fun recipe!
Toppings - The recipe calls for crushed peanuts to sprinkle on top of the finished peanut butter balls, but you could also use sprinkles or even specialty sugar glittery for a different look. Just think how impressive that star shaped glitter would look!
You can freeze this candy!
This recipe makes a lot of balls, so you may want to think about freezing some. You can freeze these for up to 3 months. Just make sure to store them in an airtight, freezer-safe container. I would suggest putting them in the freezer on the parchment paper on a cookie sheet until they're totally frozen. Once they're set, you can remove and place into a container or baggie. I usually double layer my baggies to make sure they stay as fresh as possible in the freezer. Once you're ready to eat more, just remove and allow to thaw in the fridge or on the counter until you're ready to eat.
You'll want to check out these other delicious desserts while you're here
Recipe