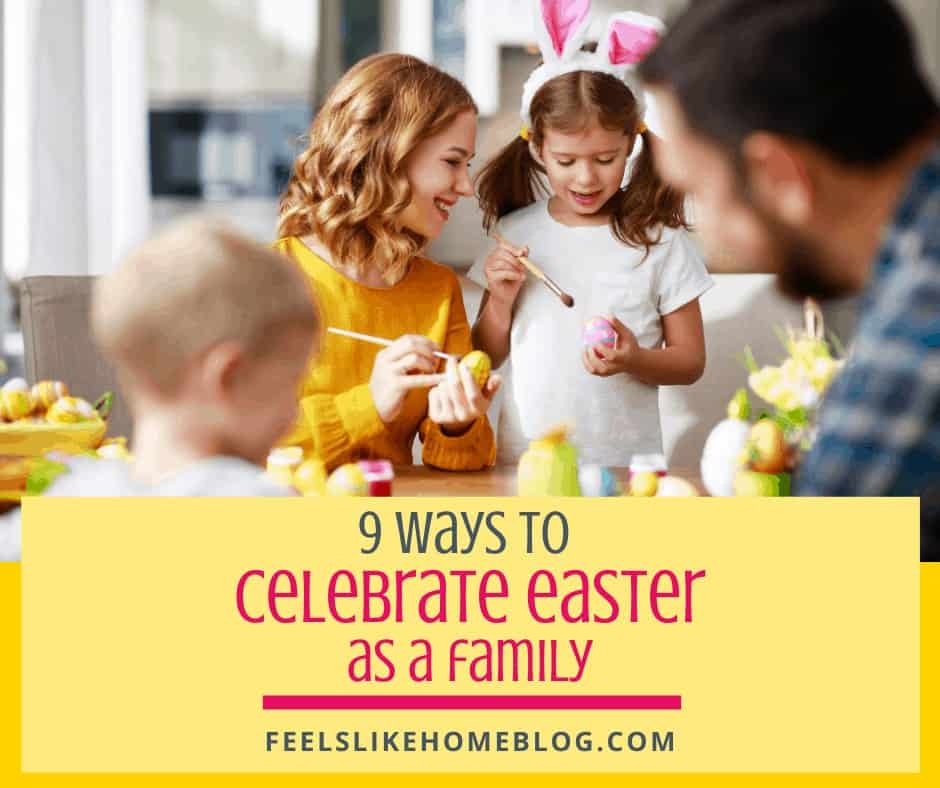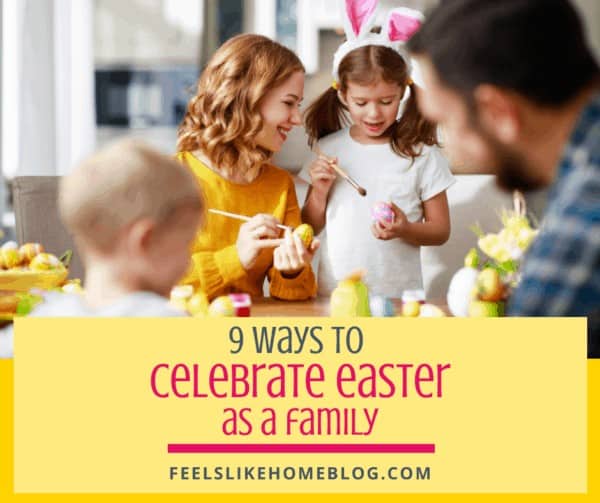 Pin
These fun activities will give you great ideas for celebrating Easter with your family. Some Christian and some non-religious ideas, good for everyone!
Holidays are a big deal at my house. We do all of 'em in a big way.
Easter is no exception. We have Easter egg hunts and make Easter crafts and color Easter pictures, and we read Easter books. And then, on Easter morning, the kids hunt for big Easter baskets full of treats.
We also talk about Jesus.
Well, we talk about Jesus every day, but especially during the Easter season. He's kind of a big deal, you know?
9 Ways to Celebrate Easter as a Family
Tell the Easter story using Resurrection eggs - Resurrection eggs are a set of 12 plastic eggs, each containing a trinket that reminds children of one part of the Passion.
Read Easter stories - When my kids were littler, one of our favorite Easter books was the Precious Moments: My Easter Bible Storybook. It features the sweet children you remember with prayers, Bible verses, and stories about Easter. Another we really love is The Parable of the Lily. In it, a secret giver gifts a little girl an ugly, dead-looking flower bulb as a surprise gift. She doesn't appreciate the gift, and then it turns into a beautiful lily and she sees that is was a precious gift all along.
Make an Easter egg craft - One of our favorite craft mediums is the lowly button. We used to buy them in bulk at a local craft store, and we have pounds and pounds of them lying around. They're so much fun!
Make Easter mobiles - Jesus is called the Lamb of God. My kids really enjoyed making these Lamb of God mobiles that we hung over our dining room table.
Paint Easter pictures - The simple cross is easy to paint. Even the littlest painters can make resist paintings using a cross shape.
Hold a Passover dinner - My family observes Passover on Maundy Thursday, the Thursday night before Easter. (We do it on this day because that's when Jesus observed it.) Our Passover dinner is my favorite meal of the entire year, even better than Thanksgiving or Christmas. It's meaningful and prayerful and lovely.
Color eggs - I don't have a link for this one because it is so simple. Get a cheap egg dye kit and spend a few hours coloring hard cooked eggs. It's so much fun to do, and your kids will have a blast! Don't forget to put down some newspapers to soak up all those drips and spills that will inevitably happen.
Hunt for eggs - Again, no link. But this one is super easy, too. Get some plastic Easter eggs and hide them all over your yard. Or, if the weather is bad, hide them in your house. My kids look forward to Easter egg hunts all year, and we end up re-hiding eggs at least a half dozen times every year.
There's still time to observe Lent. Check out my post on 16 ways to observe Lent for all Christian kids and even more Lent ideas in What Is Lent and Should We Observe It?
Of course, whatever you do, make sure you - and your kids - enjoy it! Holidays are about worshipping God and spending quality time with your family. I can't wait to hear how you celebrate!