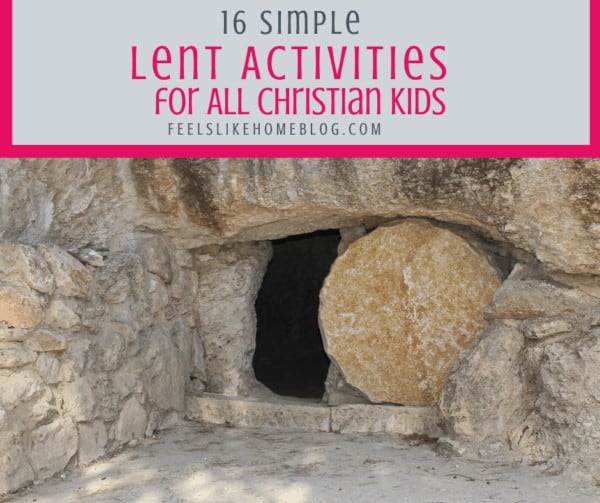 These simple Lent activities are perfect for Catholic, Methodist, and Lutheran kids but really great for any Christians. They learn about the death & resurrection of Jesus Christ in through these easy, fun ideas.
I have often written through the years about Advent. It is the season of waiting immediately before Christmas, a joyful and expectant time when Christians prepare for the birth of Christ. Lent is a similar time of waiting immediately before Easter, but it is a solemn and expectant time as we remember the sacrifice Jesus made in giving his life for all humanity.
Lent is observed as the six weeks before Good Friday. It is preceded by Mardi Gras or Fat Tuesday, the day on which observes eat the last of their fatty, rich foods so that they don't go to waste during the fasting season of Lent. The first official day of Lent is Ash Wednesday (today!), then there are 40 days of fasting and 6 celebration days (Sundays). The timing reflects the 40 days Jesus spent in the desert, hungry and tempted by Satan.
I have often heard my Catholic friends talk about observing Lent, but I have not often heard my friends of other Christian flavors talk about observing it.
The beautiful thing about Jesus is that we can all remember his sacrifice, whether or not we strictly observe a particular denomination's traditions.
Any family can talk about Jesus' sacrifice and celebrate his resurrection, no matter what they choose to eat on Fridays or whether they fast during Lent. It doesn't have to be an all or nothing proposition.
With that in mind, I want to start observing Lent with my kids. I want to talk about Jesus more. We will still have Easter baskets and Easter egg hunts and the Easter bunny, but I want them to know that this whole Easter deal is to celebrate our risen savior who conquered death.
16 Simple Lent Activities for All Christian Kids
Learn to pray. Let's be honest. Most Christians do not have an active prayer life, and those that do often neglect to let their kids see and hear them pray. (I'm not saying that's you, friend, but it is me, and I know that there are many others like me!) If you aren't sure that your kids know how to pray, try out my 40 prayers in 40 days cards. Just right for Lent, each card will prompt your kids to pray for a certain thing or person - and they will learn how to talk to God along the way.
Give up something as a family. Jesus fasted for 40 days. That is a very long time! It would be meaningful to teach your children about fasting by giving up something for the entire Lenten season or on Fridays during Lent. It could be giving up desserts, not going out to eat, or drinking only water. The key is that it has to be something you enjoy and want to do/eat/have. If you hate brussels sprouts and decide to give them up during Lent, you may need to reevaluate.
40 bags in 40 days. Instead of or in addition to giving up something for Lent, you could purge a bag's worth of stuff every day during Lent. You choose the size of the bag, and you should definitely make it a family affair. (Unless, of course, you are purging toys or something, and then maybe you don't want to get the kids involved. ha!) Just think of how clean your home will be by Easter!
Build a Lenten Cross. Similar to an Advent wreath, you light one or more candles each night during dinner for the entire Lenten season. I want to get this going with my family this year.
Observe Passover with a Christian Passover Dinner.
Read Easter books. Some of our favorites are The Parable of the Lily and The Jesus Calling Bible Storybook. One Spring Lamb is really precious for littler kids.
Read the Bible together every day. I think this is a given, but it's worth mentioning. You need to be reading the Bible with your kids every day, and this would be a great opportunity to focus on the ministry of Jesus.
Make a Lamb of God craft. We made these mobiles last year as a way to talk about and remember that Jesus was the lamb of the sacrifice.
Study A Sense of the Resurrection. These sensory-based activities lead your kids through the crucifixion and resurrection. It is so meaningful for kids and adults alike. Definitely check it out.
Make and study as set of Resurrection Eggs. I just love these eggs. They are a set of 12 plastic Easter eggs, each containing a trinket related to the Easter story. Using the eggs, children can tell the whole story of the crucifixion and resurrection. We have used them for a lot of years now.
Make a prayer chain. Write a person or situation on each of 40 strips of paper. Assemble them into a paper chain. Remove one link per day, and pray for that thing with your kids.
Serve 40 ways in 40 days. Check out my post on 60 Acts of Kindness for kids.
Make empty tomb crafts. Here are some really cool ones: made from dough, made from paper, made from paper plates, and a really elaborate (and super cool) one you'd have to start 1-2 weeks before Easter.
Grow something. Make sure you get The Parable of the Lily which is a wonderful explanation of how something wonderful can grow from something dead and ugly. There are lots of spring bulbs and seeds in stores already, so you should be able to get some inexpensively.
Write a thank you note to your pastor. Help your kids to thank him or her for teaching them about Jesus's death and resurrection.
Bake pretzels. Pretzels were first baked during Lent because they can be made with only water, flour, and salt. The shape came from a posture of prayer, with arms crossed and hands on opposite shoulders. A monk made dough into this criss-crossed shape, and the pretzel was born! You can get a simple recipe for homemade pretzels at Catholic Icing.
No matter how you choose to observe Lent with your kids, the key is that you actually do it. Talk to your kids about Jesus, about His sacrifice, about their Savior. Start today.
If you're looking for even more simple Lent activities, check out this new post on Lent and Lent activities.