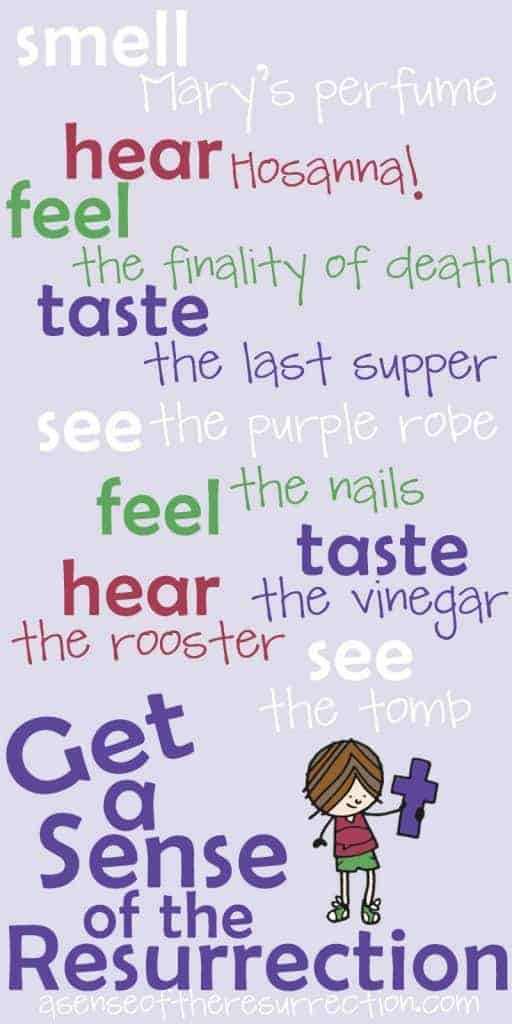 Pin
A Sense of the Resurrection is a hands-on sensory experience for children to experience the Easter story in a whole new way. A Christian resource perfect for Sunday School, homeschool, or home use.
We love holidays at my house. Holidays are magical when you're little, and I want my kids to be little for as long as possible (even though they're quickly getting quite big!).
During Advent, we focus on Jesus for the whole month before Christmas. We study his lineage through our Jesse Tree devotionals, and we talk about our excitement for His coming. We celebrate His birthday, and then Santa comes and brings lots of presents.
I don't think it's confusing for my kids. They understand that Jesus is why we celebrate but there's more to the celebration that simply sitting around and thinking about Him. It is, after all, a celebration.
With presents.
So, with the same attitude, we celebrate Easter.
During Lent, we talk about Jesus for the whole 40 days before Easter. We "fast" (not eating meat on Fridays is as far as our fast has gotten so far, but this year, we'll give up something significant as a family), and we learn about Jesus and the story of His last days through our Resurrection Eggs. Then on Easter Sunday, we hide Easter baskets and send the girls on a scavenger hunt to find them.
For five years now, we've also added an extra piece - A Sense of the Resurrection.
Easter Activities for Christian Kids
A Sense of the Resurrection was created by Amanda White, the genius kids' pastor who brought us The Truth in the Tinsel. She has a real gift for bringing these huge, life-giving concepts in the Bible down to the level of small children. She makes them real, tangible, and accessible for their little concrete brains.
And so it is with A Sense of the Resurrection. I wanted to share some screenshots from the book, so I chose a part of the Easter story that we would all know - the feet washing.
The night before Jesus was arrested and crucified, he met with his disciples for The Last Supper. He knelt before each man and washed his feet, drying them with a towel wrapped around his waist. (Read more about this in John 13.)
My church has a foot washing ceremony on Maundy Thursday, but I've never been brave enough to bring my kids. The activity in A Sense of the Resurrection is a way to do just that, allowing your kids to see, smell, and feel the act of washing feet as the servant King did.
In A Sense of the Resurrection, Amanda provides a Bible reading for each activity. She explains the activity itself, including any needed supplies. Then she provides questions and talking points to bring the fun activity back to Jesus and the story of His death and resurrection. As you can see in the screenshot below, some of the questions are things like:
Was it funny to have someone wash your feet?

What did it feel like to wash someone else's feet?

What do you think it was like when Jesus washed the disciples' feet?
Amanda doesn't mention this, but Jesus and the disciples lived in the desert. They wore sandals. Their feet were probably dusty and dirty (though maybe not as smelly as my kids' sneakers). It adds something else to think about.
The other talking points for this foot washing activity are:
Jesus was really being nice to [the disciples], wasn't He? He was showing them how to love and serve other people. Jesus shows us how to be a servant and how to love others by dying on the cross for us. He is God, but He is also a servant!
Finally, each activity has extensions that can wrap up the learning and fun. For this foot washing, she says to color the printable flag (see below) with watercolors and feel the water with your fingers before painting.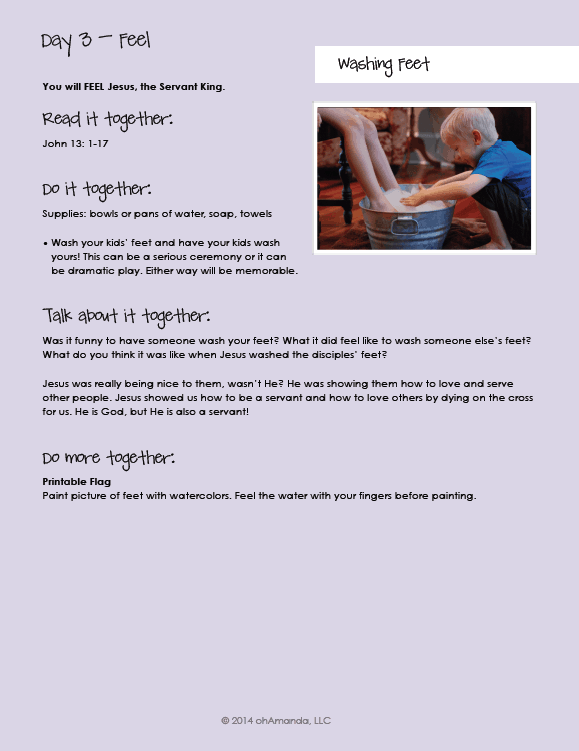 Pin
Every activity in A Sense of the Resurrection has a flag to go with it; after you do the day's activity, your kids can color the day's flag. The flags are a nice wrap-up activity; they give the kids time to think about and process the activity while doing something completely normal - coloring.
All the printable flags are included with the book.
Pin
At the end of the book, Amanda even includes instructions for different ways to put your printable flag banner together.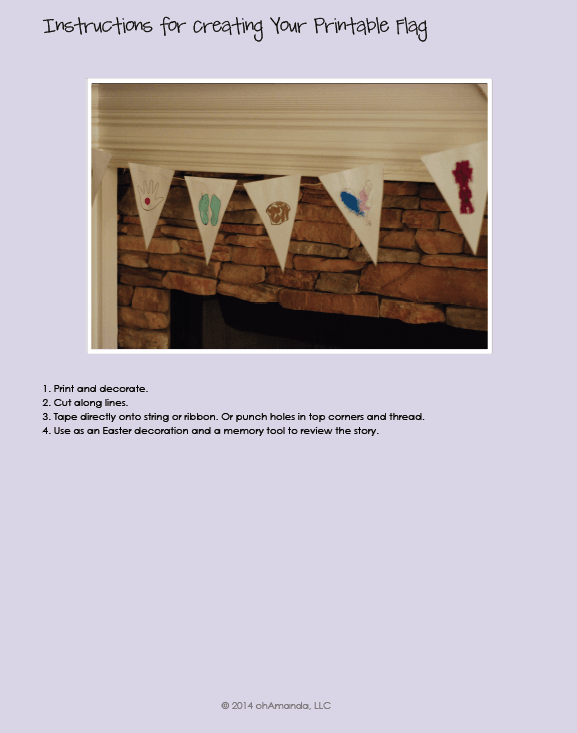 Pin
If you liked the Truth in the Tinsel, you will love A Sense of the Resurrection.
If you are looking for a way to teach your kids about the Easter story in a non-traumatic and scary way, you will love A Sense of the Resurrection.
If you want to bring your children closer to the living King who humbled Himself as a human being and then died for all of us, you need A Sense of the Resurrection.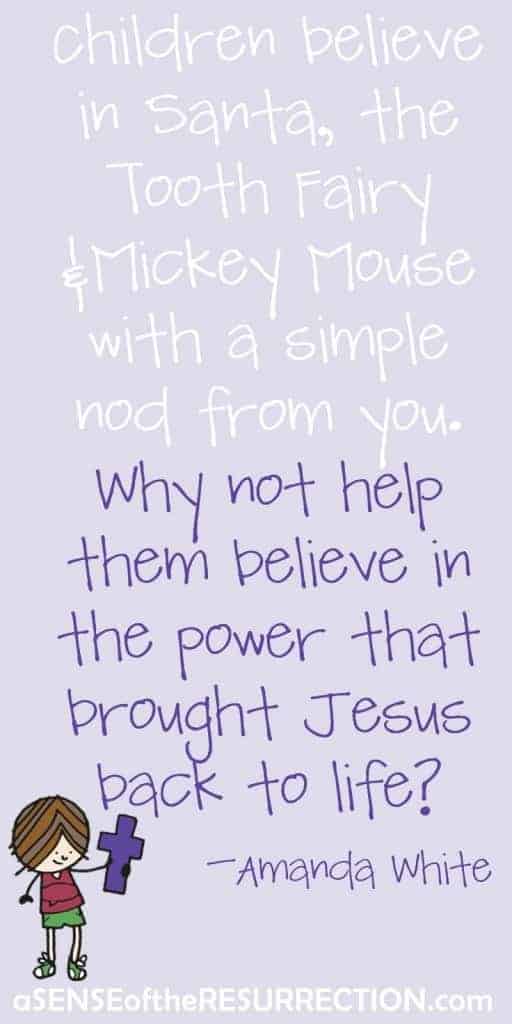 Pin
I received a free copy of A Sense of the Resurrection to review, and this post contains affiliate links.