80 Awesome & unique Christmas gift ideas for teen girls - These fun ideas are sure to please the teens in your life! There is something on this list for everyone for the holidays or even for birthdays!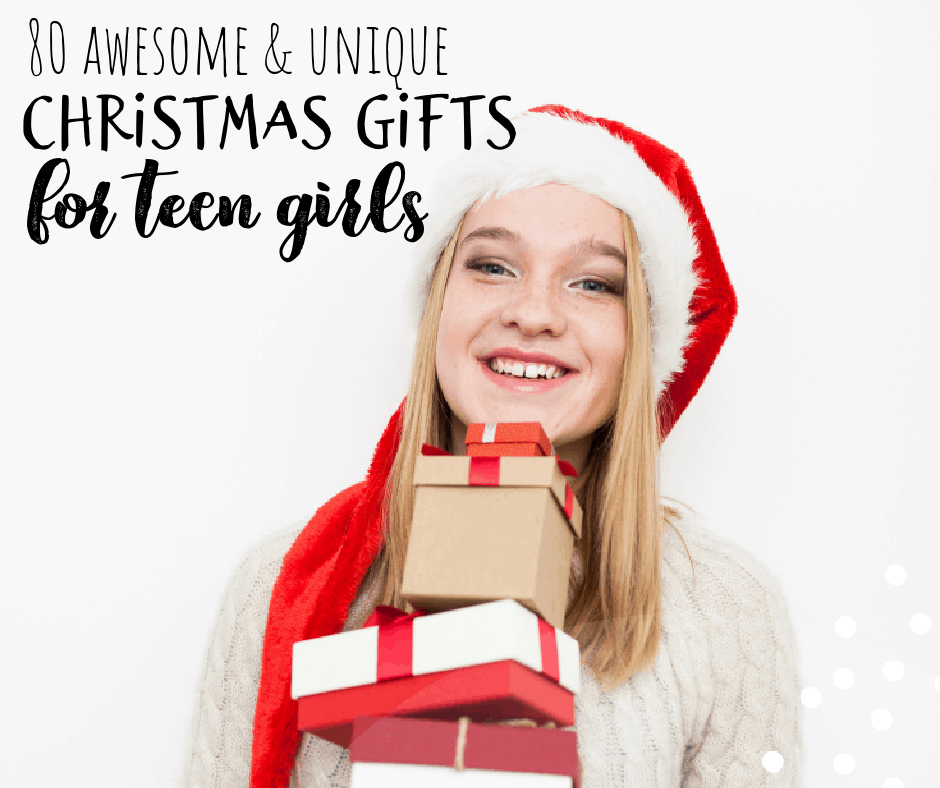 I think teen girls are hard to buy gifts for, and Christmas is no different from the rest of the year. They aren't into toys anymore. On the other hand, they aren't really grown up and still want lots of presents under the tree. It's a tough place to be, both for the girl and for the gift giver.
So I got together with my 16-year-old daughter and made up a list of all the things she wants and then added to it based on some things she didn't say but I know will love. (The list she came up with was very short, and I know she would want more than that.)
Note: While I do go overboard on presents for Christmas, my daughter is not getting all these things this year.
Also note: While most of the links below are affiliate links where I get a commission when you make a purchase (at no cost to you), I spent my own money to buy a sample of almost everything listed. I am only recommending them because I believe they are truly great gifts for the teen girls in your life.
There are tons more ideas in many different categories (books, games, toys, fidgets, etc.) in my Amazon shop. Hop over there too!
Visit the Christmas gift guide for families for hundreds more gift ideas!
PinPin
Art supplies - In addition to the SketchBox above, Grace is getting some big time art supplies that she asked for. One of the items is a large set of Ohuhu markers which are apparently alcohol-based markers similar to Copic but cheaper. She didn't ask for but is also getting a large set of glitter gel pens. I looked on Amazon to find the highest rated set, and it was relatively inexpensive which was a nice bonus. I picked up a really neat set of watercolors (and got one for myself too). Finally, I got her an assortment of sketch books as she usually only uses the ones that I can get at Walmart for under $5, and I thought she might appreciate some nicer, artist-quality ones.
Pin
So that's it. My teen is getting a lot of things that are on this list, as well as a few things I thought might be specific just to her. Comment below and let me know what you're buying for your tween girl this Christmas!