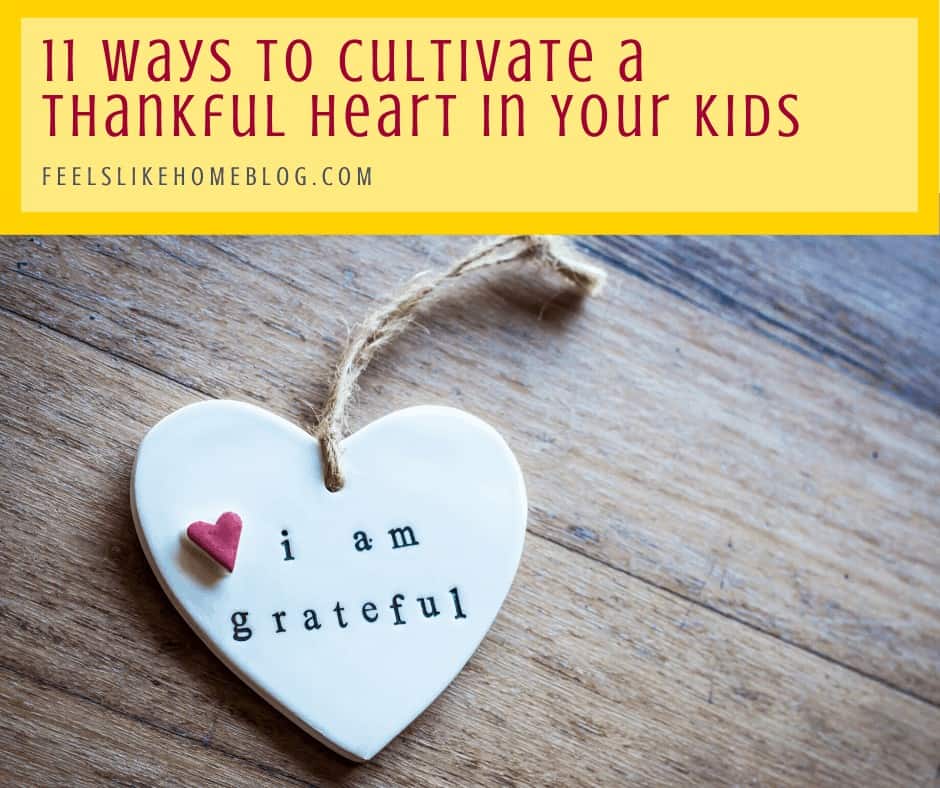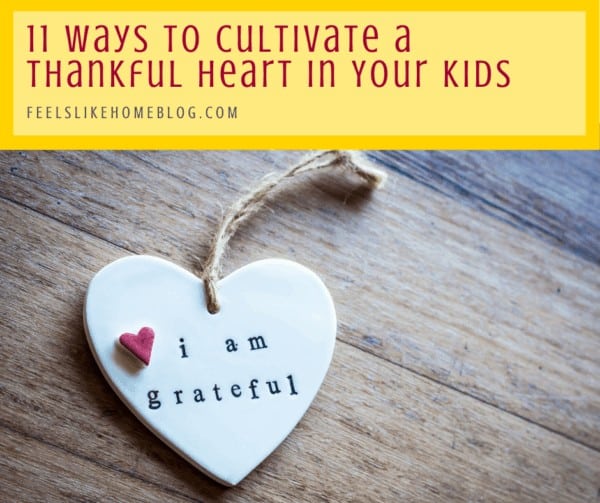 Pin
It can be incredibly difficult to cultivate gratitude in our own hearts during the holiday season, so there's pretty much no hope for developing thankfulness in our kids' hearts, right?
Wrong.
I am preoccupied with gift giving at this time of year. I start in September or early October, and I put together an epic Christmas gift spread for my kids, and they have come to expect it. I enjoy choosing and buying presents. I enjoy wrapping presents. My kids know it and enjoy it.
But still, we spend a lot of time, especially during Advent, talking about Jesus and why we celebrate Christmas. We spend evenings reading the Bible and talking about the story that ends with the birth of our Savior. We spend a lot of time thinking about other people and their needs and how we can help.
A GRATEFUL HEART BIBLE STUDY
What does an active practice of gratitude look like, you may be wondering. Well, it can start with a Bible study like A Grateful Heart. It's a 2-week study that I wrote to guide you through some of the most important gratitude verses in the Bible. It's an easy and no pressure way to learn how to study scripture effectively.
11 Ways to Cultivate a Thankful Heart in Your Children
Set a good example. Are you grateful? Do you say please and thank you to your children and your husband, day in and day out? It's easy, I think, to be thankful for grand gestures, but our kids are watching 24/7 (unless you have a tween or teen, and then they're only watching about 6/4. I kid, but not really). At any rate, your kids, especially the little ones, are watching what you say and do and how you treat people. If you show gratitude in all your interactions, they will show gratitude in theirs.
I don't say this to brag (because believe me, I do PLENTY wrong), but both of my kids have, since they started talking, thanked waitresses and store clerks because it's what we do. We thank the people who serve us, even when they don't give us the best service. Model thankfulness for your kids, and they will demonstrate it even when you're not there.
Prepare a Jesse Tree for Advent, which we will start the day before Thanksgiving. The Jesse Tree is all about the story of the Bible, from Creation to the birth of the Savior. Some people say it's the lineage of Jesus, and it is for the most part, but more than that, it's a love story between God and His people. My Jesse tree devotional is my favorite part of the whole holiday season because it includes a Bible reading, devotional, and song geared for preschool and elementary school kids. Teaching kids about how God loves them and how He sent His Son to earth for us cultivates the spirit of giving without much additional conversation.
Buy gifts for a giving tree. Just this week, we pulled two ornaments from the giving tree in our church lobby, and we made plans to go buy the gifts that were requested. We talked about giving trees, and the girls told me that they don't remember any that we've done before which was a big surprise to me. We have done them almost every year since Grace was a toddler, and they were usually toy gifts. When we started, it was a big deal to both of them that they had to pick out a toy and deliver it to a drop off location - and not get a toy for themselves. This led to difficult but important conversations about how we can do nice things for people who don't have the resources that we have.
Side note - Allie figured out the real deal about Santa two years ago and has been rather militant where he is concerned in the years since. She won't go to breakfast with Santa. She won't consent to have her picture taken with him. She won't even look at the jolly old elf when we see him in public. But when I explained that we can be Santa for someone in a women's shelter by buying the gift that she wants, Allie lit up. "I can BE Santa?" she asked with wide eyes. I explained that she could and, even though he isn't a physical person, we can be Santa any time we do something that brings Christmas cheer to another person. I think it made a big impression.
Model giving service. This goes along with buying gifts for the giving tree, but giving service doesn't have to cost you anything. Hold the door. Shovel a neighbor's driveway. Look in on an elderly neighbor. Try a random act of kindness from this list, and make sure your kids see you. Actually, it would be even better if you involve your kids from beginning to end of the act of kindness. The great thing about my random acts of kindness cards is that they are all things your kids can do by themselves - but you can (and should?) get involved and do them too. It's all about modeling. Your kids won't be nice to others if they see you being snarky and mean, but they will be nice if they see you being nice.
Another thing you can do in this same vein is to involve your kids in community service. They can help clean up trash on the highway. They can deliver meals on wheels. They can sing Christmas carols at a nursing home.
And one more thing which might make me unpopular, but I'm going to risk it. I don't think you should post on social media when you do community service. I don't think you should post a photo of you and your kids at the homeless shelter that says "Serving food to the homeless!" and giving a thumbs up. I feel like that is missing the point of the service - to do good without being recognized. Model for your kids that you serve without calling attention to yourselves.
Make a gratitude list or jar. We created a family gratitude jar a couple of years ago, and we still add to it. The idea is that you can write out something that you're thankful for every day, fold up the little slips of paper, and stick them into a jar. When you've got a bunch, you can pull them out and see what you were appreciating in the weeks and months before. Another thing we've done in the past was to make a gratitude poster. I don't have it anymore, but I kept that poster on the wall for probably a year after its creation.
Watch the movie Inside Out and talk about it. While I was writing this blog post, Allie was avoiding going to bed and watching the movie Inside Out. It led us to a great conversation about how we can influence the feelings of other people and being kind to them makes them feel good. Empathy is the first step in gratitude because it helps you to think about other people.
Have a no spend week. If you go without all the little conveniences that you typically purchase, your kids will complain, but they may - with lots of help and conversations - see that all those little things are blessings and not necessities. My kids really like to go through the drive thru. In fact, one of them (who shall remain nameless) often "forgets" to eat at home and then suddenly becomes starving as soon as we leave our driveway. We are currently in the middle of a no spend adventure, and she knows about it. She still asks every time we go out, but it's easier for me to say, "(child), you know we are not spending any money right now. You're going to have to wait to eat until we get home." I'm hoping that, when our no spend period is over and we (maybe) go back to driving thru, that she will appreciate that it's not a right to get fast food but rather an infrequent treat for which she needs to be thankful.
Go without. This goes along with having a no spend week, but I think going without makes a big impression on kids. Here's a perfect example: Our house has central air, and it was here when I moved into it in 2001. It is warm (but not hot) in the winter and cool in the summer. It's all they have ever known. Old Grandma (my 92-year-old grandmother) on the other hand lives in an old 1860's farm house that not only doesn't have central air, its only heat source is a coal furnace. When we visit in the winter, it is blazing hot in the evenings because Grandma gets the fire really going. I am frequently peeling off clothing because I'm drowning in sweat. But then in the mornings, it is very, very cold because the first is mostly out. Socks, slippers, long pants, and a sweater are all very necessary in the mornings. And in the summer, it is HOT. Old Grandma is used to the heat and doesn't even own a box fan to get the air moving, but we are not and lie around in puddles. Visiting Old Grandma is an exercise in going without the everyday luxuries that my kids take for granted. I love visiting her for many reasons, but inspiring gratitude is one among them.
Sponsor a child. We sponsor two children through Compassion International. Each of my girls chose their sponsored child, Allie because they share a birthdate and Grace because they have the same general age and interests. We learned about our sponsored children and their hometowns and countries. We have watched videos showing how the children live and what they have and don't have. It helps my kids to appreciate what they have when they see what others don't have. (Just a note about sponsoring - we have been through many different sponsored children as their families have moved away and other things have taken them out of the Compassion project, but we still get frequent letters from the children we've chosen, and we send letters as well, and we always choose a new child when we lose one. There are always lots of children waiting.)
Write thank you notes. When I was a little girl, my mom made my sister and me write thank you notes every year, for every gift we received. I even remember getting note paper and stamps for Christmas when I was about ten, specifically for the purpose of writing my thank you notes. I think the art of the thank you note is being slowly lost by children today, but they are no less important now than in the past. Help your children to write thank you notes anytime they receive a gift. The gift giver will be touched that you remembered her, and your kids will be better for having written the notes.
Teach them to write in a gratitude journal. I created a very simple little gratitude journal for kids (or anyone, really). It features 3 questions to be answered every day:

Today, I feel lucky because...
I will make tomorrow great by...
I can make the world a better place. Here's How I did it today...

This little printable has a cover and enough pages for a whole month. You can print it (I recommend double-sided to save paper.), staple the pages, and go to town. You could print one for each member of your family and fill them out after dinner at night or after breakfast in the morning.

Being thankful shouldn't just happen one week a year; it should be an attitude that pervades all the weeks of your year. When it does, you will see thankfulness and gratitude in your children as well.
It's not an easy process, and it won't happen overnight, but it is possible.
And even as you think you've done a good job and that your kids are thankful and patient (will that ever happen for any of us, sweet Jesus?), Frozen 2 will come out and your lovely youngest child will throw a huge tantrum because your family fun budget is spent and she will have to wait a week to see it. The horrors.