These adorable watermelon cupcakes are the perfect summer dessert! You will taste watermelon flavor in every bite of these moist, delicious cupcakes. With pink watermelon-flavored frosting and mini chocolate chips on the top to represent the watermelon seeds, these super cute cupcakes make the perfect dessert for any summer gathering you attend.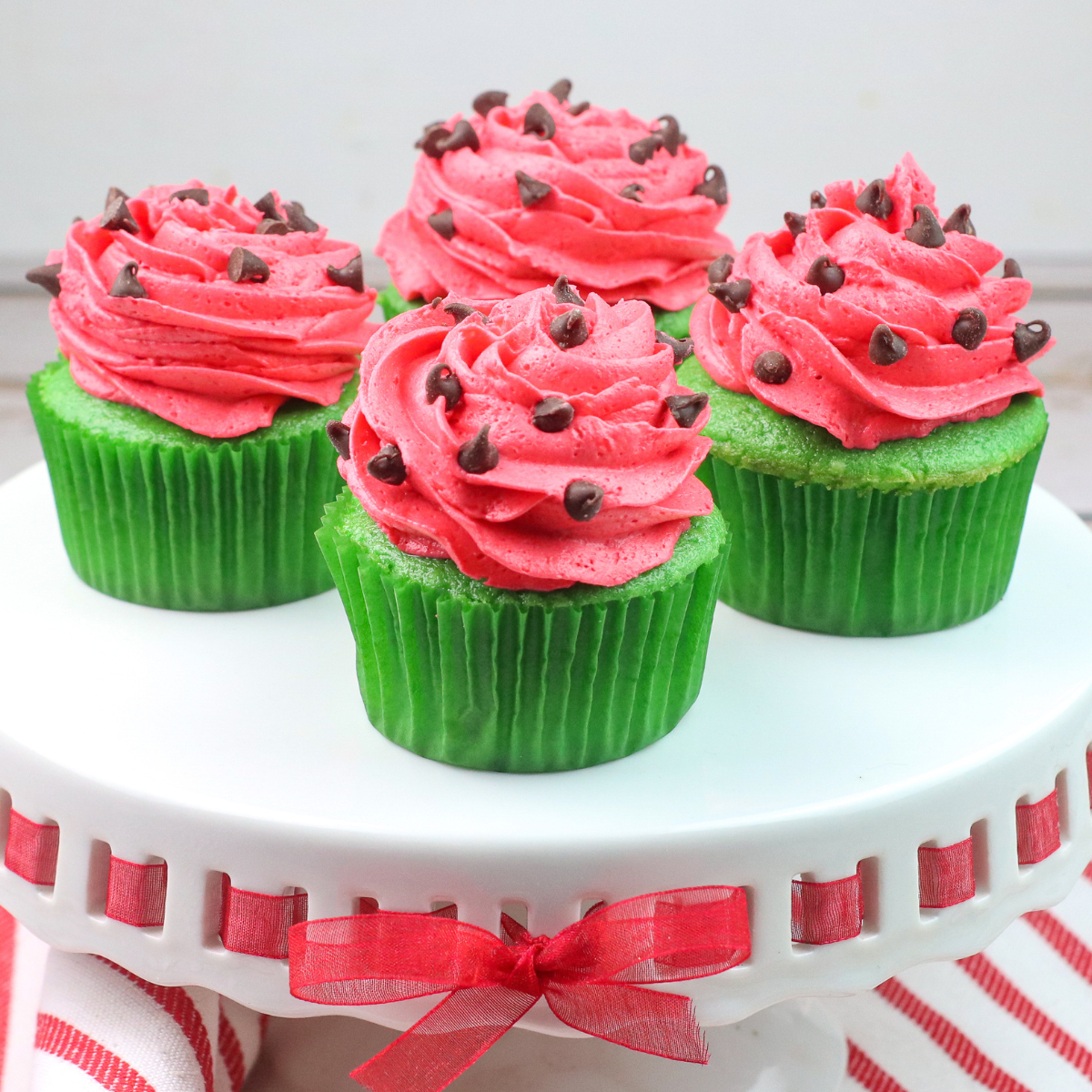 When a new family moved in at the end of our street, and my kids noticed that they had kids, they asked me to come up with a ploy to introduce them. My first thought: cupcakes!
Watermelon is synonymous to summer for me, and I was pretty sure that a couple of late elementary aged kids would go crazy for watermelon cupcakes. I had a white cake mix and some watermelon Jello, and these beauties were born.
These cupcakes are ridiculously easy to make because they start with, as I said, a small box or watermelon Jello and a white cake mix. They come together in minutes!
What you'll need to make watermelon cupcakes
Equipment
To make these cupcakes, you'll need a mixer of some kind (either a handheld mixer or a stand mixer), a large scoop, and a muffin pan. To keep with the watermelon theme, I used dark green paper muffin liners. I made my cupcakes in a standard muffin pan, although there's no reason you couldn't make mini cupcakes or jumbo cupcakes; just use differently sized pans.
To frost the cupcakes as in the photos here, you will need a piping bag with a fancy piping tip.
Ingredients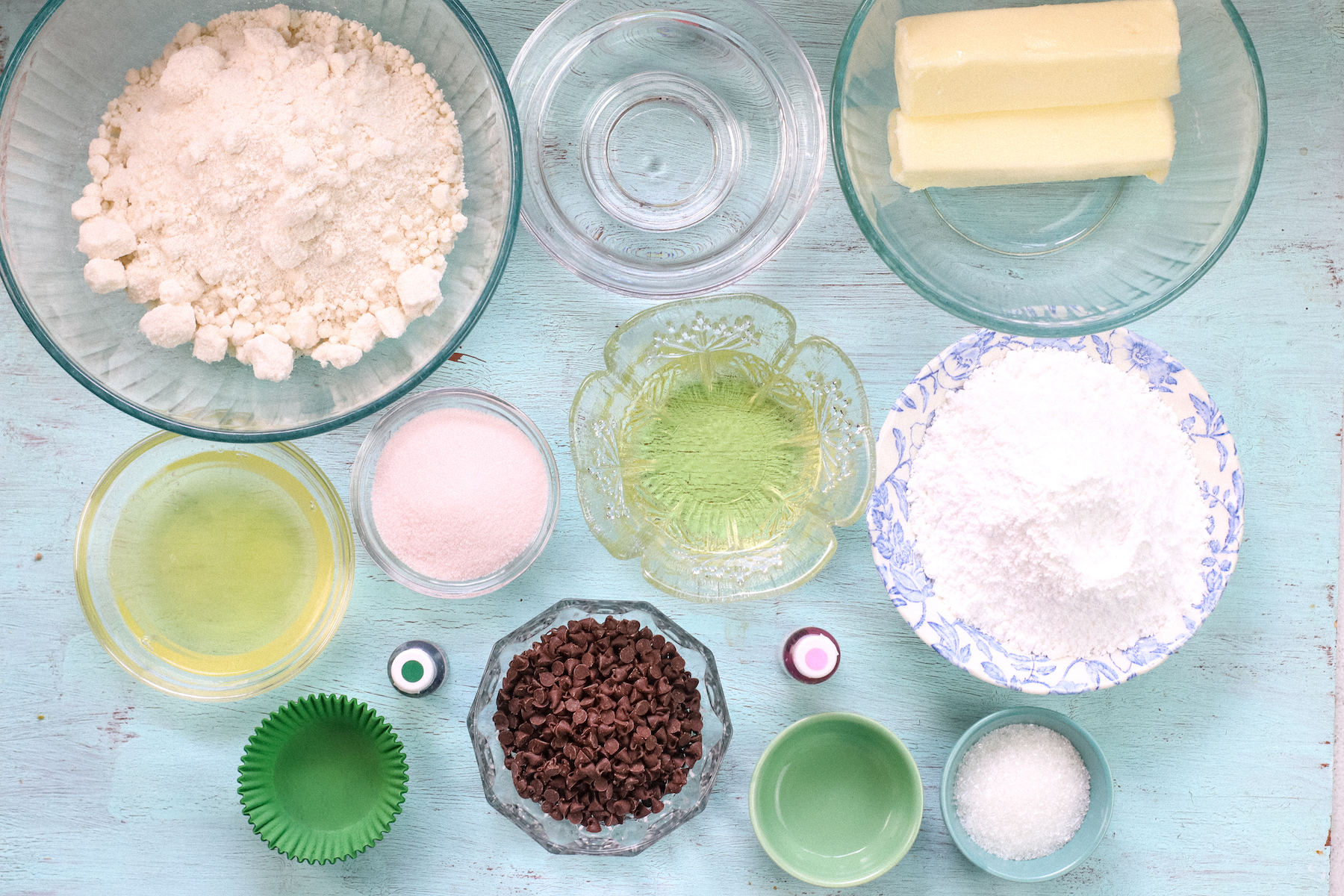 See the printable recipe card at the bottom of the page for measurements.
For the cupcakes
A white cake mix - Starting with a cake mix makes this recipe super quick and easy. You could, of course, make a white cake from scratch if you're so inclined.
Vegetable oil
Eggs
Water
Clear vanilla - Because you're going to dye these cupcakes dark green, you could probably get away with using normal vanilla. I personally prefer vanilla bean paste to vanilla extract. But since you've probably already got the clear vanilla for the watermelon frosting recipe, you might as well use it here too.
Watermelon Jello - This powder is the secret ingredient that gives the cupcakes their sweet and delicious watermelon flavor! You'll only use half of a small box of Jello which leaves the other half for the watermelon frosting recipe.
Green gel food color - I used green gel food coloring for the cupcakes and pink and red gel food coloring for the frosting because gel food coloring is more potent and requires you to use less than liquid food coloring. Additionally, the liquid food coloring will add unnecessary liquid to your cake and could leave you with an unpleasant texture.
Ingredients for decorating
1 batch watermelon buttercream frosting - Head over to the frosting post for the full recipe. It's a homemade buttercream and is super easy to make with only 3 steps and a handful of ingredients (including unsalted butter, powdered sugar, red food coloring, pink food coloring, and the other half of that box of watermelon Jello).
White sanding sugar - The frosting recipe calls for you to add sanding sugar into the frosting, but I also dusted some of the cupcakes with extra sugar to give them a sort of glittery appearance.
Mini chocolate chips - These are your watermelon seeds.
How to make watermelon cupcakes
Directions for baking the cupcakes
Preheat oven to 350ºF. Line a standard muffin tin with green paper liners.
Pour the dry cake mix into a large mixing bowl. Add the oil, egg whites, and water to the bowl and mix with a hand or stand mixer on medium speed until everything is well incorporated.

Add the vanilla and ½ package of watermelon gelatin to the cake batter. Mix until just incorporated.

Fold in the green food coloring until desired color is achieved. Again, mix until just incorporated. Don't over mix the batter.
Use a large scoop to measure the batter into the muffin tin so that each well is about ⅔ full.

Bake cupcakes for 18-20 minutes, or until a toothpick comes out clean.

Allow cupcakes to cool for 15 minutes in the cupcake pans before removing to wire racks to cool completely before frosting.
Directions for frosting the cupcakes
Prepare a piping bag and fill it with watermelon frosting. (See link above for my watermelon frosting recipe.)

Pipe frosting onto the top of each cupcake.

If you desire, sprinkle with white sanding sugar.

Then top each cupcake with a handful of mini chocolate chips.

Storing watermelon cupcakes
If you frost your cupcakes with frosting from a can (make sure you add a half packet of watermelon Jello mix for flavor!), you can store them at room temperature.
If you use my homemade buttercream recipe, you will want to store your cupcakes in an airtight container in the fridge.
Try these other delicious cupcake recipes
Recipe