How do I entertain my kids on an airplane? In this post, we'll share 65+ of the best airplane activities and games for kids of all ages!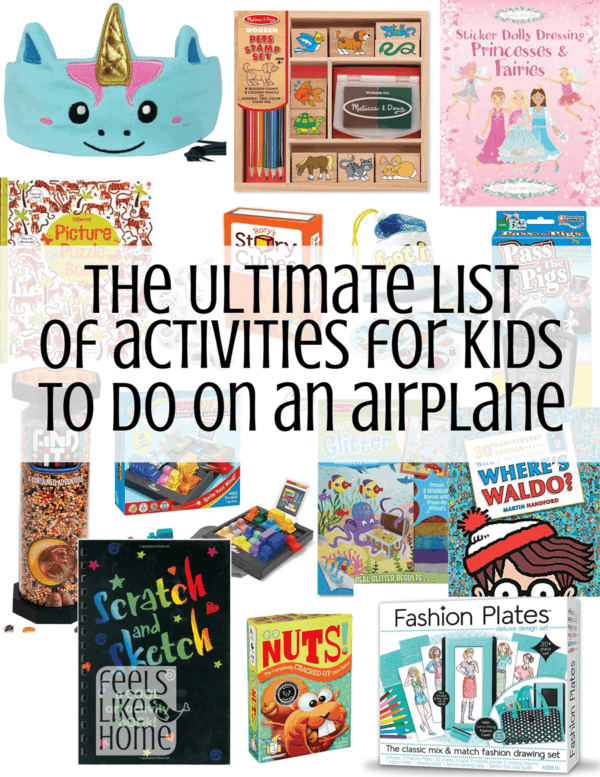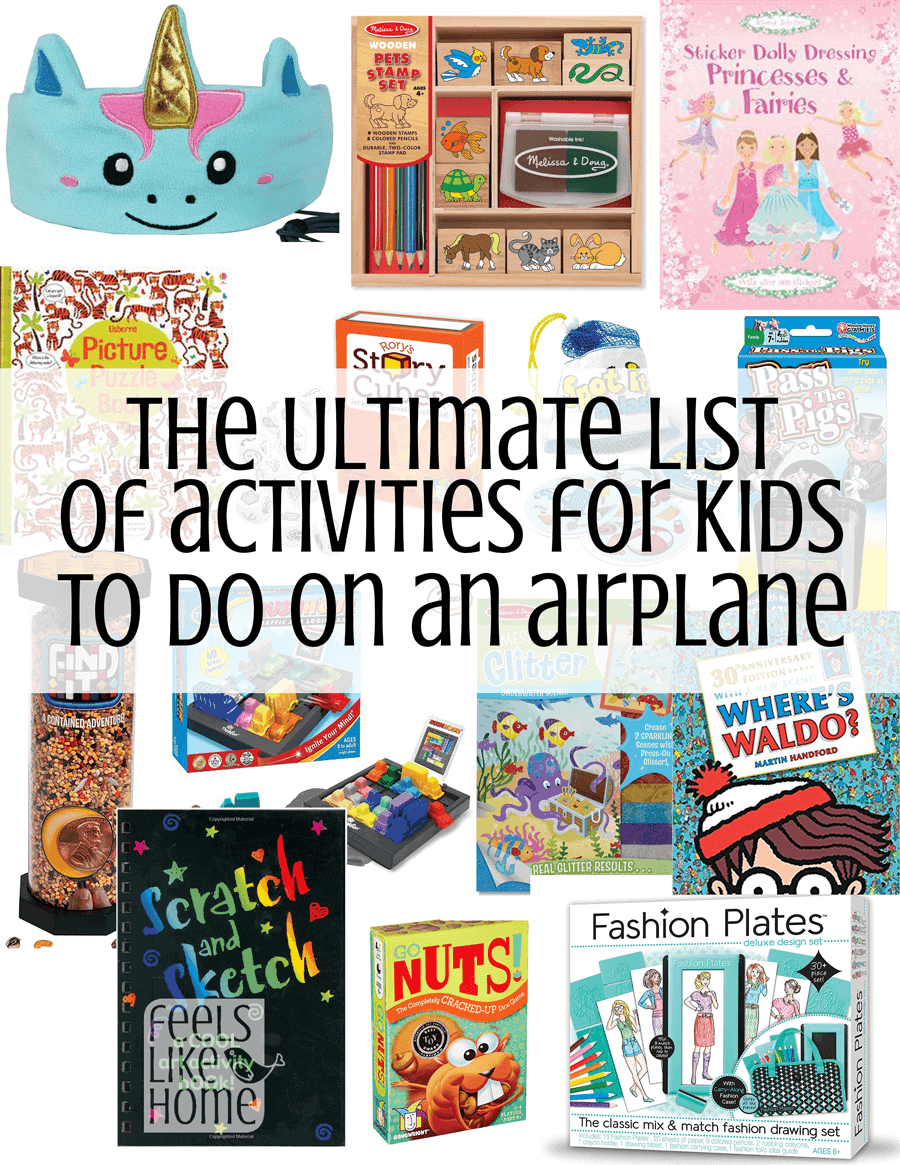 We are going on a Disney cruise in September (two years in the planning!), and we are flying to Orlando to catch the ship in Port Canaveral. This will be Grace, Allie, and Joe's first time on an airplane, and they are all quite nervous. The flight is just under 3 hours long, and I have been preparing all kinds of activities to do on the flight.
Before we get going on my airplane tips, take a look at my post on 10 tips for surviving family road trips. That one has some good ideas for being in a confined space for a long period of time, too, although some of them require more space than you will have on an airplane.
I am having to pack twice the activities for the plane because we are in a plane with 3 seats on each side of the aisle. We had to split up 2 and 2 and decided to do 2 in one row and 2 in the row behind. So we will need activities for one parent to do with each kid separately rather than all 4 of us together at once.
Kids Activities To Do on an Airplane
The first thing I purchased for the plane trip was The Artful Parent's Travel Pack. I have worked with Jean a number of times, and I love her creativity and spark for art. Both of my kids love art, so I bought this pack to put in their storage clipboards with some fun colored pencils. I'm also going to throw in this colored pencil sharpener because I love it.
Flying Rubberneckers - We have this game for car trips and LOVE it. In fact, Joe and I kept playing long after the girls lost interest. I didn't know there was a version for the airport and airplane and found it quite by accident. But I am super excited to play this with the girls in September.
Pipe cleaners - Do all kids go gaga over pipe cleaners the way mine do? I don't know, but I assure you that I am packing this set of pipe cleaners for our flight. My girls make bracelets and necklaces and animals and crowns and all kinds of crazy sculptures when they get a pack of pipe cleaners. They use them in short order which is why I chose such an enormous pack for the plane ride.
CozyPhones - We are flying JetBlue which apparently has in-flight tv with all kinds of channels as well as several kid-friendly movie choices. My kids are screen addicts, and I expect that these options will really interest them. However. If you don't bring your own headphones, you will pay a ridiculous price on the airplane for a pair. CozyPhones reached out to me to review their product, and my girls are totally in love with them. Allie ordered the unicorn design and Grace ordered the leopard. My only caveat to you is that the kids size was much too small for Allie's normal 6-year-old head, so I think it would probably be best for a toddler or preschooler. She liked the unicorn so much that I bought a piece of fleece and did a little surgery on it to make it fit her. She's now happy as a clam and wears the CozyPhones almost every day when she watches Minecraft YouTube videos while I work. The adult size fit Grace nicely. She is 10. I didn't try them on because I have an unusually large head and didn't want to stretch the headband out.
Colored paper clips - This may seem like a strange thing to bring on the airplane, but it is fun to make necklaces and bracelets out of paper clips. It may not keep your kids busy for an hour, but it is fun and passes the time. If you buy a colored set like this one, you can work with patterns and make the making even more fun.
Bubble wrap - I don't know how practical this is for an airplane, but my kids love popping bubbles on bubble wrap, and I think this is another diversion that wouldn't take up much room but would provide some entertainment during some downtime, especially if you hear the dreaded, "I'm bored with this."
Melissa & Doug stamp sets - Rubber stamps are always a hit, especially if you include the colored pencils I mentioned earlier. What I love about the Melissa & Doug sets is that they all come in a wooden storage box, they all come with a nice stamp pad, and they are all thematic. They have tons of different themes to choose from ranging from princess to cars and everything in between. We have several of these at home, and I am packing one set for each girl to play with on the plane trip.
Usborne Wipe-Clean books - Allie LOVES these wipe-clean books from Usborne. She traces letters and numbers, she does mazes and dot to dot puzzles, and she doodles. We have a ton of them being that I sell Usborne books, and we are going to have a big dilemma in choosing only a couple to pack in our carry-on luggage. Each of the books comes with a wipe-clean pen, but if you lose them, any dry erase markers will work.
Usborne sticker books - While I'm on the topic of Usborne books, let me tell you about the awesome sticker books we carry. We have search and find sticker books, sticker books where you make a scene, sticker books where you build your own car/robot/dinosaur/train/truck, sticker books where you can decorate a doll house, sticker books for toddlers and preschoolers, books of 1000 stickers, sticker mosaic books, and (my girls' favorite) sticker dolly dressing. There are tons of options in each category, and I honestly think that activity books like these sticker books are one of the things that Usborne does best.
Usborne mazes - Allie is really into mazes, and her favorite is this Big Maze Book which we are most definitely taking on the plane.
Usborne picture puzzles - My girls love the picture puzzle books from Usborne, too. They come in all kinds of different themes, and each page has dozens of interesting pictures and somethings to find, like pictures of tigers in all positions and sizes, and you have to find the tiger with blue eyes. There are several things to find on each 2-page spread.
100 Things to Do on a Plane - This is another Usborne activity book and, as the title would suggest, it is full of things like hangman, battleship, and 4-in-a-row, all pencil puzzles and activities that will keep kids busy for a long time.
Uno Splash - These unique Uno cards are made of a thin plastic, so they are water proof. We have had a set for many years, and they are virtually indestructible.
Sleeping Queens - I would say that this is my girls' favorite card game, no competition. We play it every single day either before work or after work or during lunch. We like it so much that we recently invested in a second set of cards - the ones I've linked about come in a tin (very nice!) and have 4 extra queens (check out the book queen!). You can't go wrong with this game, and we will most certainly be bringing it on the plane.
Scattergories cards - Scattergories and Scrutineyes are my all-time favorite family games, but neither is good for an airplane. The makers of Scattergories have come out with a card game that is a perfect travel game, though, and I ordered it not too long ago. The premise is the same as the original game, but you turn over a set of cards (like Animal - T) and the first person to think of something for that set gets to keep the cards.
Travel magna doodle - These are great for no mess drawing and writing, especially for younger kids. Allie enjoys practicing letters and words, so I might bring this along for her.
Boogie Board - My sister got the girls Boogie Boards for Christmas a few years ago, and they were a big hit. They're basically like grown up versions of the magna doodle - you write on them with a stylus, press a button, and whatever you wrote disappears. They are smaller and slimmer than a magna doodle which also makes them a nice option for traveling.
Rory's story cubes - These are dice that you roll and then tell a short story using the pictures that come up. It's a very small thing to bring along on the plane and will encourage creativity and story telling in your kids. I linked to a multi-pack set, but you can also buy them individually. (But be warned - once you have one set, you will want more! I think we have four or five of them.)
eeboo's Create a Story cards - We have had this set for years and years, and Grace has never gotten tired of them. You deal out a few picture cards from the set and, like the story cubes above, you tell a story using those scenes. The stories are different every time, and sometimes the pictures aren't related at all. It's really fun and usually silly, too.
Origami - Origami is easy and fun to do, and Grace loves it. I ordered this kit for her to do on the plane because it is small enough to fit in her carry-on and will keep her busy forever. If you do go this route, make sure you also print off some extra instructions from a site like Origami Club.
Bananagrams - This is like a travel version of Scrabble. You take turns building words from letter tiles. Grace is finally old enough to play with me. Appletters is a version for younger kids, and Pairsinpears is a different word game but also made by the company that makes Bananagrams.
Snacks - Make sure you pack lots of kid-friendly snacks for the plane, as much as 1 snack per hour. Your kids are going to be bored, and having a little snack will keep them occupied and happy for a little while.
Skipbo or Skipbo Junior - This is another game we play almost every day. Allie is totally in love with Skipbo Junior, and Grace likes to play the original version. We have actually had to buy Skipbo Junior three separate times, because Allie takes it everywhere with her, and we have lost it.
Spot It - There are about a million different versions of Spot It, but they're all basically the same. You turn over two cards and the first person to find the one and only picture on both cards gets to keep them. I have played this with kids and adults, and it is always fun. If you read the enclosed instructions, there are a bunch of different ways to play. We are definitely bringing a couple of these on the plane. They fit in the palm of your hand and are a perfect travel game. Spot It Spalsh is a waterproof version which is awesome for vacation.
Fidget spinner - Say what you will about fidget spinners, but they are small and do keep kids occupied for a long time. The one I linked is the one I bought for my girls. It is a little more expensive than the ones you can buy at the checkout at pretty much every store on the planet, but they spin forever - up to 3 minutes - and they do not come apart at all. Plus, if you buy the green one like I did, they will glow in the dark.
Gel clings from the dollar store - You know those jelly window stickers? They work on airplane windows.
Calico Critters - I know these are expensive, but they are also small and portable. If you have kids who like imaginative play (and what kid doesn't?), they will make a very nice addition to your carry-on. The ones I linked are dogs, but there are also cats, squirrels, bunnies, koalas, hedgehogs, and a bunch of other animals. They are really cute and well made, too.
Pop-Beads - Grace got Pop Arty beads for Christmas which are amazing. They are big, lots of different shapes, colors, and patterns, and both Grace and Allie love playing with them. Unfortunately, they will take up a lot of valuable luggage space. So I found very similar beads that are much smaller for the plane ride. Those are the ones I linked above.
Wikki Stix - These are a lot like pipe cleaners, but they are waxy. My girls like them a lot, so I found a travel pack that includes lots of stix in a case for easier transport.
Phase 10 - This game always seems to take forever which makes it great for killing time on an airplane! It's another great card game that everyone can play together. I found an awesome tin that contains Phase 10, Uno, and another game I've never heard of called Snappy Dressers. I'm all about card games in tins because the tin protects the cards and also makes them easier to put away. I hate all those little boxes.
Yahtzee Traveler - I love Yahtzee, and it's a great game to play with kids since it's mostly based on luck. This set comes in a cup to keep the dice together, and also to allow kids to shake the dice more easily.
Kanoodle - My kids love Kanoodle! It comes in a little container which makes it nice for traveling. Basically, you have these little Tetris-like shapes that you have to fit together to make other, larger shapes. It's much harder than it sounds and keeps my kids going for a long time.
Pass the Pigs - This is another game we play all the time. We all love the little piggies and rolling and adding up our points and risking it all to roll again. The girls love it, and Joe loves it, and I love it. And best of all, it comes in a tiny little carrying case which makes it perfect for traveling.
Farkle - This is a lot like Pass the Pigs except with counting. You roll the dice and earn points and can keep going until you either lose all your points or decide to end your turn. It's small and compact which makes it nice for traveling.
Left-Right-Center - My in-laws turned us on to this game which is another dice game. You roll the dice and have to give away your chips based on what you roll. It's really fun. The only bad thing is that the minimum number of players is 3, so we won't be able to play it on our trip, but if you have 3 sitting together, it would be perfect. It comes in a little tin.
Magnatab - We haven't ordered this yet, but my kids really want one. It's a board that has little balls inside, and you use the stylus to poke them up or down in a design. It's very sensory as the balls come up, and you can feel your designs as well as seeing them, and it's all contained in a plastic case with no parts to lose.
National Geographic Kids books - Grace loves these books. There are all kinds, but her favorites are the Almanac, Why?, and The Ultimate Weird but True. They make books for little kids and big kids and on all different topics, but Allie has never gotten into them.
Washi tape and a tape book or cut out shapes to tape or plain white paper. Like pipe cleaners, my girls are gaga over washi tape. Any tape really, as they constantly steal my Scotch tape, too, but washi tape is more fun. They will happily tape any surface with pretty colors, and I found this tape set from Amazon to be quite economical.
Scratch art papers or a scratch art book. We've never tried plain scratch art paper, but my girls adore the Scratch and Sketch books that I linked. We probably have had ten of them over the years and they never disappoint. We will definitely be bringing one for each girl on the plane.
Koosh ball - I don't think my kids have ever seen a koosh ball which might make for a fun and interesting toy on the plane. I can see us playing catch with them (maybe even over the seat back?) and having a good time. Bonus is that the scrunch up to practically nothing, so they won't take up any space in their carry-ons.
Squishies - My kids love squishies. I don't really get the fascination personally, but I guess it is a sensory thing. I'm sure they will both have one in their carry-ons because they constantly travel with them.
3x5 index cards - I don't know what it is about index cards that inspires kids to draw and write, but they do. My girls will draw and write endlessly on a stack of index cards, making houses, animals, greeting cards, and writing letters to everyone they know. Allie likes to practice writing words and numbers and math problems. I have linked to blank, unruled cards to make them more inviting.
Where's Waldo? - There are tons of different Where's Waldo books, and I'm sure you had them when you were a kid. They're still the same: you look for a goofy little guy in a striped shirt amongst all sorts of other people. They keep kids entertained for a long time.
Mad Libs - There are Mad Libs on nearly every topic under the sun. As I scrolled through the page I linked, I saw Mad Libs Junior, Star Wars Mad Libs, Meow Mad Libs, The Dog Ate My Mad Libs, and my favorite Vacation Mad Libs.
Find It Games - I first saw these at our pediatrician's office, and I thought they were brilliant. I'm sure you could make your own, but I'd rather buy it and save the trouble. It's a big tube full of little colored balls and tiny little shapes, things like a die, a jack, a feather, a baseball, a penny and much, much more. I counted 12 different versions of this game and, although I linked to the original version, there is a beach one, a starry night, an America one, and more. I'm seriously thinking about investing in one of these for our trip.
Disney tic tac toe - Allie loves tic tac toe. She will play easily for 15 minutes or longer, so I bought her a personalized tic tac toe game with Minnie Mouse on the bag. It's really cute, comes with a carrying bag, and is small enough to pack.
Rush Hour - I first saw this game when Grace's occupational therapist brought it to the house. It's a puzzle game that has cards that get progressively harder. Each card shows you different configurations of the cars on the grid, and you have to figure out how to get the red car out of the maze each time by sliding the other cars around. It can get quite challenging even for me!
Word A Round - This is a small, fun, and quick game that involves reading. On each card, there are different words written in a circle. The players have to figure out what the word is and call it out to win the card.
A peg game - This is the original triangle game that you play with golf tees. You have to jump the pegs one over the other until you hopefully get down to one peg. This particular game has a little cup to hold the pegs until you are finished playing, so you don't have to worry about them rolling around and getting lost under your seat.
Magnetic Snakes & Ladders - Allie loves Snakes & Ladders so much I made her a printable game. But the game that I linked to is a magnetic version that keeps the pieces safely attached to the game board. It's about 7 inches square, so it's a great size for an airplane tray.
Sticky Mosaics - Both Grace and Allie went through a phase where they loved these. They're pictures printed on a piece of heavy cardboard, and each picture has little empty squares all over it. The kids peel square-shaped stickers off of sticker paper and transfer them to the squares on the picture. When they're finished, they have a slightly odd picture of whatever it's supposed to be. What kid doesn't like playing with stickers? They also take a long time, making them a perfect airplane activity when broken up with something else on and off.
Stained Glass Made Easy - Grace LOVES these kits, and Allie has really gotten into them lately as well. They are made by Melissa & Doug, so you know they are nice quality products. Basically, you get a clear sheet in a frame, and the clear sheet has a design printed on it. You also get a sheet of transparent stickers that you apply to the correct sections of the clear sheet.
Magnetic chess - If your kids like to play chess (or you're willing to teach them), this is a great chessboard to bring on the plane. It folds in half, and the pieces store inside it. The pieces are big enough to really play and understand but small enough to fit in the folded board. Also, Usborne has a great book for kids to learn to play chess called The Chess Book.
Hangman from Melissa & Doug - We have had this hangman board for years and years and love it. Both of my girls love to play hangman and, although Allie only knows 3-letter words, she makes it work. This will be great on the plane.
Travel spirograph - We all love Grace's huge spirograph set, and this smaller, self-contained travel set is perfect for an airplane! Even Allie likes to make designs with the big set, so I know she will be excited to play with this on our trip. If you get this, go ahead and get a big package of white Post-It Notes which are the perfect size for refilling the paper. You'll probably also want to get a package of fun colored Pilot G2 gel pens or Flair felt-tipped markers to go along with it.
Fashion Plates - Fashion Plates are awesome, and this kit is the best! Even though it's not specifically for travel, all the pieces fold up inside a nifty carrying case that is fairly small. We've had it for a year or so, and Allie plays with it often.
Spy Games to Go - This is one of a series of Games to Go board books. Each one has a dry erase surface that allows you to play over and over. Other themes in the series include America, Fairies Mermaids and Princesses, and Super Silly. You'll probably want to pick up some dry erase markers to go with these.
On the Go Secret Decoder - This is a small activity book from Melissa & Doug that can be easily packed. There are several different packs to choose from, but each one centers around a mystery to solve. They are packed full of activities and come with a secret decoder and a spy pen.
Melissa & Doug Puffy Stickers Activity Book - These are for the younger end of elementary kids, but they are really nice. There are tons of these including the pet store set I linked to, mermaids, pirates, safari, farm, horses, glamour, and many more. They're fairly inexpensive, too, so if your kid loses some of the stickers, it won't be a big deal.
Mess-Free Glitter Activity Kits - My kids love glitter, and I HATE it. Our house is messy, and once glitter gets into the mix, it is impossible to get out. It just floats around for years. These mess-free glitter activity kits are awesome though because they glitter is totally contained. There is no loose glitter anywhere! They still get to make pretty, sparkly designs, but there is no mess at all. The one I linked is an under the sea design, but there are also flowers, butterflies, dinosaurs, princesses, vehicles, more ocean creatures, and tons more. My only caution to this recommendation is that there are only 2 sheets per package, so if you think your kids will really like these, buy more than one set.
Doodle Dice - I'll be honest and say that this is not my favorite game, but my kids both love it so I had to include it. You get 6 dice with different doodles on them, and you have to match them up with cards to snag one of each color card. My kids like it so much that they play it with each other without me which is a big score. It comes in a huge box, but the actual game is very small and could be easily packed.
Sweet Logic - This is a single player brain teaser game where you have cards that give you clues as to the arrangement of the candies, and then you have to figure out exactly where they all go. It's fun and builds logic and spatial awareness skills.
Go Nuts! - This is a super fun super small dice game where you roll to collect acorns. If you roll cars or squirrels, you don't get any points. And if you roll all squirrels, you go nuts which means you have to roll as many acorns as possible before all the other players roll dogs on their special dog dice.
Quixx - This is another dice game similar to Yahtzee but improved according to the Amazon reviews. I've not personally played this one, but I have heard recommendation after recommendation from bloggers. It's very small and easily packed. I'm going to get this soon to bring along.
Cardline or Timeline - These are cards that you have to put in order. It's a neat game that teaches along the way. There are many different varieties that you can play alone or combine them all together for a real challenge. The cards are tiny - about half the size of a regular deck of cards - so they are very easy to bring in your carry-on luggage.
Rat a Tat Cat - This is a card game where you have 4 cards face down, and you have to draw new cards to replace yours to get the lowest score possible. It's really good for memory and number skills, and it's small and easy to pack. I like this game a lot.
I'm actually looking forward to our plane ride thanks to all these games and diversions! What are you going to take on your airplane trip?